Christmas Sewing Projects to decorate your home
Each year, when it's time to put up the Christmas tree and decorate the house, I'm filled with joy as I pull out my handmade Christmas decorations. They bring back wonderful memories of Christmases gone by. There are always decorations I've forgotten about and the memories come flooding back. (It also gives me a chance to reflect on how much my sewing has improved!)
One of the things I love about Christmas is all the opportunities to sew. There are so many options for Christmas projects to sew, and you have the opportunity to create something that will last for years. Each year, when you pull out your handmade decorations, you'll think about when you made it and all the love you put into it (and maybe wonder about how much your sewing skills have improved!). 
Handmade Christmas decorations are so much more special than the store-bought variety, and I love sewing Christmas decorations. They are so fun and happy to make.
This post contains affiliate links.
Use up your fabric scraps by making Christmas gift tags or cards with this easy Christmas sewing project from And Sew We Craft.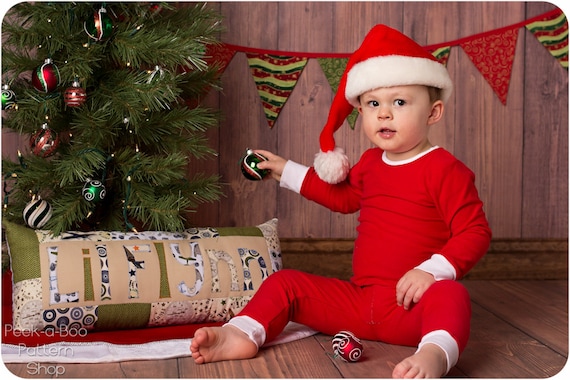 Sewing Christmas pajamas is a fun tradition. Peekaboo Patterns has some great options for all ages.
Make gorgeous felt Christmas decorations with this online course by Betz White on Craftsy.
A fabric Christmas tree makes a great table centrepiece or decoration on a shelf or mantle. This is a free pattern from All Sewn Up.
Sew a festive Christmas apron to wear while you're cooking up a feast, with this pattern from Vibrant Quilts.
Get Christmas fabric at great prices from Fabric.com
I've previously rounded up some Christmas sewing ideas. Here are my other Christmas blog posts:
Handmade stockings lined up along the fireplace (or under the Christmas tree like us if you don't have a mantle) is such a lovely vision of Christmas. They make a great Christmas sewing project for beginners too. Here are some cheery Christmas stocking sewing patterns and tutorials.
There are so many cute Christmas ornament sewing patterns. You can find a pattern for almost anything you'd like. Here are some of the cutest ones I've found.
Add some glow to your Christmas decorations with these Rudolph the red-nosed reindeer sewing patterns.
Countdown to Christmas with a handmade Advent calendar. There are lots of Advent calendar sewing patterns to choose from!
Sew your own Elf on a Shelf, or just make another cutie with these Christmas Elf sewing patterns.
If cross-stitch is more your thing, here are some wonderful Christmas cross-stitch patterns.
Search Threadistry for more than 150 Christmas Sewing project ideas.
Just a beginner? Find the best sewing projects for an absolute beginner here.