Something about the birth of a baby just makes me want to sew. Maybe it's because I really got into sewing just after my son was born. Maybe it's because sewing for baby is quick and easy. Maybe it's because I know there won't be any more babies in this house, but I just love sewing these little projects.
While I love sewing little dresses and shirts, there's something wonderful about sewing that special toy that the child will snuggle and carry around for years to come. My baby boy is 8 and flat puppy is still his favourite toy to cuddle. He's looking well-loved now and has been through the wash countless times, but that rag is one of the most precious items in our home.
​
This post contains affiliate links. If you purchase after clicking these links,
Threadistry receives a small commission, at no cost to you.
Here are my favourite easy baby toy sewing patterns:
Cuddly Lovey easy baby toy sewing patterns
Flat teddy reminds me of my son's flat puppy. I've used this free baby toy sewing pattern from Cook Clean Craft to make gifts for my friends' babies, and they've been loved every time.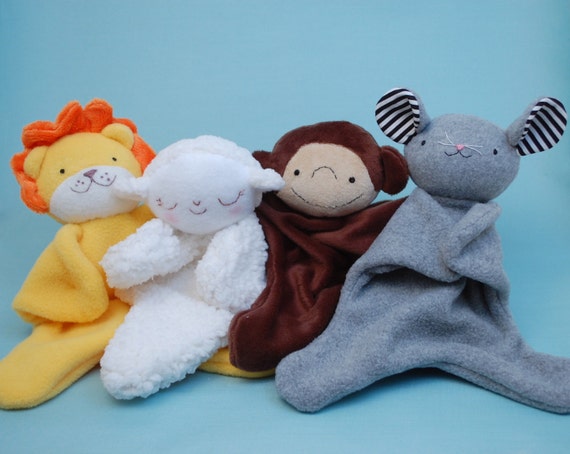 While She Naps has some adorable lovey baby toy sewing patterns. This set includes a lion, lamb, monkey and mouse, but she also has patterns for an elephant, penguin, pig and owl, or a kitty, bear, bunny and puppy. Too cute!
For when baby is a little older, sew a cute teddy bear from baby clothes with this Memory bear free sewing pattern from PA Country Crafts.
Search Threadistry for more cute and cuddly teddy bear sewing patterns.
Easy rattle baby toy sewing patterns
This flower power rattles sewing pattern from While She Naps is so cute and happy. I can just picture a sweet baby girl smiling and shaking it!
Zoe Mama DIY has a gorgeous sewing pattern for a baby bear or rabbit rattle that goes on a baby's wrist or ankle. The designs are so sweet!
These cute little rattles are the perfect size for little hands to reach and grab and the ears on them are great for chewing on. It is a free baby toy sewing tutorial on Make It Love It by Stitched by Crystal.
The Foxy Rattle and Lovey Bunny Rattle are both fun sewing patterns that make wonderful toys for someone special! Buy the patterns individually or get the two as a set. I love the bunny's floppy ears!
Easy baby toy patterns for play
It's magical watching the surprise on a baby's face when they reach into a box and pull out a different toy. Such joy! This Discovery Box toy sewing pattern from Pattern Play has two options for toys to stash in the discovery box - simple shapes and these cute characters. 
 
Soft baby blocks are another toy that little ones give hours of playtime fun. I love the faces on the blocks from this sewing pattern from Hanmore House Designs.
 
For the future handyman or tradey, sew a soft tool set with this cute sewing pattern from Little Sew & Sews.
 
The stackable ring toy is such a classic baby toy. Sew your own with this sewing pattern from Pattern Play. 
What are your favourite easy baby toy sewing patterns?
More sewing inspiration:
Share on: