Aria's Bow Back Top and Dress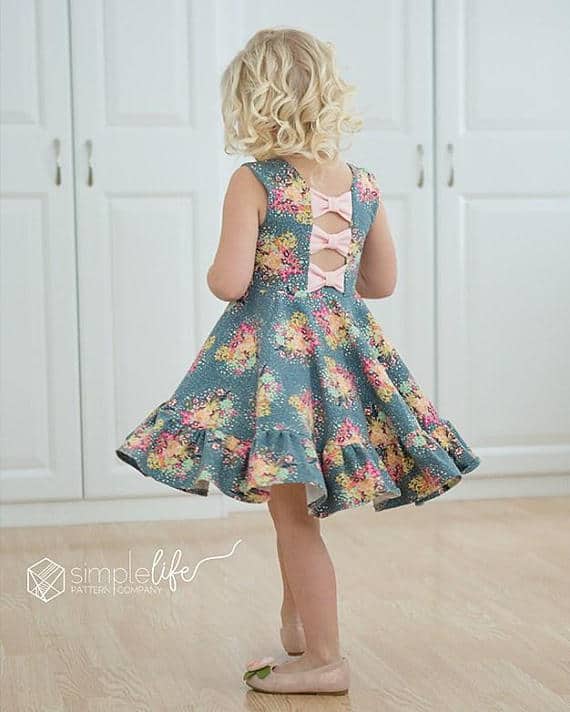 Aria's bow back top and dress is loaded with so many options. Choose from the bow back version or a simple back version. The bow back version also includes 2 types of backs. A short panel (shows skin) and a tall modest panel (covers skin). Sleeves: first, choose from a fitted sleeve cap or a gathered "poof" sleeve cap. Both of those options include short sleeves, 3/4 sleeves & long sleeves. You can also do a tank version, flutter sleeves or flutter with long sleeves. (whew….. thats a lot of sleeve options right!) Now on to the skirt options: gathered or circle skirt. Top or dress length. Dress length also includes the option of a gathered or circle skirt with a ruffle hem. The circle skirt with ruffle hem will light up and girls eyes with the amazing twirl factor. If you love the Isla, you will love the new Aria.
Disclosure: This page may contain affiliate links. If you purchase after clicking these links, Threadistry receives a small commission, at no cost to you.
Clothing Size: 9 (Child) 12 (Tween) 11 (Tween) 2T 4 (Child) 6 (Child) 8 (Child) 3T 10 (Tween) 5 (Child) 7 (Child) Category: Dress Top, Blouse, Shirt Designer: SimpleLifePatterns Pattern Source: Pattern (pdf or printed) Pattern Type: Print at home (pdf) Price: $10 Suggested Fabric: Jersey