ITH Nativity Finger Puppet Set with Carry Case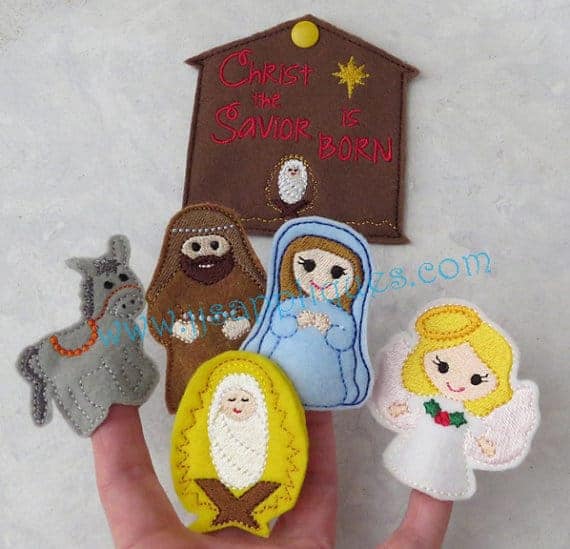 This design set is 5 finger puppets (Mary, Joseph, Baby Jesus, Angel and a donkey) with 2 sizes for carry case. You receive 7 design files in the formats listed below. Each design is completely in the hoop; no extra sewing is required. The set is made for use with felt, vinyl or other non-fraying fabrics. Step by step instructions with pictures are included so beginners can make them! The carry case closes with a KAM Snap or other quality snap maker set, OR skip this step if you do not have a snap maker. The designs in this set are made for a 4x4 hoop with an additional 5x7 hoop design for the carry case only. Finished sizes are approximate and fit all ages: 4x4 hoop 5 finger puppet designs: 2.5 to 2.75 inches tall, varied widths. 4x4 hoop 1 carry case design: 3.91 inches wide X 3.89 inches tall. 5x7 hoop 1 carry case design: 5 inches wide X 5 inches tall.
Disclosure: This page may contain affiliate links. If you purchase after clicking these links, Threadistry receives a small commission, at no cost to you.
Clothing Size: Category: Christmas Other Toys Machine Embroidery Designer: jayniejayedesigns Pattern Source: Pattern (pdf or printed) Pattern Type: Price: $5.75 Suggested Fabric: Felt