Jungle Friends Quilt Pattern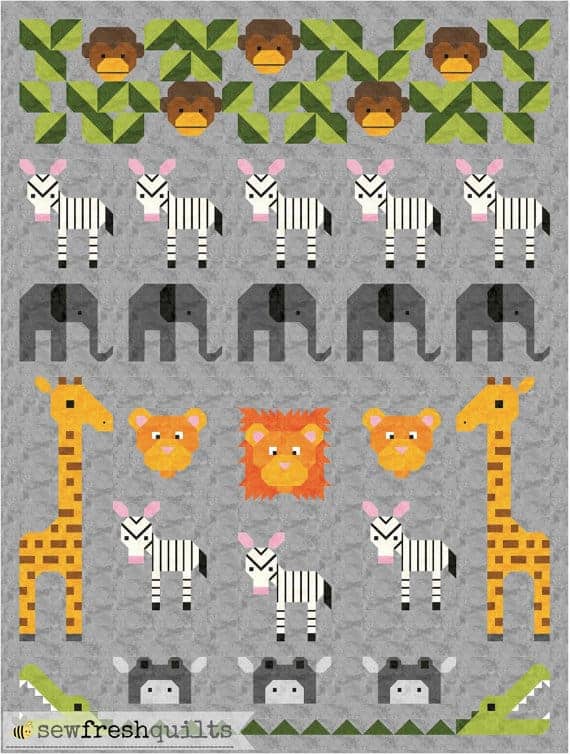 The Jungle Friends is an 18 page pdf quilt pattern. Jungle Friends is a sampler style design with a safari theme and features animal quilt blocks made using traditional piecing methods. No templates. No paper piecing. Only simple straight line sewing and diagonal seams. Easy to follow instructions are provided for every step of the way! The Jungle Friends pattern includes material requirements lists for both the TWIN and BABY size settings and charts for each quilt block.The Jungle Friends quilt pattern consists of the following sized quilt blocks: Monkey 8" wide x 7" high, Zebra 12" wide x 14" high, Elephant 12" wide x 14" high, Giraffe 12" wide x 34" high, Male Lion 12" wide x 12" high, Female Lion 10" wide x 9" high, Crocodile 12" wide x 10" high, and the Hippo blocks finish at 12" wide x 6" high. This allows for a variety of settings in which your blocks can be used to make cushions, place mats, table runners, wall hangings or quilts from baby to big. Adding wider sashing and borders will also help you to adjust this pattern up to the size you desire.
Disclosure: This page may contain affiliate links. If you purchase after clicking these links, Threadistry receives a small commission, at no cost to you.
Clothing Size: Category: Pieced Designer: Sew Fresh Quilts Pattern Source: Pattern (pdf or printed) Pattern Type: Price: $20 Suggested Fabric: Quilting Cotton