Nativity applique Mini Quilt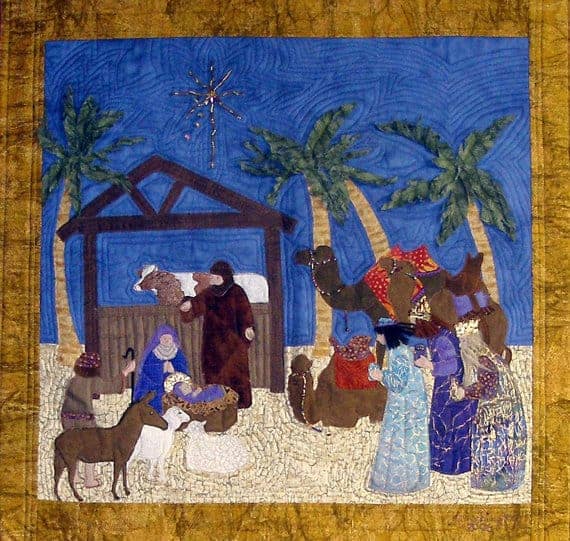 The Nativity is always a popular pattern with Critter Pattern Works, because a lot of people collect Nativity scenes. It sells year round because people want to take their time making it. I have simplified the process of making this 24" x 23", mini quilt by fusing all the pieces down to the batting and then raw edge stitching (straight stitch on the sewing machine using a darning foot) all the raw edges, then adding the backing fabric and adding the quilting stitches to the background fabrics. Did you see the 3-D fronds on the palm trees, and the hand beaded harnesses on the camels, and the beaded star? All the animals have seed bead eyes. The expressions on the wisemen and the Holy Family are traced onto the fabric with an Ultra Fine Sharpie marker. If you've never made a quilt before, or if you feel you don't have confidence in your ability, I made six free videos on Youtube explaining the all the steps. A lot of people learn by watching me. Start here to watch the videos: http://www.youtube.com/critterpat#p/u/8/q1mP57lDItI My name is critterpat there, too.
Disclosure: This page may contain affiliate links. If you purchase after clicking these links, Threadistry receives a small commission, at no cost to you.
Clothing Size: Category: Christmas Appliquéd Designer: critterpat Pattern Source: Pattern (pdf or printed) Pattern Type: Print at home (pdf) Video Tutorial Price: $9.25 Suggested Fabric: Quilting Cotton