Sewing Mat Organizer Thread Catcher and Pin Cushion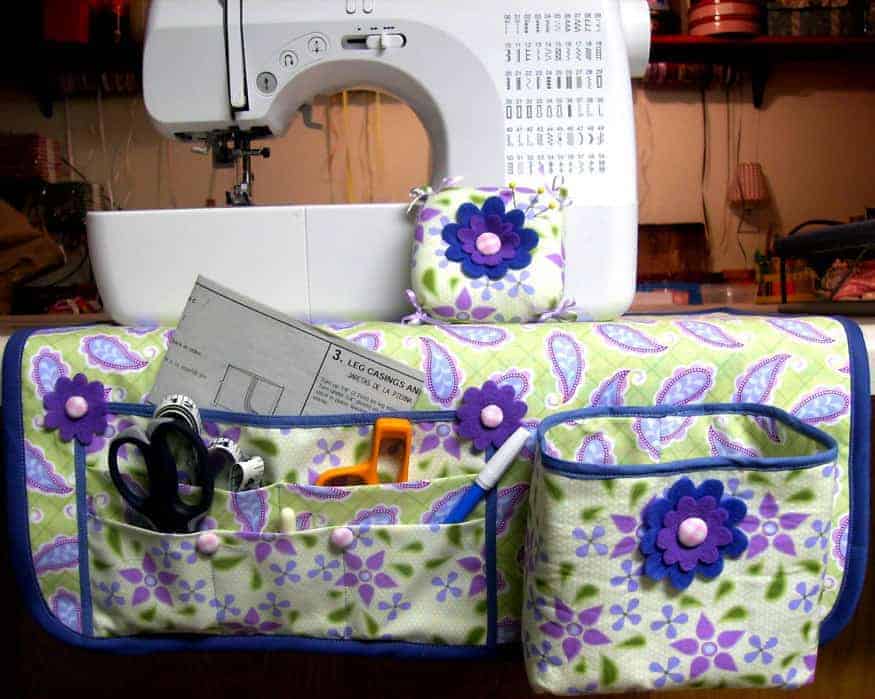 This sewing mat measures 20"x18", however you can change these dimensions to fit your needs. It is slightly padded. It has an organizer pouch that measures 10"x6" and has 6 pockets of various sizes to hold all kinds of sewing needs and keep them right on hand when needed. No more jumping up for something you forgot, just keep them in your organizer. I've got small scissors, tape measure, marking pen, pattern instructions, seam ripper (not that I ever need one of these, lol) and thread snips and there's still room for more.There is a sweet little pin cushion that you can place where you want for convenience when sewing. It measures about 4"x4" and is made to look like a feedsack. And then there is the very convenient and indispensable thread catcher. This thread catcher in lined and is slightly padded. It measures about 6"x6". And best of all it is removable so you can easily empty it. 
Disclosure: This page may contain affiliate links. If you purchase after clicking these links, Threadistry receives a small commission, at no cost to you.
Clothing Size: Category: Storage/Organization Designer: SundayGirlDesigns Pattern Source: Pattern (pdf or printed) Pattern Type: Print at home (pdf) Price: $8 Suggested Fabric: Quilting Cotton