Sunset Infinity Scarf Cardigan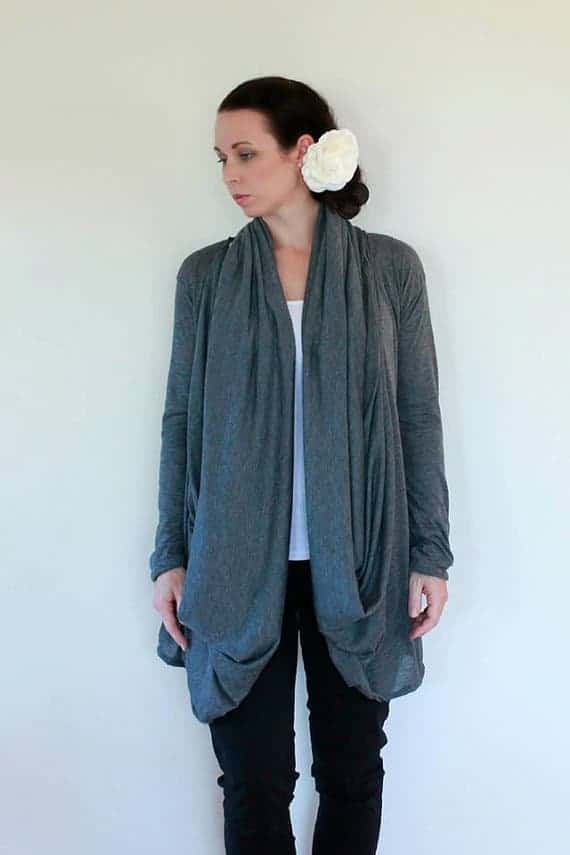 Perfect for those cooler days and lovely evening walks, the Sunset Infinity Scarf Cardigan is a modern, stylish take on a classic.  Incorporating the infinity scarf into its basic construction, the Sunset Cardigan can be worn in a multitude of different ways, without the need for belts, ties or other closures. With the gorgeous infinity scarf neckline creating a feminine, classic silhouette and a loose, figure skimming finish, the Sunset will be you go-to cardigan for cooler days. The Sunset Infinity Cardigan can be worn a number of ways: ~ twisted and wrapped up and around your neck once, for a very drapey finish that closes the front. ~ alternatively in can be twisted and wrapped up and around your neck twice for a slightly tighter, more "infinity scarf-like" closed front finish. ~ or finally, the loop can just be draped up and over your shoulders like a cape for a breezy, drapey open cardigan look. Designed to be made from knit fabric, such as jersey knit, cotton lycra, 
Disclosure: This page may contain affiliate links. If you purchase after clicking these links, Threadistry receives a small commission, at no cost to you.
Clothing Size: Adult Category: Coat, Jacket, Vest Designer: RabbitRabbitCreation Pattern Source: Pattern (pdf or printed) Pattern Type: Print at home (pdf) Price: $7.35 Suggested Fabric: Jersey