5 out of 4 Ashley Skort sewing pattern review
When you want a fun and swishy skirt, but don't want to get caught out with a sudden gust of wind, there's the Ashley Skort sewing pattern from 5 out of 4.
Disclosure: I was a pattern tester and received the pattern for free. This post contains affiliate links. If you purchase after clicking these links, I may receive a small commission, at no cost to you.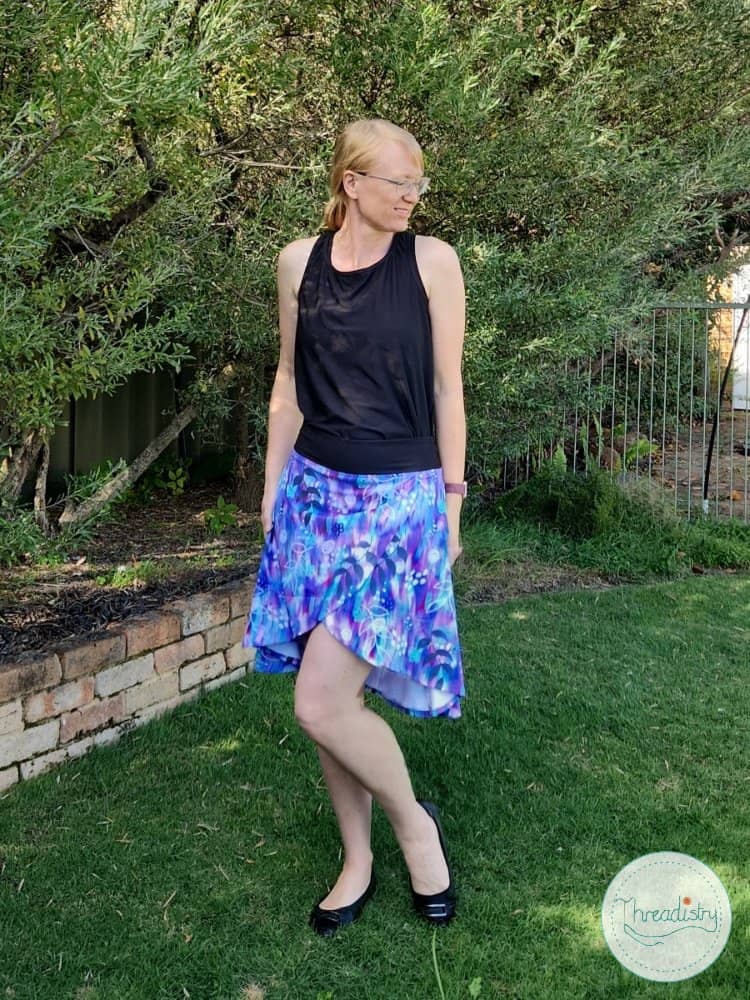 This is such a fun and cute sewing pattern. And bonus, it's a quick and easy sew too!
The pattern comes in 4 skirt lengths – mini, knee, tea and maxi. I decided to make the knee length (well, I was going to make mini length as a sporty running skort, but wasn't paying attention and cut out the knee length!).
It hits the knee at the back and is a flirty height at the front (but not too short or young looking for me!).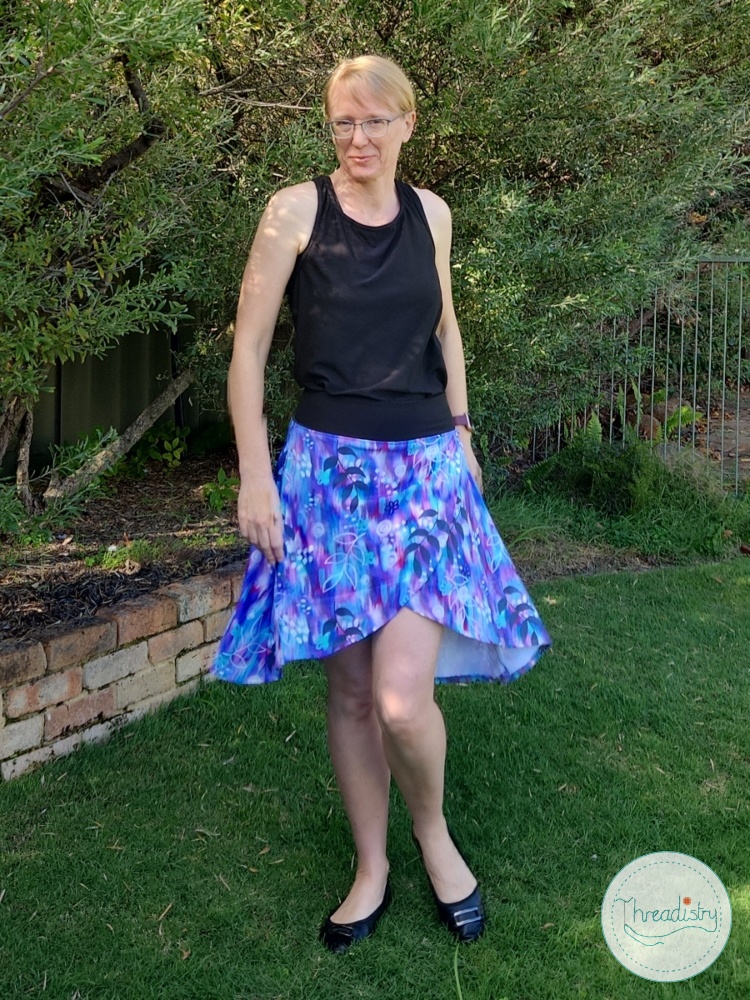 There are 3 in-seam lengths for the short part of the skort – 2″, 5″ and 7″. I went with the 5″ and it's very obviously shorts rather than looking like boy leg underwear. There's also a pocket in the shorts – not the best for easy access, but good if you want to carry something (a key or spare cash) when out and about.
There are also 3 rise options plus a maternity waistband – this is the mid rise, which sits just where I like it – holding in my Mum-tum and not too high or too low.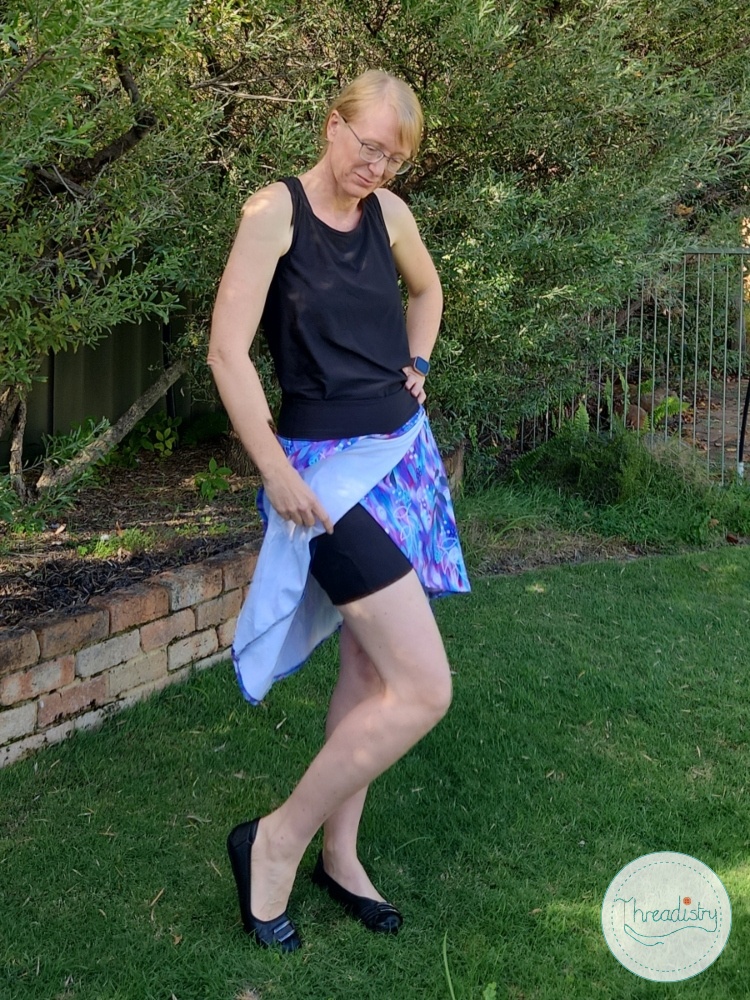 It's a quick and easy sewing project and can be whipped up in a couple of hours. The instructions are easy to follow. The pattern is true to the size measurements (mine is S at the waist, graded to M below the hips)
My fabric is a 180gsm cotton lycra for the skirt and athletic performance for the waistband and shorts. The skirt needs a drapey fabric to get the nice flowy style – you can also use a lightweight woven fabric – but I haven't tried that!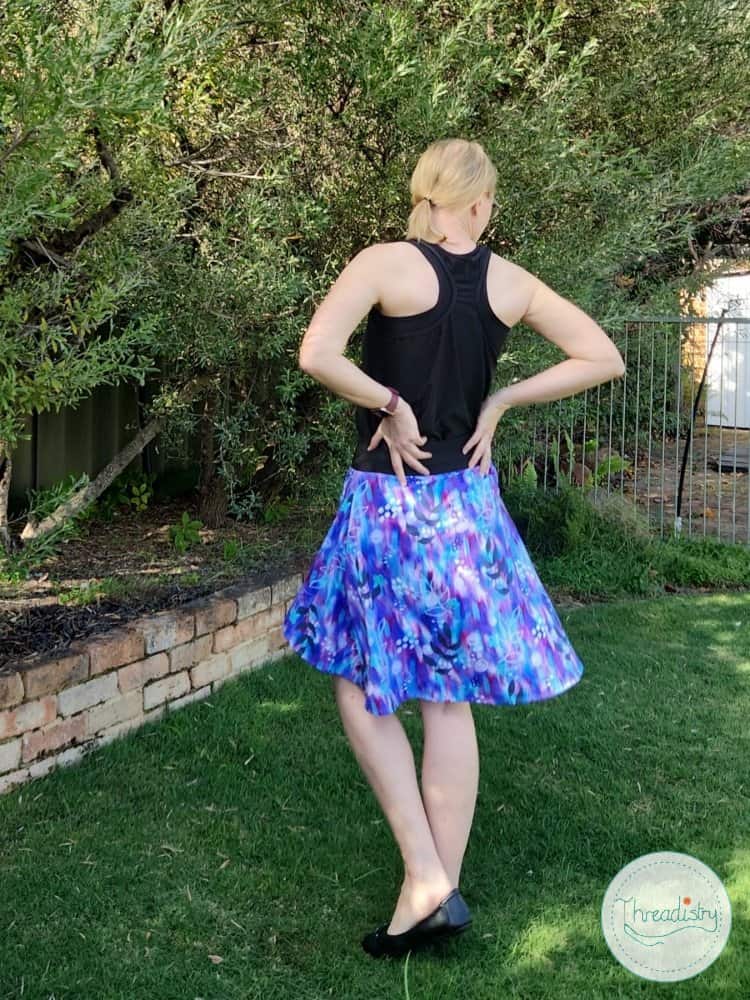 Every now and then, a horizontal ripple appears just below the waistband. I probably need a small sway-back adjustment to fix that, but it's only a minor annoyance. A quick tug pulls it back into place.
I'm wearing it here with the Resolution Tank, also from 5 out of 4 Patterns.
Overall, it's a fun, quick and easy sewing project that turned out just like the line drawing. I'm keen to try the mini and maxi lengths as well. I just have to find the right fabric!
Get your copy of the Ashley Skort sewing pattern from 5 out of 4 here.