Spooky Sewing: DIY witch costume for girls
Take a simple dress sewing pattern and turn it into this DIY witch costume for a girl.
This month's theme for The Eli Monster Ambassador program is Spooky/Sweet, and my thoughts instantly turned to Halloween. Halloween, where I live, is all about Spooky – no Disney princesses and superheroes here. A witch is the perfect costume for my daughter (and the easiest!):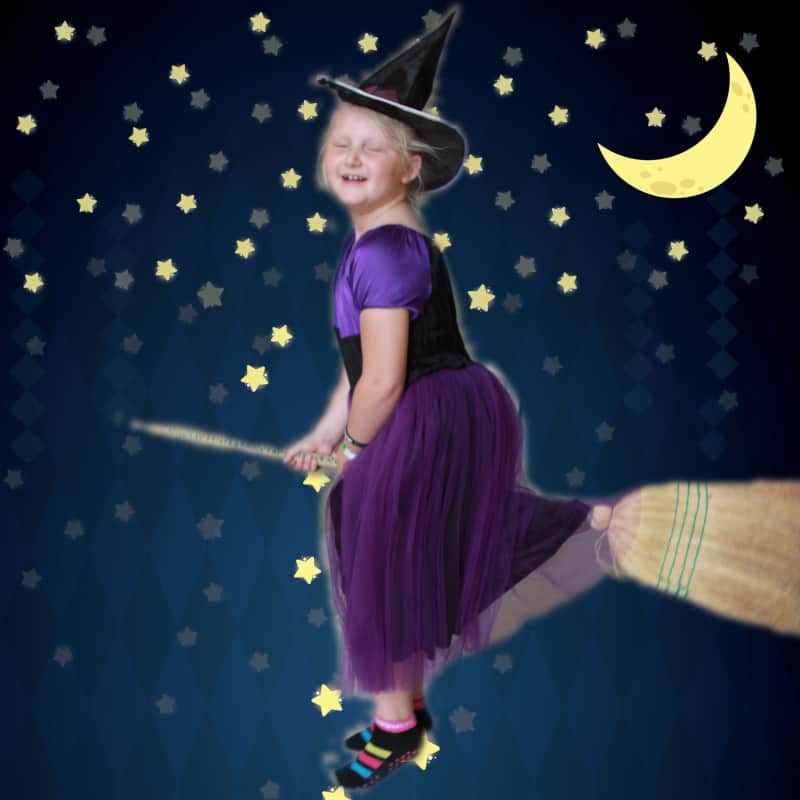 I'm an Eli Monster Ambassador and affiliate. I receive free sewing patterns for review (all opinions are my own!). If you make a purchase after clicking a link, Threadistry may receive a small commission at no cost to you.
Sew a DIY witch costume for girls
I used the Fjell Dress sewing pattern from the Eli Monster. The fitted, two-piece bodice just seemed perfect for a witch's dress.
The dress is made from bridal satin in purple and black (don't let the word bridal put you off – it's very cheap fabric!), and I added an overlay of purple tulle for the skirt. After I'd gathered the underskirt and the tulle, I basted the two skirts together before attaching to the bodice.
Now, satin is a slippery fabric and a pain to cut and sew with. My biggest tip: use lots of pins. Usually, I find it quicker to sew without pins, but that just doesn't work for sewing with satin. That stuff will slip and slide like crazy. But it's worth it for the shimmer of a pretty costume!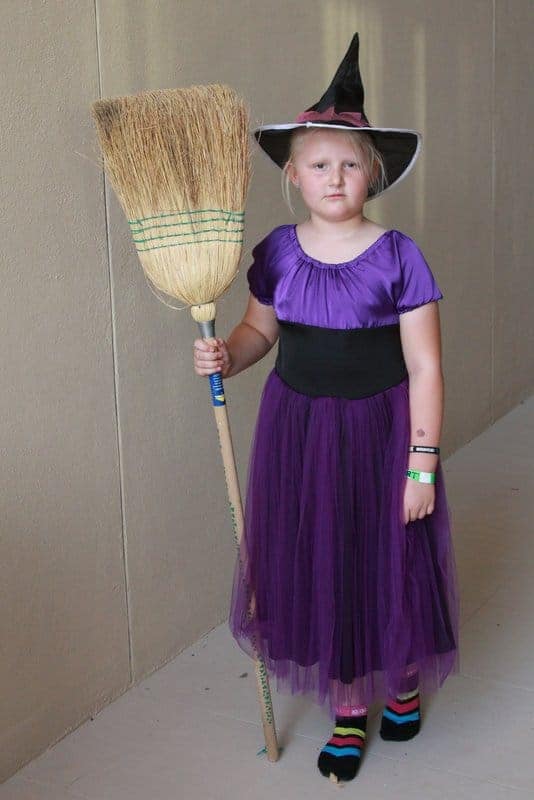 My daughter said she is a good witch, but I'm not sure with this photo!
The hat is from my daughter's store-bought costume last year. It's way too small for head now (how has it managed to grow that much in a year?) and is ripped in a few places. Let's see if I have time to sew a replacement between now and Halloween!
Fjell Dress sewing pattern review
The Fjell dress is a peasant dress with a fitted bodice. There's elastic in the back bodice, so that means no buttons or zips to deal with (and no "Mum, can you help me put on my dress!. The sleeves and neckline are elastic, which makes it a great dress to grow into (as the elastic will slowly stretch as your child grows).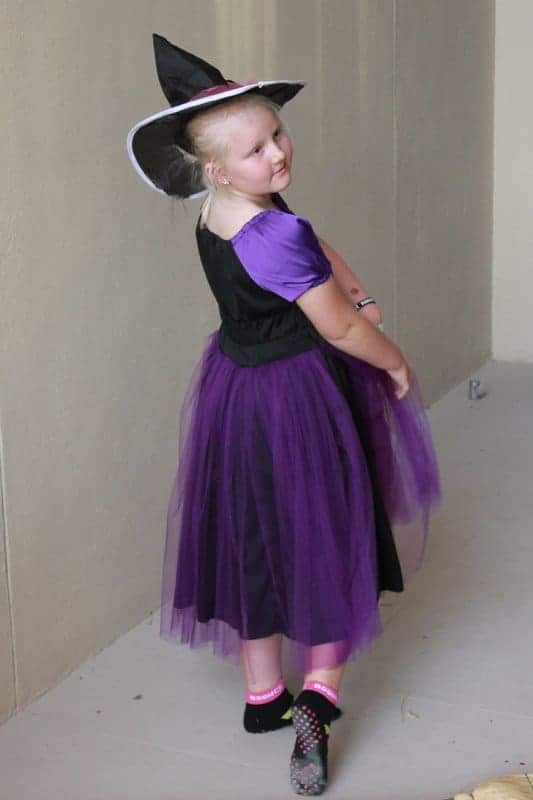 The dress was a simple enough sewing project for an adventurous beginner or intermediate sewist. The fit is spot on – I sewed a size up from my daughter's measurements as I'm hoping she'll get a few years' wear out of it!
I almost forgot the best part of the dress:
It has LOTS of twirl!
Get your copy of the Fjell Dress here and sew your own DIY witch costume for girls!