What is a free arm sewing machine (and when to use it!)
When purchasing a new sewing machine, there are lots of features to consider. One of those is whether to get a free arm sewing machine. Here's everything you need to know about sewing machine free arms: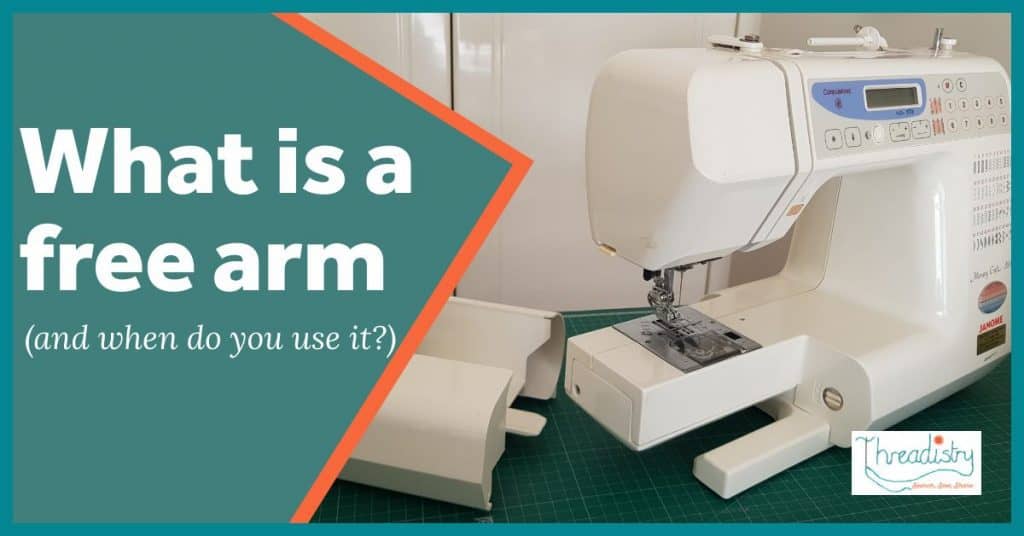 What is the free arm of a sewing machine?
A free arm sewing machine is one where the bed of the sewing machine is suspended in the air. A tube of fabric, like a sleeve, can be slid over the free arm.
Smaller portable sewing machines, like the Janome Fastlane (pictured below), always have the free arm exposed.
For larger sewing machines, to access the free arm, slide off the sewing machine flatbed (usually including the accessories compartment).
When should I use a sewing machine free arm?
A sewing machine free arm is used when sewing fabric that's in the round. It makes it easier the guide the fabric under the needle and makes it less likely you'll catch other parts of the garment accidentally.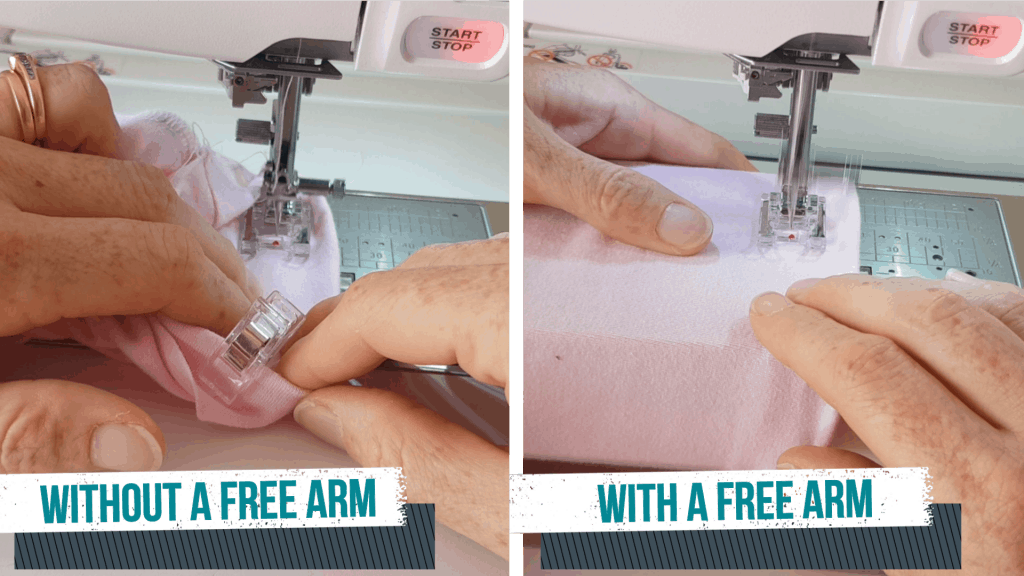 Some examples of when to use a free arm are:
Hemming sleeves and the bottom of pants
Adding cuffs to sleeves and pant legs.
Attaching sleeves
Sewing small items such as doll and baby clothes (although some may be too small to fit around the free arm).
Mending clothes, such as the knees on pants – you can slide the clothing over the free arm.
It can be quicker to sew with the free arm as you spend less time adjusting and manipulating the fabric.
Flatbed vs free arm sewing machine
A free arm sewing machine is a "nice to have" but not a necessity. Anything you can sew with a free arm can also be sewn with a flatbed sewing machine. It can just be slower and more fiddly when sewing "in the round".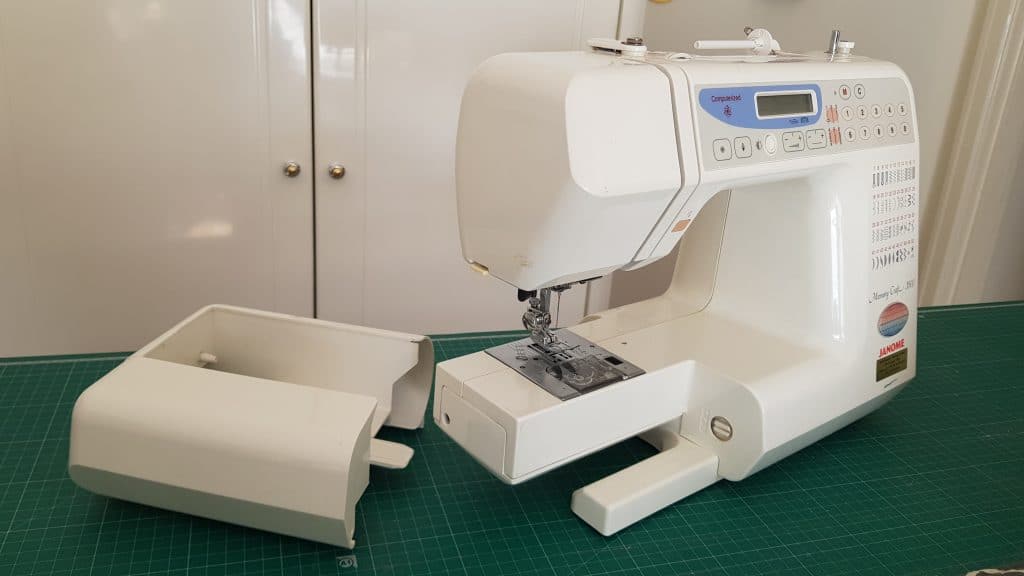 When using the free arm, the working surface (ie flat area before and after the needle) is much smaller. Therefore, the fabric isn't supported as well as it feeds into the sewing machine and is more likely to shift, resulting in wobbly-looking stitches. It is best to re-attach the flatbed to the sewing machine when you not using the free arm.
A free arm is not required for quilting. One potential benefit of a free arm ais being able to add an extension table. This fits on the arm of the machine, creating a larger area flatbed.
How to choose a free arm sewing machine
If you've decided you need a sewing machine with a free arm, what do you need to consider?
Most modern sewing machines have a free arm. There are two things to look at when choosing a free arm sewing machine:
"diameter" of the free arm – this determines the smallest size circle that can be sewn with the free arm. A smaller diameter will allow smaller items, such as baby or doll clothes.
length of the free arm – this determines how much fabric you can slide over the free arm. If you are expecting to mend the knees of pants, for example, look for a longer free arm length.
Older vintage free arm machines had narrow free arms, which fit smaller items such as doll clothes and baby clothes. More modern free arms can be too fat to fit some apparel items over, and too short as well, so take a good look at whatever machine you see.
Some sergers or coverstitch machine also come with a free arm.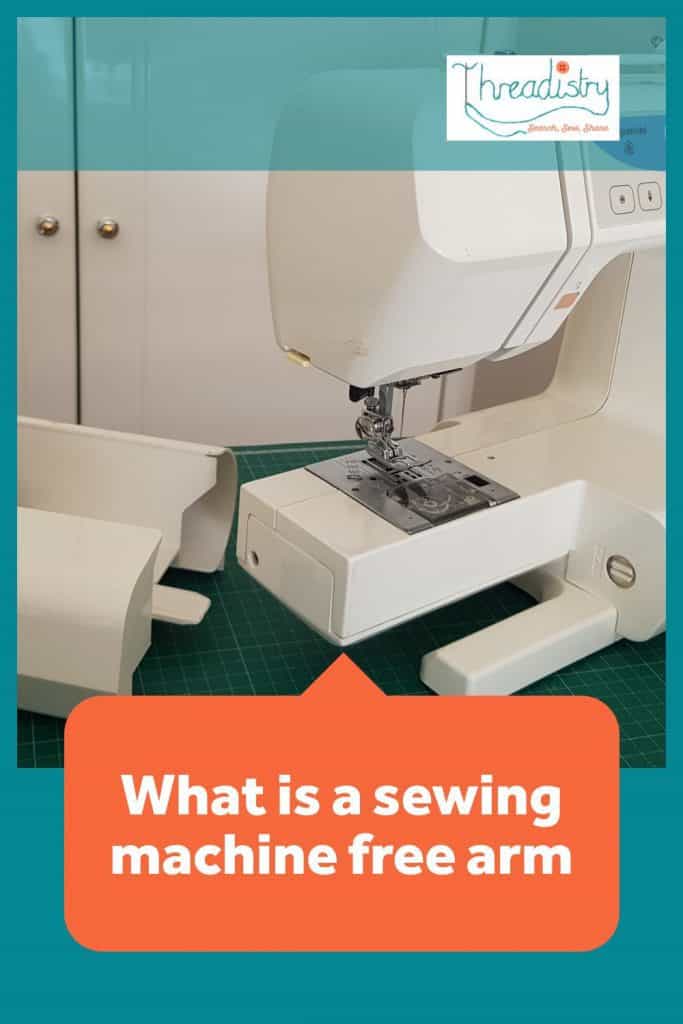 So that's everything you need to know about free arm sewing machines. Do you have a free arm on your sewing machine? Do you use it regularly?