Sew and Twirl: 15 Playful Girls' Skirt Sewing Patterns
Skirts are so much fun to wear and so much fun to sew. Whether you know a little girl who loves to twirl, or want to sew something preppy for school, here are the cutest girl's skirt sewing patterns: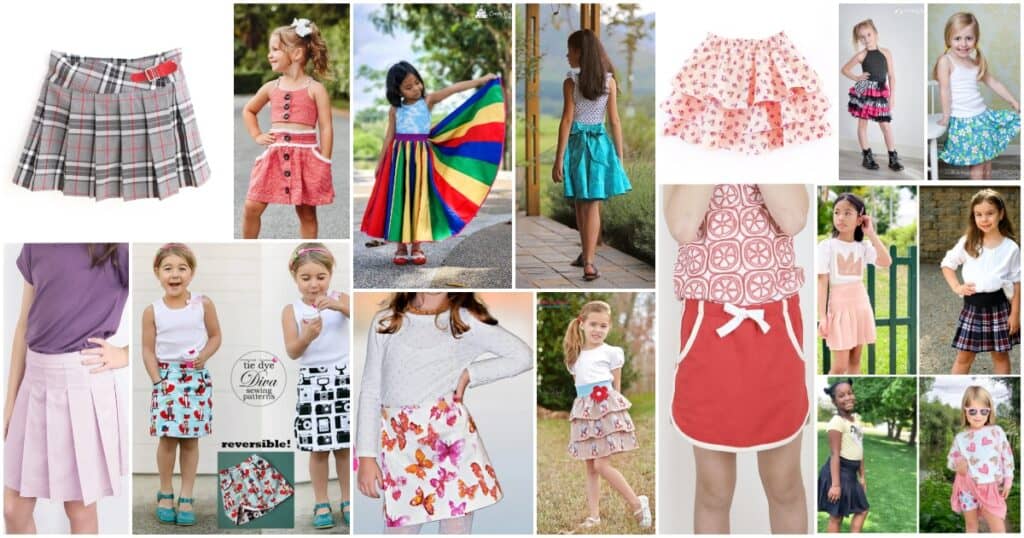 Disclosure: This post contains affiliate links. If you purchase after clicking these links, Threadistry may receive a small commission, at no cost to you.
Simple Skirt sewing patterns
The Schatje Skirt has a flat front and elastic back, with a gathered design, and comes in three lengths. It's great to show off a border print!
The Potato Chip Skirt is a cute A-line skirt with a flat front and elastic back. It has pockets and can be made to be reversible (but you know the side with the pockets is going to be the favourite!).
The Sunshine Days skirt is a cute retro style, designed for knit fabric. The contrast trim has such a fun vibe!
The Jutta skirt has button fastenings, but elastic in the back waist (for room to grow!). It's a cute a-line design.
Girl's pleated skirt sewing patterns
The High-waisted pleated skirt has a preppy vibe and would be great for school. It includes a skort option too.
This cute pleated skirt is zero waste, so all the pieces can be cut from a single rectangle of fabric. It has a fitted waistband with side zip and button closure, and an adjustable back waist elastic.
This simple, Scottish-inspired, modern kilt sewing pattern is designed for tartan plaid fabrics.
Twirly skirt sewing patterns
If you're looking for maximum twirl, check out the Sunshine Swirl Skirt (it comes in adult sizes too). It comes in ankle length, above-the-knee length and a knee-length, perfect for any occasion!
Circle skirts are renowned for their amazing twirl factor. The Montgomery is a gorgeous circle skirt designed for tulle and woven fabrics and includes an optional sash, for that extra bit of style.
The Miss Muffet Twirl Skirt includes optional bloomers for extra coverage with a difference, and has a sweet ruffle on the hem.
Ruffles and Tiered Skirt sewing patterns
The Meadow Skirt is a classic tiered skirt design, for that boho look. You could even have some fun using different fabric for each tier.
The Ice Cream Skirt is the classic ra-ra skirt from my childhood! The pattern includes lots of fun options, including a sashe, tulle underskirt (for that extra puff) and a detachable bow or scrappy flower. So cute!
The Truffle Ruffle Skirt is a fun design, perfect for using up your fabric scraps for the girl with eclectic style. Or just go with the one fabric for a more simple look.
More Girl's Skirt sewing patterns
The Remi skirt has a paper bag waist and faux placket. It's such a classic style you and your little girl will love!
The Kendall Skirt is a cute button-front design, with options for ruffles and piping to add flair. And it has pockets!
So many stylish options to choose from! Get creative and sew up a unique skirt for girls from toddlers to teens, with your favorite girl's skirt sewing pattern.