Honey Bee Swimsuit for Girls – sewing pattern review
The Honey Bee Swimsuit is a sewing pattern for girls from Annelaine Designs. It has a gorgeous scoop-back design with a fun strappy detail.
It's summer, and my kids will happily spend every day at the beach or swimming pool (and maybe even a day at the waterpark). They need a few swimsuits in their wardrobe, because nobody likes putting on wet swimmers. When I got the opportunity to pattern test for the Honey Bee swimsuit and leotard from Annelaine Patterns, I jumped at the chance. My daughter definitely needs to add to her swimsuit collection!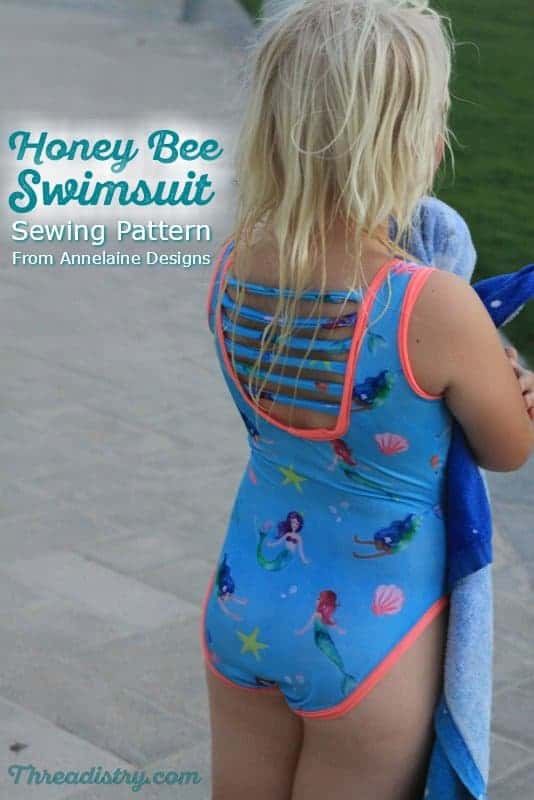 Note: I was a pattern tester for this sewing pattern, and received a free pattern in return for feedback and review. This post contains affiliate links. If you purchase after clicking these links, Threadistry receives a small commission, at no cost to you.
This is a great one-piece swimsuit for girls. From the front, it's a basic one-piece, but the back has the fun strappy detail (a bit like the
party in the back dresses
!).
Sewing a one-piece swimsuit is more difficult than sewing everyday clothing. Firstly, swimwear fabric can be slippery and difficult to control. Secondly, you need to take into account torso length as well as the standard chest, waist and hip measurements. The pattern comes with instructions for how to get the perfect fit. My daughter is a size 10 in the chest, waist and hip, but a size 8 for height so I had to make modify the pattern slightly. With knowing her measurements, the pattern fits perfectly.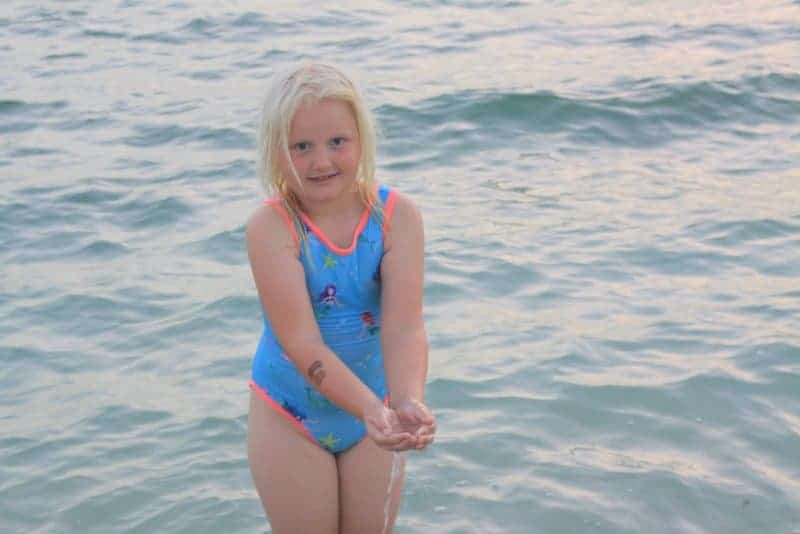 The pattern comes with a few options:
unlined, crotch lining or lined with swimsuit lining or with the same fabric as the swimsuit,
leg openings can have elastic or binding,
no straps or up to 6 straps across the back.
In my view, it's an intermediate pattern, but a confident beginner could give it a go. There are lots of photos and the instructions are very clear, although take your time with sewing the straps into the lined version. It's well explained, but going too quick and not thinking it through could cause the seam ripper to come out!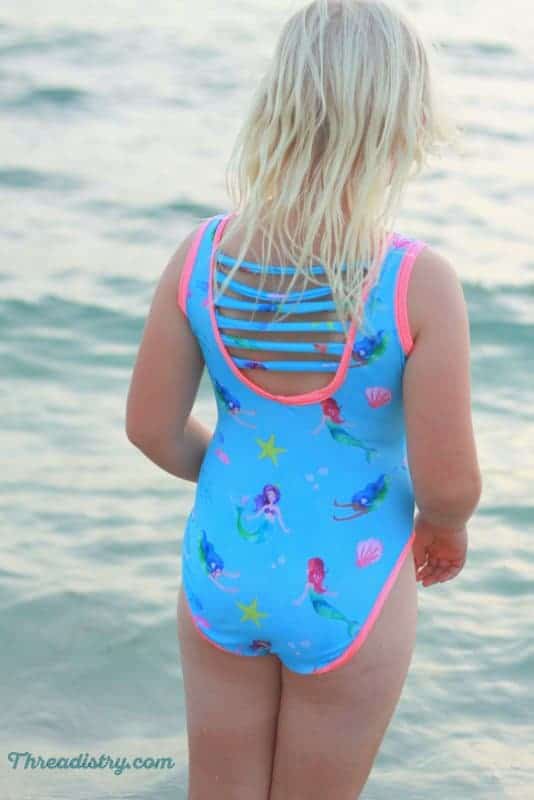 I didn't top-stitch the straps, as suggested in the pattern as I found my sewing machine stretched them and they didn't sit right. So the straps looks a bit smaller and more tubular than the pattern pictures. I also need to adjust the second strap from the top, it shifted a bit when I was sewing it in and I didn't notice until my daughter tried it on (and then I couldn't get the swimsuit off her!)
The fabric I used was a UV50+ mermaid print swim fabric from Peekaboo Fabric Shop. Unfortunately, it's no longer available, but you can check out the rest of their swimwear fabric here. I'm not sure where I got the binding fabric from, possibly a remnants bin! I love how it almost glows in the water, it's so bright.
The Honey Bee swimsuit and leotard is a pdf sewing pattern in sizes 6 months to 20, and is available from Annelaine Patterns.