5 out of 4 Lily Handbag sewing pattern review
I haven't sewn many handbags. Fabric bags didn't seem practical when I had small kids and all the hardware was intimidating. However, I love sewing because it always gives me the opportunity to try something new. So, I decided to give the Lily Handbag by 5 out of 4 a try.
Disclosure: This post contains affiliate links. If you purchase after clicking these links, Threadistry may receive a small commission, at no cost to you.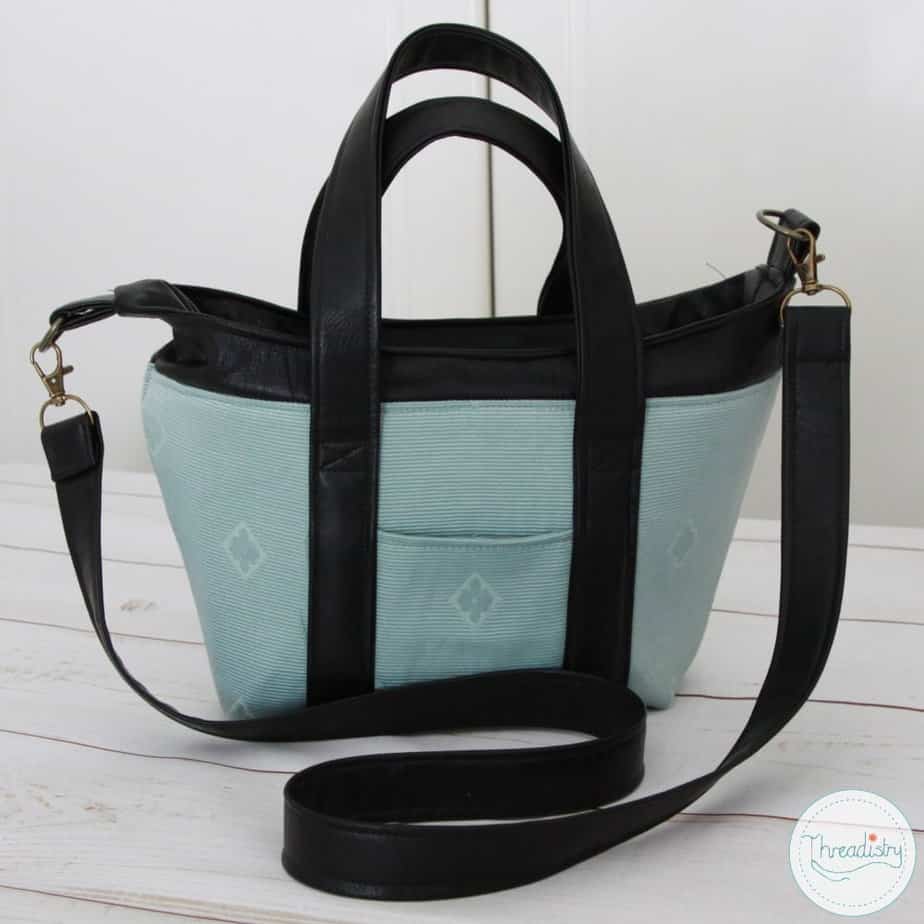 The Lily Bag is a classic shoulder bag design with short handles for carrying the bag by hand and a removable shoulder strap. There are options for interior and exterior zipper and slip pockets. I chose the slip pockets on both the outside and the inside since I wanted a quick and easy sewing project!
I found the main outer fabric in a thrift store several years ago. It looked like a large leftover scrap from someone else's project. It was 40cm long and not the full width of the fabric. But it was perfect for a small handbag. The black is pleather/vinyl and the lining is a quilting cotton I've had in my stash for way too long.
I bought the bag hardware from Amazon and used a zipper from my stash. I should have bought a black zipper, but I didn't want to go out when I had time to get sewing.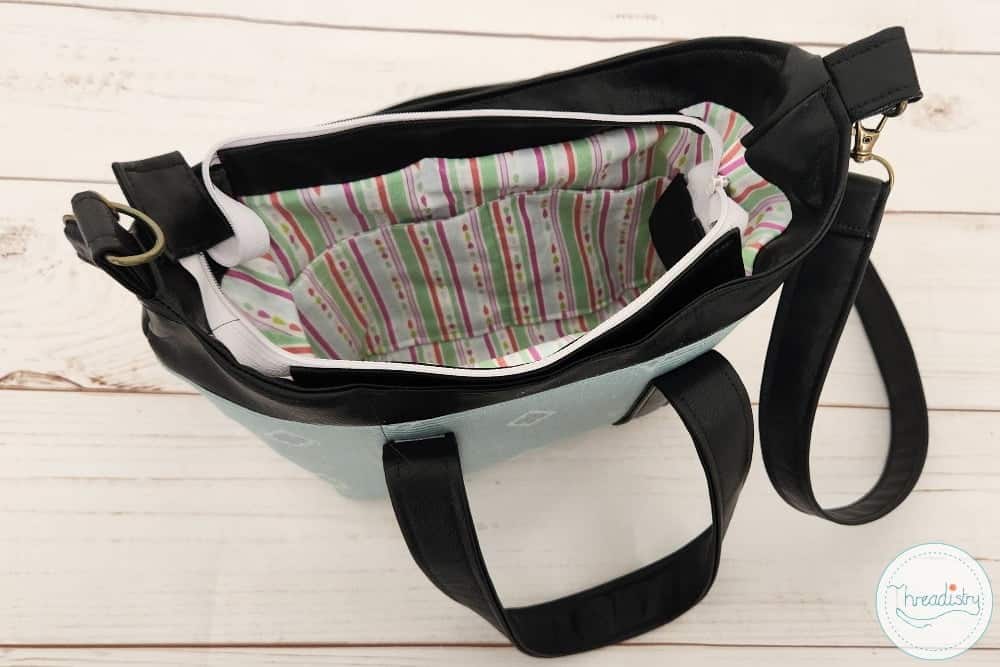 The pattern comes in two sizes:
Large is 21 inches (53cm) wide at the top and 10 inches (25cm) tall
Small is 11 inches (28cm) wide at the top and 7 inches (18cm) tall
I made the small size as I was looking for an everyday handbag size. The pattern is true to size but is actually quite a small handbag. It fits my phone/purse, keys and a small drink bottle easily, but is definitely not a Mary Poppins handbag that you can keep all sorts of surprises in (sorry kids, no room for snacks!).
I'm sure over time I'll find more and more items accumulating in there and will be surprised just how much it holds!
The instructions were clear and easy to follow. The only problem I had was top-stitching the top of the bag through all the layers where the handle loops are attached. My sewing machine was not happy with the thickness there!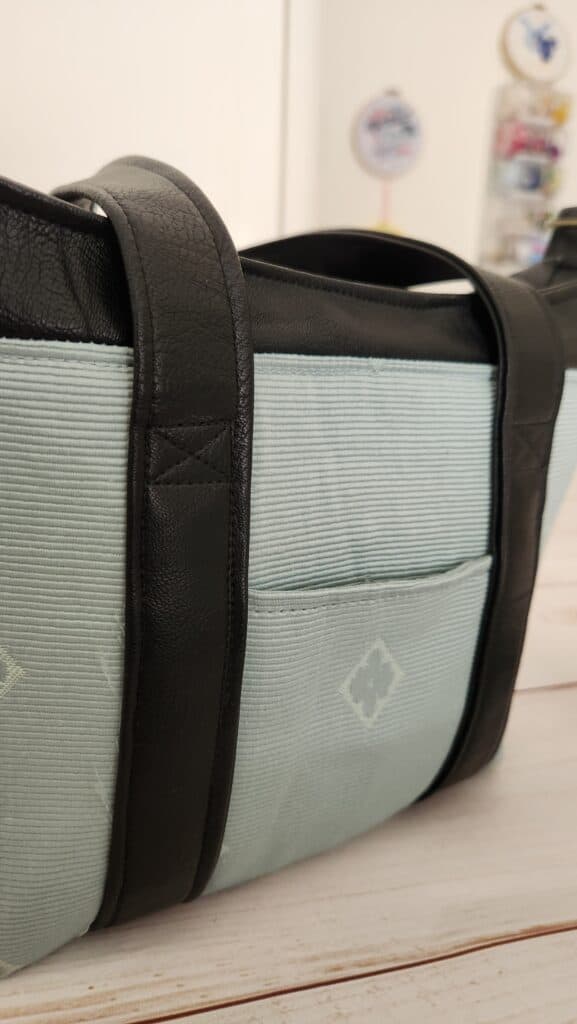 I used fusible foam for the main bag section but didn't use any foam/interfacing for the black sections, as I thought the fabric had enough weight. I should have interfaced the lining (as per the instructions), so it's a bit floppier than it should be (but only I will know that!).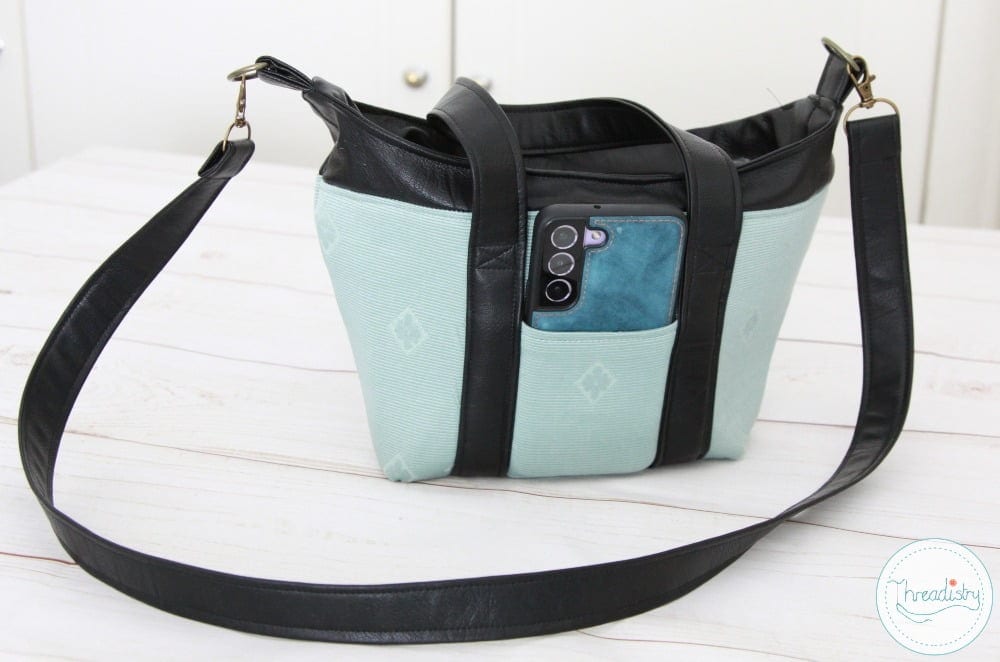 I've ended up with a cute bag perfect for everyday use. I would prefer it to be a bit bigger so that it could hold a normal-sized water bottle. But it's still a good size for when I'm out and about.
The Lily Handbag sewing pattern is available from 5 out of 4. You can purchase an optional online video course if you want to be walked through every step. Just select it from the dropdown box.