Sewing Tools: How to use pinking shears
Pinking shears are a handy tool to have in your sewing kit. Here's what they are and when to use them.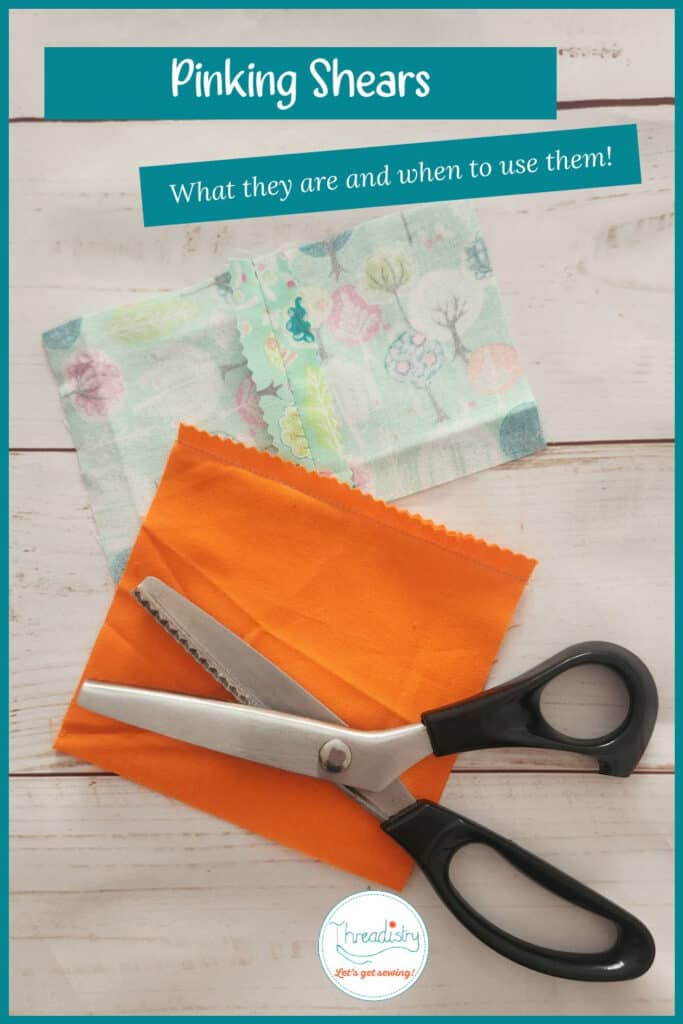 Disclosure: This post contains affiliate links. If you purchase after clicking these links, Threadistry may receive a small commission, at no cost to you.
What are pinking shears?
Pinking shears are scissors with a sawtooth blade, that creates a zigzag edge when cutting fabric.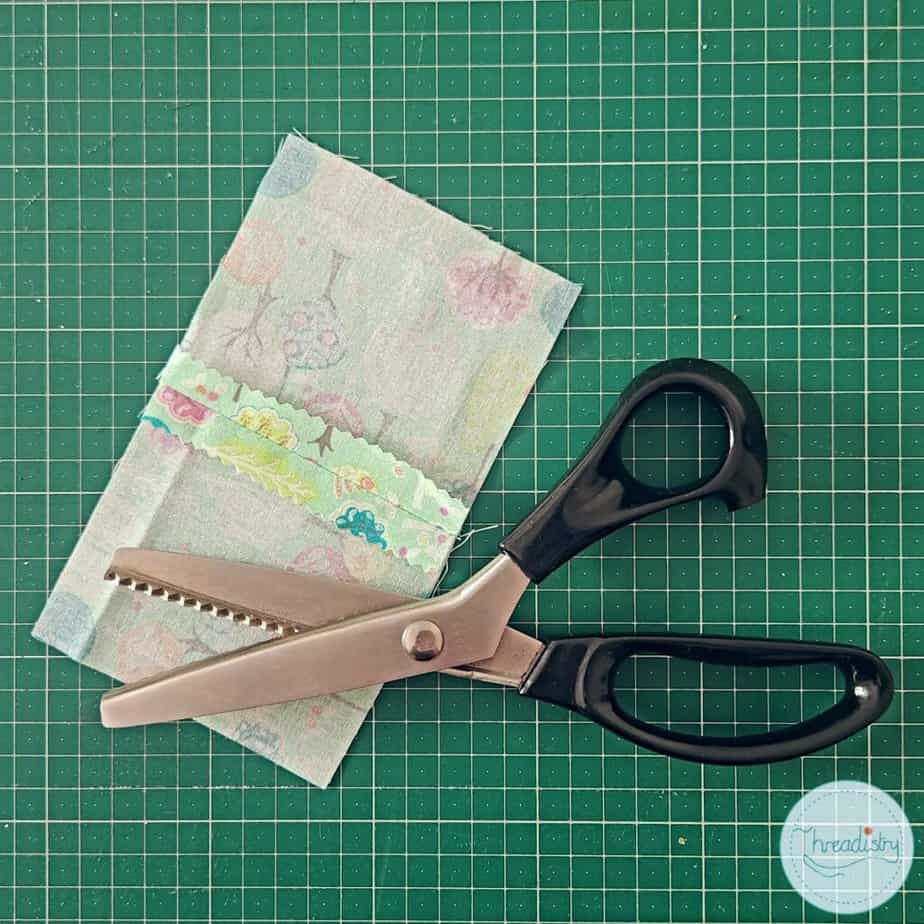 What are pinking shears used for?
Pinking shears are used to finish the edge of woven fabric, to reduce fraying and unravelling. It won't completely stop fraying, particularly on looser weave fabrics. They work best when cutting parallel to the grain (either cross-wise or lengthwise), but can cause more fraying when cutting on the bias.
Trim your seam allowance with pinking shears after the seam is sewn. It is difficult to cut accurately with pinking shears and also to line up and sew the pinked fabric edges, so you should never cut out your pattern pieces with pinking shears.
I also like to use pinking shears instead of clipping notches in curved seams.
Pinking shears can be used to grade seam allowances, making them less noticeable from the outside of a garment.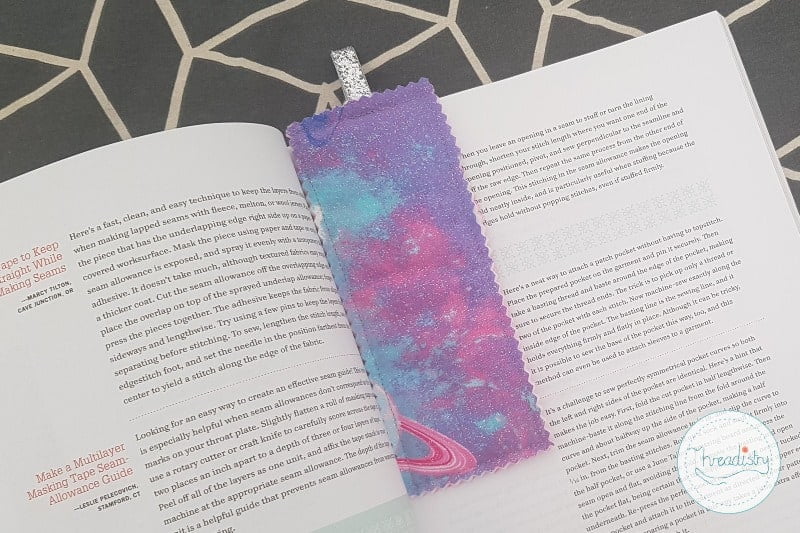 A pinked fabric edge can also be used as a decorative feature in a sewing project (like these bookmarks).
What can I use instead of pinking shears?
Pinking shears can be difficult to use (particularly if you have arthritis in your hands). It is possible to get a rotary cutter with pinking blades if you want that zigzag edge.
For seam finishing, there are lots of other options from using a serger, an overcast or zigzag stitch on a regular sewing machine, or a French seam.
Or if you have a lot of time on your hands, you could snip tiny triangles with your regular fabric scissors (Joking, I do NOT recommend that!).
Why are pinking shears so hard to use?
The way the blades interlock on pinking shears creates more friction than regular scissors. This can make them quite stiff to use and can make your hand feel stored quickly.
I find I have to use two hands to open my pinking shears when I first get them out. I also try to open the my shears quickly after each cut or not closing them all the way to avoid them getting too stiff.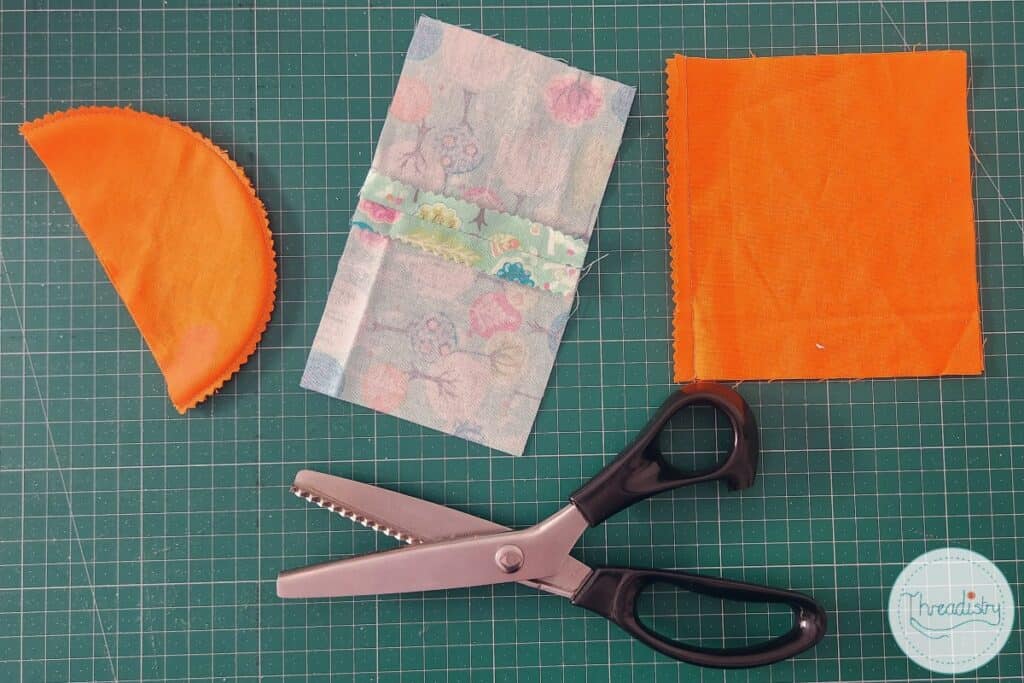 If your pinking shears have a screw where the handles cross, you may be able to adjust the tension to make them easier to use. However, most pinking shears have a rivet or cannot be adjusted.
A small drop of oil or spray lubricant at the pivot point could also make them move more easily. After you've applied it, open and close the shears several times to get the lubricant into the rivet/screw. Wipe the blades and cut a few fabric scraps afterwards to make sure there's no oily residue that could stain your fabric.
Sharp scissors make sewing so much easier. Find the best sewing scissors here.
How do I keep my pinking shears sharp?
To keep your pinking shears sharp, follow these tips:
Store properly:

Store your pinking shears with the blades closed
Don't let them bump up against other scissors or sewing tools
Avoid moisture or dampness, which can rust the blades.
Consider using a protective cover or sleeve

Never use your pinking shears to cut paper (just like sewing scissors) – that's a surefire way to dull the blades.
Wipe the blades with a clean cloth to remove any residue or debris that could dull the blades.
Cutting aluminium foil or sandpaper can hone the blades of your pinking shears and improve their cutting performance (but is not a replacement for having them professionally sharpened).
When your pinking shears no longer give a clean cut, it's time to get them professionally sharpened. Each tooth needs to be sharpened at the correct angle, which is best left to the experts! If you don't have anyone offering this service locally, there are mail-in services available (depending on where you live).
Best pinking shears