Spring Dress Tour: Poinsettia Party Dress sewing pattern review
The Poinsettia Party Dress sewing pattern from GYCT Designs is a fun party dress with simple details that make it look special. It's a quick sew for a confident beginner to intermediate sewist. These fabrics would make it perfect for a flower girl dress.
This post contains affiliate links. If you purchase from these links,
Threadistry may receive a commission at no cost to you.
Is it possible to have too many dresses for Spring? My daughter certainly doesn't think so, and she's ecstatic that I signed up for another Spring Dress blog tour, this time presented by GYCT Designs.
GYCT Designs have a few dress sewing patterns perfect for Spring, but the dress that caught my eye was the Poinsettia Party Dress (note this pattern is no longer available):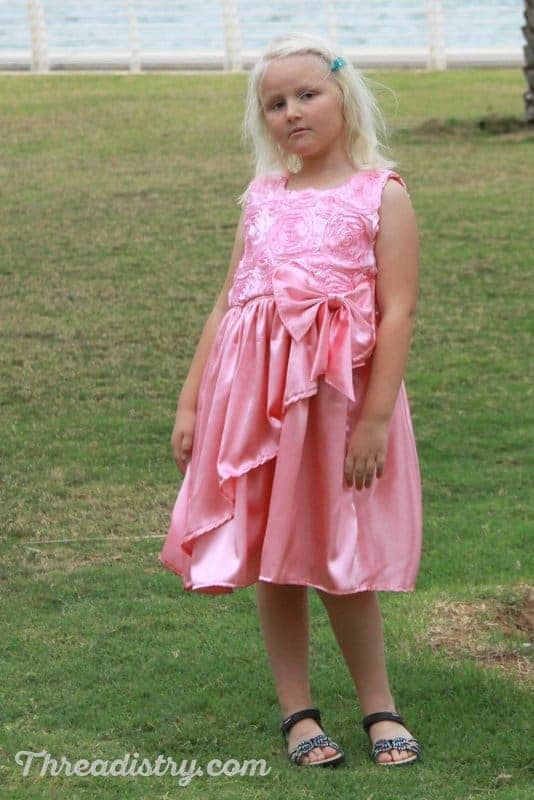 The double layer on the skirt front and the bow turn a fairly simple dress into something so much more fancy.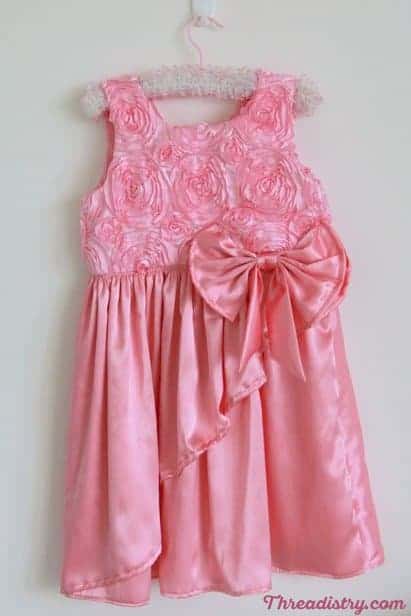 The fabric for the bodice is Wedding Rosette in satin pink, with silky satin charmeuse in solid blush for the skirt and lining. the wedding rosette fabric was an impulse buy and has been sitting in my stash for a while, waiting for the perfect project. I'm really happy with how it turned out. It would be perfect for a flower girl dress. Is anyone I know getting married?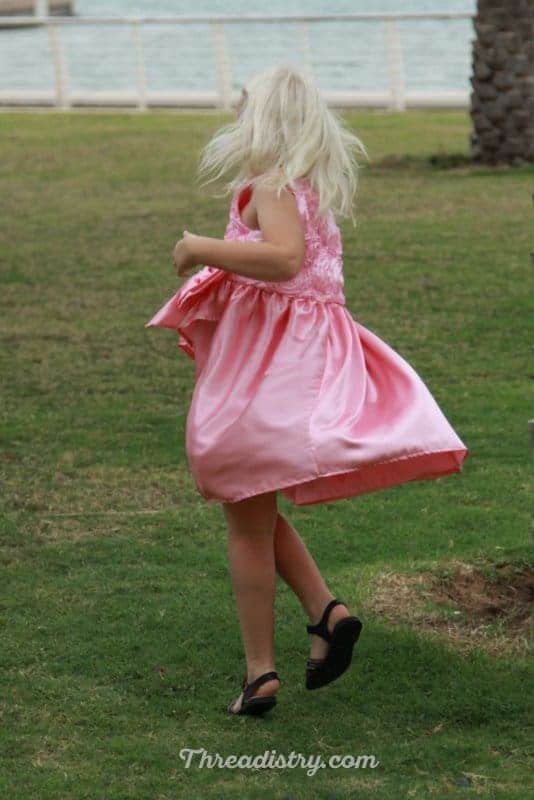 The bow is a fun detail and is easy to make. I didn't have the right interfacing, so my bow is a little droopier than it could be, but I added a few tacking stitches to the top of the bow and it still looks great!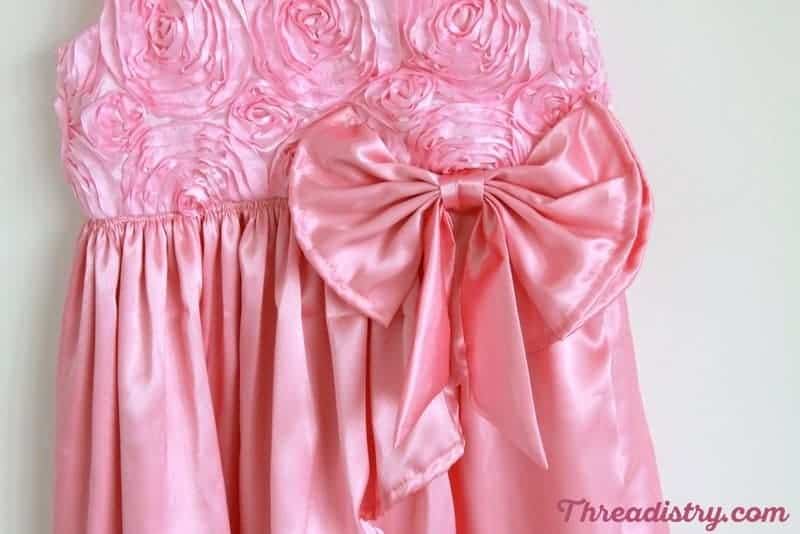 The pattern is an easy and fairly quick sew and is suitable for a confident beginner. I sewed it from fabric cutting to finishing off in an afternoon. It is a combination of printed pattern pieces and a cutting chart for the skirt pieces, with instructions for how to cute the overlay piece. I was expecting this piece to be a printed pattern, but the instructions were easy enough to follow.
The sizing was perfect – my daughter is a size 10 and it looks great now, but she still has room to grow into it for a while yet. And it passed the twirl test: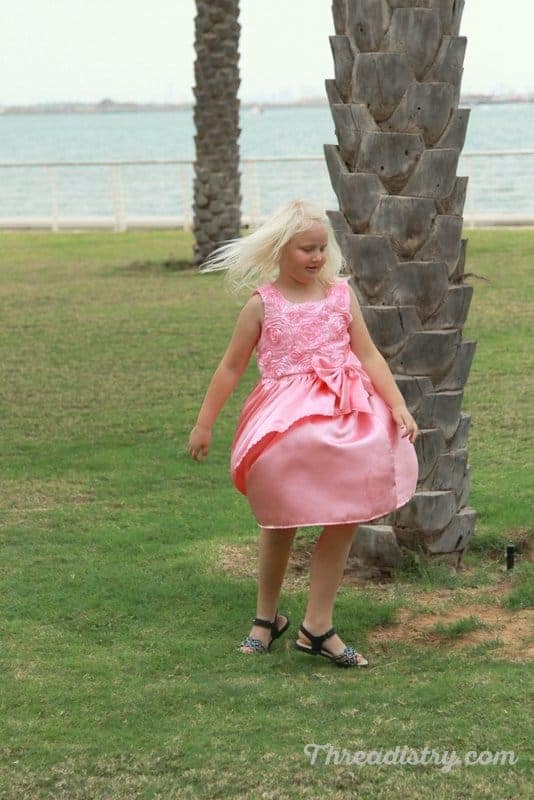 And my secret confession: I used Velcro for the closure at the back (instead of buttons or snaps recommended by the pattern). The rosette fabric is so busy, you can only see the stitching for the Velcro if you look carefully. After having to sew 7 dresses for the school play and a costume for World Book Day, I couldn't face sewing a buttonhole and was worried I'd make a mess of it.
Now, my daughter has decided she's a model, so here are her best collection of "model" poses!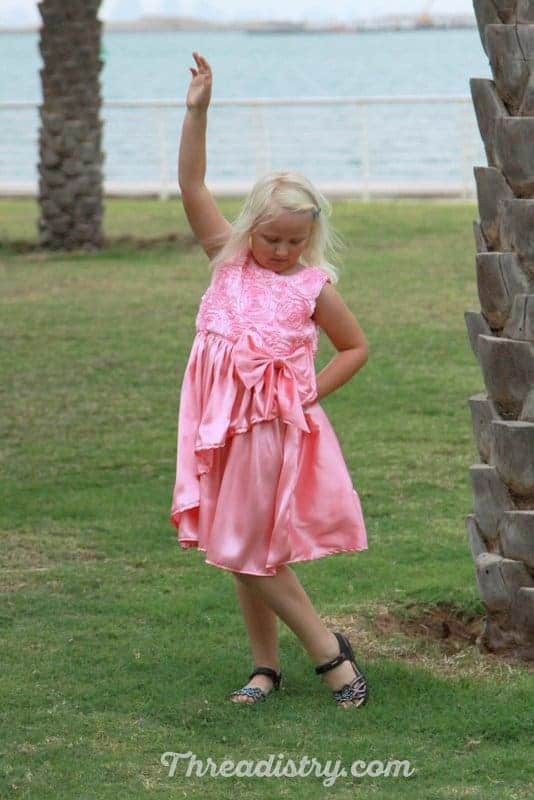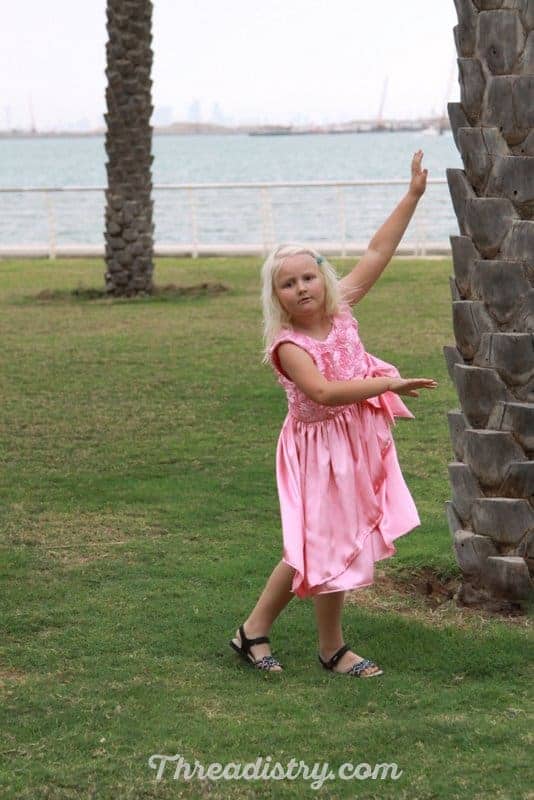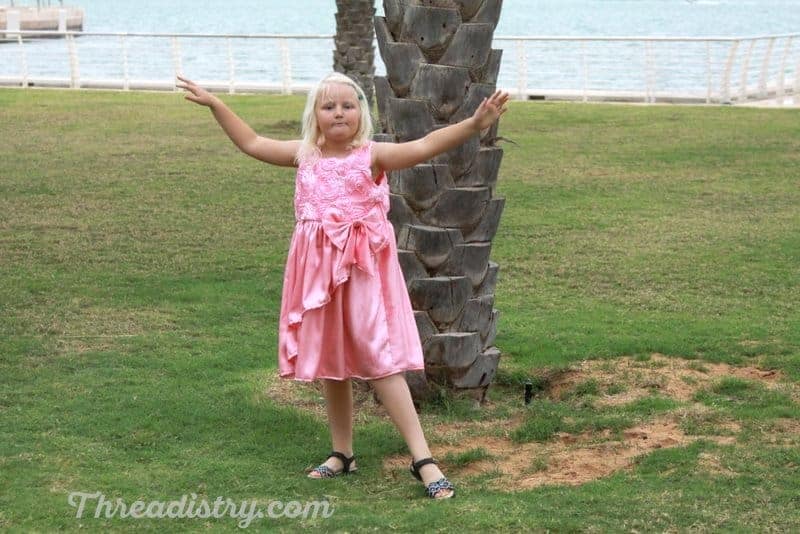 I have no clue where she gets these ideas from, but it makes me laugh!