Rhapsody Blouse sewing pattern by Love Notions
Today I'm reviewing the Rhapsody Blouse sewing pattern for women from Love Notions, made with the trumpet sleeve. Check it out!

It's been a long time between sewing pattern reviews (although I have a whole lot sewn up, ready to share!). Today, it's the Rhapsody Blouse for women from Love Notions: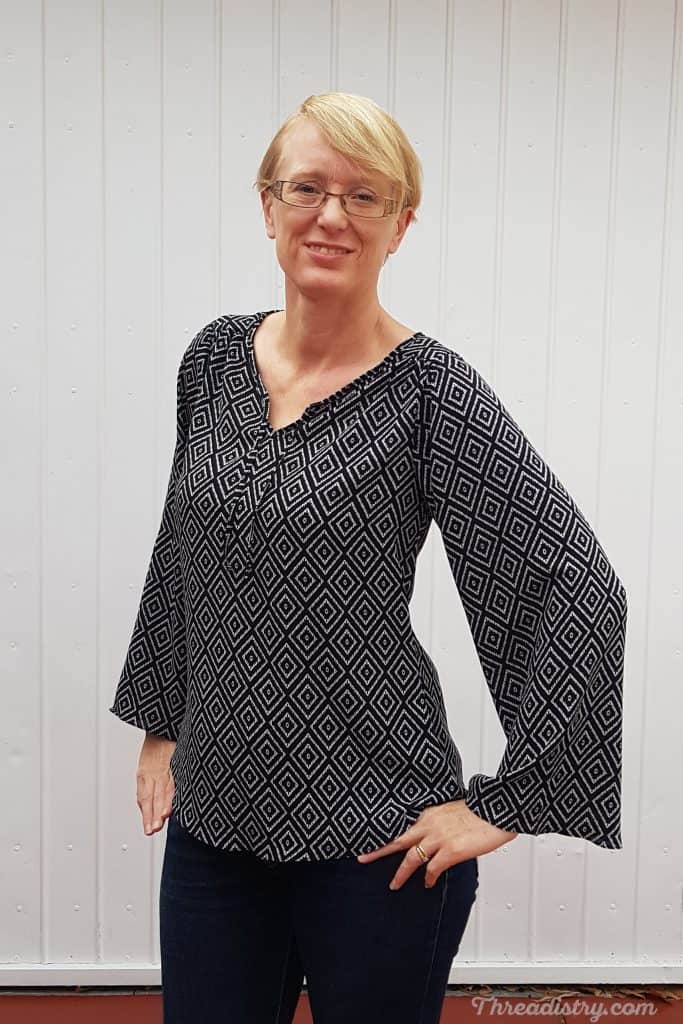 Disclosure: I was a pattern tester for this pattern. I received a free copy for fit and review purposes. This post contains affiliate links. If you make a purchase after clicking these links, Threadistry may receive a small commission, at no cost to you.
When I signed up for pattern testing, I didn't have a sleeve preference. I liked all the sleeve options except the three-quarter with flare and, to a lesser extent, the trumpet sleeve. With there being 8 sleeves options, I thought the odds were pretty high that I'd get the sleeves I wanted (and I really couldn't choose between all the options!).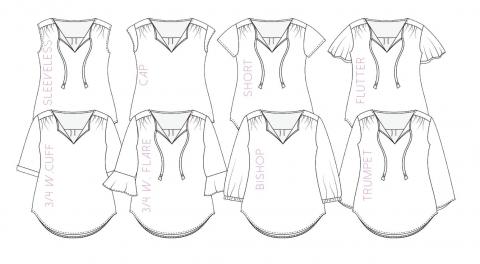 Of course, when the list came out, I was allocated the trumpet sleeves.
Now, when I commit to something, I do it. It was my fault I didn't add a preference and the designer needs all the options tested. So it looks like I'm giving the trumpet sleeves a go (and I could always convert them into bishop sleeves after I'd taken the photos).
Oh my, am I glad I did! These sleeves are fun! They swoosh around when I walk but feel lightweight and breezy. They're perfect for an Australian summer where you want to protect your skin from the sun, but not feel smothered and hot.
Here's my best "I'm a little teapot" pose to show them off: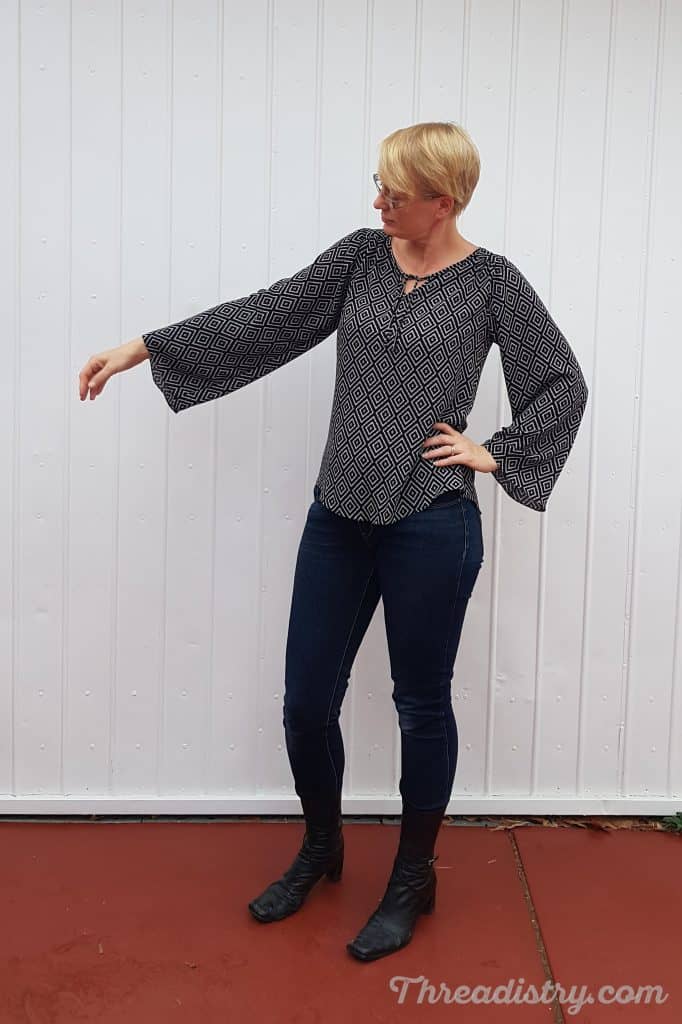 The neckline is bound and has the option to include ties. The blouse is super-relaxed with the ties undone (like the first photo). With the ties done up, it's that little more put-together and more appropriate for the office.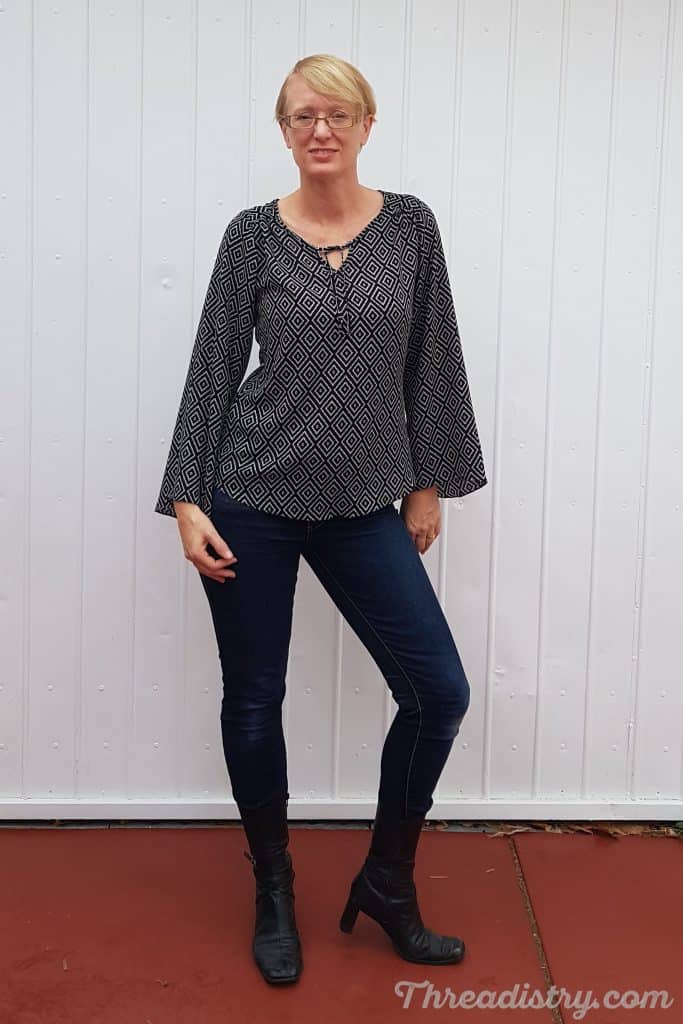 I love how it tapers slightly at the waist but still with plenty of flow over my lumpier parts.
The gathers at the (forward) shoulder add a pretty, feminine detail (although it gets a bit lost in the busy-ness of the geometric print.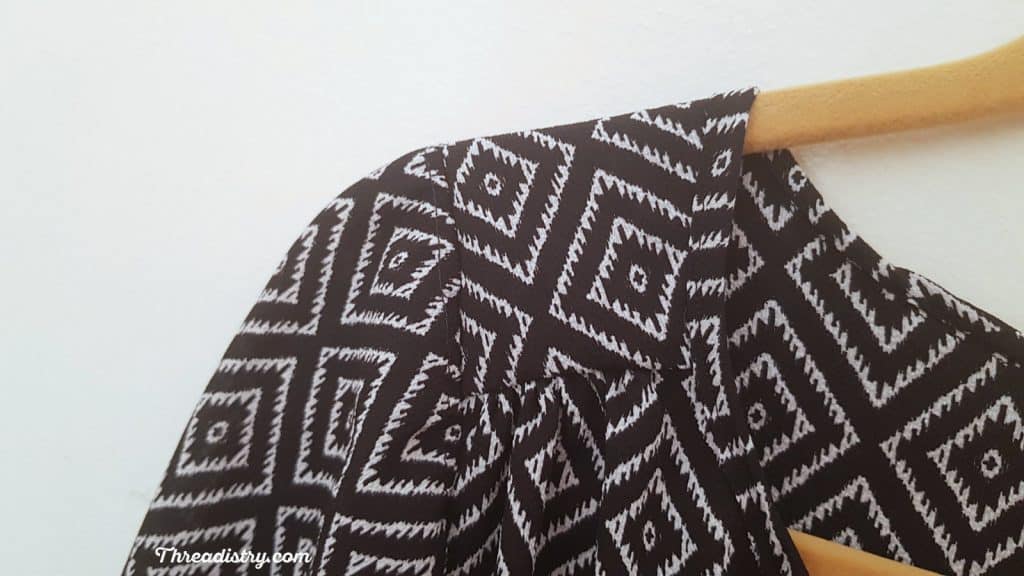 The back has a yoke with a small pleat. I love how it looks with this flowy ghost crepe fabric. The pattern also has great butt coverage!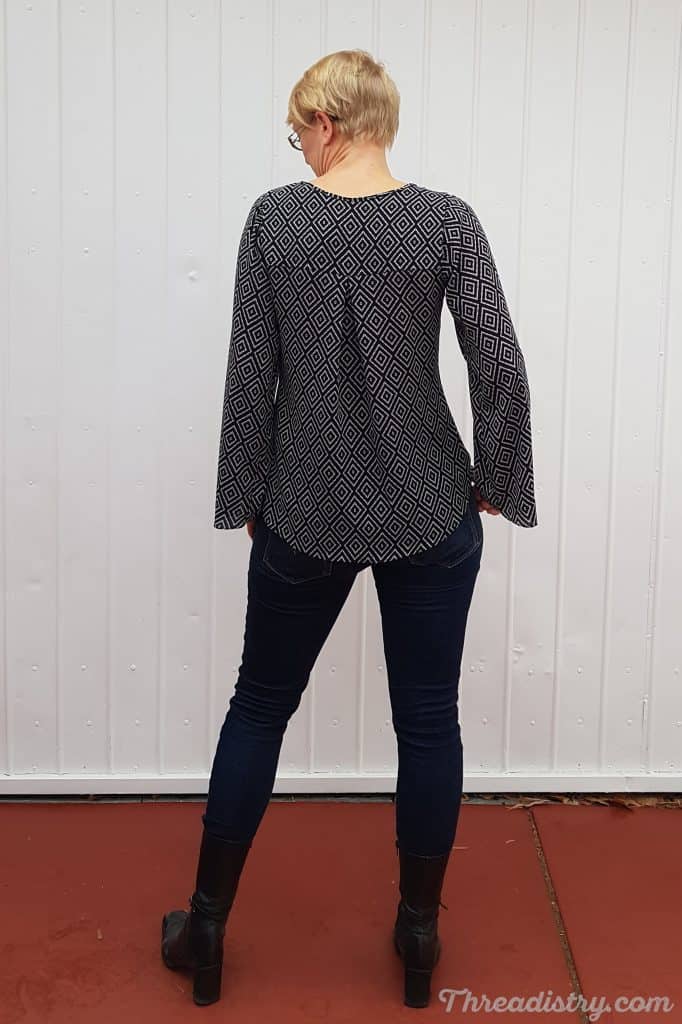 I only made a cursory effort at pattern matching (well, making sure the rows kind of lined up). I love how it looks on the side seam (and there are those swooshy sleeves in action!)!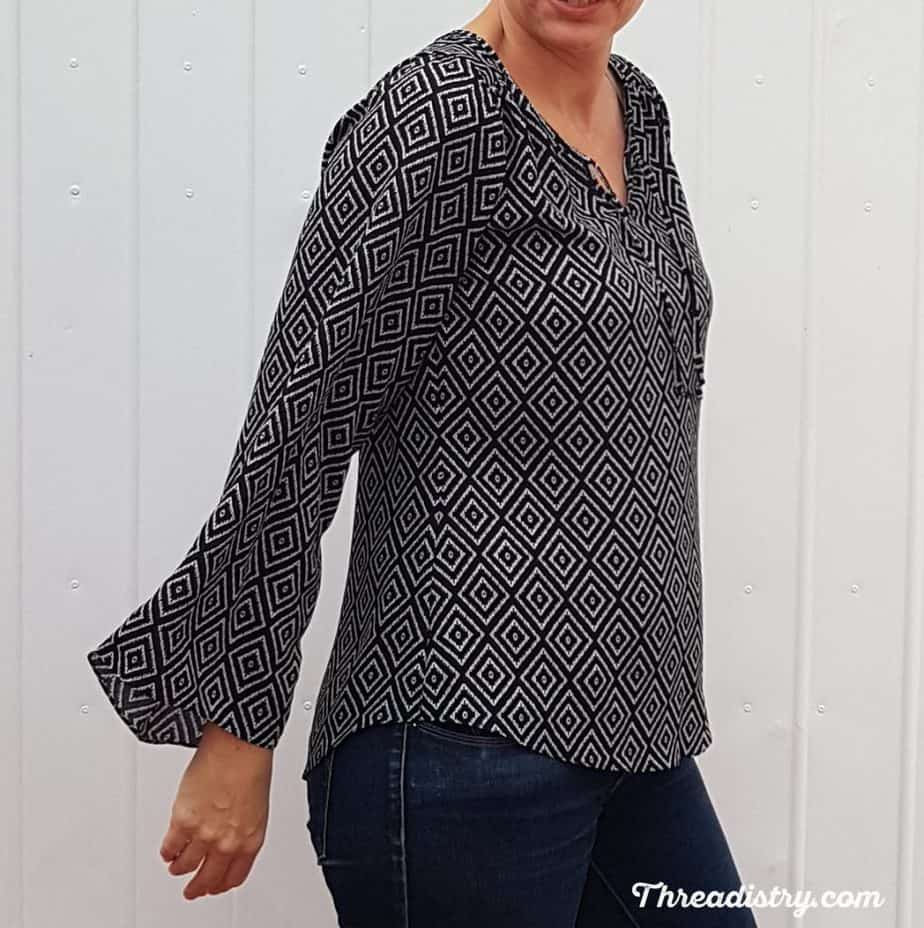 The pattern is designed for drapey woven fabrics. I used a ghost crepe, a textured lightweight polyester/spandex fabric, which was just perfect for the pattern. I haven't worn it on a hot day yet, so I don't know how sweaty the fabric will be. But with the long sleeves, it's perfect for that in-between weather.
Now I think it's time for me to try out some of those other sleeve options! (Or maybe the dress option…)
Get your copy of the Rhapsody Blouse from Love Notions here., available in sizes XS to 5X.