Sinclair Linda Top sewing pattern review
It's well known that I love a T-shirt with a twist – something comfy to throw on with jeans that's a bit more stylish than just a T-shirt. This Linda Top sewing pattern from Sinclair Patterns definitely fits the bill!
Disclosure: This post contains affiliate links. If you purchase after clicking these links, Threadistry may receive a small commission, at no cost to you.
I was a pattern tester for this pattern.
Sinclair's patterns come with three different height options – tall, regular and petite. I'm 5 foot 8 and usually have to add length between the shoulder and bust point with a lot of patterns (including adding depth to the armscye). Using the tall option from Sinclair, the patterns fit me spot on. I do have to blend sizes – I'm a Size 6 at the bust and 8 at the waist and hips. I love how quick it is for me to go from downloading the pattern to cutting fabric with these patterns.
So this pattern has a fun twist detail at the neckline, that is so pretty. It is an assymetric design (which the organised engineer in me finds a little disconcerting, but I'm coping very well…). The written instructions for the twist are a little confusing, but there's a video that shows you how to do it. I still managed to get it wrong the first time around. After pulling out the seam ripper and watching the video again, I'm not sure what I was thinking the first time around and it was really easy!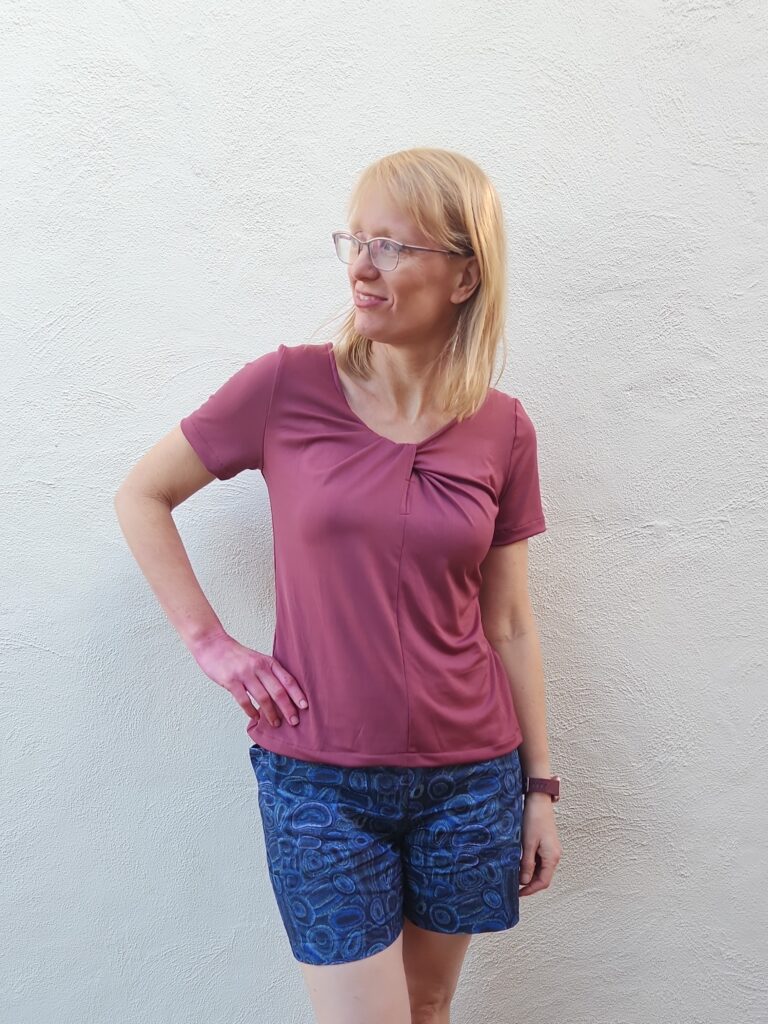 Aside from the twist, it's a simple T-shirt to sew. I love the semi-fitted style – it comes in enough at the waist to give shape, but is loose and flowy to cover up the lumps and bumps.
I used the standard short sleeve – it also comes with sleeveless, sporty short, three-quarter and long sleeve options. Sinclair's two sleeve add-on packs can also be used with this pattern (and I think I'll be trying one of the flared sleeves soon!).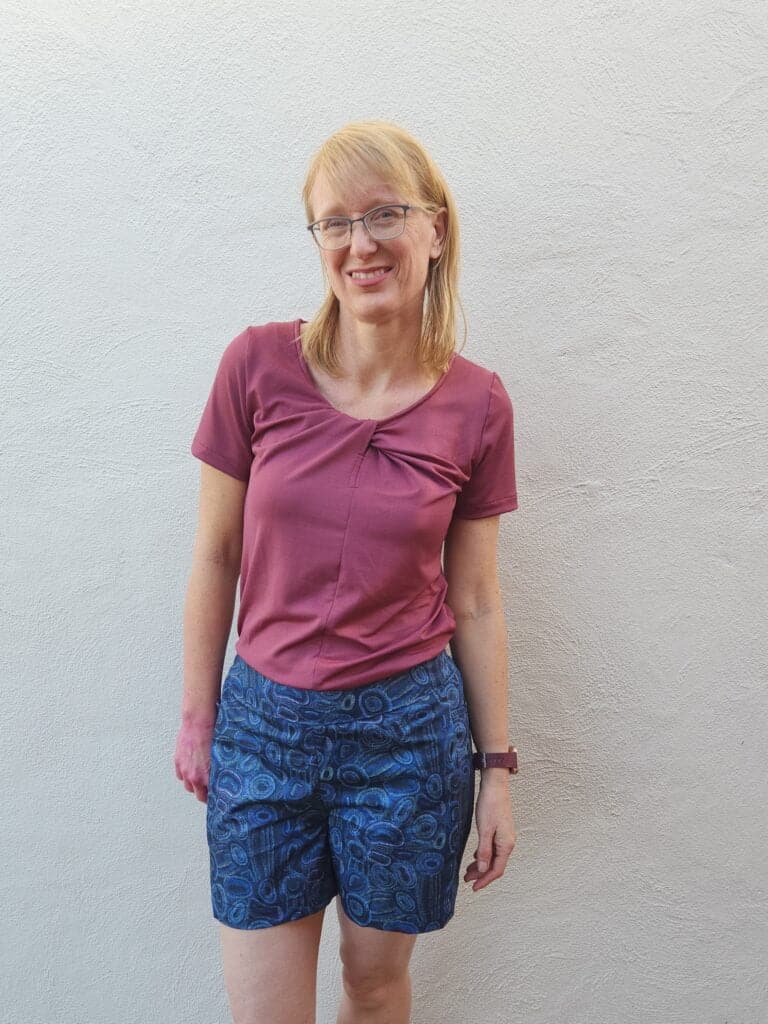 The pattern is designed for light to medium-weight, drapey knits. I'm not sure what fabric this is from my stash – possibly an ITY or DTY. It's light and flowy and just a little bit slinky.
I'm wearing it with the Hello Shorts, also from Sinclair Patterns.
The pattern comes with a few other options – a dress, peplum top and banded top. Get the Linda top sewing pattern here.