Summer Festival Sewing – Super Sleeve Top
Today's my turn in the George + Ginger Festival Fever blog tour. The theme celebrates all summer festivals, from music to food. But where I live, there are no summer festivals. In fact, it's so stinking hot most people leave for as much of summer as possible.
Lacking inspiration, the word festival bounced around in my head. It reminded me of when I turned 40. I told my family it was going to the Forty Day Festival of Me. I had visions of a small gift or some special treat for me each day for 40 days, to make hitting this milestone fun and memorable.
Unfortunately, my family didn't get on board with my plan. So I decided I needed to sew something that celebrates me, and well, my love of sewing:
Note: I received a free pattern for review purposes. All opinions are my own.
It's the Super Sleeve Top sewing pattern (this pattern is no longer available). This pattern is a basic T-shirt with 5 sleeve options, basic, poof, ruched cuff, angled gather and flutter sleeves, with options for colour-blocking and faux piping. I chose the flutter sleeve, and wow are these sleeves fun and feminine, with a fun twirl factor: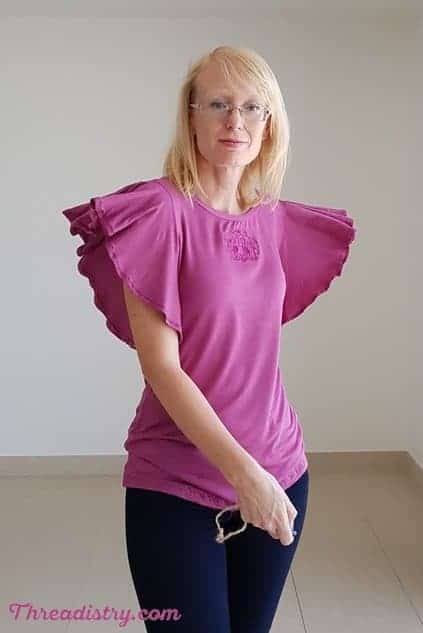 The fabric is a lightweight jersey from my stash in a dusty burgundy colour. I'm pretty sure I found this in a remnant bin a long time ago. It's really light and has a silky feel to it, just adding to the feminine feel. It was a little too slippery at times, so there are a few imperfections, but I'm sure I'm the only one who'll notice them!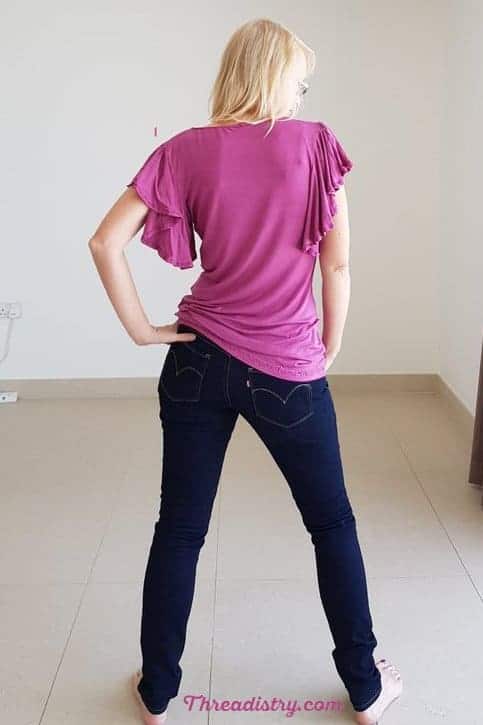 But a basic T-shirt with fun sleeves isn't really Festival of Me. It needs more than just that. I've been having a lot of fun with my new-ish embroidery machine, mostly for blankets for my kids and other little things. I decided it was time to give embroidering a T-shirt a go: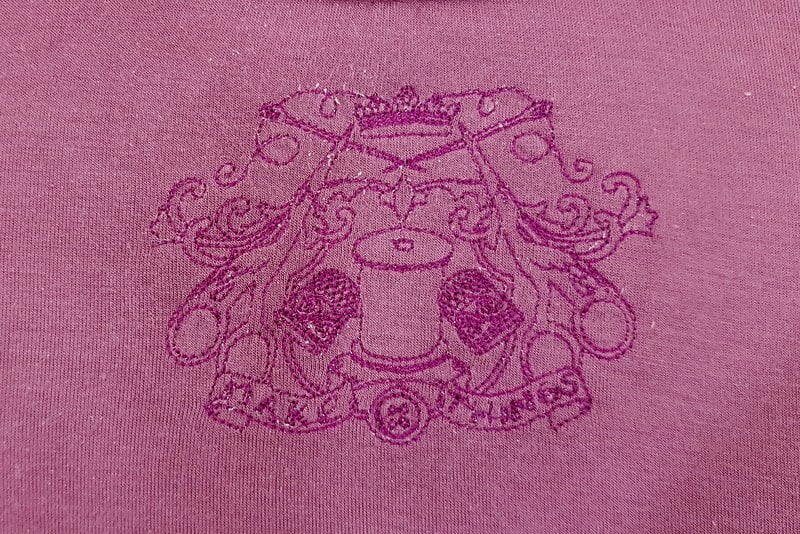 The design is Sewing Crest from Urban Threads, including thread, needles, scissors, thimbles, a button and the words "Make Things" in the design. Sewn in a slightly darker thread than my fabric, it doesn't scream "I LOVE SEWING", but says it in the shy, quiet way I normally would.
But I didn't just stop there. My sewing machine has a wonderful collection of fancy-pants stitches that I had to put to the test. On one sleeve it says "Love":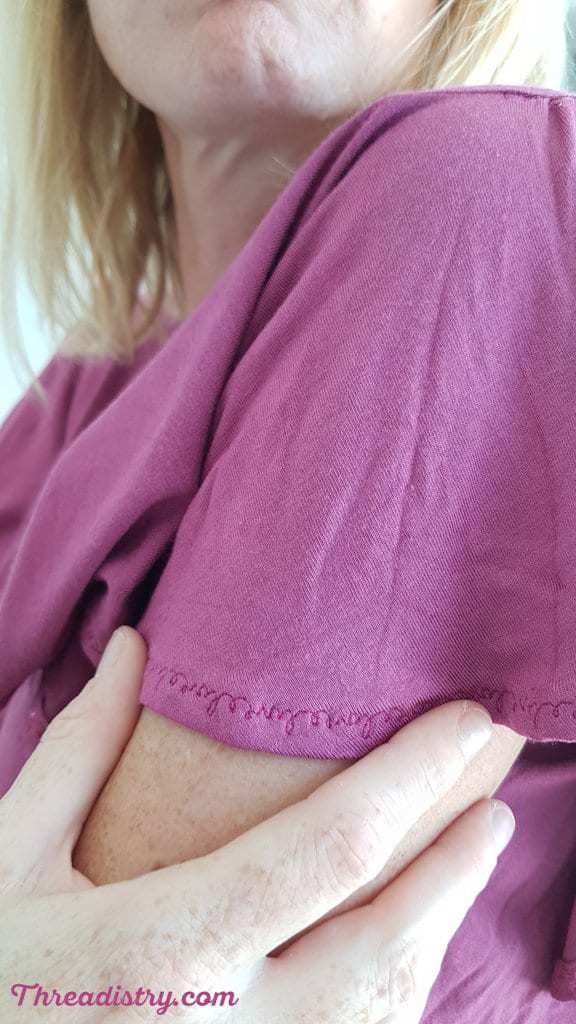 On the other sleeve it says "Sewing" (please ignore that they're upside down, I'm still learning how to work this machine!):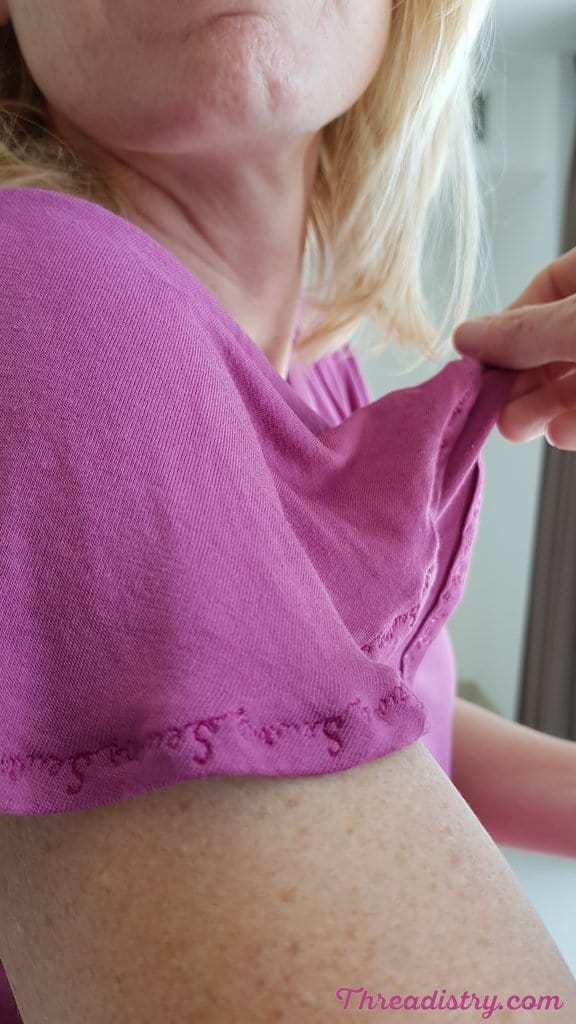 And on the bottom hem, there's a row of little sewing machines (the right way round!):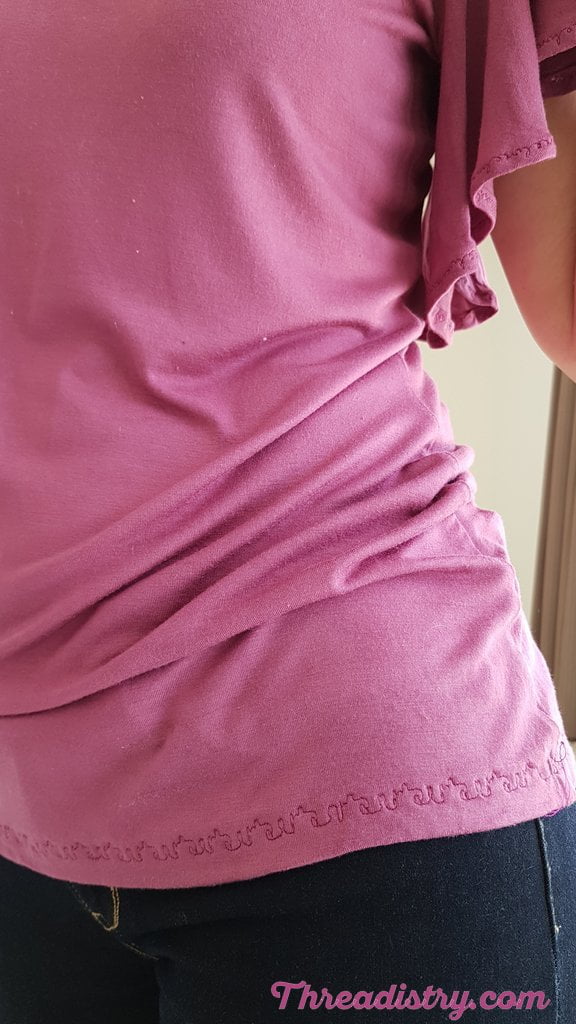 The best thing about using these fancy stitches for hemming is that they naturally have heaps of stretch. They're cute and I don't have to worry about accidentally popping stitches.
Confession: I'd wanted to have all of them say "Love Sewing" and then have the sewing machine, but I couldn't quite work that one out. Well, it got me thinking creatively anyway! My machine also tried to eat the fabric a few times, so I had to put tissue paper under the fabric. I haven't quite got it all out from between the stitches.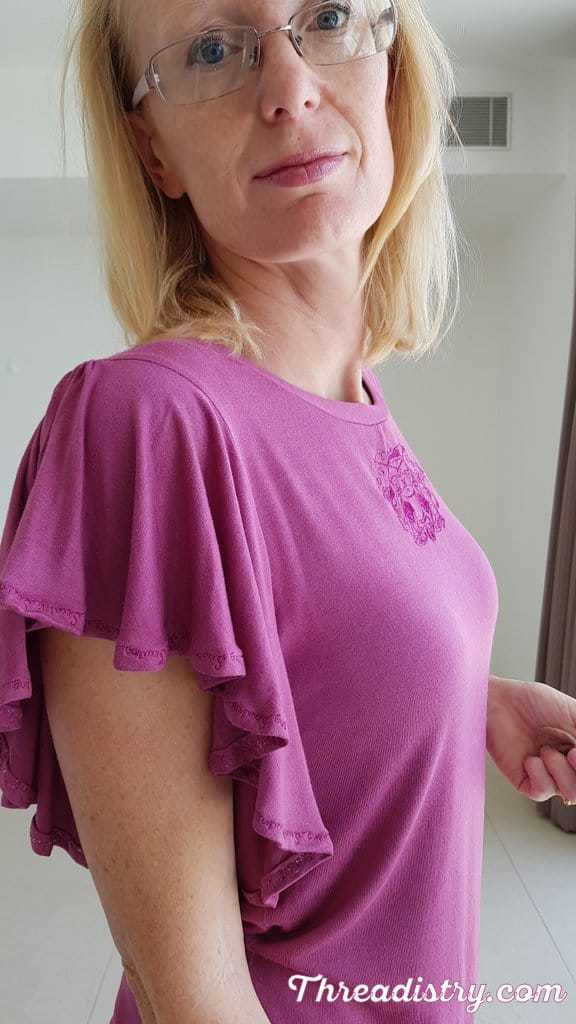 Overall, I love the Super Sleeve Top. It takes my Mum uniform of jeans and a Tee to the next level and makes me feel a bit dressier. And I love that I've added that hint of personality, without it begin over the top. It's just that private Festival of Me!
The Super Sleeve Top sewing pattern is no longer available to purchase.