April showers bring May flowers: The Weekendje Kimono sewing pattern review
The latest theme for The Eli Monster ambassador program is "April Showers bring May flowers". Since April is my birthday month, I decided to sew something for me: The Weekendje Kimono sewing pattern: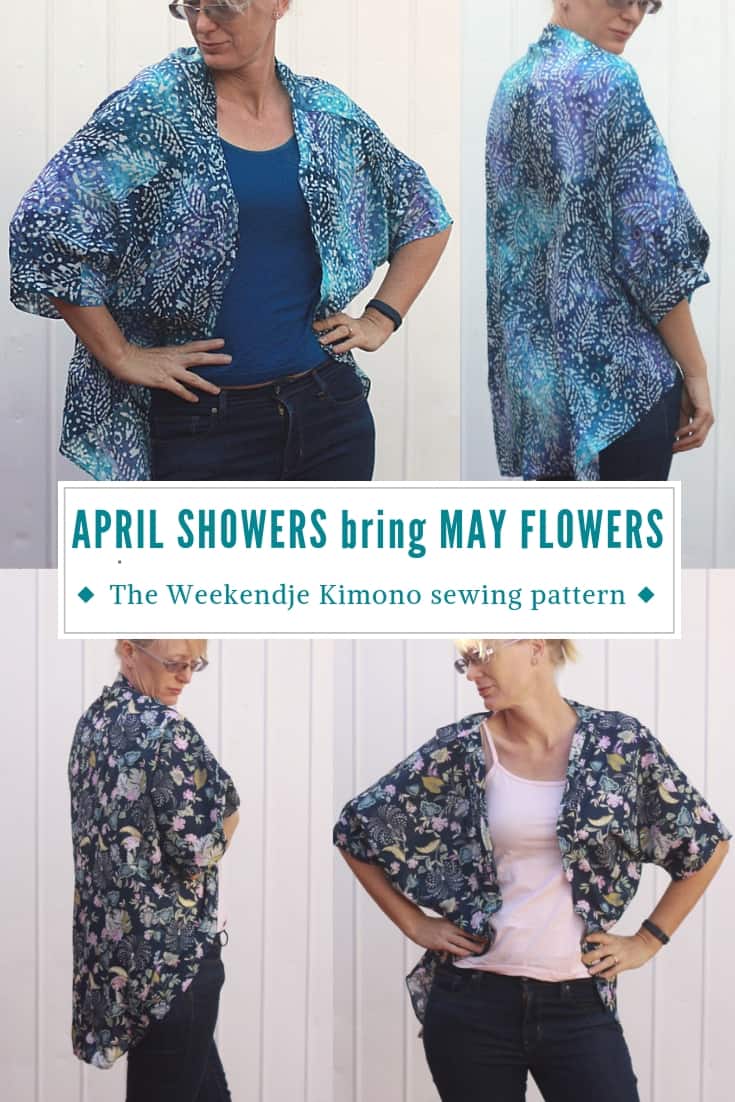 I'm an Eli Monster Ambassador and affiliate. I receive free sewing patterns for review (all opinions are my own!). If you make a purchase after clicking a link, Threadistry may receive a small commission at no cost to you.
Get the Weekendje Kimono sewing pattern from The Eli Monster here.
It's that time of year where the weather is in transition, whether it's getting cooler in the southern hemispehere or warmer in the north. Either way, it's the perfect time for layers to deal with those unpredictable days. The Weekendje Kimono is the perfect pattern to throw on for a bit of extra warmth, and it turns a boring jeans and top look into something much more stylish!
Weekendje Kimono sewing pattern review
My wardrobe is lacking in layers, so I decided to make twoi Weekendje Kimonos – one with rainy April fabric, and one with May flowers.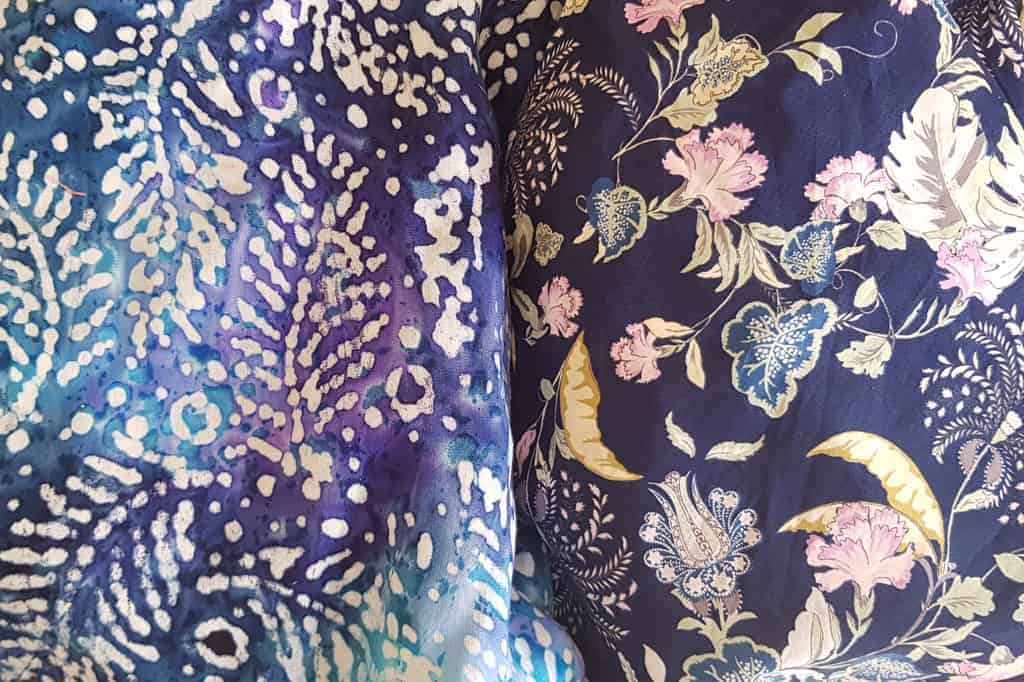 Quick confession: I'm not a fan of floral fabric. I see so many gorgeous floral fabric and dresses, but I just can't see myself wearing them. So I chose a subtle, almost paisley-like print, but not too flowery!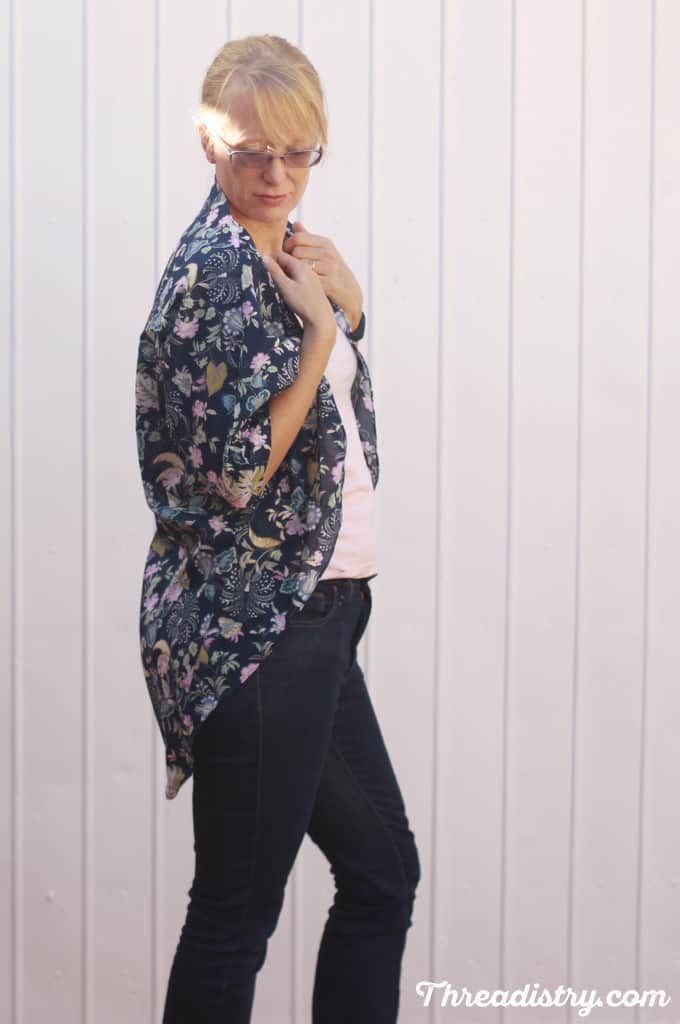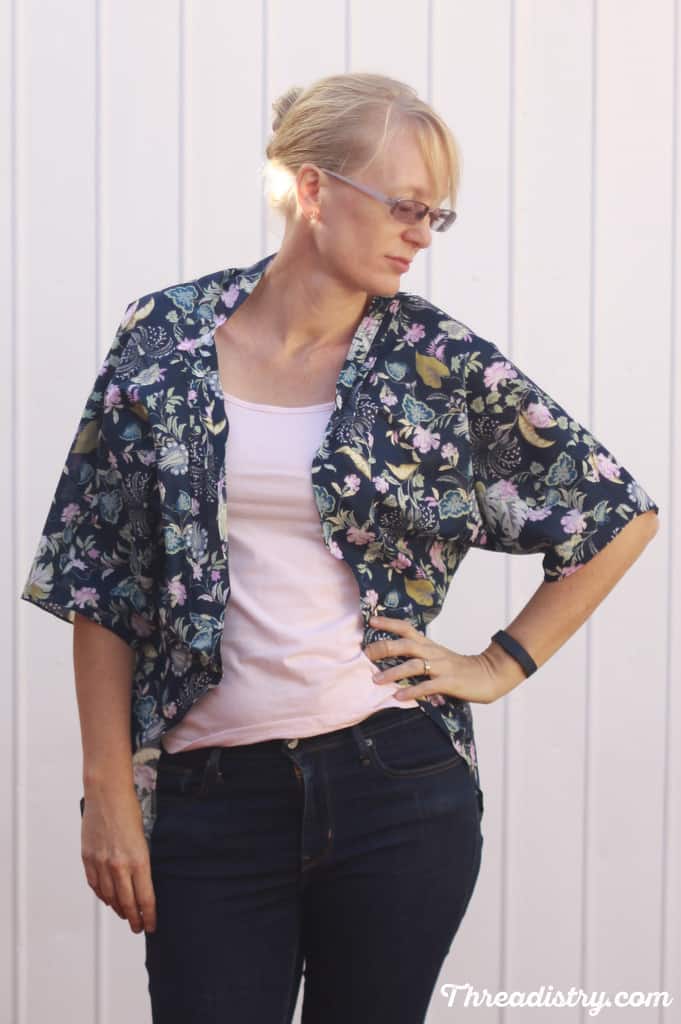 With the "rainy fabric", it was only after I sewed and photographed the kimono that I realised there was a leaf pattern in the splotches! I guess my head was just too focused on the theme too notice!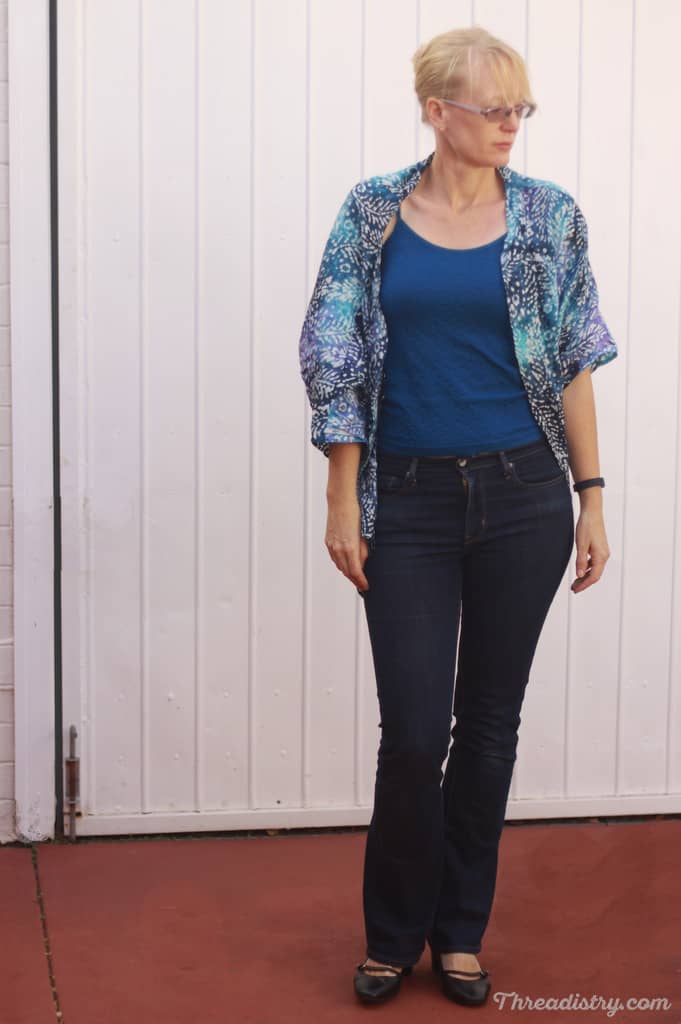 The Weekendje Kimono sewing pattern is such a quick and easy sew. There are only two pattern pieces, so there's a couple of pleats, seams and hems, and you're done before you know it! It's one of those patterns that take longer to tape together than actually to sew. But it's also one of those patterns where you can happily see one for ever day of the week!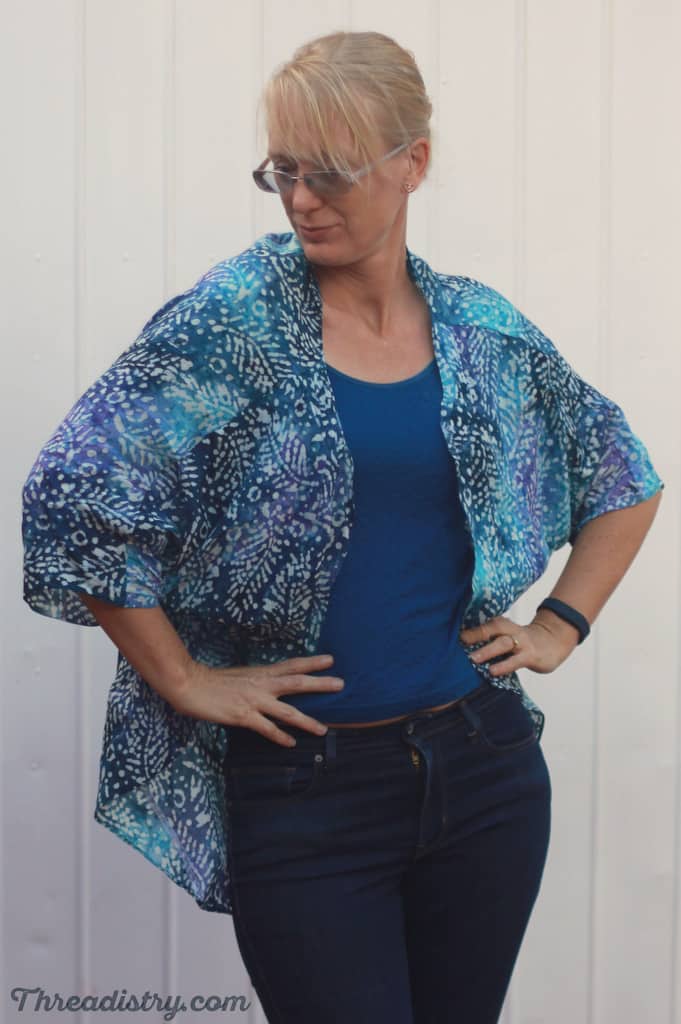 The pattern is be sewn with lightweight, drapey woven fabric. The rainy fabric is rayon and the flowers is cotton lawn.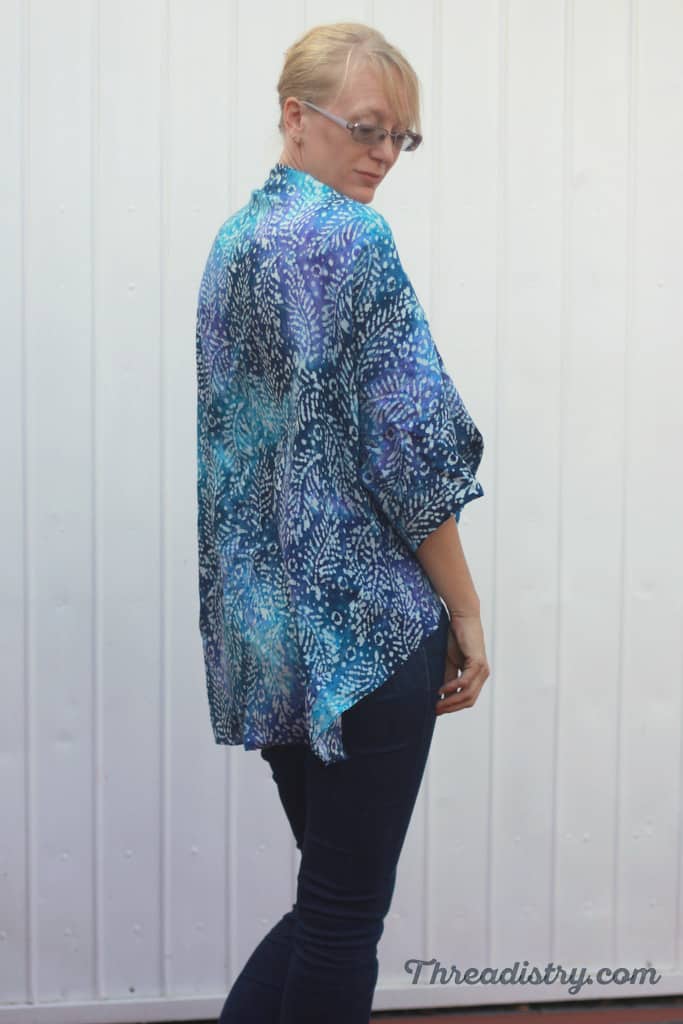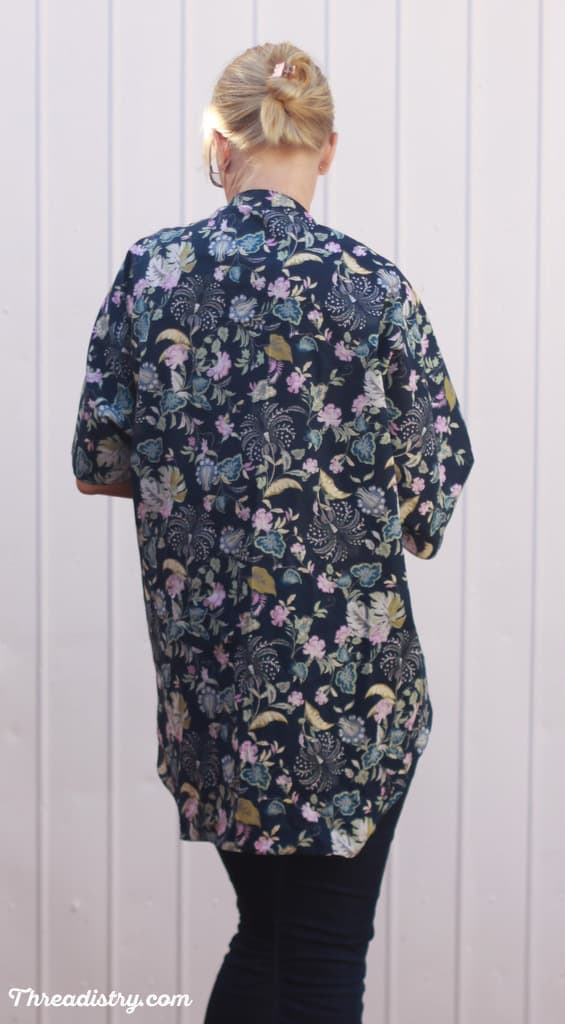 The kimono is great to throws over a tank, T-shirt or long-sleeve T-shirt, and turns a boring school run look into something more stylish. It's also great for covering up your butt! I'm thinking of sewing one from a sheer fabric as a swimsuit cover-up too.
Get your copy of the Weekendje Kimono sewing pattern here.