Narelle's Going Home Sweater
All winter, I've wanted a cowl neck sweater, and I finally decided to buy the Going Home Sweater when it came up as a Wacky Wednesday pattern. I'm usually a bit wary of Ellie and Mac patterns as I've had a bad experience in the past, but thought fit would be less of an issue with a sweater.
Disclosure: This post contains affiliate links. If you purchase after clicking these links, Threadistry may receive a small commission, at no cost to you.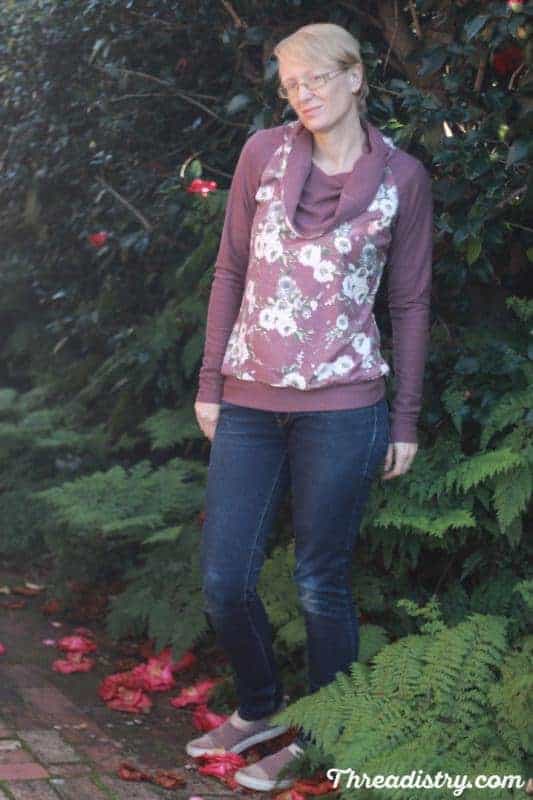 My measurements put me in Medium for the bust and Large for the waist and hips. The photos show a fairly snug fit (more like a T-shirt than a sweater), so I decided to go with a straight large. I added a couple of inches to the sleeves. The sleeves would have been the right on the wrist if I hadn't added the length, but I'm happy I can pull them over my hands for extra warmth!
I also didn't have enough fabric to cut the two cowl pieces from the same fabric, so I ended up cutting the cowl in half, so the inside and outside are different fabrics. It was a quick and easy sew, and the fit turned out as expected, although the sleeves are tight for a sweater – they are more like a T-shirt.
The fabrics are French Terry, from Lush Fabrics (in Australia). It's a fairly lightweight sweater fabric (but it doesn't get that cold here!).
Overall, I love how it turned out – the cowl adds a pretty detail that makes me feel dressed up, even though I'm wearing a snuggly sweater!