How to sew a fabric rose (free sewing tutorial)
Learn how to create a beautiful fabric rose with this easy-to-follow sewing tutorial! This step-by-step guide will walk you through the process of creating a stunning rose that you can use to embellish clothing, accessories, or home decor. They look really cute on a hairclip!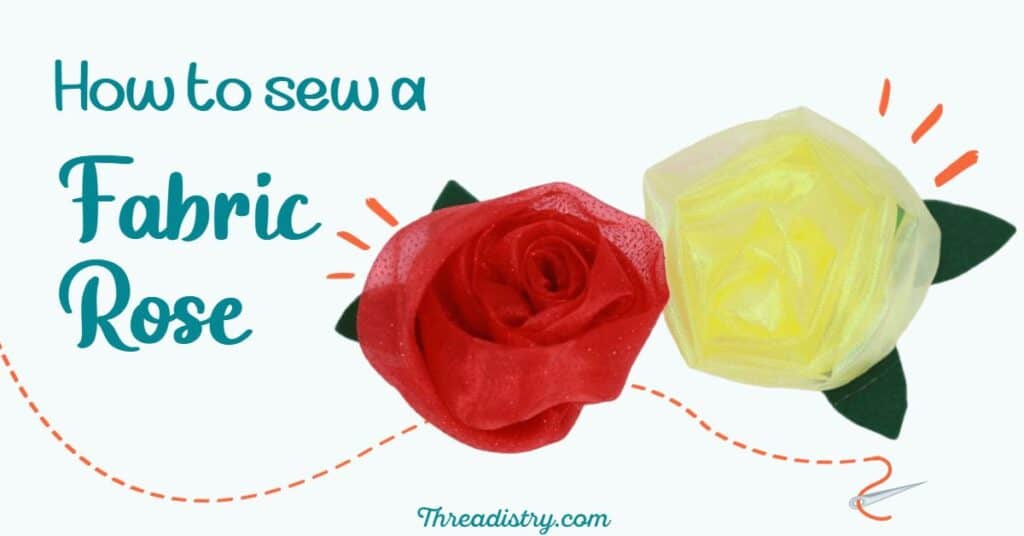 Disclosure: This post contains affiliate links. If you purchase after clicking these links, Threadistry may receive a small commission, at no cost to you.
I love to sew tutus (my favourite is this Angelina Ballerina one for my little girl). Whenever I make a tutu, there's always a narrow piece of fabric leftover. Thanks to the wonderful cutting skills of my local fabric shop, it's usually cut on an angle, something like this:
Normally, this would be really annoying, but this is actually perfect for rose-making! I've used organza, and other lightweight fabrics. I haven't tried it with anything heavier.
Here's my tutorial for how to sew a fabric rose:
Supplies
3-inch (8cm) strip of organza or other lightweight fabric
Matching thread
Small piece of green felt for leaves
Small felt circle
Sewing machine
Hand sewing needle
Hair clip (optional)
Hot glue gun and glue
Instructions
Step 1: Cut a fabric strip. If you don't have a wonky leftover scrap of fabric like me, cut a fabric strip on an angle going from around 3 inches (8cm) at one selvedge to 1.5 inches (3-4cm) at the other.
Step 2: Adjust your sewing machine settings. I set my stitch length to the longest possible (which is 5 on my Janome MC3500) and increase the tension to maximum (which is 9 for me).
This will gather the fabric for me as I sew – yep, I'm a lazy crafter and always look for the quickest way to do anything!
Step 3: Fold the fabric in half lengthwise with wrong sides together and sew along the edge of the fabric with a 3/8 inch (1cm seam allowance).
Here you can see the fabric gathering as it goes behind the needle. (The rose practically creates itself!). Since one edge will be slightly longer than the other, you'll need to stretch one side a little. The fabric will bunch and twist a bit, but this helps create the appearance of petals.
(I picked the worst fabric to photograph – pale yellow fairy organza – sorry!)
The fabric will end up looking like this:
Step 4: Roll the fabric into a rose. Starting at the shortest end, slowly fold and wind it around, hand-stitching it in place at the back every now and then:
Keep wrapping and stitching…
Until you have a whole rose. For the last edge, I fold it under and taper it to the centre.
Step 5 (optional): To make it into a hairclip, I hot-glued two leaves (cut out of felt) and a felt circle onto the back, and then hot-glued a hairclip on the back.
And there we have a beautiful organza rose:
Now you know how to sew a fabric rose (and use up those annoying uneven fabric scraps). If you make one, I'd love to see your version!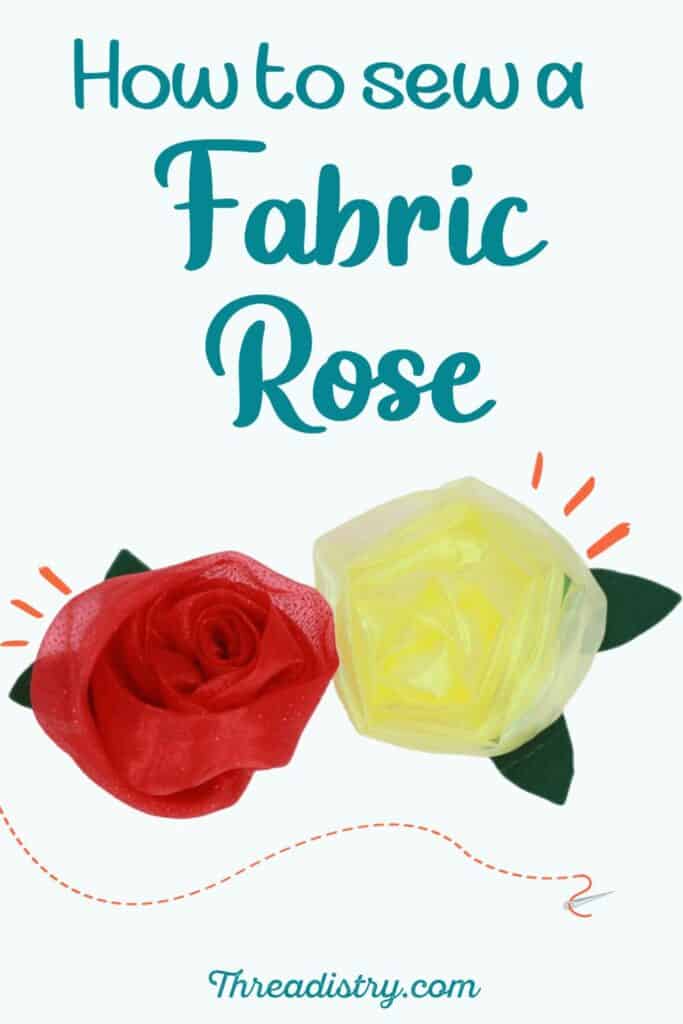 More sewing inspiration: