14 Ideas for How to Get Your "Sew-Jo" Back
Do you go through periods where you just stop sewing? You love sewing and have a million projects you want to make, but just can't bring yourself to sew anything.
You look at your fabric stash and patterns, and nothing inspires. You know once you start sewing, you'll love it, but still… nothing.
You've lost your "sew-jo" (your mojo for sewing). Every sewing slump is different, so there are different ways to get back on track.
Here are my best tips for getting your sew-jo back: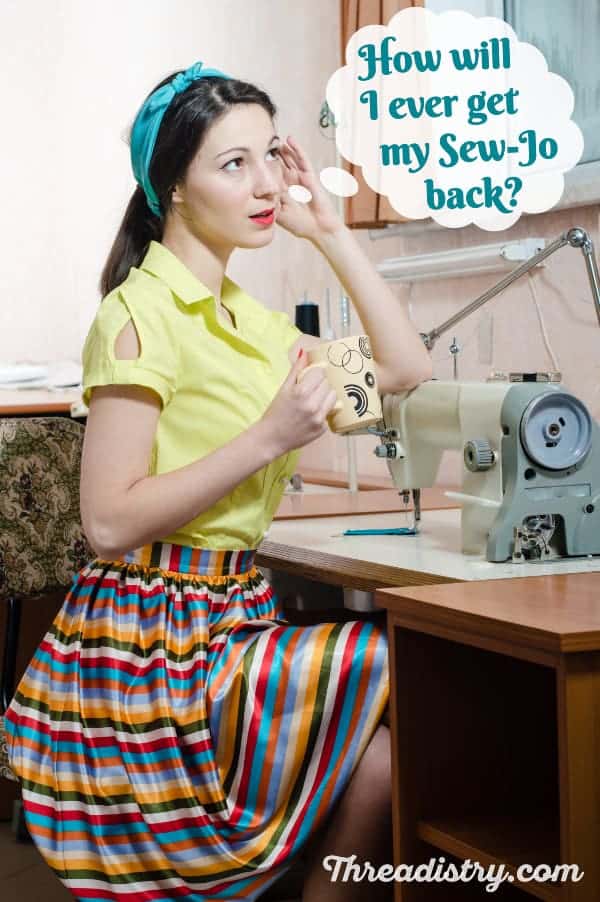 Disclosure: This post contains affiliate links. If you make a purchase after clicking these links, Threadistry may receive a small commission, at no cost to you.
1. Start small
Sometimes the thought of tackling a big project stops you from getting started. So turn it around, and just sew something small. Maybe a potholder or a simple skirt.
Just something to get you started, to remind you why you love to sew.
Check out this post for the best beginner sewing projects. Not just for beginners – they can be a great way to get your sew-jo back!
2. Join a sew-along
If you don't have a deadline, sometimes it's hard to find the motivation to sew. My next few tips are all about creating a deadline for yourself.
One way is to join an on-line sew-along. Pattern designers and bloggers often host sew-alongs to guide you step-by-step through a new project. Sewing along with a group of people can keep you feeling motivated, and you also have more support if you get into problems.
Sew-alongs typically have small steps each day, so you don't have to make a big time commitment. It might be just enough to get that sewing inspiration flowing!
Check out Facebook groups or blogs to find the perfect sew-along.
3. Join a challenge (online or with a friend)
Joining an online challenge can give you a deadline and/or inspiration to try something different.
The 52-week sewing challenge group on Facebook has a different theme every week (with prizes) and is a great way to get you thinking creatively.
If you don't want to do an online challenge, why not make a challenge with a sewing friend?
4. Sign Up as a Pattern Tester
Another way to create a sewing deadline for yourself is to sign up as a pattern tester.
Lots of indie pattern designers are looking for people to help test their patterns. When you volunteer as a pattern tester, you'll be given a timeframe to sew up a yet-to-be-released pattern, giving feedback on the fit and pattern instructions. You may have to sew multiple versions of the pattern (if the pattern gets modified) and take modelled photos of the finished project for promotion.
Designers often like to have a range of sewing experience for their testers, so don't be afraid to sign up, even if you're a beginner. Check out the newsletter or Facebook groups of your favourite designers for call outs for testers.
5. Try a new tool/technique
One reason we get in a sewing rut is we keep sewing the same things over and over, using the same techniques.
Pull out a sewing machine foot you haven't used before, challenge yourself to sew a zipper or perfect the buttonhole, sew with a different fabric type. Give yourself a challenge and watch your sewing skills improve!
6. Join a class (online or in-person)
Another way to experiment with new techniques or projects is to join a class. Learn how to sew something different at your local sewing studio, or check out online classes.
Craftsy or Creativebug are great places to find a huge range of sewing classes.
7. Buy some new fabric
Just like having lots of clothes and nothing to wear, sometimes your fabric stash just doesn't inspire you. Maybe your kids have outgrown the fabric or you just can't think of anything to sew with the fabric you have, or the colour has gone out of fashion.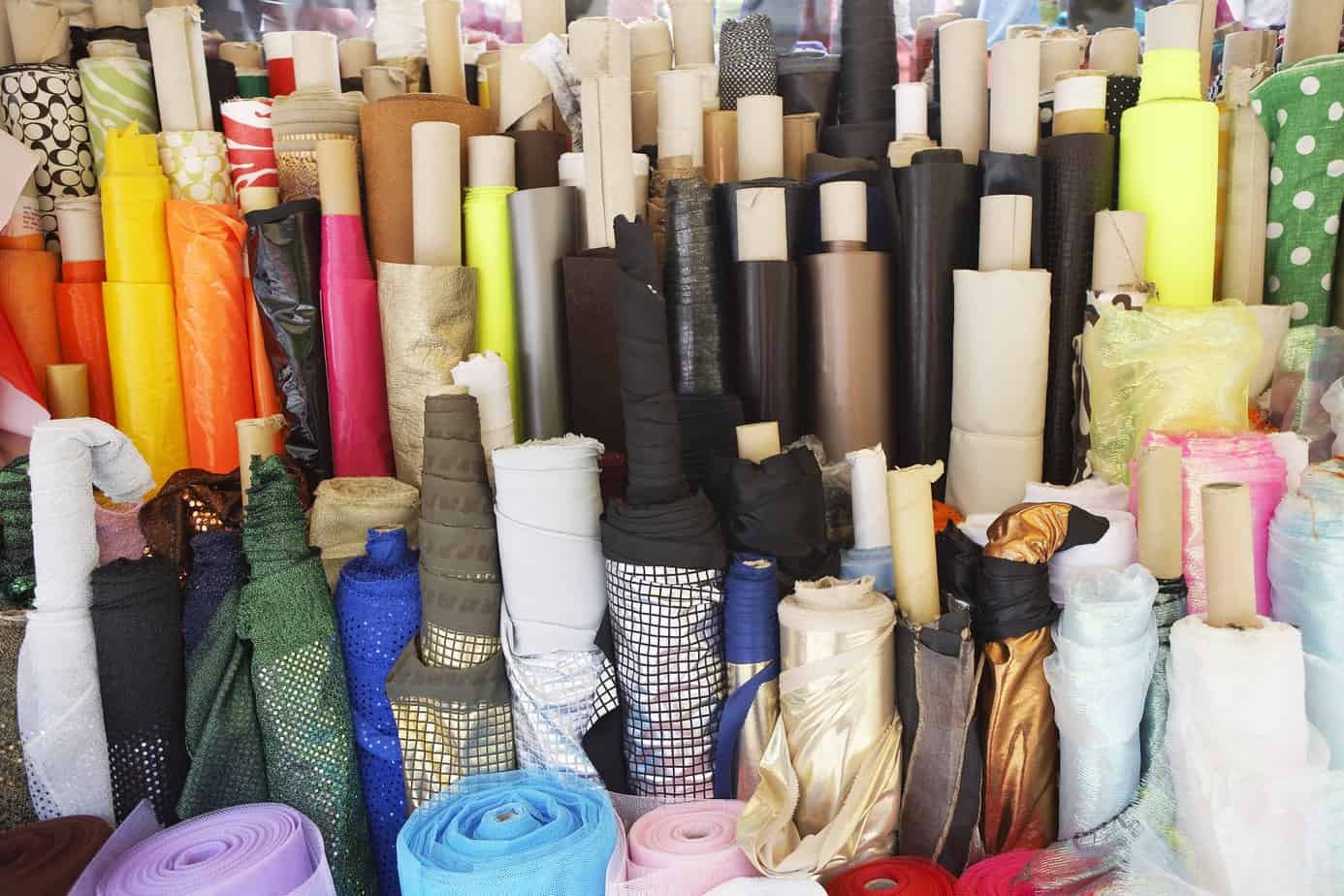 It's time to take a stroll through your favourite fabric store (whether online or in-person) to find that fabric you just have to sew NOW! Touch the fabric and feel that urge to sew come flooding back!
8. Tidy your sewing space/supplies
Let's face it, sometimes the reason we don't want to sew is because we don't actually have space to sew. There are scraps of fabric lying everywhere from your last three projects and you can't remember when was the last time you saw your cutting table.
It's time to tidy and create space for creating. And who knows, maybe you'll discover the supplies for your next project were hiding there all along!
Get my tips for spring-cleaning your sewing space here.
9. Sew something to make you smile
If you've lost your sew-jo because all your projects feel like "have to" sews – whether it's your kids Book Day/Week costume, new clothing because the weather's changed or a gift for someone's birthday. Stop thinking about what you need to sew, and just sew something for fun. Something that makes you smile.
10. Sew for charity
One way to inspire yourself to sew is to use your skills to help others. There are lots of organisations that are looking for handmade items, such angel gowns, items for the care of injured animals, and teddy bears for kids going through a rough time.
There are various sewing charity groups on Facebook or on the web, or sew for someone you know in need. Just double-check that the item can be used – you don't want your sewing efforts to go to waste.
11. Sew an old favourite
Is the thought of printing, taping and learning the steps of a new pattern is holding you back? Or are you worried that a new pattern won't fit and you don't have the headspace to work out the adjustments?
Turn to an old favourite. You've already cut out the pattern and know all the steps. You know the pattern fits or will turn out just how you want. Just like going back to basics, going back to an old favourite can bring back the love of sewing.
12. Listen while you sew
Just like putting on some music can make cleaning more fun, try some uplifting and fun sounds to get you singing and dancing while you sew.
Or make a deal with yourself that you can only watch that latest Netflix series while you sew.
Find a way to make your sewing time more fun, so you can't wait to go back.
13. Just take the first step
Sometimes when I'm in a sewing funk, I force myself to just do the first step.  Print out the pattern, or gather up all the notions. Or just cut out the fabric. Taking that first step can get you in the flow and make you want to keep going. If not, at least you're one step ahead for the next time.
14 Take a break
If none of these ideas works for you, it might be time to just go with it. Take a break from sewing. Try another hobby, binge watch another series, get some rest, look after yourself. Now may not be the right season for you to sew. After some time and space, your sew-jo may return all by itself.
What's your favourite way to get your sew-jo back?