25 best absolute beginner sewing projects (you'll WANT to sew)
Just because you've never sewn a seam, learning to sew shouldn't be boring. Find the perfect beginner sewing projects with this collection of patterns and tutorials. Clothing, accessories, quilts, bags and projects for home – there's something for everybody!
---
I grew up watching Mum sew my clothes. But I didn't learn to sew until a high school Home Economics class. I still remember the class. Teenage boys and girls sitting in front of sewing machines in pairs, wondering how to get started.
After a safety warning about the dangers of the needle (who would be the first kid to pierce their finger?) and a demonstration of how to use the pedal and the handwheel, the teacher set us our first challenge.
Sewing straight lines on paper (no thread). Oh, the excitement!
When we could prove we could sew a straight line (well, for the length of a sheet of paper), we moved on to corners and curves. Trust me, there was no great sense of achievement and the feeling of a job well done.
When we mastered sewing lines on paper, our time had come. We were actually going to use our sewing machines to create something out of fabric. Something we could actually use. Our Home Economics teacher revealed that the project would be….
**drumroll**
An apron
Seriously, what teenager wants an apron? How is this going to create a love of sewing?
Now, don't get me wrong. There's nothing wrong with sewing an apron for your first sewing project if you love to cook and will actually use it. But just because you're a beginner, doesn't mean your first sewing project should be something just for the sake of it.
Beginner sewing projects should be about creating something you want or need. There are plenty of simple sewing projects that will get you addicted to sewing before you know it. Here are the best sewing projects for an absolute beginner that you'll WANT to sew!
This post contains affiliate links. If you purchase from these links, Threadistry may receive a commission at no cost to you.
Easy Clothing Sewing Projects
If clothing is where you want to start, skirts are great beginner sewing projects. But don't start with zippers, facings and a slim fit. One of the easiest sewing projects is a simple, elastic-waist skirt:
Dana from Made Everyday has a great tutorial for how to sew a simple skirt (both video and photos of each step), with inspiration for adding more personality to your skirt with layers and trim.
A gathered skirt is easy to make and great for little girls, but it's not the most flattering style for most women. A better beginner skirt sewing project for women is an A-line wrap skirt. It's easiest to sew if you use ties, but if you're feeling adventurous, you can add buttons instead. The book Sew What Skirts has great instructions for drafting simple skirts to your size.
If you'd prefer a pattern, Daydream Patterns has the Ruby Wrap Skirt sewing pattern.
The Miss Mod top from Seamingly Smitten looks complicated, but it's an easy sewing project for beginners. Why not make a top you'll love?
If you love tunics, find more tunic sewing patterns here.
A pillow case dress is another simple sewing project for beginners. Whip up some in all your favourite fabrics for the little girl is your life! Here's a detailed tutorial for how to make one from Sew Like My Mom. Martha Stewart has details for how to make one in adult sizes too.
For a simple sundress sewing pattern, try the one hour dress from CraftStylish.
Find more sundress sewing patterns here.
Simple Accessories To Sew
An infinity scarf is a simple sewing project and so cute to wear (in the right fabric). Follow this sewing tutorial from The Cottage Mama to make your own.
Nancy Zieman shows you how to make this fun scarf – best made with a fabric that looks the same on both sides. Another project that looks fancy but is actually perfect for beginners.
Headbands are another quick and easy sewing project for beginners. Start with a simple knotted headband like the one above from Simple Simon and Co.
For an added challenge, try one with elastic, like this easy headband sewing pattern from Happy Homestead. It can be worn bunched up as a narrow headband, or extended for more coverage.
Basic Bag Sewing Patterns for Beginners
Bags are another simple sewing project for beginners. Big or small, here are some of my favourite easy bag sewing patterns.
A tote bag is so useful and so easy to make. Find the tutorial for the 20-minute tote bag from Purl Bee on Mollie Makes.
A drawstring bag is another super-useful project. Make a small one to hold your bits and pieces, use waterproof fabric for a swim bag, and fix the end of the straps to create a simple backpack. Here are my favourite drawstring bag sewing tutorials for beginners:
Easy as a Cinch Bag by Make It Love It.
Lined Drawstring Bag from The Creative Place
Simple Drawstring Bag with french seams (not as scary as they sound!) by Kitty Baby Love
Make a cute coin purse with a free pattern from So Sew Easy.
Find more purse sewing patterns here.
Quilt Patterns for Beginners
Quilting can look intimidating for the beginning sewist, but choose the right project and quilting is a great way to learn to sew. Choose a pattern that doesn't require everything to line up neatly for your first sewing project for a result you'll be happy with. Here are some great quilt sewing projects for beginners:
A strip quilt is a quick and easy project and is easy to hide if your seams aren't quite straight. This tutorial on Lu Bird Baby shows you how to do it.
Take your strip quilt to the next level with the strip and flip quilt from Cluck Cluck Sew is lots of long, straight seams with a clever cut and turn to create a spectacular design. It's so simple, but no one will believe it's your first quilt.
The Subway Tiles quilt from Sunnyside Designs uses large pieces so comes together quickly and is another simple design for beginners.
The Easy 1-2-3-4 Baby Quilt from Quiltfinger is another simple quilt pattern, perfect for beginners. There are a few corners to line up, but give it a go!
Beginner Sewing Projects for the Home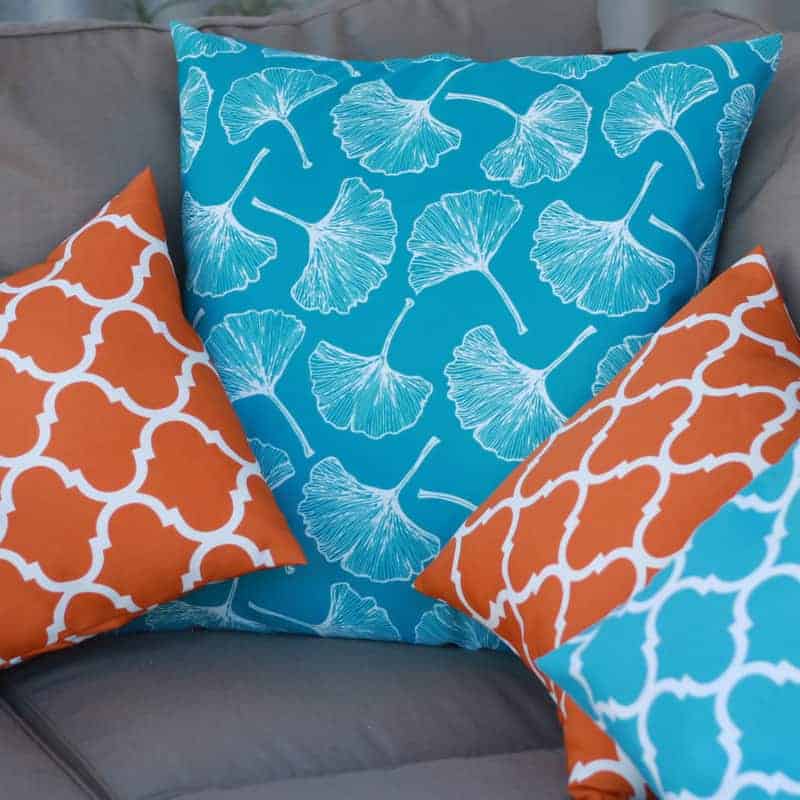 Cushion covers are easy to sew, especially if you stick with an envelope-style. No need to worry about zips or buttons. Here's a great tutorial from Cook Clean Craft for how to sew an envelope cushion.
You can never have too many pillow cases, and fortunately, they're a really easy sewing project for beginners. Follow this tutorial from the Seasoned Homemaker, and you'll have piles of pillowcases before you know it!
Placemats are another simple sewing project for home and are really quick to make. Here's a great tutorial for a basic reversible placemat. Add your own style to it by sewing different fabrics together before creating the placemat.
Tea towels are a beginner sewing project with just a few straight seams, and you can never have too many tea towels. This tutorial from Mellebug shows how to make neat mitred corners. Use the same technique in a smaller size to make napkins as well.
Another option is to embellish a store-bought tea towel, like this tutorial from Sew 4 Home. You'll build your sewing skills while making your kitchen that little bit prettier!
If you love to read as well as sew, make a quick and easy DIY bookmark. It only uses a small amount of fabric so is perfect for practicing how to sew straight!
Aprons – yes, I'm going to go there. This is basically the apron that was my first sewing project in Home Economics in high school. It may not have been the perfect project for the teenage me, but it's a great beginner sewing project for someone who spends time in the kitchen. Follow this tutorial from Creative Green Living to make your own.
If you like more coverage from your apron, try this apron tutorial from Scattered Thoughts of a Crafty Mom. The pattern is for a child's size, but you could use an adult apron as a pattern to make it grown-up sized.
Are you feeling more inspired than a classroom of teenagers about to sew an apron? So head to your sewing machine and get sewing on your first beginner sewing projects!
I hope this list helps you find the perfect first sewing project!
Looking for more beginner sewing tips: