How to choose a sewing machine: Everything you need to know before you buy!
So you want to learn to sew and are looking for a beginner sewing machine. Heading into a sewing machine store can be overwhelming, with everything from simple machines to devices that look like they could launch a space shuttle.
So what do you need to know before you buy your first sewing machine? Here's the Threadistry guide for how to choose a sewing machine!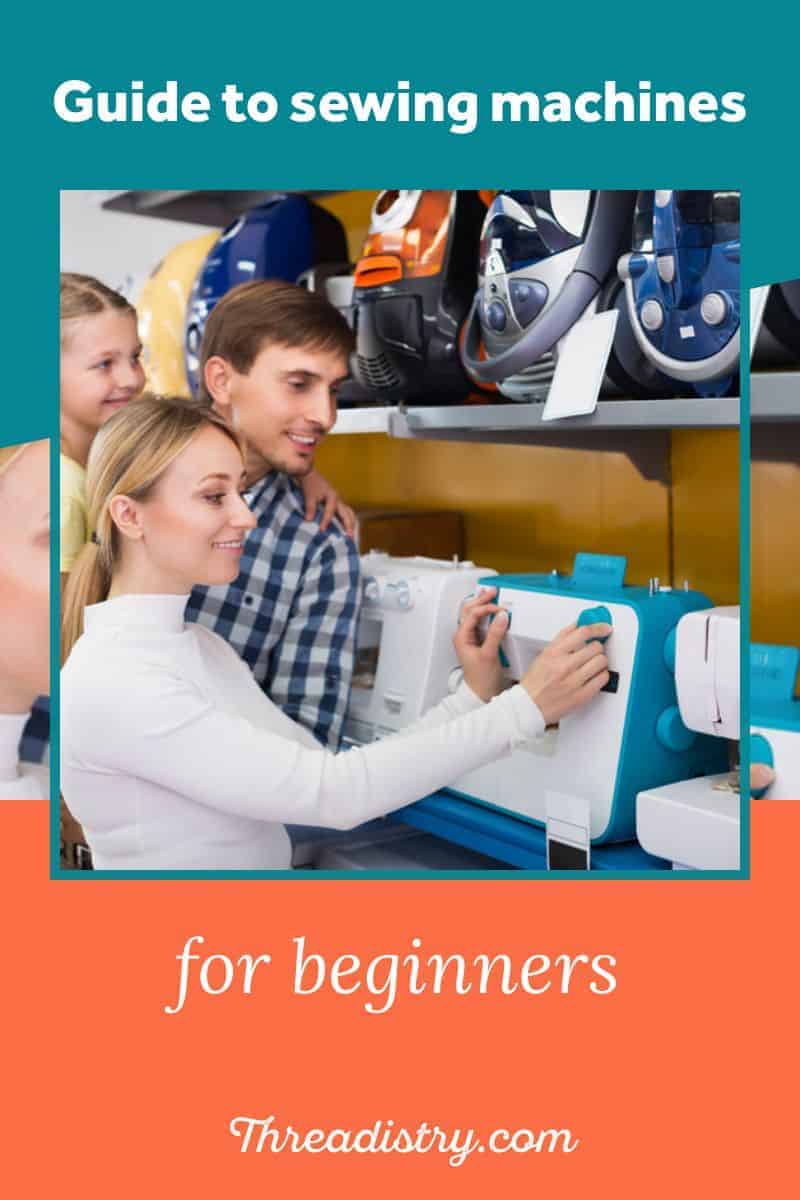 Disclosure: This post contains affiliate links. If you purchase after clicking these links, Threadistry may receive a small commission, at no cost to you.
There are two main considerations to balance when shopping for a sewing machine:
Price and Features
Firstly, let's talk about price. It's possible to buy a sewing machine for $25 or to spend $5000+. In general, like most things, you get what you pay for and a more expensive sewing machine will last longer than a super-cheap one and will have more features, such as the number of stitches.
Setting a budget is a very personal thing. You need to allow for additional beginner sewing supplies that you'll need to get started. I recommend a minimum budget of $100-150. Machines lower than that price range are likely to perform poorly and/or break easily.
What sewing machine features are important for beginners?
The type of sewing you'll be doing makes a big difference in the features that are important to you.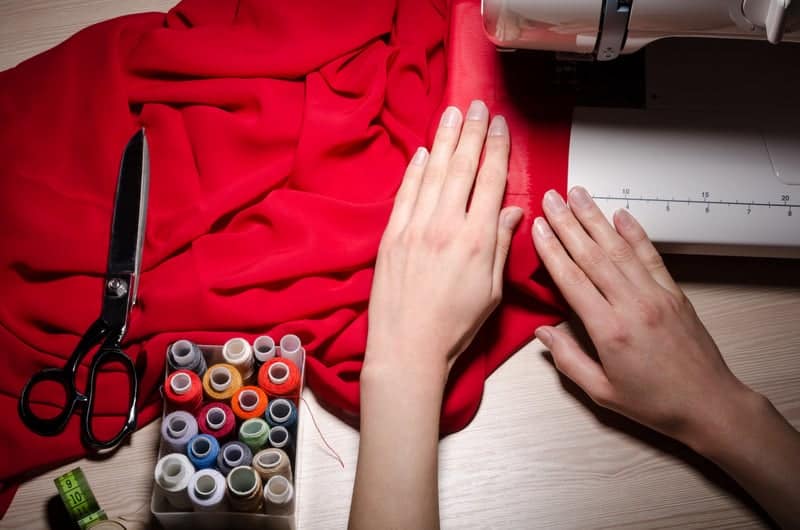 Best features for sewing clothes
Stitch types: As a minimum, you'll want a straight stitch and zig-zag stitch. If you plan to sew knit (stretch) fabrics, a lightning stitch and triple stretch stitch are also handy. Blind hem and overlock stitches are also useful for sewing clothes.
Automatic buttonhole: You may not be brave enough to try buttonholes at the start, but if you enjoy sewing clothes, and some point you'll want to try it. Some machines have a one-step buttonhole function, others have a 4 step function (which is more work to use, but gives more control). Some machines have different styles of buttonhole, such as rounded, keyhole or knit fabric buttonholes.
Free arm: Most machines allow you to remove a section of the base to create a free arm. This makes it easier to sew items in the round, like hemming a sleeve. It's worth confirming your sewing machine has this feature!
Included feet: Specialty sewing machine feet can make sewing so much easier. Check if the following sewing machine feet come with the sewing machine (or are readily available):
Best features for quilters
Throat size: The throat of a sewing machine is the space between the needle and the body of the machine. A larger throat size will allow you to sew larger quilts (and make it easier to handle smaller quilts).
Extension table: An extension table fits around the sewing machine and provides extra work surface at the sewing level. This makes it easier to manoeuvre the fabric when quilting.
Walking foot: A walking foot pulls fabric through from the top as well as the underneath, keeping the layers together when quilting. Check if this is included with your machine or is an optional extra.
Can the feed dogs be dropped?: If you are planning to do free-motion quilting, check that you are able to drop the feed dogs (which pull the fabric through the machine.
Useful feet for quilting: the quarter-inch foot and free-motion foot are also useful tools for quilting. Check if they are included with your machine or are optional extras.
Embroidery and decorative stitches: It's a personal choice if you will use these features, but it's worth considering when picking a quilting sewing machine.
Best features for embroidery
Hoop area: the larger the hoop area, the bigger the design you'll be able to stitch out. Try to get the largest hoop area you can for your budget!
Design format: Each sewing machine manufacturer has its own embroidery format. Check that the embroidery designs you like come in the correct format (or research software for converting designs to the correct format).
How to transfer designs: Some embroidery machines require a USB cable to connect to your computer (great if you have a laptop, maybe not so useful if you have e desktop computer). Other machines require you to use a USB stick (in the correct format). Some machines allow the designs to be transferred over your Wifi network. However tech-savvy you are, understand what you'll need to do to get designs onto your embroidery machine.
Inbuilt fonts and designs: Check what embroidery designs come with different machines. Some machines come with a large number of inbuilt designs, and you may not need to purchase additional designs.
Design software: What design software is included with the machine and how easy is it to create your own custom designs or customise inbuilt designs?
Buying a sewing machine for a child
If your child wants to learn how to sew, don't buy a toy sewing machine. It will only end in frustration and wasting money. It's much better to buy a cheap or second-hand "real" sewing machine.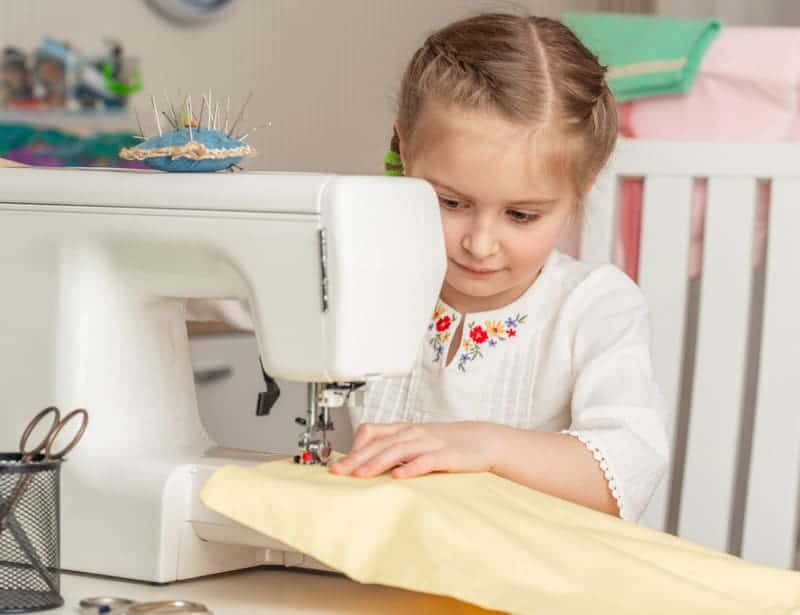 Also, don't be afraid to let your child use your own sewing machine.
Some additional features you may want to consider when buying a sewing machine for your daughter or son are:
Speed control: depending on the age of your child, controlling the speed of the sewing machine with the foot pedal can be challenging. A machine with speed control (or a slow stitch speed) can make it easier for your child to control.
Needle guard: whilst it's important to teach sewing machine safety, being able to use a needle guard can add an extra layer of protection.
Other sewing machine features to consider
In addition to the specific items mentioned, here are some other factors to consider when choosing your first sewing machine:
Weight of the machine
Will you have a dedicated sewing area or will you constantly be moving your machine back and forth from the dining room table? Will you take your sewing machine to classes/retreats or other sewing gatherings?
Check how heavy the sewing machine is. Will you be able to easily move it around?
A light sewing machine is likely to contain more plastic parts that are prone to break and may shake and rattle on a table.
Front-load versus top-load bobbin
Top load bobbins are more common and are generally easier to use. If you have previously used a front-loading bobbin, you may want to stick with the same type (just to avoid the learning curve!).
Mechanical vs Computerised Sewing Machines
Mechanical sewing machines are simpler, generally cheaper and are easier to repair. However, they don't have as many features as a computerised sewing machine.
If you're only planning on simple sewing projects, a mechanical machine may be all you need. They can also be great as a cheaper machine to test if you really will enjoy sewing.
However, if you want to try decorative stitching or have more features (and can afford it), it may be worth jumping straight into a computerised machine.
Sewing Machine Feet
There are so many sewing machine feet out there to make sewing easier. Before buying a sewing machine, check what type of sewing machine feet it uses – snap-on (that click into place and release with a button) vs screw-on feet.
Check what feet are included with the machine, and what additional ones are available from the manufacturer. Also consider if cheaper, generic-brand feet can be used.
Features if you have a bigger budget
If your budget can stretch further, here are some other features to look for:
Automatic needle threader
Automatic needle up or down
Where to buy sewing machines?
So you've worked out what type of sewing machine you want and what features are important to you. So where do you go to buy your dream machine?
There are three main options:
Online, whether from Amazon or another supplier
From a large craft or department store
From your local small sewing shop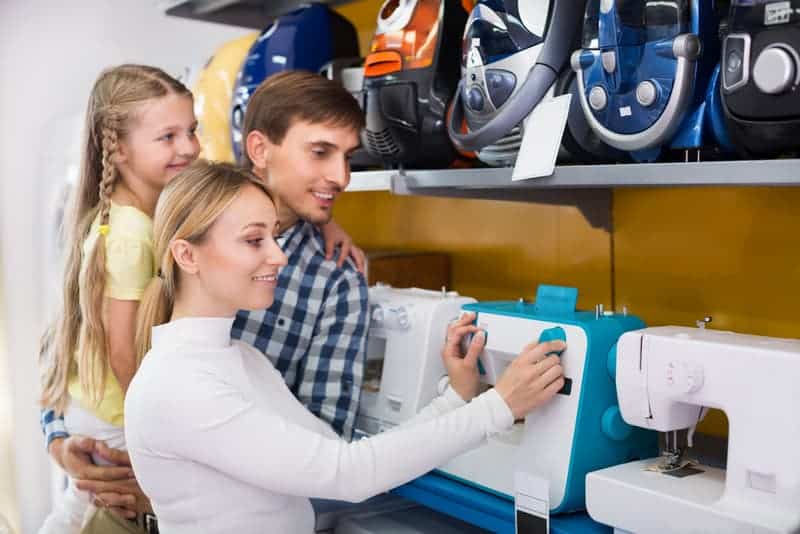 Whilst you may get a better deal online or from a large store, there are benefits for buying from your local sewing machine store:
Test it out: specialist stores have display models that you can test before you buy. Bring in samples of the fabric you want to sew and get a good feel for the machine before you buy.
Classes: Many specialist sewing stores offer a free class (or series of classes) to teach you how to use your sewing machine.
Support: If you have problems with your machine, it's much easier to take it back for support (whether it's a warranty issue or just a problem you can't work out).
When is the best time to buy a sewing machine?
Aside from the big annual sales events like Black Friday, just before Mother's Day is when sewing machines go on sale.
Alternatives to buying a sewing machine
If you're not sure sewing is for you or can't afford to buy a new sewing machine, check if your local library has sewing machines to loan. Check your local area for a sewing cafe or studio where you can rent sewing machines.
Also, consider getting a secondhand sewing machine – there are lots of sewing machines out there that have sitting in cupboards and never used.
What next?
Whilst the range of sewing machines available can be confusing, I hope this helps you narrow it down and help you choose your first sewing machine.
Now that the machine is sorted, here are the basic sewing supplies you need to start your first project.