Beginner Sewing Supplies – what do you really need?
So you've just bought your first sewing machine (or have decided to pull that one out of the closet that you've had for years). You head to the local fabric store, and there are shelves overflowing with tools and gadgets.
What supplies do you really need to start sewing? Here is the essential list of sewing supplies for beginners.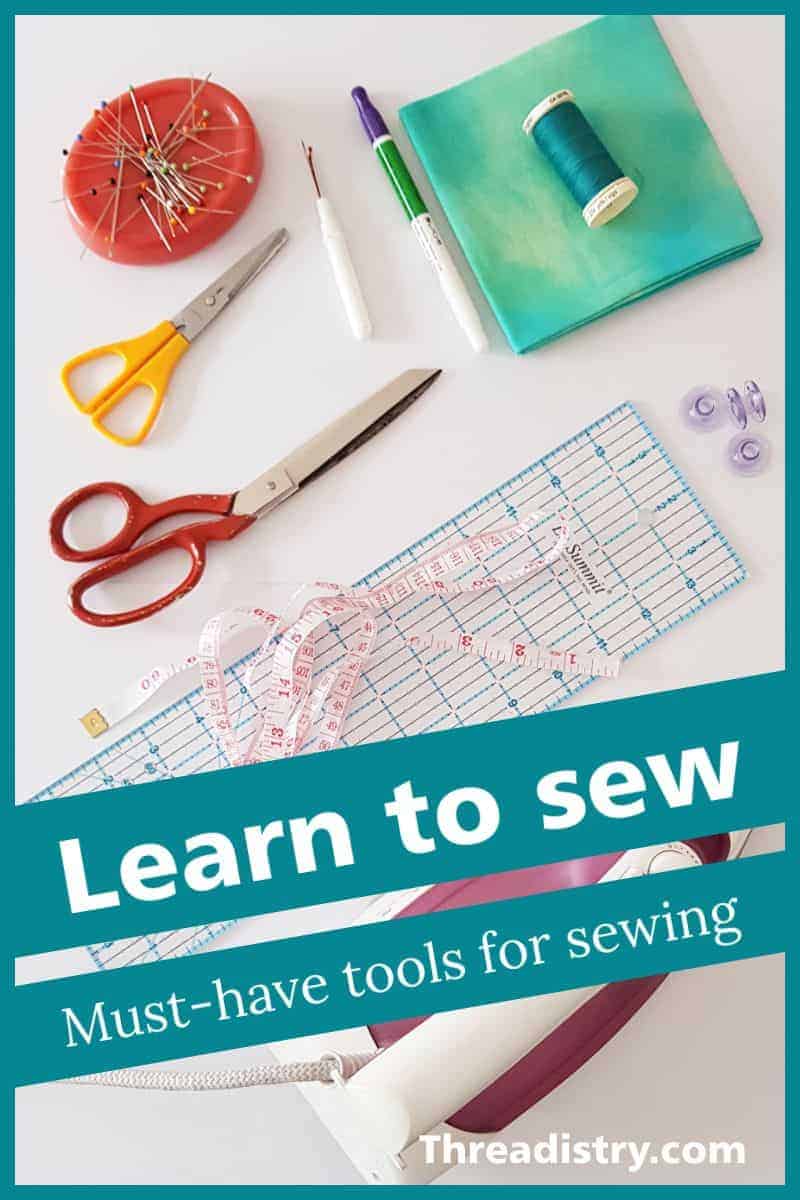 Disclosure: This post contains affiliate links. If you make a purchase after clicking these links, Threadistry may receive a small commission, at no cost to you.
Basic sewing kit
After you've bought your sewing machine, this is the bare minimum you'll need to complete your first project. This will give you a taste to decide if sewing is your thing, without breaking the bank. (then you can start your sewing tool collection!).
1. Fabric scissors or shears
If you try to cut fabric with your kids' school scissors or some other pair you found lying in a drawer, you're going to be for a world of hurt.
Your scissors need to be super sharp to accurately cut fabric. Cutting paper dulls scissors really quickly, so make sure you have one pair of scissors that is dedicated to cutting fabric. Maybe tie a scrap of fabric around the handle (and hide them for your kids or significant other to avoid accidents!).
Sewing shears are the best option. Shears have a small handle for the thumb and larger handle for your fingers, and a longer blade (7 inches or more). This makes them more comfortable and easier to cut fabric accurately on a flat surface (ie your table or the floor!).
2. Paper Scissors
When starting out, you will most likely use a paper sewing pattern (whether that's a printable pdf pattern or a tissue-paper pattern from the store). You'll need a pair of scissors for cutting paper.
This time around, just about any old pair of scissors will do. No need to go out and buy anything special!
3. Pins
There are two main ways to hold fabric together when sewing – pins and sewing clips. While both have their strengths and weaknesses, I recommend starting with pins.
Pins are cheaper than sewing clips and can be used in more situations. I prefer glass-head pins – they are easier to see in your fabric and can be pressed with the iron (unlike plastic-head pins that will melt).
If funds are really tight, you can forgo pins altogether and just hold your fabric together (although I don't recommend this for beginners), or use binder/foldback clips, pegs or hairclips.
Find out more about sewing clips vs pins here!
4. Iron and ironing board or mat
After you've sewn your first seams, you'll need an iron to press them. This is one thing that can make a huge difference to your finished project and is a step that shouldn't be skipped!
The iron doesn't need to be anything special, although one that produces steam is a big help. You'll also need an ironing board or mat to put down to protect your table. If funds are tight, you could use a towel on a table or bench instead.
5. Seam ripper
While no one wants to use one, a seam ripper is an essential part of your basic sewing kit. Even after years of sewing, my seam ripper still regularly gets a workout. You may have received one in the accessories for your sewing machine. A basic one is all you need (but you can always get a fancy one if you want!).
6. Bobbins
Most sewing machines come with 3-4 bobbins. That's plenty to get you started, so no need to buy more (until your thread collection grows!). If you didn't get any with your machine, double-check the manual to buy the right type. The come in slightly different sizes and shapes, and can be made of plastic or metal. See more about bobbins here.
7. Measuring tape/ruler
If you are planning on sewing clothes, you'll need a flexible ruler to measure the person you are sewing for (as pattern sizing is usually different from storebought clothing). This can also be used for marking your fabric, although it's not perfect.
A clear quilting ruler is a great tool for cutting rectangles and squares, making it really easy to get perfect corners.
If funds are tight, you can always use an old ruler lying around the house. Use a piece of string or wool to measure your model and then measure the string with a normal ruler. It's not as accurate, but will do the job in a pinch!
8. Fabric marking tool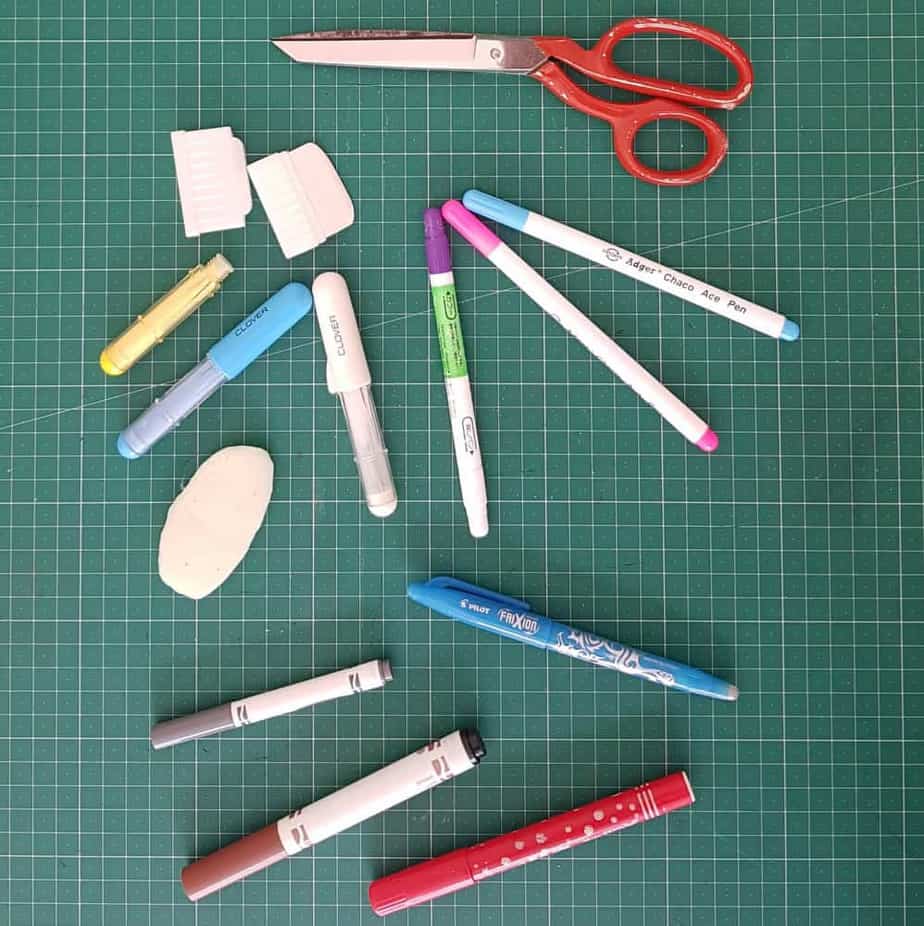 When sewing, pattern markings will need to be transferred to your fabric such as darts or notches to help you line up pattern pieces. You can find everything you need to know about fabric marking tools here.
I prefer chalk liner pens and disappearing ink fabric markers. If money is tight, you can use a sliver of soap or kids' washable markers.
Individual project requirements
After you've got all the basics above, then you'll need to following items specifically for your project.
9. Sewing pattern or tutorial
There are lots of places to find instructions for your first sewing project.
Paper sewing patterns
PDF printable sewing patterns (so you'll need a printer, paper, and tape or glue to stick the pieces together)
Online sewing tutorials
Just wing it!
10. Fabric
Always check your sewing pattern for the recommended fabric type. If you use a different fabric, the project might not turn out well!
11. Thread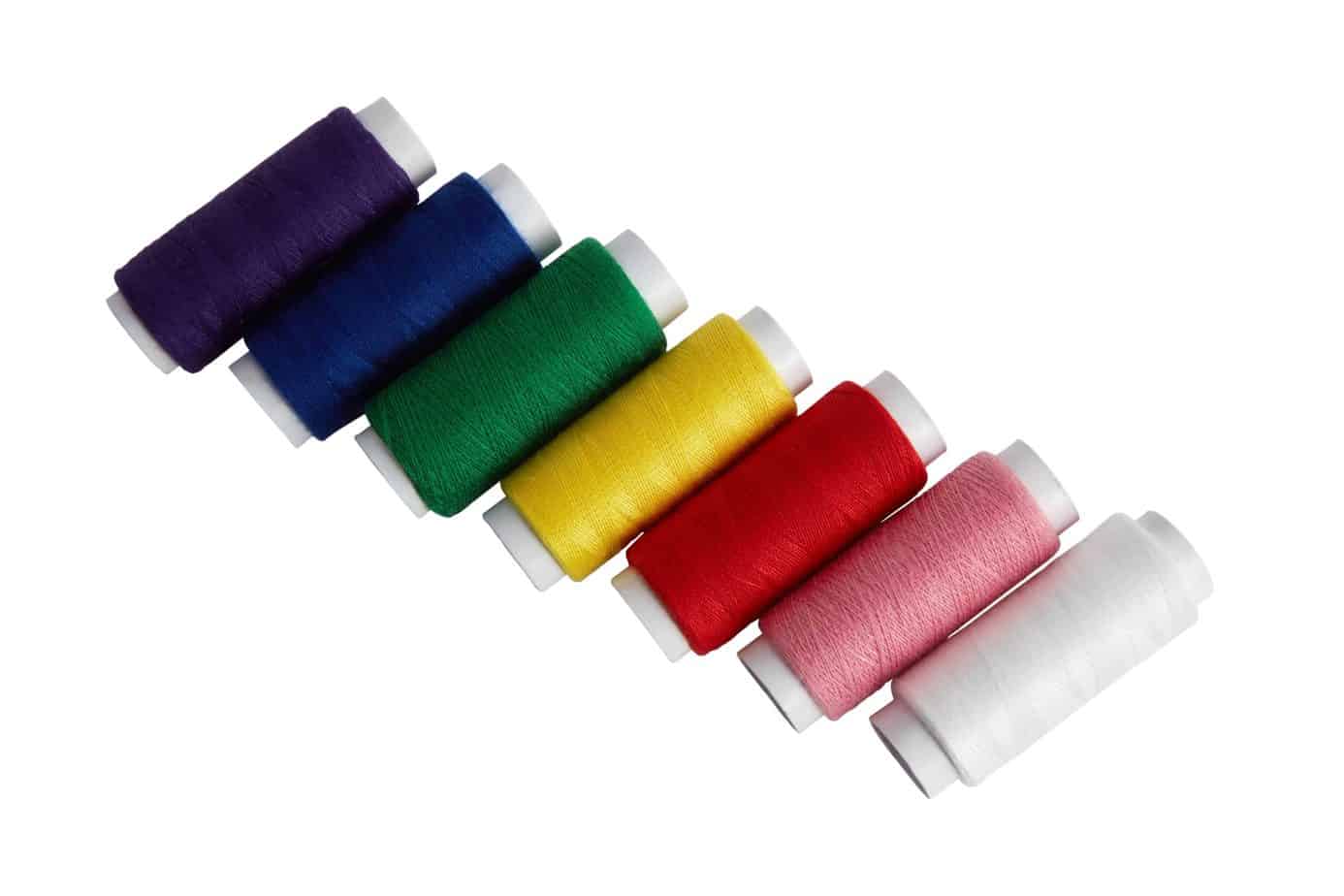 Whatever you're making, that fabric won't come together without thread. All-purpose thread is generally the best place to start. For a beginner, thread that matches your fabric will make wobbly stitches less obvious! Lay your thread options over the fabric and see which one "disappears".
Want to avoid wavy stitches? Here are the best tips and tricks for how to sew straight!
12. Other notions
Depending on what you're making, you may need other notions, such as ribbon, elastic, buttons or zippers. My favourite sewing projects for beginners use minimal or no extra notions. What you need should be listed in the supplies section of your sewing pattern/tutorial.
Other items to consider
While that's the minimum supplies you'll need to get sewing, here are a few more items to consider adding to your sewing kit (if the budget allows):
Pincushion – when you're first starting out, you can keep your pins in the container they came in or other small box or dish. However, you may want to consider upgrading to a pincushion.
Rotary cutter and cutting mat – whilst you can get by with using scissors, a rotary cutter and cutting mat can make cutting your fabric quicker and easier (with a bit of practice).
Sewing clips – read all about the benefits of sewing clips here (and when you should stick with pins).
Hand sewing needle – while I try to use my sewing machine as much as possible, some projects do require some hand-stitching. It's good to have some hand-sewing needles in your kit.
Embroidery or thread scissors – while your fabric scissors can also do this job, it can be quicker and easier to have a small pair of scissors for snipping threads at your sewing machine.
So there's my list of basic sewing supplies for beginners. Get a free printable version by entering your email address below:
More sewing inspiration: