How to remove lint from a sewing machine
If you've been sewing for a while, it's only a matter of time before you go to change the bobbin and discover lint and dust bunnies have been breeding like crazy in your sewing machine.
The amount of lint, fluff and stray threads that builds up in a sewing machine is amazing (and then even more again in my serger!).
So schedule in time to give your sewing machine a clean inside out to make sure it runs smoothly. Here are my tips for how to remove lint from a sewing machine: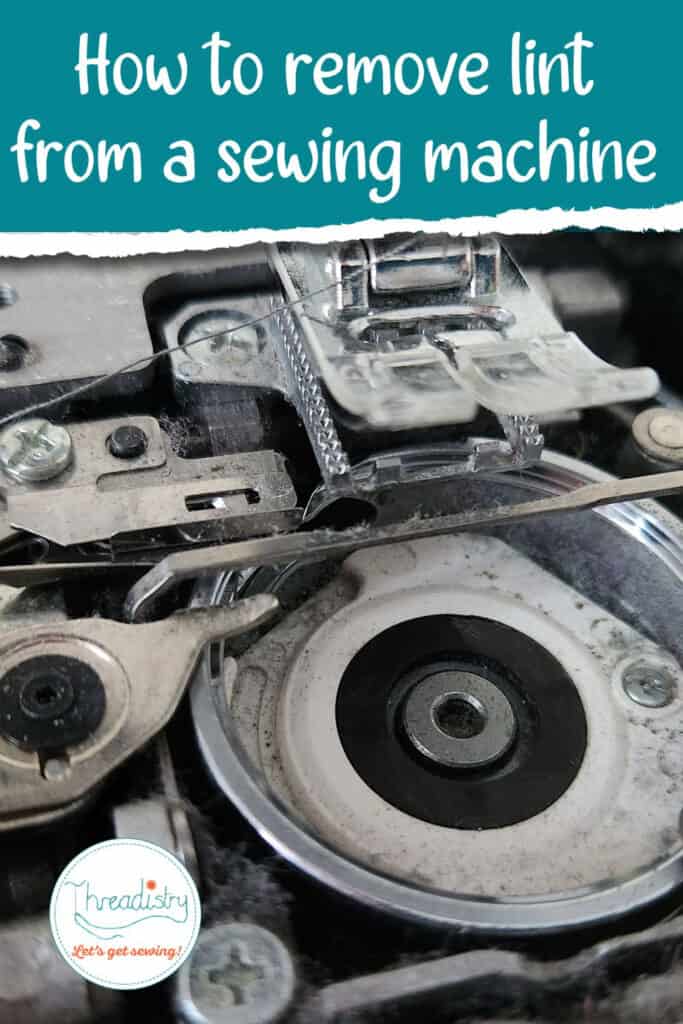 Disclosure: This post contains affiliate links. If you purchase after clicking these links, Threadistry may receive a small commission, at no cost to you.
Why does lint build up in a sewing machine?
Lint is made up of small fibres from your fabric and thread that breaks off as you sew. Dust in your sewing room can also contribute to the build up of lint (so maybe it's a good idea to vacuum and dust occasionally!).
Certain types of fabric, such as fleece or velvet, can produce more lint than others (especially the ones that leave a fluffy mess everywhere when you cut and sew with them). Some cheaper threads also can leave more lint.
How to remove lint from a sewing machine
1. Gather your supplies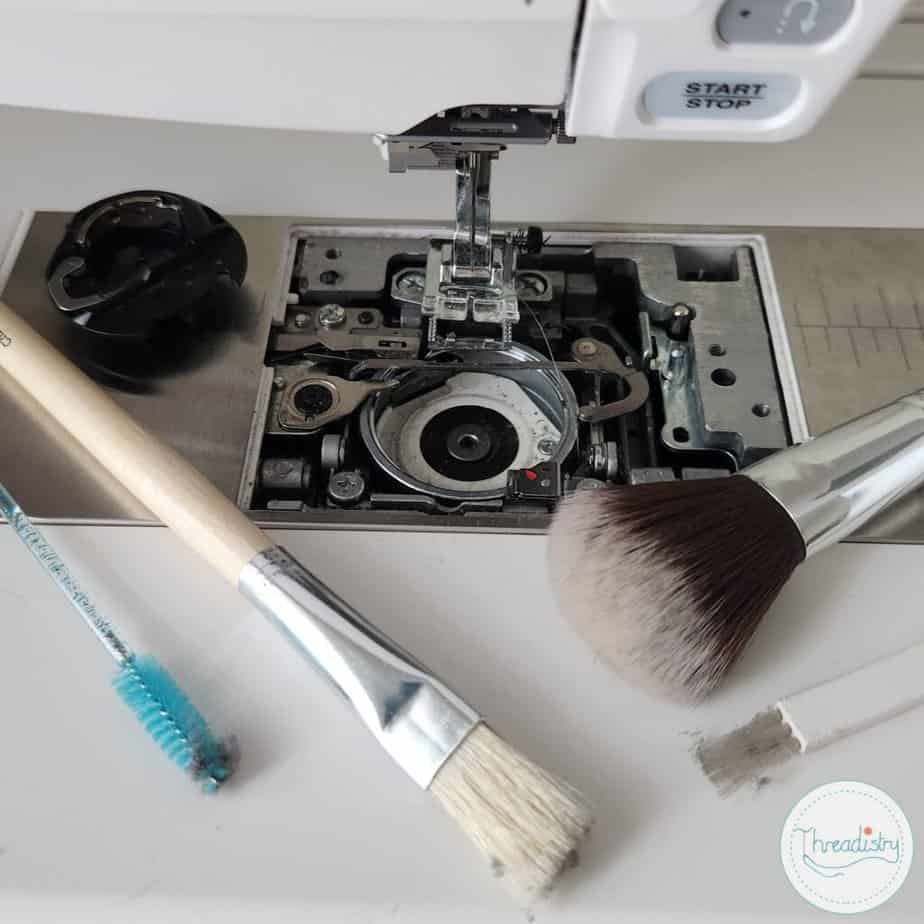 I find the following items useful when removing lint from my sewing machine (they live in the drawer next to my machine).
Brushes – a nylon brush may have been included with your sewing machine. You can buy different-sized sewing machine lint brushes, or you can use a soft painter's brush, make-up brush or even pipe cleaners. It can be useful to have a big brush for larger areas and then a smaller one to get into the little gaps.
Tweezers
Soft microfibre cloth
Screwdriver (depending on your machine)
Mini vacuum cleaner or mini vacuum attachment (optional)
2. Turn off and unplug your sewing machine before cleaning out the lint.
You don't want to accidentally knock the presser foot whilst you're poking around in the hidey-holes of your sewing machine.
3. Wipe the outside of your sewing machine with a microfibre cloth to remove any lint or dust.
4. Remove the needle plate and/or open bobbin area cover. You may need to use the screwdriver that came with your machine for this.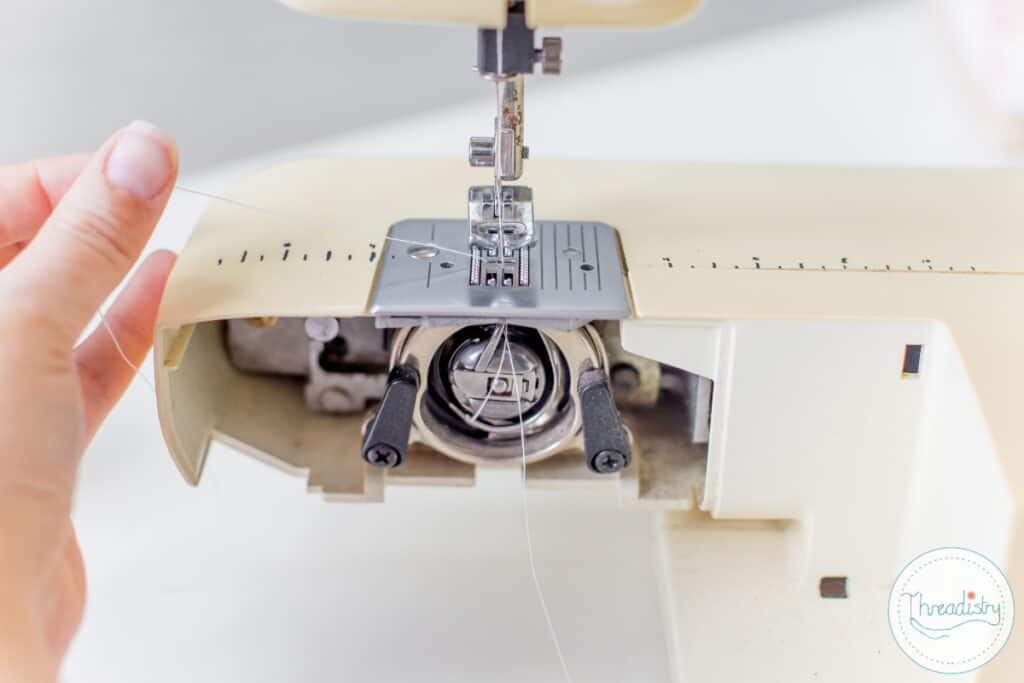 5. Sweep the larger brush around to catch the lint. You want it to get caught up in the bristles of the brush. Then use a smaller brush or pipe cleaner to get into the smaller areas. Clean around the bobbin, the feed dogs and any other accessible area.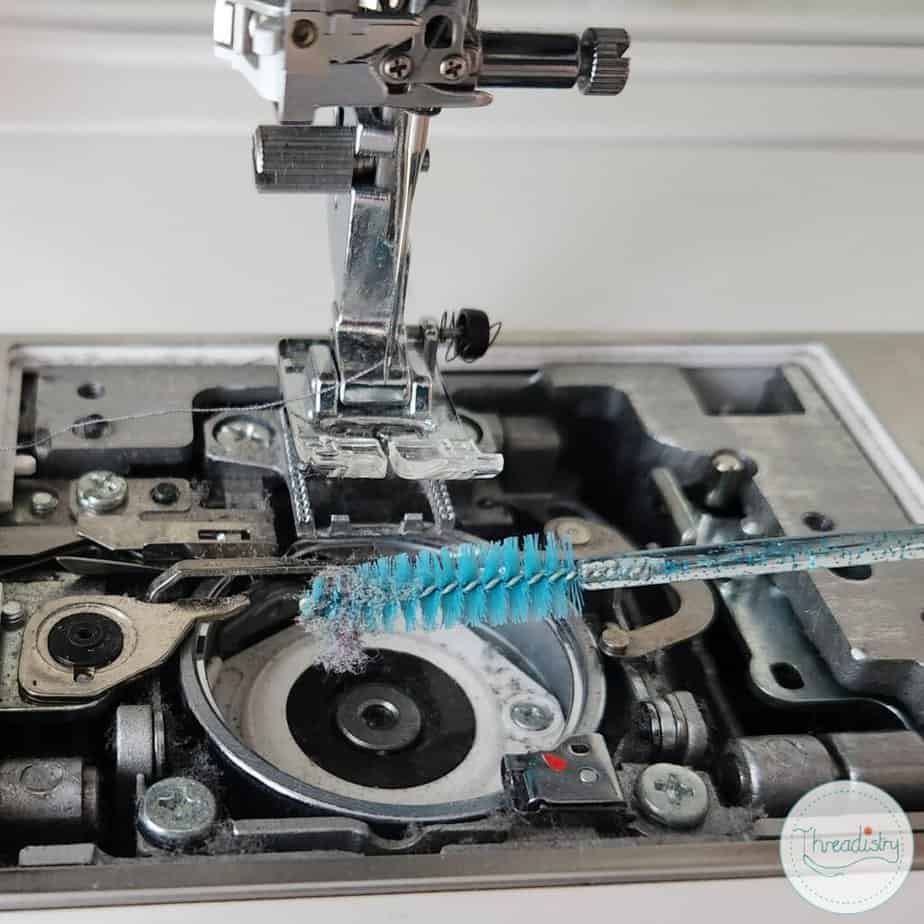 Use the tweezers to pick up any stubborn threads that the brush doesn't pick up.
Alternatively, you can use a mini vacuum cleaner (or mini vacuum attachment for a regular vacuum cleaner) to suck up the lint, threads and dust.
Take care not to use too much force – you don't want to damage your sewing machine!
Note: now might be a good time to change the needle or oil your sewing machine. Check your manual for where (or if) if should be oiled.
6. With the machine unthreaded and the presser foot up, run a thin cloth or piece of dental floss through the tension discs to remove any lint or threads that may get caught there.
7. Put the needle plate, bobbin cover and any other openings back into position. Rethread the sewing machine, plug it back in and get back to sewing!
Don'ts of sewing machine lint removal
Do not blow the lint out of your sewing machine. No matter how tempting to just blow the dust and lint out of your sewing machine, but don't do this! Ever! Not only can it push the lint and dust further into your machine, but it can also introduce moisture that could interfere with your machine.
Do not use a can of compressed air to blow out lint and dust. Just like blowing, this can push the lint further into your machine and create problems.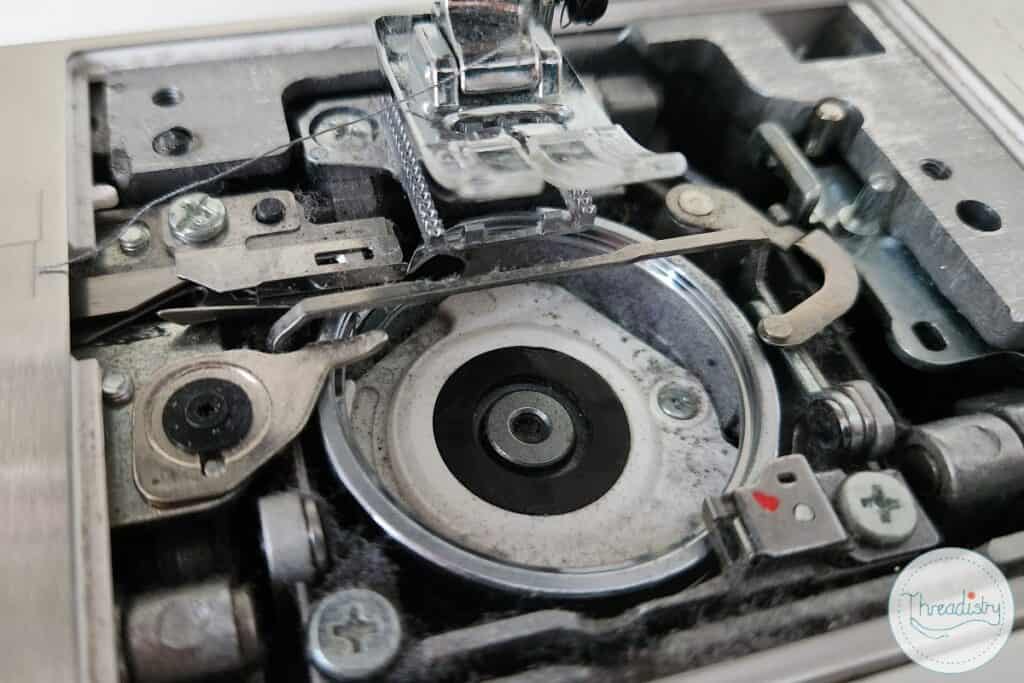 How often should you remove lint from your sewing machine?
Sewing machine manufacturers generally recommend cleaning your sewing machine after 10-12 hours of sewing, but more often if you are using fabrics that shed or create more lint, such as fleece, wool, velvet or quilt batting.
I usually have a quick check whenever I change my thread/bobbin and remove any obvious lint or threads and give a deeper clean every 2-3 months.
Regular cleaning and removal of lint helps keep your sewing machine running smoothly. If you notice build up of in your sewing machine where you can't reach, it may be time to get it cleaned and serviced by a professional.
How often do you remove lint from your sewing machine?
Find more sewing tips here.