Get Ready for Spring: With Love dress pattern review
As part of the Get Ready for Spring blog tour, today I'm reviewing the Girl's With Love dress sewing pattern from Ellie and Mac. This is a great sewing project for beginners and is a fun dress with ruffles and a gathered sleeve. Read on for my full pattern review.
This post contains affiliate links. If you purchase from these links, Threadistry may receive a commission at no cost to you.
OK, we don't really have spring here in the desert – there are three seasons: a bit cool, hot and it's so hot my lungs are cooking with each breath. It's always dress season, and my daughter can never have too many dresses in her wardrobe.
She's an active girl, always in the yard, on her bike, climbing or running around, but also a girly girl. She loves her dresses with ruffles and lots of pink and wants to feel like a princess while she's running around.
Knit fabrics are perfect for the active girl. They don't wrinkle and they allow full body movement for the girl who's climbing around (and it's much harder to tear a hole in it too! The Girl's With Love dress sewing pattern from Ellie and Mac is perfect for my daughter.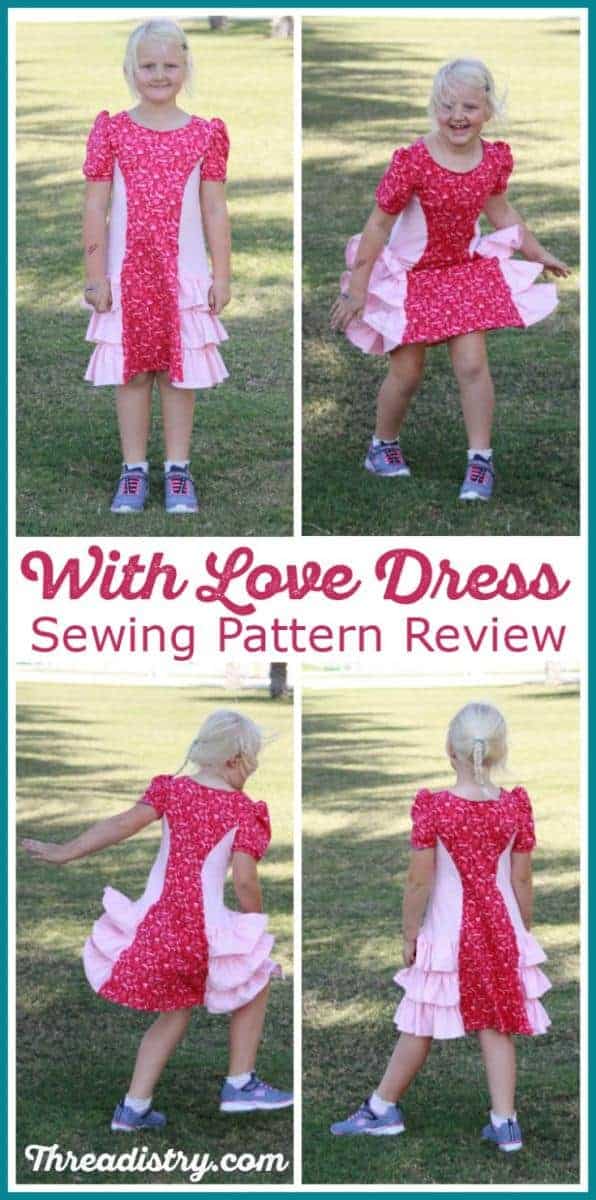 Yes, she's wearing sports shoes with the dress. That's how we roll!
It has ra-ra ruffles on the side and a gathered sleeve for a girly look, and a front panel that is perfect for a feature print or panel.
The centre fabric is Frolicking in raspberry from the Frolic On collection by Tamara Kate for Michael Miller fabrics. It's a lovely medium-weight jersey, perfect for play. The pale pink is a jersey that I bought from an Australian fabric mill that has since gone out of business.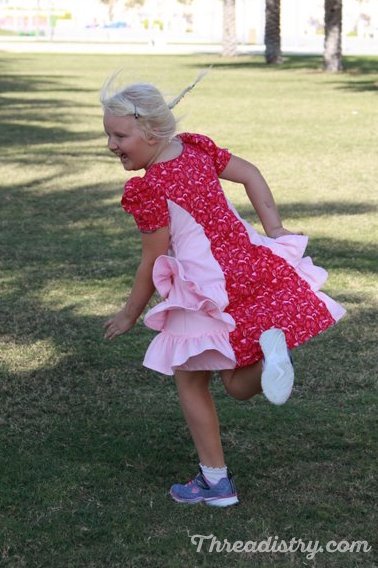 The With Love sewing pattern is a great pattern for confident beginners – if you've mastered straight seams and you want to branch out, this is a great pattern. There are lots of photos for each step of the pattern to walk you through sewing this dress (as with most independent pattern designers). There were a few times that I thought an extra photo or two could be added, particularly around gathering the sleeves and ruffles. That may be my fault relying on my sewing experience and mainly glancing at the pictures while I sewed and not reading the text closely.
It was a reasonably quick sew, although anything with layers of ruffles will take a while. I sewed it up in one day while the kids were at school (with a bit of time spent doing the day-to-day chores). I made the size 10, based on my daughter's waist measurement, and it's a great fit with a bit of room to grow.
Either way, my daughter is happy to add another dress to her wardrobe! Get your Girl's With Love dress sewing pattern from Ellie and Mac.