Waddle over for the cutest Penguin Sewing Patterns
Penguins are cool (and I don't just mean because they live in cool climates!). I love watching penguins waddle around and swim at the zoo or aquarium. I had such a great experience seeing them in the wild at Phillip Island, here in Australia.
And don't forget awesome penguin movies, like Happy Feet, March of the Penguins and Penguins of Madagascar (but let's not talk about the Penguin from Batman).
So I don't think I'm the only one who loves penguins. If you want a penguin of your own, why not sew up one of these cute penguin sewing patterns: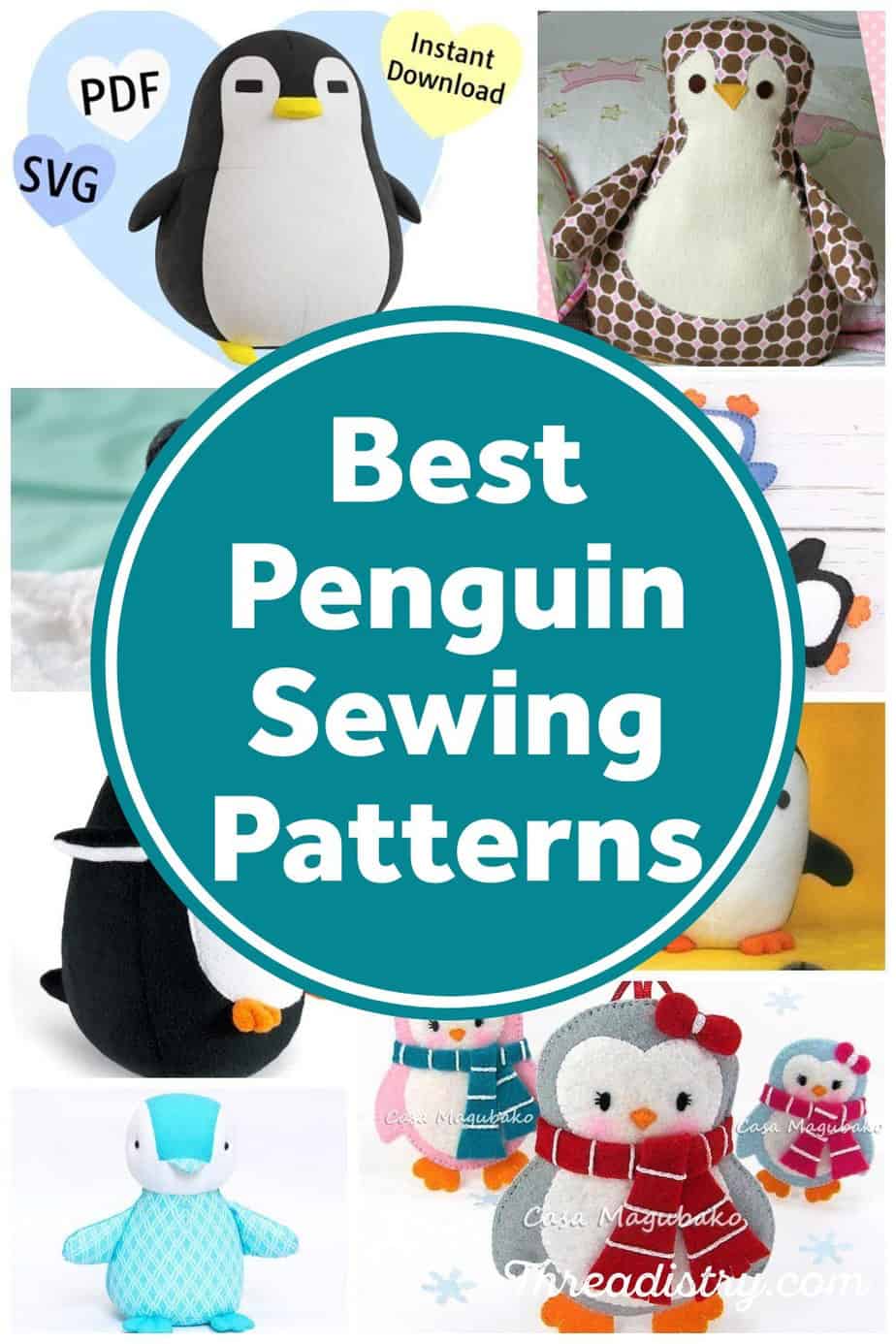 Disclosure: This post contains affiliate links. If you purchase after clicking these links, Threadistry may receive a small commission, at no cost to you.
Cuddly penguin plush sewing patterns
This sweet baby penguin sewing pattern can be made with quilting cotton, fleece or minky. I can picture a little kid waddling it around. So cute!
I love the roly-poly toys from Arttony Toys and this adorable fat penguin is no exception. It just makes me smile!
Annie's penguin from Gingercake is a plush penguin pillow that is just designed for cuddles. It measures about 14 inches tall and 8 inches wide.
There's just something emoji or meme-like about this penguin plushie sewing pattern from Alyvenfei. So cool!
Felt penguin sewing patterns
These felt penguin ornaments are so sweet with their scarves and bows. They'd make a cute Christmas decoration or look great as part of a winter baby mobile.
Another sweet felt sewing pattern is the baby felt penguin from Little Softie Shoppe.
This cute and realistic felt penguin is about 4 inches tall and has jointed flippers, for extra play fun! I love all the details.
Cute penguin sewing patterns
This whimsical penguin sewing pattern has finished measurements of approximately 7 inches and includes a little fish and flower.
Hatch your own penguin with this fun reversible toy. It starts off as an egg and then you can turn it inside out to become a penguin. Such a fun pattern!
Realistic penguin sewing patterns
The penguin sewing pattern from memory lane patterns is a more realistic felt penguin design. I love the way the wings stick out a bit!
How fun is this penguin sliding along its belly? Such a cute penguin stuffed animal sewing pattern (and just a little different too)!
The plucky penguin sewing pattern has an optional smocked belly section which gives a unique feathery texture.
Yep, I definitely still love penguins, and have no idea which one I want to make first!
Whether you're looking to make it yourself or buy handmade, find great gift ideas for kids at Etsy.