Can You Use Quilting Cotton for Clothing? A Quick Guide
Picture this: You're wandering around the fabric store, looking for fabric for your next sewing project. And then you spot it. It's the perfect color. The print is just what you wanted, perfectly summing up the personality of the person who you are sewing for.
But it's quilting cotton. That's just for quilts, right? And you want to sew some clothes.
So, can you use quilting cotton for clothing?
The answer is "yes, but…". Let's learn more about when you can use quilting cotton to make clothes.
Disclosure: This post contains affiliate links. If you purchase after clicking these links, Threadistry may receive a small commission, at no cost to you.
What is quilting cotton fabric?
Quilting cotton is a type of cotton fabric that is specifically designed for quilting projects. It is a medium-weight, tightly woven fabric with a high thread count, which makes it more durable and less prone to tearing or fraying.
Quilting cotton comes in a wide range of solid colors, but can also be printed with colorful and intricate patterns. There is a huge range of quilting fabric available to suit almost any interest and personality.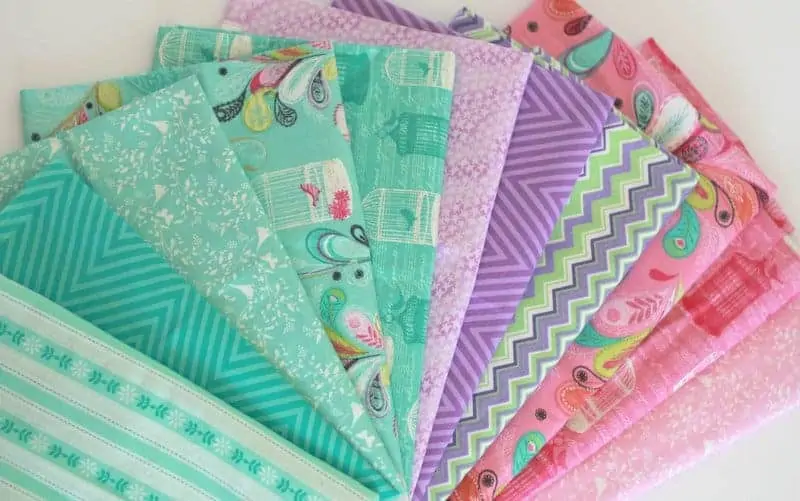 How does quilting cotton differ from regular cotton fabric?
Regular cotton fabrics vary in weight and texture depending on the specific type of cotton and the weave used. These characteristics make them suitable for different types of projects.
Bottom-weight cotton fabrics, such as denim, chino and twill, typically have a heavier weight and twill weave, making them hard-wearing but still with some drape,
Dress and blouse cotton fabrics, such as lawn, poplin, and voile have a lighter weight and flowy drape.
Learn more about cotton fabric and all the different types here.
Pros of Using Quilting Cotton for Clothing
Wide-ranging patterns and colors: Quilting fabric comes in a huge range of designs and colors. You can easily find prints that suit your style and preferences.
Easy to work with: Quilting cotton is an excellent choice for beginners because it's a stable fabric that doesn't stretch or shift when you sew it. This makes it easier to work with than some apparel fabrics.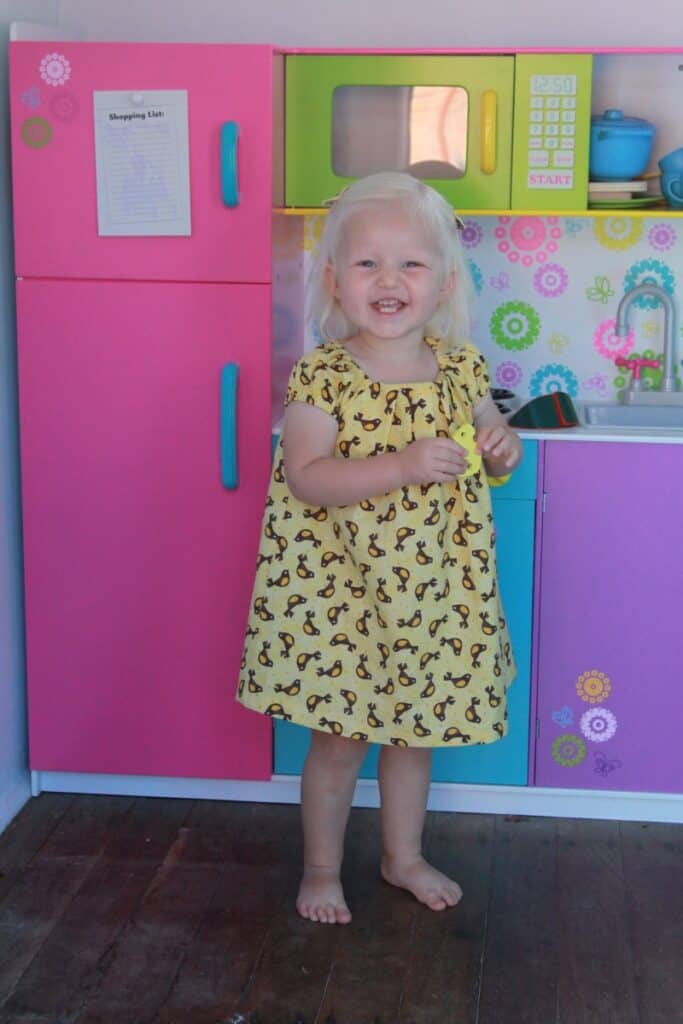 Consistent quality: Unlike other fabrics that may have variations in weight or texture, quilting cotton has very little variation. When you purchase quilt cotton, you can be confident that you will get exactly what you expect. This is particularly helpful when buying online, as you can't physically see and touch the fabric before purchasing.
Affordability: Since quilting cotton is readily available, it tends to be more cost-effective than some specialized apparel fabrics. (Just don't assume quilting cotton is always a cheap option – designer or licensed prints can be surprisingly expensive!)
Cons of Using Quilting Cotton for Clothing
Stiffer drape: Unlike apparel cotton, quilting fabric has a stiffness due to the tight, plain weave. It doesn't drape and flow, but can look boxy and rigid.
Limited breathability: The tight weave of quilting cotton makes it less breathable than other apparel cottons (although it's better than some synthetic fabrics). It may feel uncomfortable to wear, especially during warmer months.
Smaller fabric width: Quilting cotton typically comes in bolts with a width of 44″ (110cm). Whilst some apparel fabric comes with the same width, it is more common for it to be 60 inches wide (150cm). So you may need more yardage (length of fabric) for the same pattern if using quilting cotton.
What types of garments can be made from quilting cotton?
Quilting cotton is best for loose garments with a boxy design or for fitted, structured design. It is not suitable for lightweight, flowy sewing projects.
As it's a woven fabric, quilting cotton isn't suitable for sewing patterns requiring knit fabrics or fabrics with stretch.
Quilting Cotton for Dresses and Skirts
When it comes to dresses and skirts, quilting cotton works well for full skirts, A-line skirts, and fit-and-flare dresses. The structure and stiffness creates shape and drama. These types of garments hold the shape well and don't require the fabric to drape as much as fitted dresses do.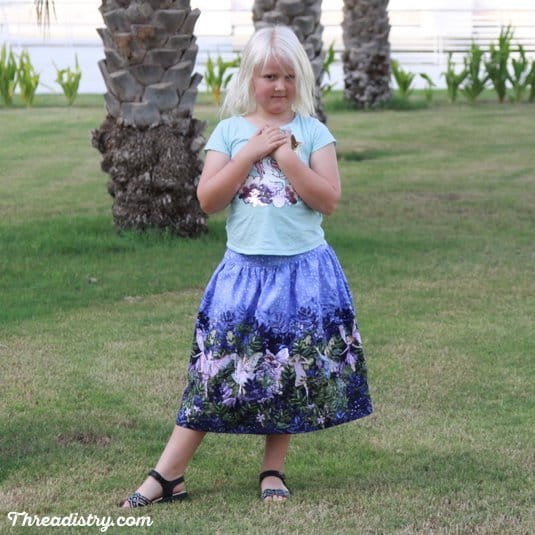 Quilting Cotton for Shorts and Pants
Quilting cotton can be used for most styles of woven shorts and pants. However, it won't be as durable and hard-wearing as bottom-weight cotton fabrics like denim, chino or twill. It is more suited to casual wear than formal attire. It can be especially cute for kidswear.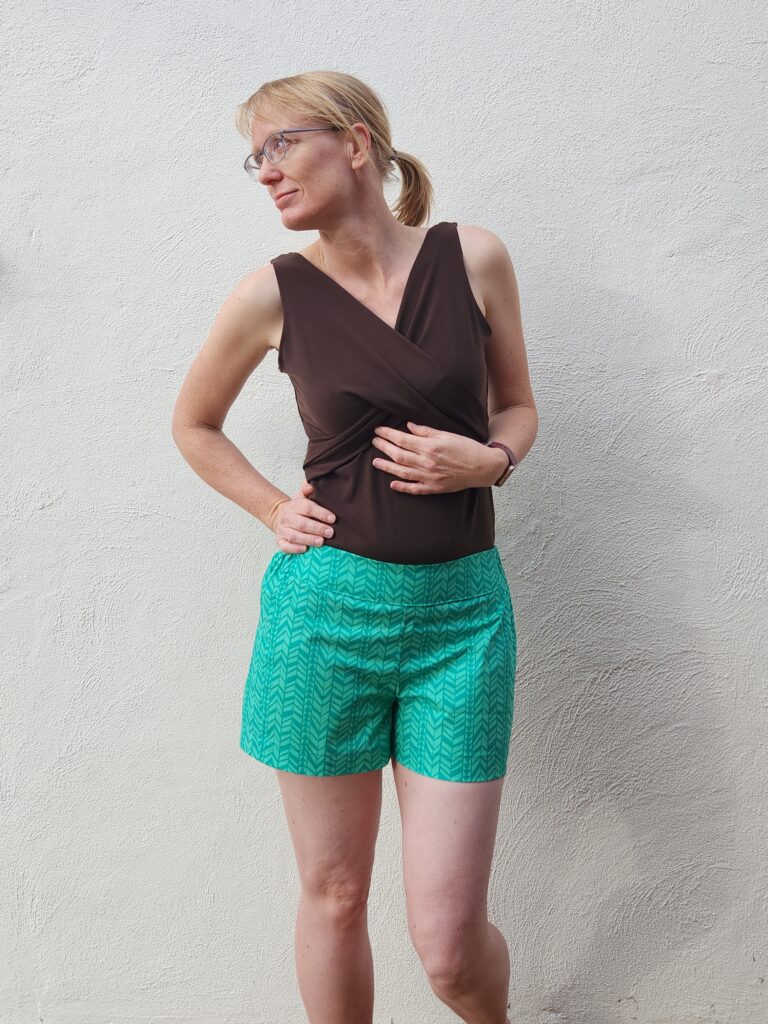 I've made myself a few pairs of quilting cotton shorts to wear about the house!
Quilting Cotton for Tops
Quilting cotton is a versatile fabric that can be used in several types of tops, including boxy tops and tunics. When sewing woven tanks or tees, quilting cotton could be a good choice. Button-up shirts with or without darts can also be made from quilting cotton, as they don't demand excessive draping.
Keep in mind, though, that quilting cotton might not provide the best fit and feel for every garment. It's important to select the appropriate fabric based on the specific demands of the clothing item you're creating.
Tips for sewing with quilting cotton
So now you're ready to get sewing garments with quilting cotton, what else do you need to know?
Pre-wash your fabric: Quilting cotton tends to shrink a bit after washing, so it's important to pre-wash your fabric before cutting and sewing to avoid any unwanted surprises after the garment is finished. Wash your fabric in the same way you'll wash the finished garment.
Choose the right pattern: When selecting a pattern to use with quilting cotton, look for simple designs that don't require a lot of drape or stretch. Patterns with straight lines and boxy shapes tend to work well with this type of fabric.
Use the right needle: A size 80/12 or 90/14 universal needle works well with this fabric.
Finish your seams: Quilting cotton frays, so it's important to finish your seams to prevent any unravelling. You can use a serger, zigzag stitch, or French seams to finish your seams.
Press your fabric: Quilting cotton can be stiff and wrinkled, so it's important to press your fabric before and during the sewing process to ensure accurate and neat seams. Use a hot iron and steam to get the best results.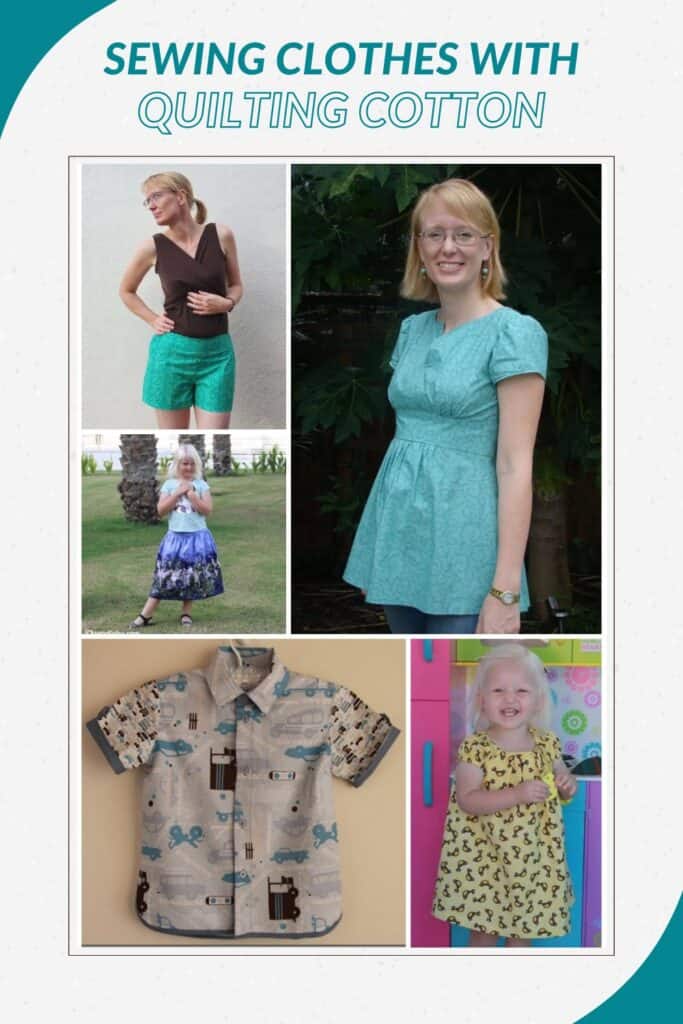 So next time you're at the fabric store and come across that perfect quilting cotton, don't hesitate to consider it for your clothing creations.