Types of Elastic for Sewing: Your Essential Guide to Perfect Stretch
Are you tired of installing uncomfortable and tricky closures like buttons and zippers? Look no further than the magical world of elastic! Not only does it make clothing more comfortable (and is much easier to sew!), but it can also add a stylish touch, such as decorative ruching in both fashion and home decor.
But with so many different types of elastic, this aisle at your local craft store can be overwhelming.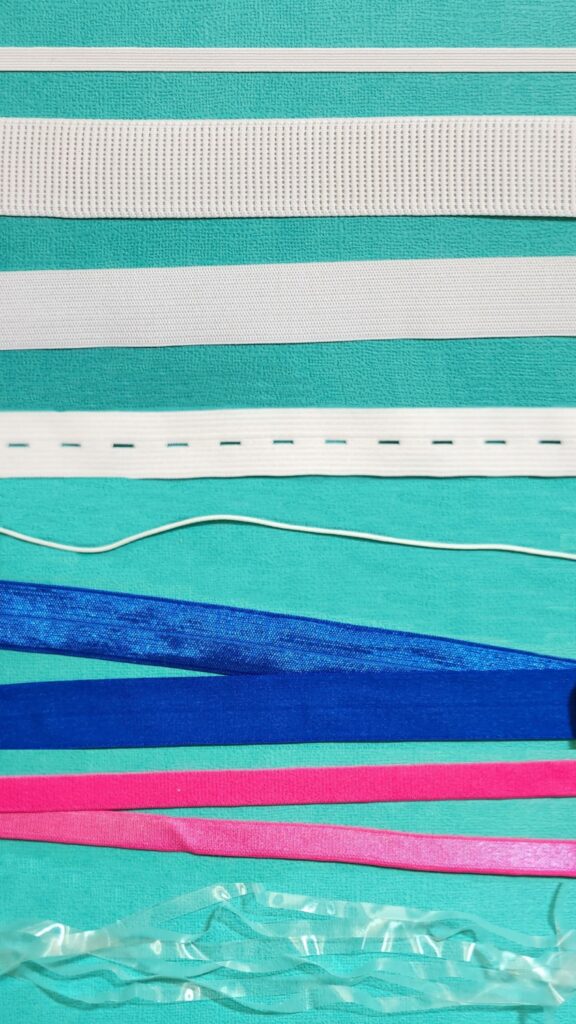 Fear not! We've got you covered with everything you need to know about the types of elastic for your sewing project. Get ready to say goodbye to frustrating closures and hello to the wonderful world of elastic!
Disclosure: This post contains affiliate links. If you purchase after clicking these links, Threadistry may receive a small commission, at no cost to you.
Common Types of Elastic Used in Sewing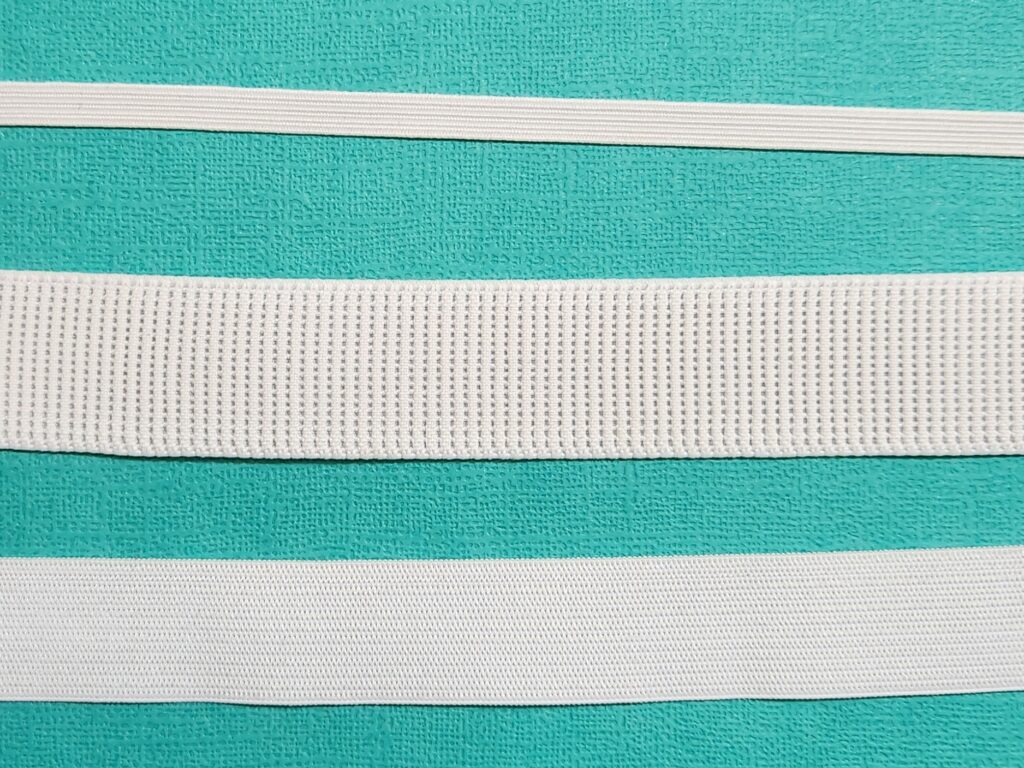 Braided Elastic
Braided elastic is made by interlacing (or braiding!) strands of rubber or latex with polyester, nylon, or cotton fibres. It has horizontal ribbing and narrows when you stretch it.
While braided elastic is generally quite durable, it's not as resistant to wear and tear as some other elastics, like woven elastic. It's stiffer and has less stretch compared to knit elastic. The textured ribbing on braided elastic can be slightly abrasive or irritating, so it's not recommended for direct contact with skin.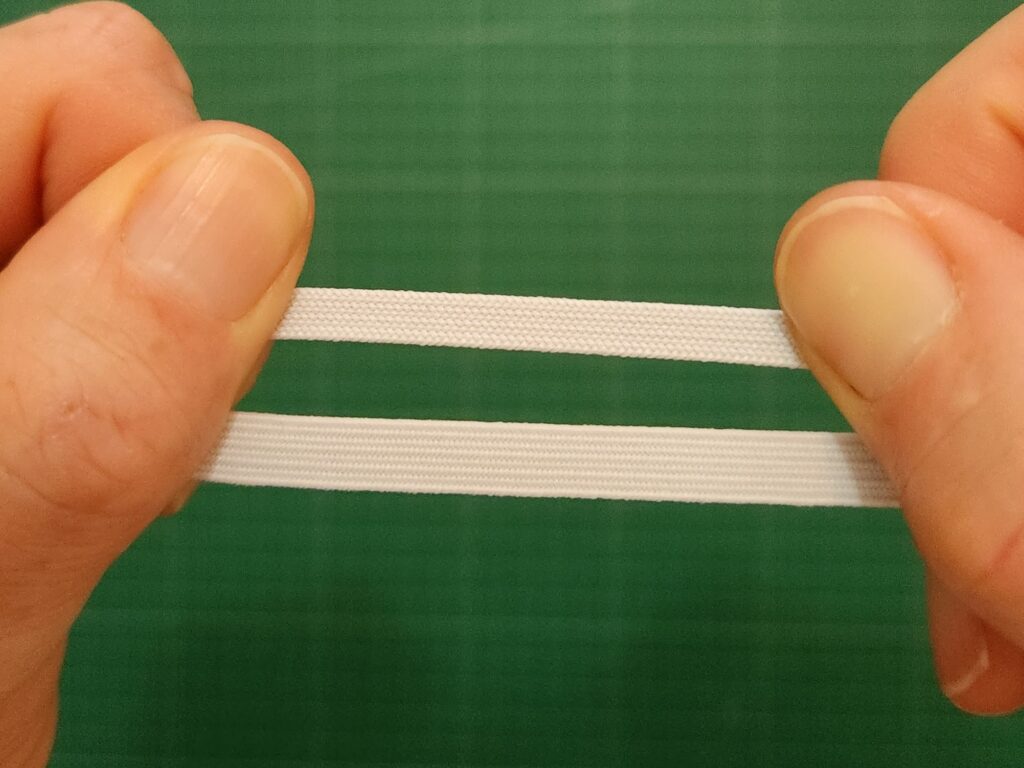 Over time, with repeated stretching and frequent use, it may lose its elasticity.
Braided elastic also tends to roll, and loses its stretchiness and recovery if you sew through it. It's not recommended for elastic waistbands that have rows of parallel stitching.
Due to its construction using multiple strands, braided elastic is bulkier than other types of elastics. It is not recommended for a low-profile or sleek appearance.
Knit Elastic
Knit elastic is made from fine, lightweight fibres that are knitted together. It has a soft and stretchy texture, similar to a knitted fabric. Knit elastic has excellent stretch and recovery properties, making it ideal for applications requiring a lot of elasticity. It is gentle on the skin and offers a comfortable fit, so is often used in underwear, pajamas, and swimwear.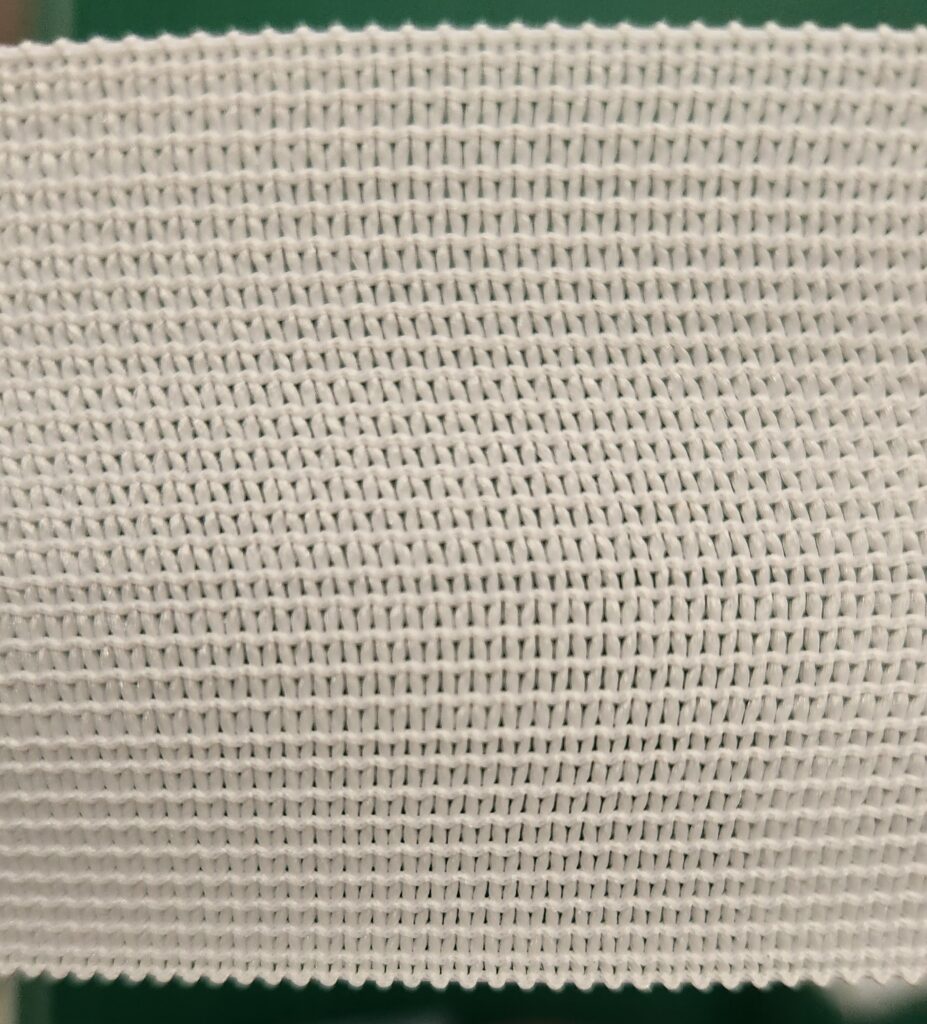 Knit elastic provides a softer and gentler stretch compared with braided or woven elastic. While this is great when comfort is a priority, it may not be suitable for projects that require a firm and secure hold. Knit elastic also may lose shape and become looser over time.
Woven Elastic/Non-roll Elastic
Woven elastic is constructed by weaving fibres together. It has a flat, smooth, and slightly shiny surface. Woven elastic has exceptional strength and durability and can withstand repeated stretching without losing its elasticity or shape.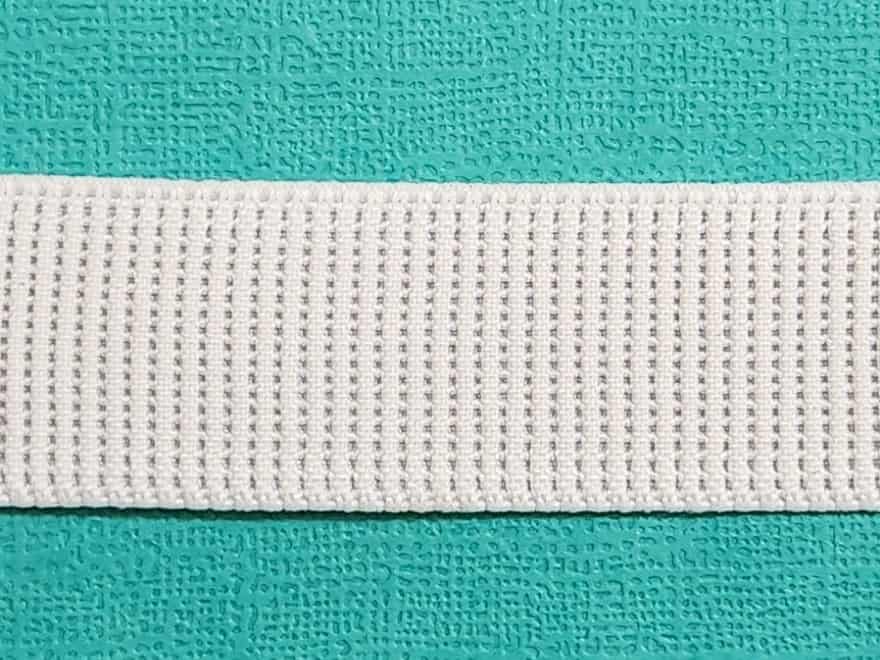 It provides a moderate amount of stretch and is more comfortable against the skin than braided elastic.
Woven elastic can also be referred to as non-roll elastic, and is designed to resist rolling or twisting in your sewing projects, so is great in waistband elastic casings.
Specialty Elastic Types
Now you know about the basic elastic types in sewing, let's look at the more specialist elastics and their uses.
Fold Over Elastic (FOE)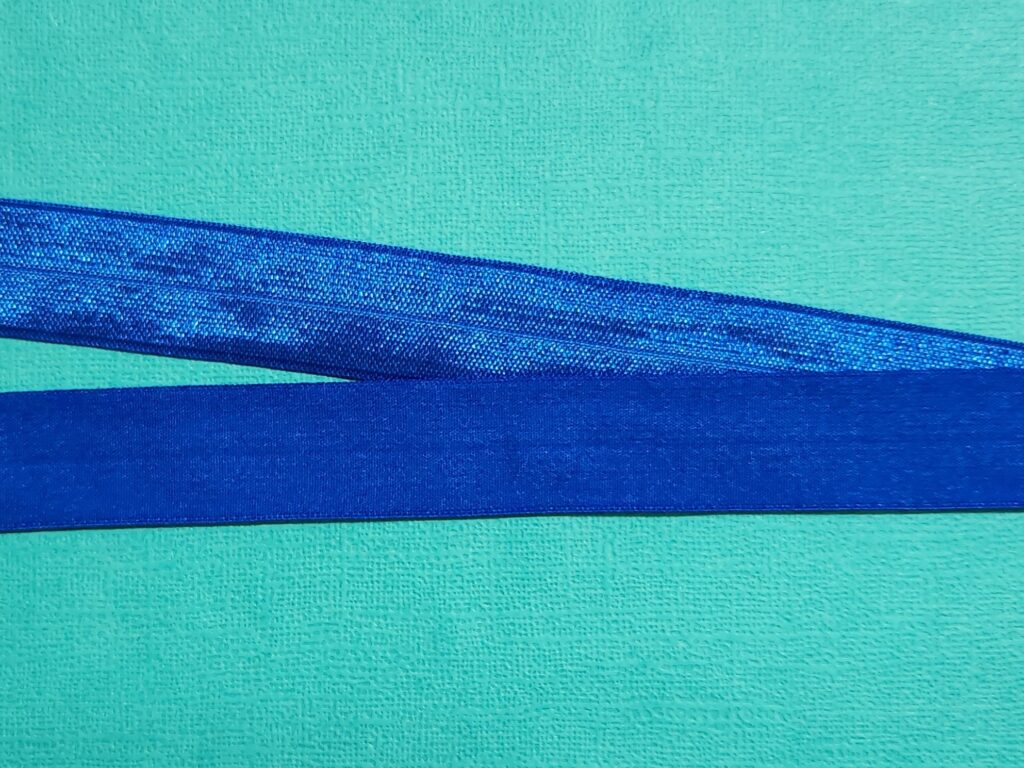 Fold-over elastic (FOE) is a soft elastic with a groove in the centre that makes it fold in half easily. It can be folded over fabric edges, acting as binding and elastic in one. It is usually shiny on one side and matte on the other. FOE is soft against the skin and looks professional when used to bind to necklines, armholes, and leg openings, in apparel, lingerie and baby items.
Clear Elastic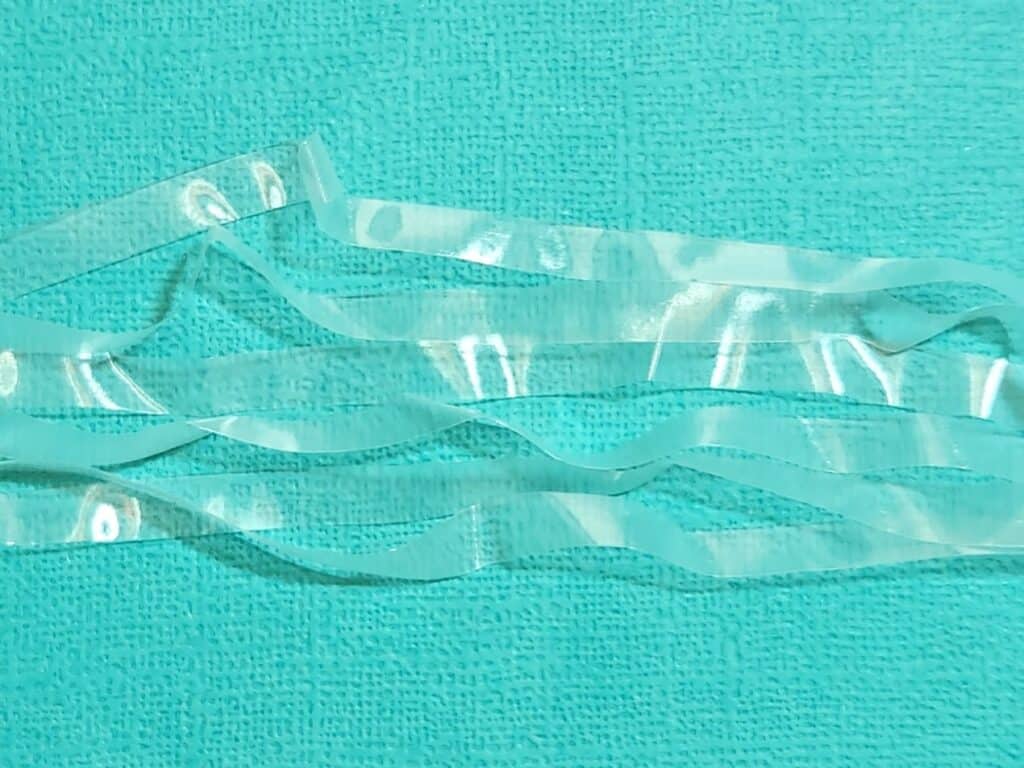 Clear elastic (or invisible elastic) is made of a clear, flexible material such as silicone or polyurethane. It can be used to reinforce and stabilize seams, such as shoulder and waist seams. It is used in swimwear and lingerie for bra bands and leg openings and can be used to create invisible straps in evening wear. 
You can also use clear elastic to gather by stretching the elastic as you sew it to the fabric. This works best for small gathering small sections of fabric.
Swimwear Elastic
Elastic used for swimwear is a specialty elastic that is chlorine resistant and has UV protection. Swim elastic is made of rubber and polyester, ensuring it maintains its shape and elasticity even after extended exposure to water and sunlight.
Shirring Elastic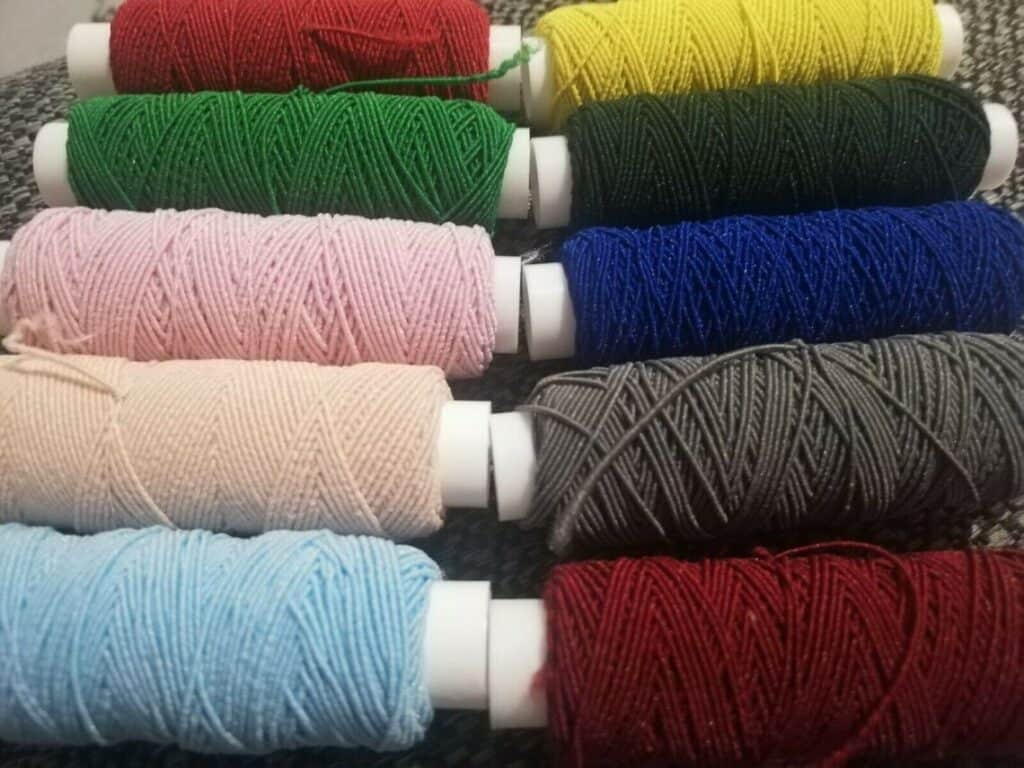 Shirring elastic is an elastic thread used in the bobbin of your sewing machine. When sewn with a straight stitch and slightly stretched, the shirring elastic will gather and create a ruched or gathered effect on the fabric. Shirring elastic is commonly used on the waistbands of skirts or dresses, sleeves, and necklines to add texture and interest to a garment. Shirring elastic should not be used as the main source of support or stretch in a garment, as it is not as durable or strong as regular elastic. 
Lingerie Elastic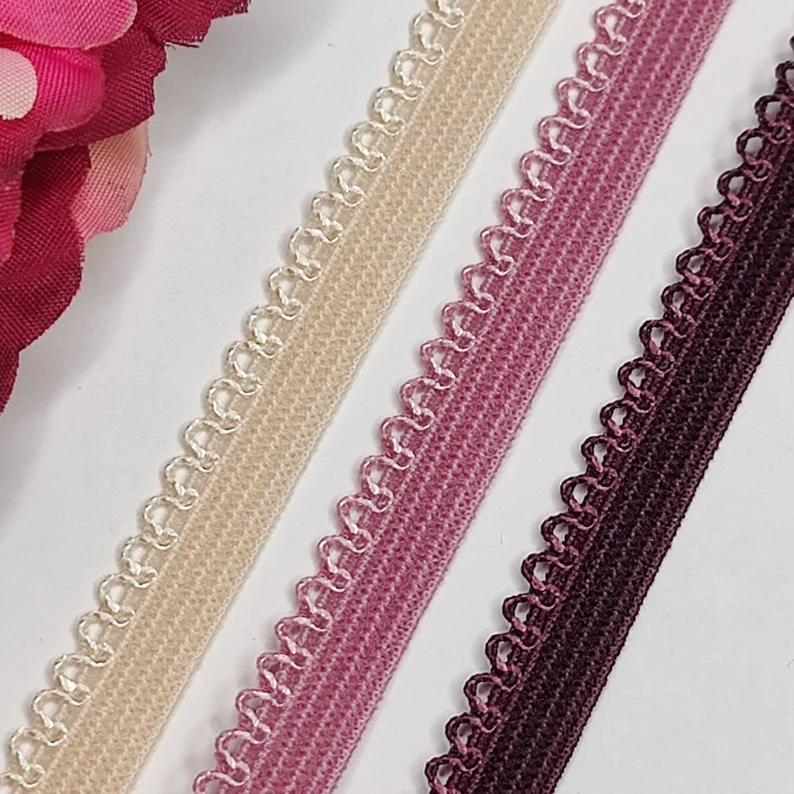 Lingerie elastic is perfect for delicate and lightweight projects. It is commonly made of polyester and spandex, which offers softness and stretch. Additionally, you'll find lingerie elastic in various widths and with decorative edges like picot elastic or elastic with ruffled sides.
Buttonhole Elastic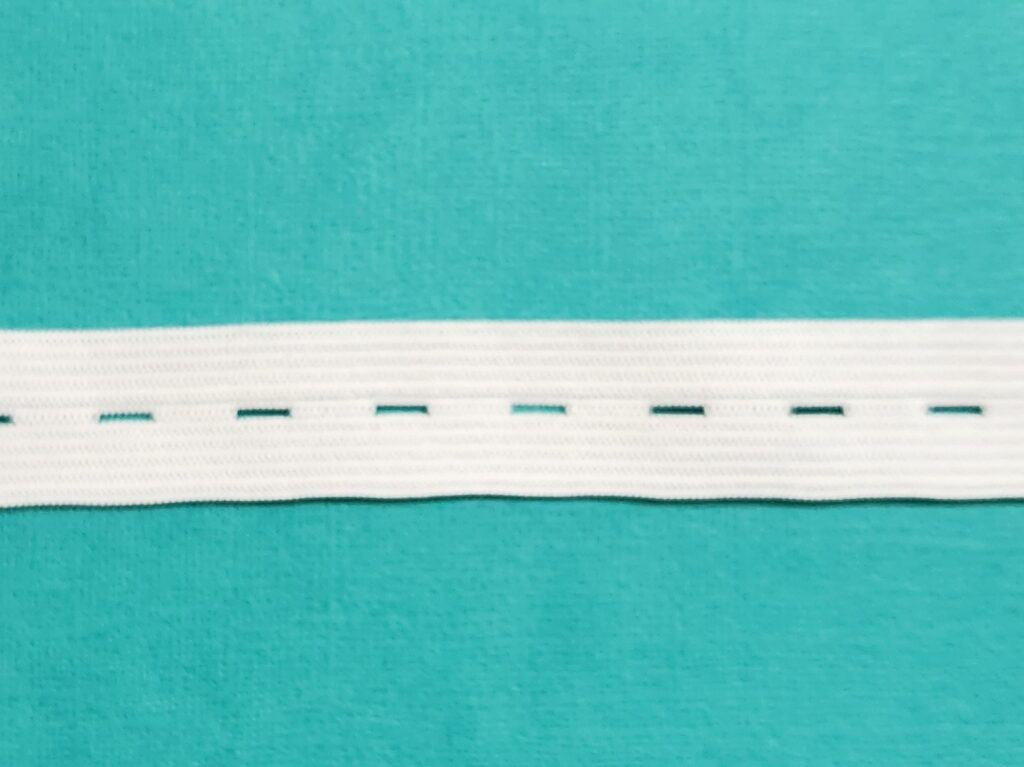 Buttonhole elastic has pre-made buttonholes evenly spaced along its length. This allows you to adjust the tightness of an article of clothing, such as waistbands or cuffs, by simply moving a button to a different hole. It's a great option for children's clothing as you can adjust it as the kids grow.
Lace Elastic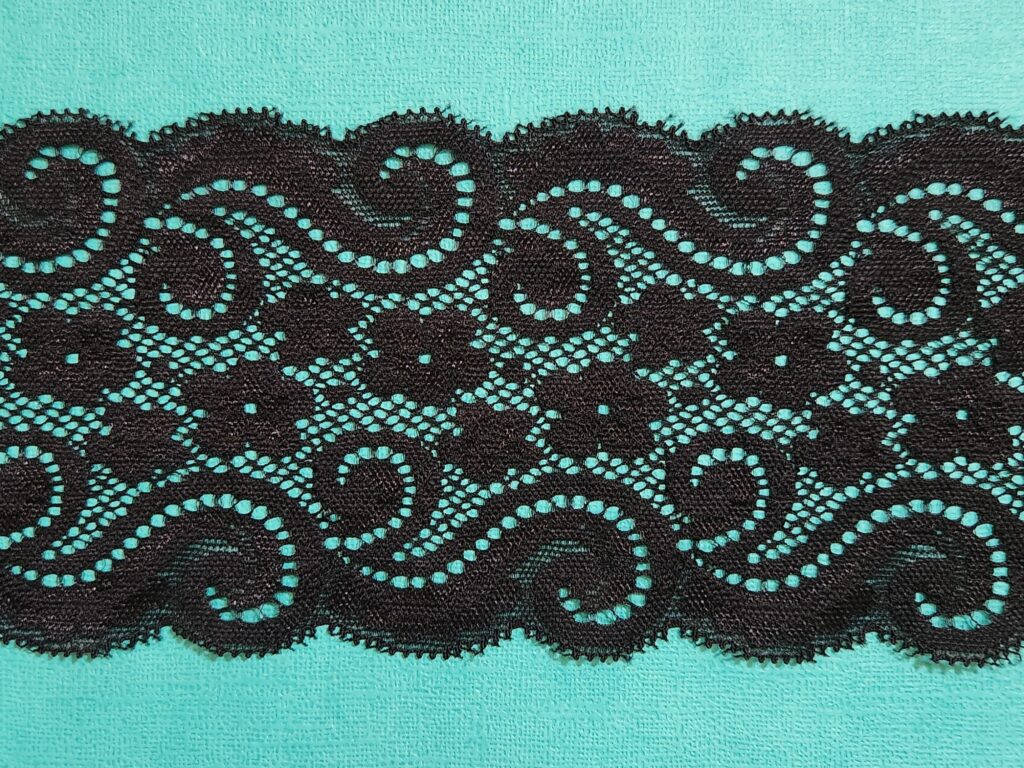 For a touch of elegance and style, lace elastic (or stretch lace) offers both functionality and aesthetics. It's perfect for adding a pretty touch to garments, underwear, headbands, and other accessories. The lightweight nature of this elastic makes it suitable for delicate projects. Plus, the many intricate and stylish designs will make your creations unique.
Silicone Gripper Elastic
Silicone gripper elastic has one or more rows of silicone applied to the back. This provides grip and support to hold garments in place, such as dance costumes, activewear,  or eveningwear. The silicone sticks to your skin and prevents your clothing from moving or riding up (or down!).
Cord Elastic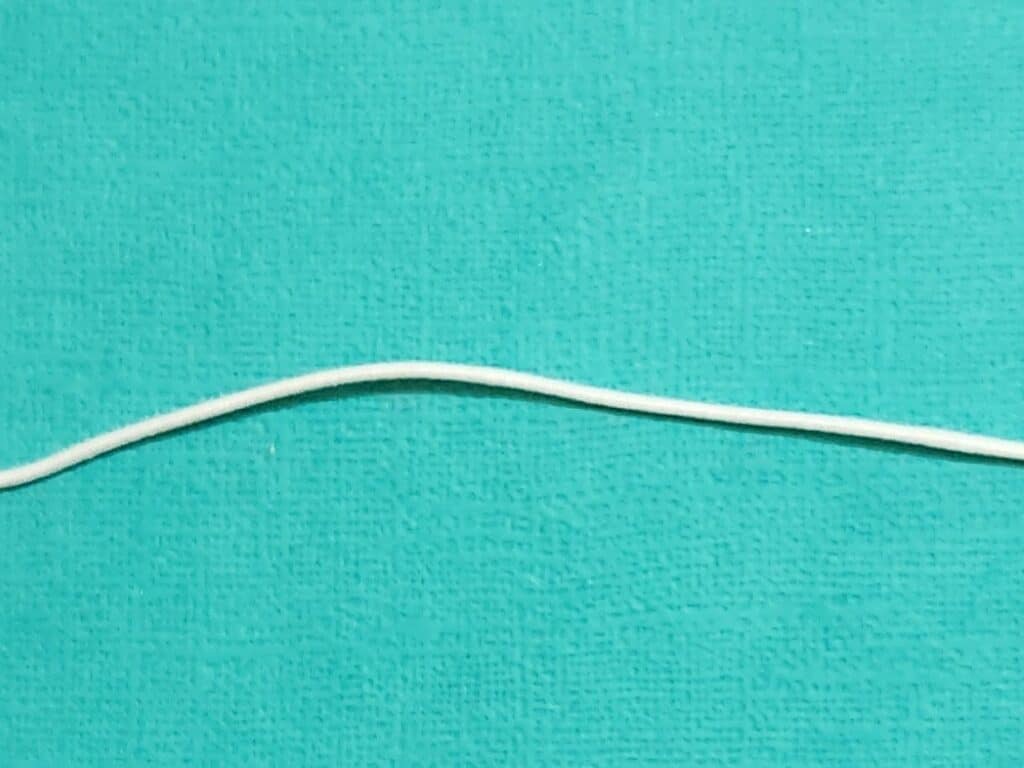 Cord elastic is a round elastic that is perfect for sewing projects requiring a strong and thin elastic. Some applications of cord elastic are drawstrings in hoodies, jackets and bags (generally used with toggles), and button loops.
Baby Elastic
Baby elastic is a thin, extra soft elastic that easily stretches without leaving marks on delicate skin. It's just a marketing name for soft and stretchy knit elastic.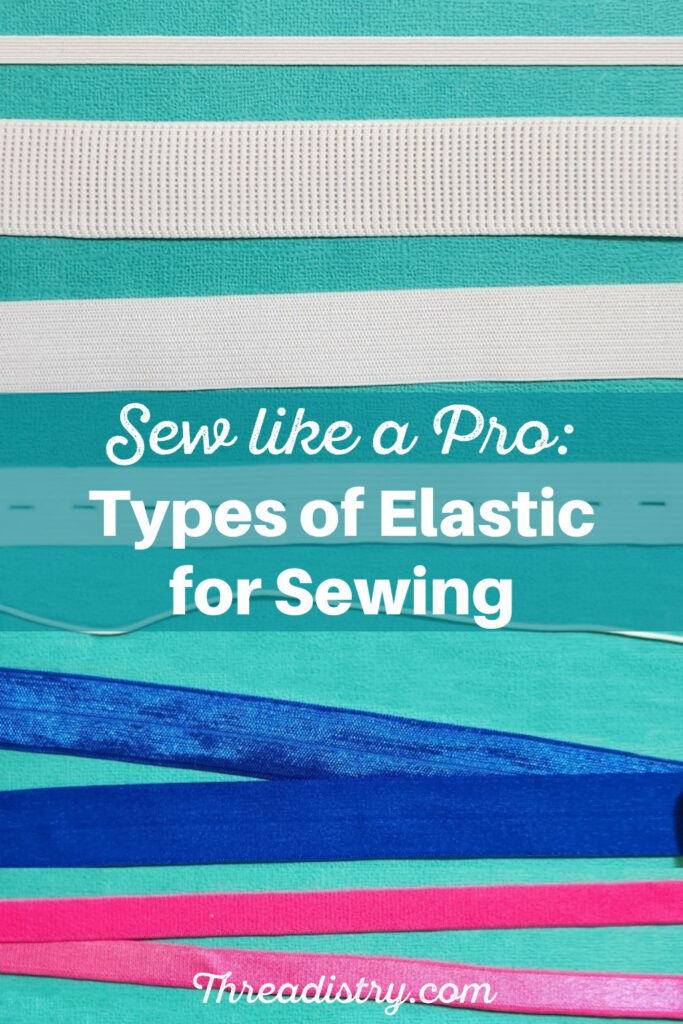 So now you've entered this wonderful world of elastic. I hope this helps you to choose the right elastic for your next sewing adventure!
More sewing inspiration: