Winter Warmers: Women's Hoodie Sewing Patterns
The word hoodie brings to mind a teenage boy, hood up, slouching in the dark, up to no good. But seriously, everyone needs a hoodie! On a cold day, pull the hood up to keep warm (or keep your hair dry when you forget your umbrella!).
Now, on some days a bulky over-sized hoodie is the perfect option. But what about those times when you want to stay warm but still look feminine and pretty?
Check out these stylish women's hoodie sewing patterns: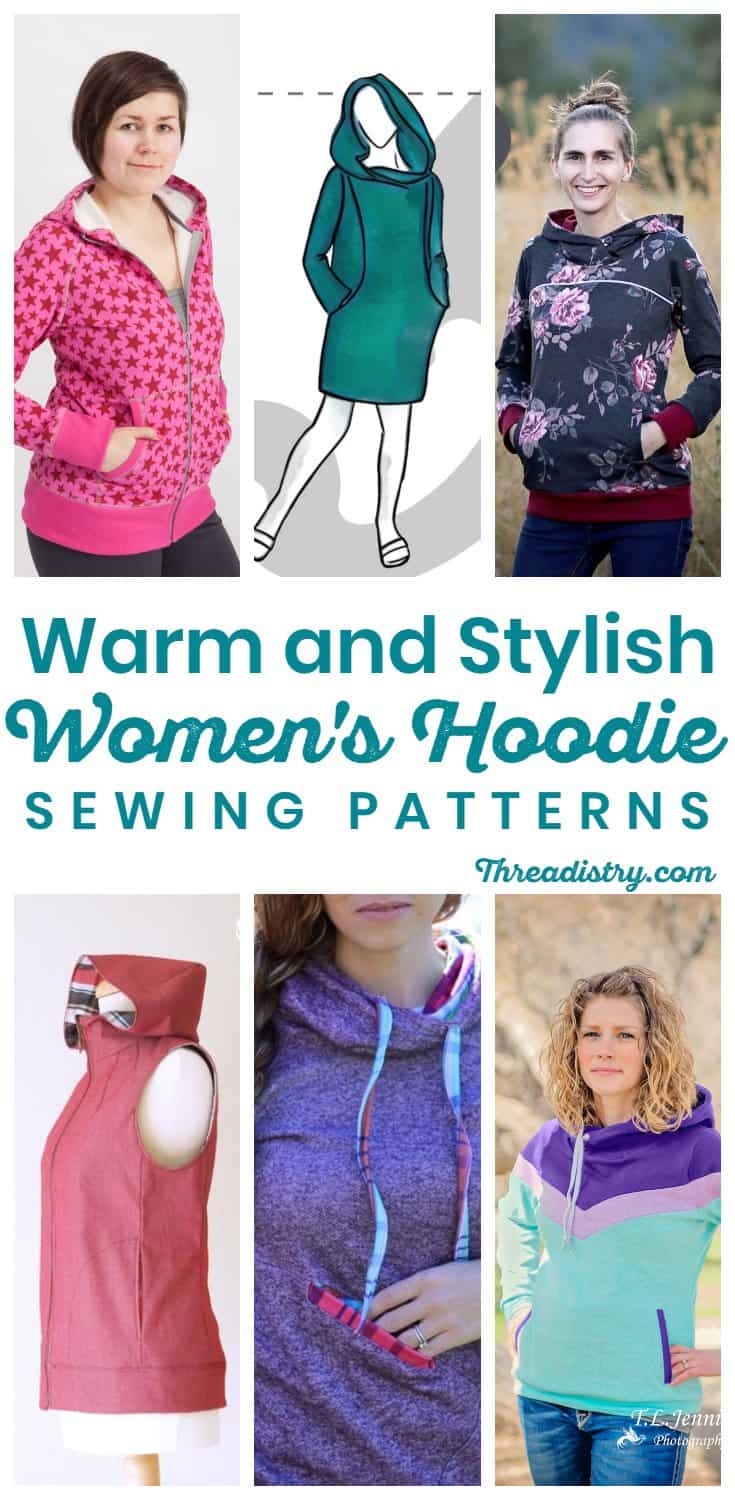 Disclosure: This post contains affiliate links. If you purchase after clicking these links, Threadistry may receive a small commission, at no cost to you.
The Hyak Hoodie from Peekaboo Patterns is a cozy but stylish hoodie with a crossover hoo and an internal kangaroo pocket. There's also the option to include zips for easy nursing access.
Who says hoodies have to be big, bulky and boring? The Lisse Cowl and Hoodie from New Horizons Designs is so pretty and feminine, with the pleated tulip front (and it comes in girl's sizes too!).
A bit of color-blocking can turn a simple hoodie into something so much more stylish. I love the chevron design of the Elevation Hoodie from New Horizon Designs.
If you're looking for a sleeveless hoodie, check out the Dropje Hooded Vest from Waffle Patterns.
The Roller Coaster Tee has a hood/cowl combo. Make it a size or two up for a sweater, or sew it as a hooded T-shirt (with your choice of sleeve length). The angled pocket and color-blocking options are great details!
The Women's Hoodie from Ottobre Design is a classic zip up hoodie with a kangaroo pocket and raglan sleeve.
The Tunic Hoodie Sweatshirt from mc2patterns is a fun longer-line option that you can wear as a tunic or dress, whether you want to stay snuggly on the couch or be warm, cozy and stylish when out and about.
The Mystic Morgrain hooded top from Mother Grimm Designs has 3 hood options – round, short pixie and long pixie – to add a fun element to your hoodie. The color-blocking is perfect for using a fabric panel. It also comes in a children's version.
The Women's Raglan Hoodie from Seamingly Smitten is another simple raglan design, with 3 sleeve lengths and an optional kangaroo pocket.
Sol Hoodie from Jamie Christina is a zip up hoodie with thumb cuffs and fabric bands outlining the zipper and hood. It's a fun and casual style.
Fabric.com has a great selection of fleece, sweater knits and more for your hoodie.
More sewing inspiration: