How to sew curtains | Beginners Guide
Curtains are a surprisingly easy beginner sewing project. Sewing curtains is just lots of long straight stitches, when you know the right supplies to get. Learn to sew curtains with these tips and inspiration.
A few years ago, we moved into a house with no window coverings. I'd recently started sewing again (after not sewing since I was a teenager), and I wasn't sure I was up for sewing curtains. They look difficult to make – so much fabric, and how would I get all those neat pleats or gathers in the curtains.
On my next visit to my local fabric store, I asked the ladies at the counter if there was a book or guide available for how to make curtains. It was quiet that day, and the ladies were up for a chat. They told me I didn't need a book and talked me through the basics of how to make curtains. They showed me the secret to easily making professional-looking curtains – curtain header tape and told me that sewing curtains is really just straight stitching – really, really long straight stitching.
So I decided to dive in and give it a go. Before I knew it, my kids were no longer waking up at the crack of dawn thanks to Mama-made curtains!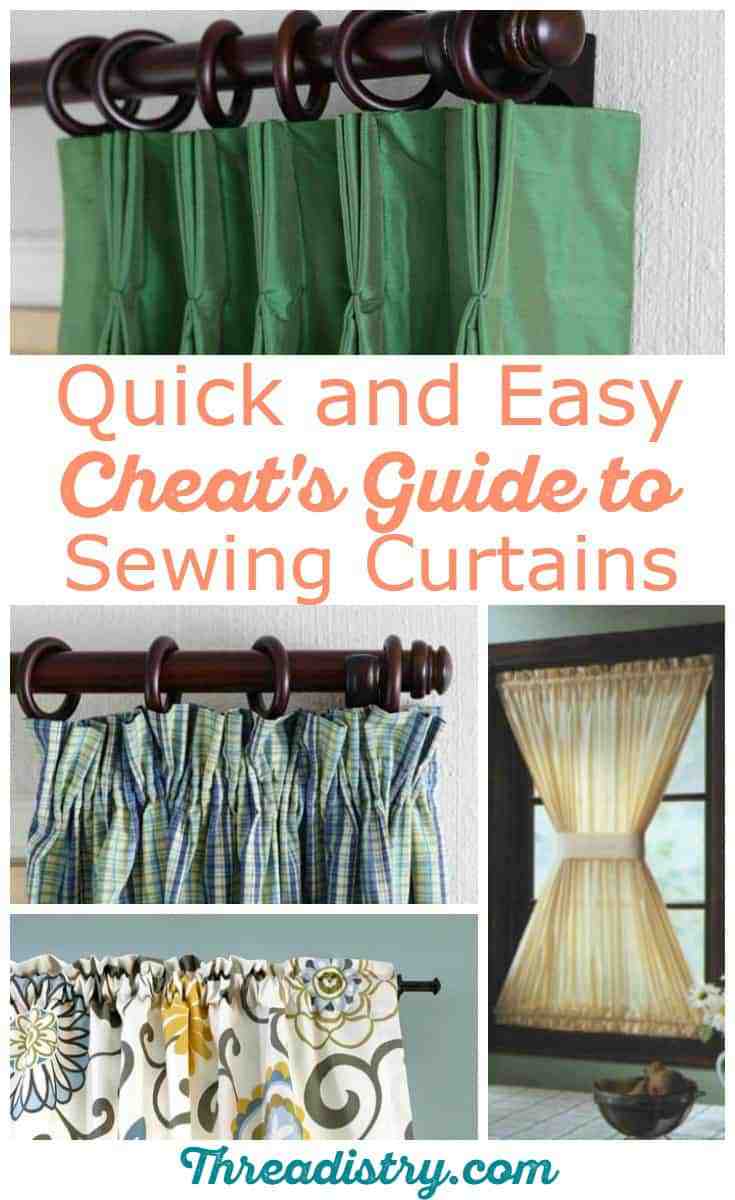 Types of Curtains
There are lots of different styles of curtains, but all styles are perfect beginner sewing projects. Let's look at the different options you can sew.
Tab Top Curtains
Tab top curtains have evenly spaced fabric loops or tabs at the top. The fabric is attached to a rod by threading the rod through the loops. The distance between the loops determines how much the fabric gathers when the curtains are open. You can make them so the curtain sits flat when the curtains are fully closed, or add extra fabric to give some fullness and drape when the curtains are closed.
Stitched by Crystal has a free tutorial for sewing tab top curtains. Alternatively, Sew and So have a downloadable tab top curtains sewing pattern on Etsy.
Cafe Curtains
Cafe curtains are short curtains that only cover the bottom section of windows. Cafe curtains create privacy but still let the light in. They are quick to install (without drilling holes!) using a tension rod, curtain clips and a light piece of fabric. They are traditionally used in the kitchen but are also great for bathrooms and other spaces where you don't need a dark room.
Just a Girl and Her Blog has a simple tutorial for DIY cafe curtains.
Grommet or Eyelet Curtains
Grommet curtains are another simple and easy option. A grommet is a reinforced eyelet made of plastic or metal that slide over a decorative rod, with the curtain fabric draping into neat, clean folds. They are also known as Eyelet curtains. One Good Thing by Jillee has a great tutorial for how to sew grommet curtains.
Use grommet tape to save time in making sure the grommets are evenly spaced, reinforcing the holes while you're at it. Tip: make sure you buy matching diameters for your grommets and grommet tape! They come in different diameters!
If you are looking for a quicker project, you can buy fabric by the metre that already has the grommets attached. Get the fabric cut to your desired width (typically using 1.5 times the width of the rod), and all you have to do is hem the bottom and sides of your curtain.
Pencil pleat curtains
Pencil pleat curtains have lots and lots of tiny gathers (or pencil pleats!). How in the world do you get all those tiny gathers even over such a long width of fabric? This is easy – you sew on pencil pleat curtain header tape to the top of your curtains, pull the strings attached to the header tape, and voila! There you have perfectly pleated curtains. Slide curtain hooks into the pleats and attach to a rod with curtain rings, or hook onto a curtain rail. They are super simple to make. Here's a tutorial from Sew Helpful for how to sew your own.
Pinch pleat curtains
Pinch pleat curtains are similar to pencil pleat curtain in that you sew a header tape to the curtains. There are two styles of pinch pleat header tape. One has strings to pull to gather the fabric in the pleats, like pencil pleat header tape. The other has thin pockets at even distances (shown below). You then insert hooks to create the pinch pleats. You can make double or triple pinch pleat curtains depending on the hooks you use (three-prong or four-prong). This gives you greater flexibility in deciding the spacing of the pleats. 
I love the look of triple pinch pleat! The curtains again can be attached to a rod with curtain rings or a curtain rail.
Here's a great tutorial from Online Fabric Store for how to sew pinch pleat curtains.
Rod Pocket Curtains
Rod pocket curtains have a pocket or casing that a curtain rod is threaded through. It's one of the quickest curtain styles to sew as it's just long straight stitching – no tape or hooks to worry about.
Best Fabrics for Curtains
Curtains can be made with almost any fabric, from lightweight sheers to heavy velvet. Whilst there are a range of curtain-specific fabrics in the home decor section of fabric stores, from sheers to solids and jacquards, you are not limited to those fabrics. Quilting cotton makes a great choice with a great range of prints, but apparel fabrics can also be used.
The first step in selecting a curtain fabric is determining the purpose of the curtains, whether it is privacy or to block out light.
Blockout fabrics have an acrylic coating on the back to block the holes in the fabric weave. They are perfect for bedrooms, where you want the room completely dark. Care needs to be taken with your curtain design, such as extending beyond the window and to the ceiling or having a pelmet to get the full benefit of blockout fabric
Thermal fabrics are great for insulation, whether you want to protect your home from the hot or cold weather. They typically have 1-2 coats of acrylic, which provides some light filtering from the weave, but not a total blockout. These are perfect for living areas and are typically cheaper than full blockout fabric.
If you can find the perfect fabric in blockout or thermal fabrics, you can add lining to other fabrics to provide this effect. Alternative Windows has a tutorial for how to sew lined curtains.
Sheer curtains, such as netting, voile and lace, let in light while providing screening and privacy (although you will be able to see through the curtains somewhat when the light inside is brighter than outside (such as in the evening or when the lights are on). They work well for kitchens and windows in doors or as a second layer of curtains for bathrooms, bedrooms and living rooms.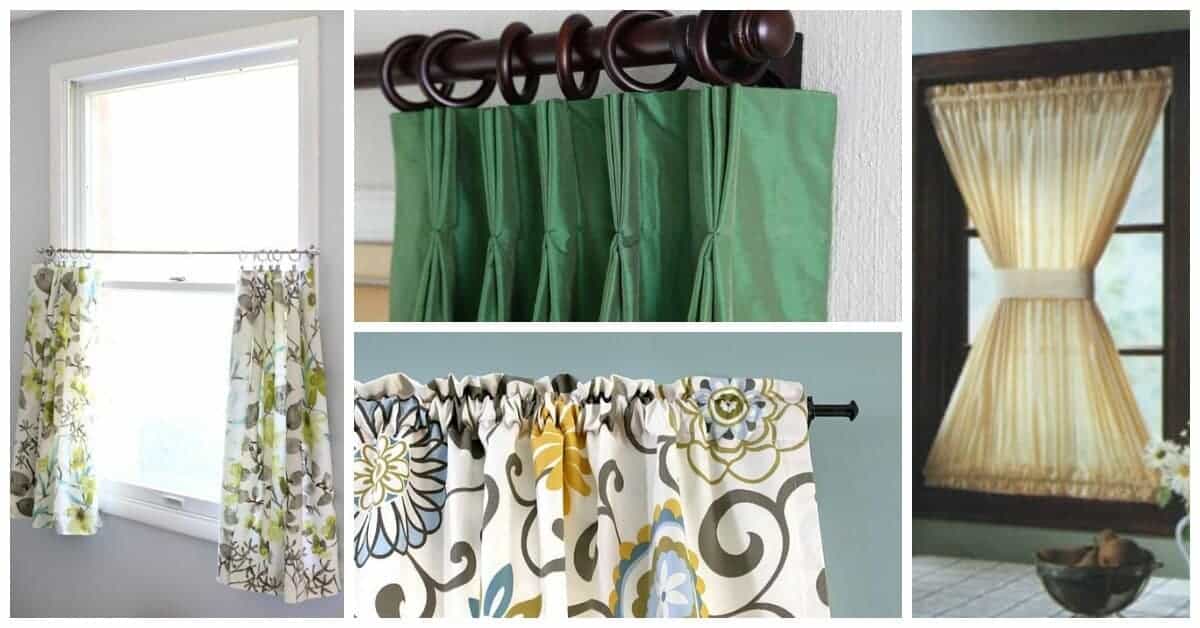 ​
Tips and Tricks for sewing curtains
Here are some additional tips and tricks for sewing curtains:
If you need more than one width of fabric for your curtains, try to keep a full panel on the side of the opening, and have an even distance for the seam on both sides (but in mirror image) for windows with two curtain sections.
Try to keep as much of the fabric as possible on the table next to your sewing machine as you sew. Curtain fabrics can be heavy (especially when lined), and fabric hanging off the table can pull the fabric making it harder to sew a straight seam.
To ensure you cut the fabric straight, clip the edge of the fabric, find a single thread and gently pull the thread out of the fabric. This will give you a line across the fabric to cut along. Lining up your fabric with the grout lines on a tiled floor is another great way to ensure you cut straight.
Always make your lining shorter than your fabric. Curtains can expand and contract with changes in temperature, and you don't want the lining poking out the bottom (which happened at my parents' place!).
Hem the curtains by hand with a blind-hem stitch for the most professional look.
If you'd like more guidance than just a tutorial, take a look at Sewing Custom Curtains and Draperies with Susan Woodcock class on Craftsy. The video class teaches the techniques you need to create elegant shirred, pleated and grommeted styles.
Take your curtain making skills further with another Craftsy class – Professional Window Treatments Linings to Finishing Touches with Susan Woodcock. You'll learn about the internal pieces that will give your window treatments a polished look, so you can create curtains that go beyond great fabric.
More sewing inspiration: