Brighten your day with Rainbow Quilt Designs
How pretty are these rainbow quilt designs? Rainbow quilts are great scrap-busting projects. They make great DIY baby shower gifts, and/or brighten up a room.
What comes to mind when you see the word rainbow? The songs "somewhere over the rainbow" or "rainbow connection"? Do you remember the day you first saw a double rainbow? Or do you feel the delight of spotting a rainbow on a miserable day?
Rainbows are a spark of brightness on a grey day. They are a reminder that beauty can come from the gloom.
Or that you can sew something beautiful with that enormous collection of fabric scraps you've been saving!
I love rainbows. They make me happy. As we're heading towards St Patrick's Day, I have rainbows on my mind.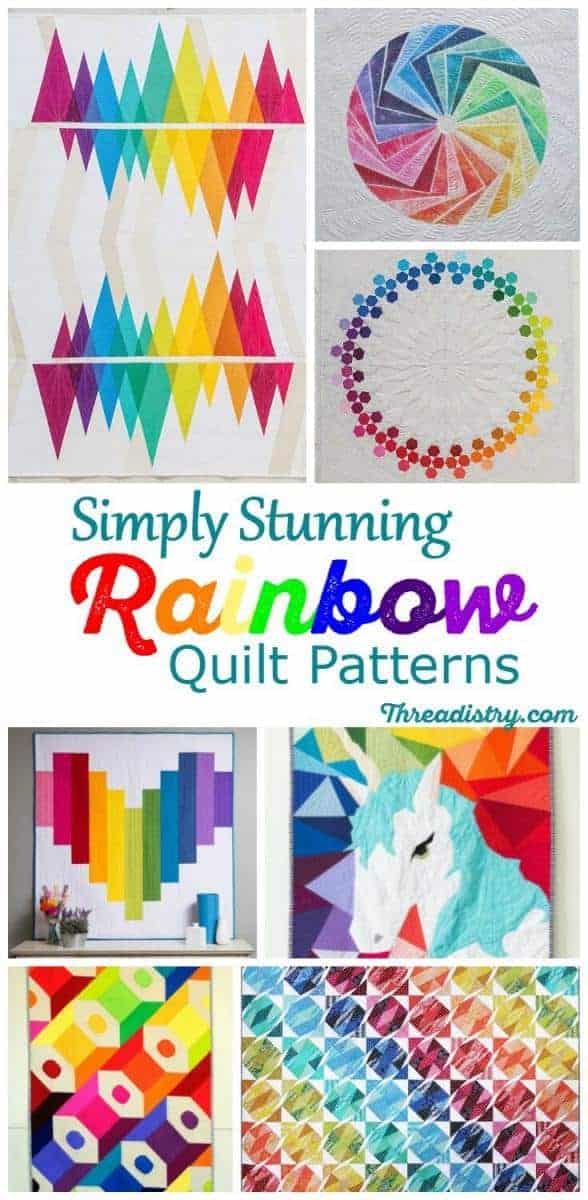 Rainbow quilts are great scrap-busting projects (or can highlight which colours of the rainbow you don't usually sew with!). They make great baby shower gifts when you don't know if bubs is a girl or boy. Rainbow quilts make beautiful wall hangings or snuggly quilts to brighten up a room.
Here are some gorgeous rainbow quilt designs to brighten your day!
This post contains affiliate links. If you purchase after clicking these links,
Threadistry receives a small commission, at no cost to you.
Easy rainbow quilt patterns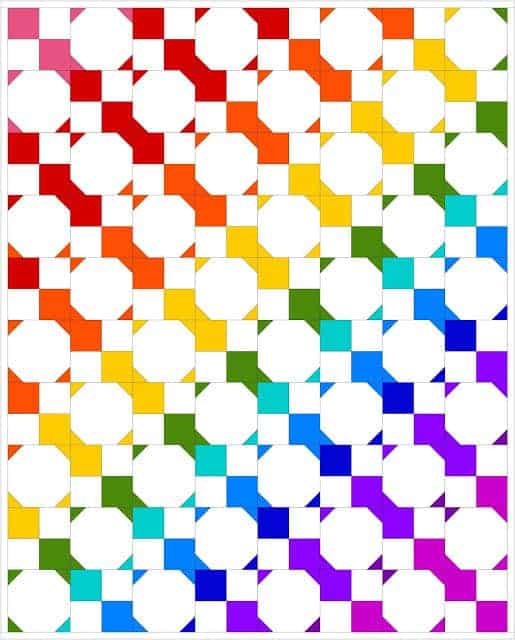 Daydreams of Quilts has a simple tutorial for this easy rainbow scrap-busting quilt. It's an easy quilt design using just two blocks.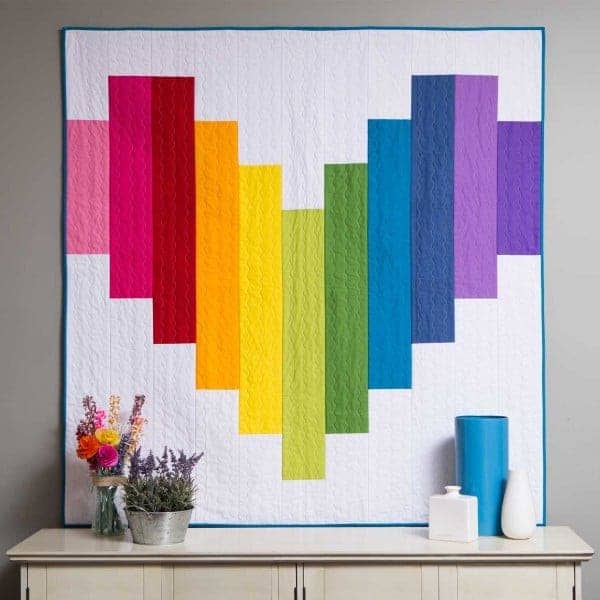 The Piece of My Heart Strip Quilt from Accuquilt is a quick quilting project for beginners.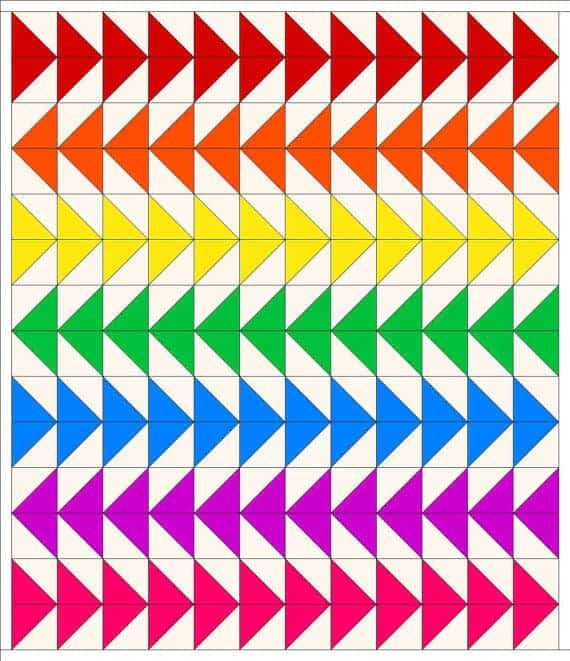 Flying geese is a great quilt block to sew for beginners and making a rainbow out of it adds to the happiness. This quilt pattern is from Just Jude Designs.
Geometric Rainbow Quilt Designs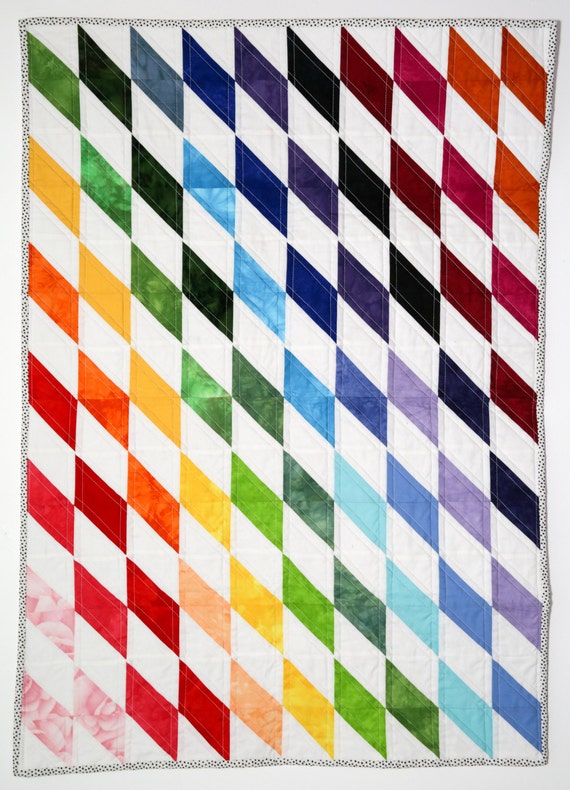 ​
The Rainbow Diamonds Baby Quilt pattern from Blue Jacaranda is fun geometric design made from half square triangles.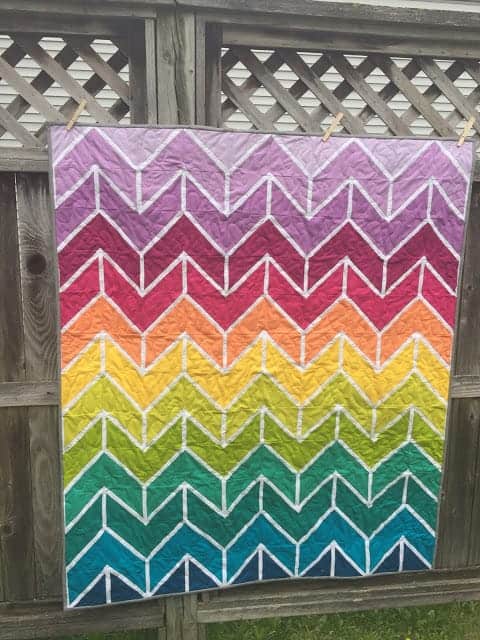 This foundation-pieced rainbow chevron quilt pattern from Kathleen Monica is one of my favourites. I love the geometric design and choice of colours!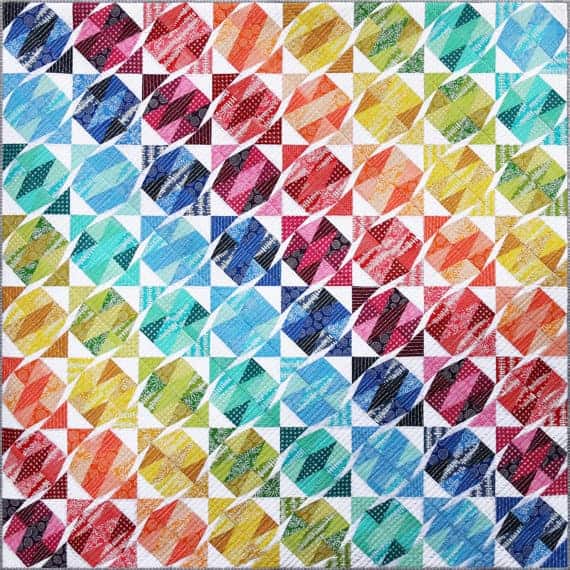 The effect of the Gemstone Tumble Quilt pattern from Emma Jean Jansen is just mesmerising. I love staring at the design.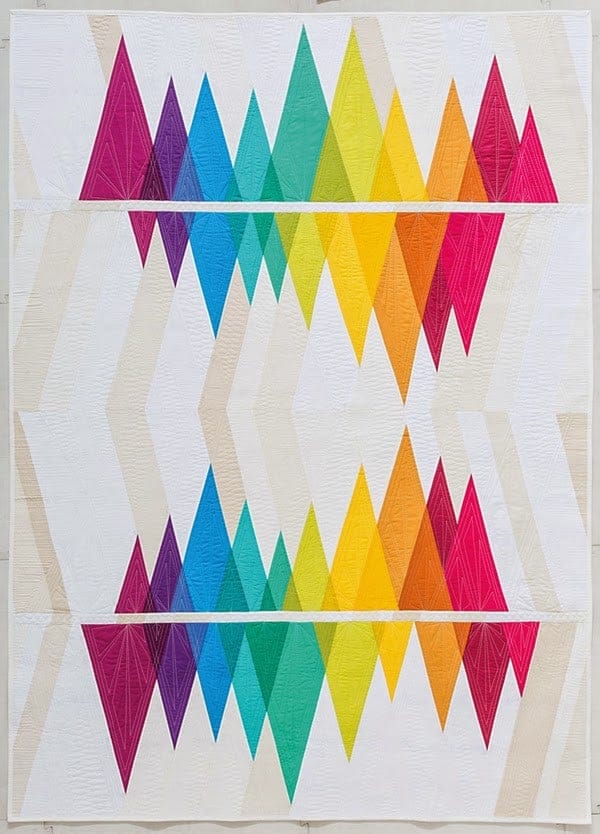 Wavelength from the book "Modern Rainbow: 14 Imaginative Quilts That Play with Color" by Bryan House Quilts is such a striking geometric quilt design.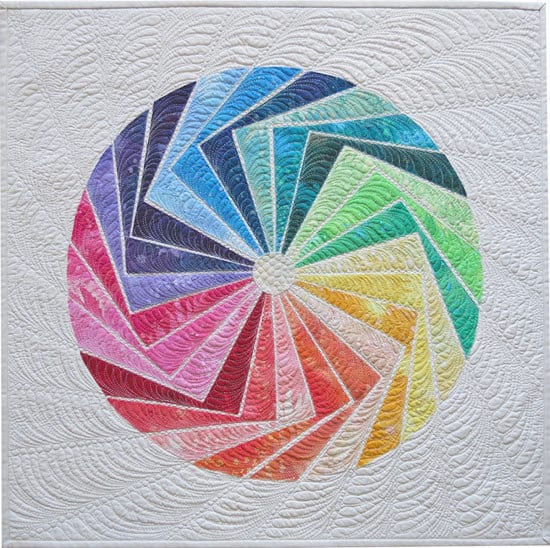 Modern Geometric from GetaGrama is a surprisingly easy quilt pattern using raw edge applique. I love it in rainbow colours!
Fun Rainbow Quilt Designs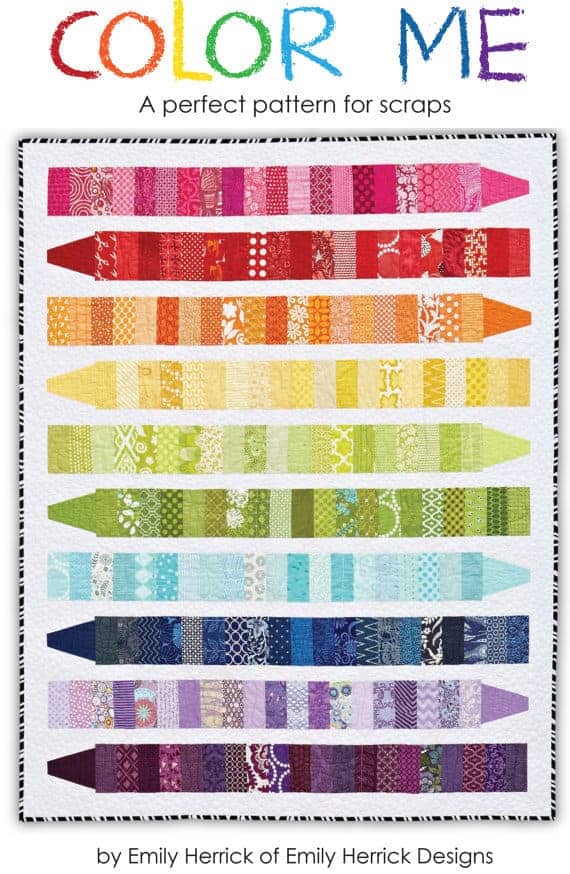 The Color Me rainbow quilt pattern from Emily Herrick would make a "Back to School" or teacher gift!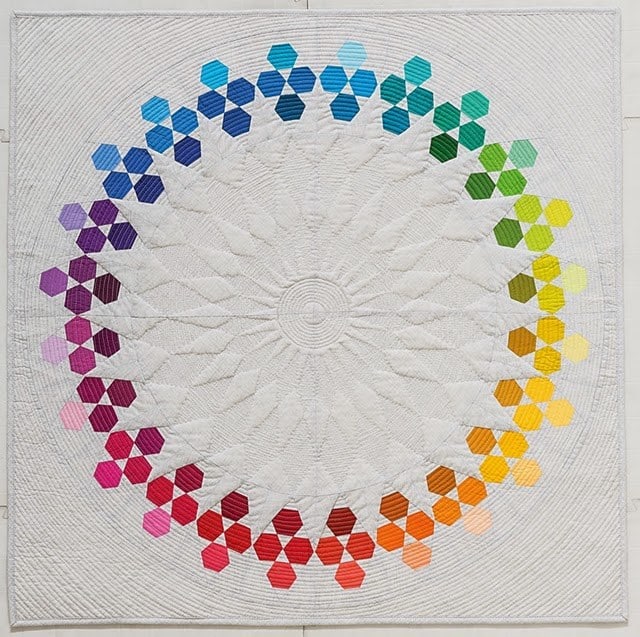 Huckleberry is another stunning rainbow quilt from the book "Modern Rainbow: 14 Imaginative Quilts That Play with Color". The quilted mandala adds so much to the beauty of the quilt.
Snood is one of the gorgeous rainbow quilts from the collection Color Continuum — no. 02 polychromatic by Carolina Patchworks. There are 5 wonderful designs in the book.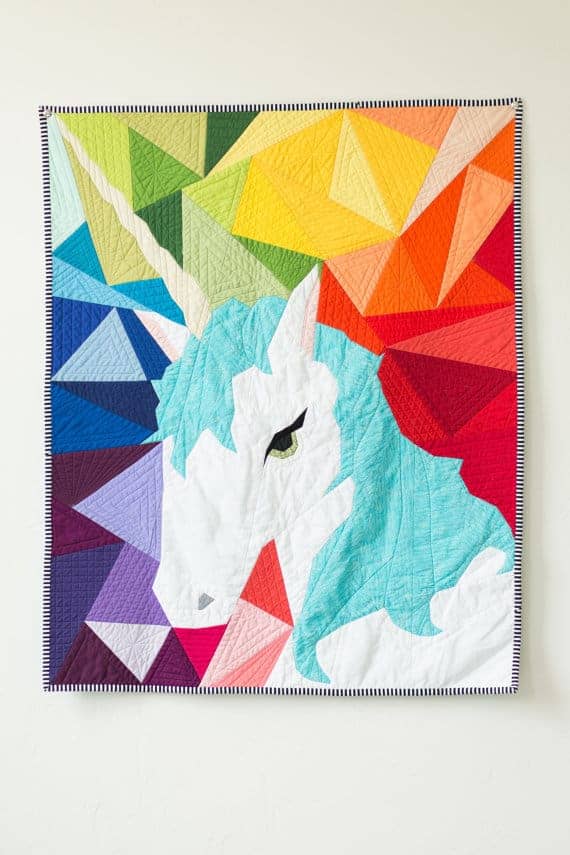 Please don't let my 6 year old daughter see Maybe the Unicorn from Chelsea Hilton Quilts. The paper-piecing is stunning!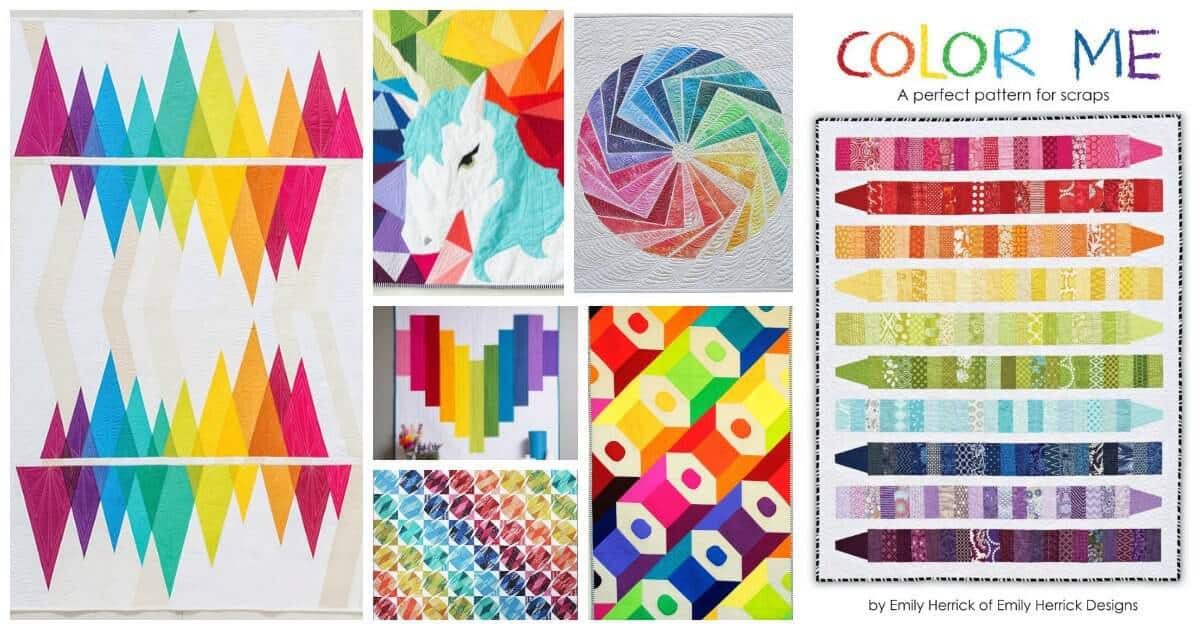 More sewing inspiration: