Un-bear-ably Cute: 18 Adorable Teddy Bear sewing patterns
Teddy bears are such an important part of childhood (and a handmade teddy bear can have even more meaning).
As kids, these soft and cuddly toys were our companions, confidants, and protectors from the monsters under the bed. And even as adults, we can't help but smile when we see a teddy bear in a shop window or on the shelf at home.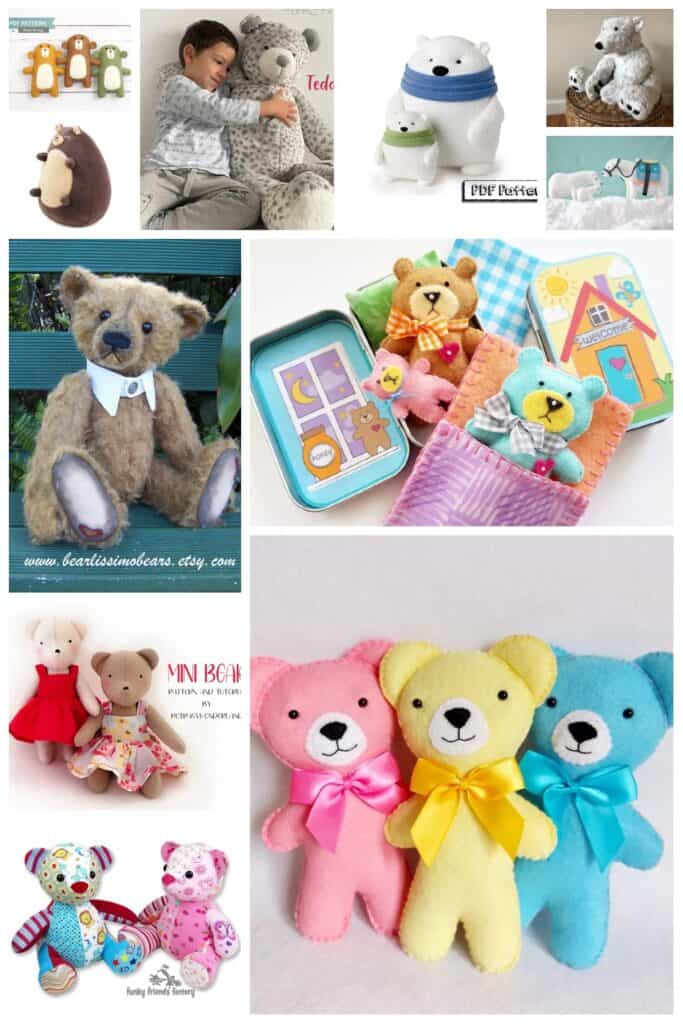 Disclosure: This post contains affiliate links. If you purchase after clicking these links, Threadistry may receive a small commission, at no cost to you.
That's why I'm so happy to share this roundup of 18 adorable teddy bear sewing patterns. Whether you're looking to create a special gift for a child in your life or just want to indulge your own inner child, these patterns are sure to inspire you.
Grab your favourite fabric and start sewing some un-bear-ably cute teddy bears!
Cute teddy bear sewing patterns
There is something so cute about the big nose, friendly smile and adorable bowtie of the Nosey Teddy Bear from Xanthe Patterns.
The Melody Memory Bear sewing pattern is a patchwork bear, designed to be made from a child's old clothes to make a sweet keepsake. It is such a cute bear design!
I have such a soft spot for the roly-poly toys from Arttony Toys and the plush bear sewing pattern is no different. Such a cute little face and fun huggable design (and the pattern comes in 4 sizes too).
If you're wanting to go big with your teddy bear, check out the huge teddy bear from dikenbiri. He's 35 inches tall (89cm) and just asking to be cuddled!
Felt teddy bear sewing patterns
There is something so sweet and simple about the felt teddy bear from Sew June Jones (and I love the coordinating bows!). The finished bear is approximately 7 inches (17cm) tall.
These sweet little guys are hand-sewn and embroidered. The finished size is about 6 inches (15cm) tall. The pattern also includes a little mask (since it was designed during "that" time!).
This felt play set from Precious Patterns is so sweet. It's designed to fit in an Altoids tin. It would make a great sewing project for kids too.
Teddy bear doll sewing patterns with clothes
This Mini keepsake bear sewing pattern from Petras Wonderland includes a cute little dress. Such a sweet design!
This adorable teddy bear sewing pattern from Sewing Toys by Alex includes a skirt and hoodie vest. Using a contrasting fabric for the body makes the bear look like they're wearing a shirt too. Fun for all the kids!
This whimsical teddy bear family sewing pattern includes non-removable clothing. It also includes the pattern for the baby bear, beanie, sling and scarf.
Traditional Teddy Bear sewing patterns
Huckleberry looks so different depending on the fabric you chose, but he is such an adorable bear, with lovely details like the paw pads and toes. It's a gorgeous pattern for the intermediate sewist.
Sebastian is a gorgeous vintage-style jointed teddy bear. The pattern includes how to make the shirt collar, to make him just that bit more dapper! The finished bear is 15 inches (38cm) tall.
Brown bear sewing patterns
This realistic brown bear sewing pattern is more of a sculpture than a toy, but would be great for an adult bear lover.
Monty Bear is the exact opposite of the previous brown bear sewing pattern. He's cute, whimsical and designed for cuddling (with an adorable bandana too).
Polar bear sewing patterns
Sherbet Polar Bear is a big, plush, huggable bear with lots of personality. Who wouldn't want to rescue him from his icy habitat and give him a cuddle?
Mr Foofs the Polar Bear comes in two sizes and can be sewn by hand or on the machine. There are instructions for the scarf (doesn't he look snug!) or for him holding a heart (so sweet). There's a free tutorial/pattern pieces on the Fluffmonger website or buy the pattern on Etsy.
This felt polar bear sewing pattern includes 3 sizes so you can make a whole family. The pattern includes instructions for wire armature so the bears can be posed.
Has this roundup of un-bear-ably cute teddy bear sewing patterns inspired you to create your own cuddly companion? Remember, there's no age limit on the joy that teddy bears can bring, so why not give it a try and sew an un-bear-ably cute teddy bear today!
More sewing ideas