From cozy to stylish: The best women's joggers sewing patterns
Whether you want to pound the pavements, laze on the couch, or look stylish at the grocery store, having a women's joggers sewing pattern in your collection is a must. Designed for style and comfort, joggers are fast becoming a staple in any woman's wardrobe.
With the right choice of fabric, joggers are the perfect garment for lazy afternoons, brisk mornings, or anything in between. An elastic or knit fabric waistband makes them super comfy (and add some power mesh if you're looking for more support).
Patterns often come with full length, capri and shorts options so you can wear them all year round. And don't forget pockets (unless you prefer a simpler design!).
Joggers come in all shapes and sizes, so you're sure to find the perfect pattern! To help you get sewing quicker, we've rounded up 7 of the best women's jogger sewing patterns!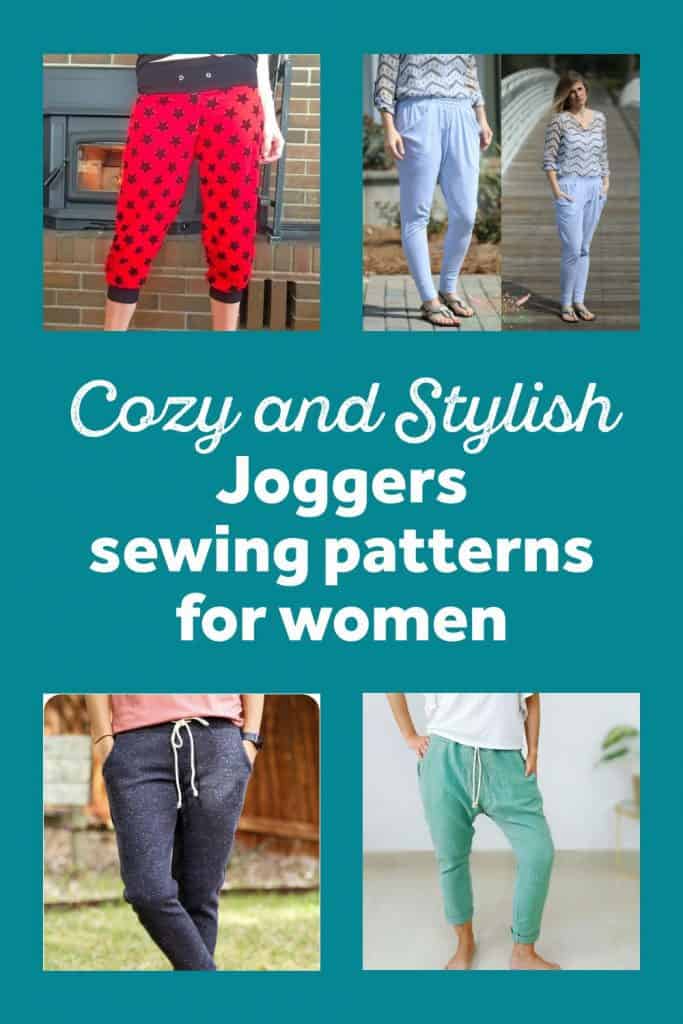 Disclosure: This post contains affiliate links. If you purchase after clicking these links, Threadistry may receive a small commission, at no cost to you.
Best Women's joggers sewing patterns
Photo Credit: Halla Patterns
The Lounge Pants from Halla Patterns are a classic design with lots of options - cropped, shorts or full length, tapered cuffs, short cuffs or no cuffs. Sew them as joggers, sweat pants, or yoga pants, with front patch or hidden pockets (because pockets are everything!). They just look so comfy!
Photo Credit: 5 out of 4
The Diane Joggers sewing pattern from 5 out of 4 is a slim fit tracksuit pants, with back yoke detail. It includes a maternity band (underbelly) option, 3 leg lengths (shorts, capri and pants) and 4 leg finishes (cuffed, hemmed, elastic and drawstring). How many different joggers can you make from the one pattern?
Photo Credit: Greenstyle Creations
The Brassie Joggers from Greenstyle Creations are the perfect athleisure item.  There are options for a low, mid or high rise, with shorts and capri options for the sunny Summer days or long pants when the weather cools down.
Photo Credit: www.hallapatterns.com
The Knotty Pants by Halla Patterns are a more stylish design, with an optional knot detail for a different look. There are mid and low rise options at the waist, with optional scoop front pockets. Make them as shorts or full-length pants (which can be tied to turn them into capris).
Photo Credit: Peek-a-boo Pattern Shop
The Java Joggers have a semi-fitted design, so you can still feel put together but comfortable. Optional pockets (with binding or band) are roomy enough to hold most cell phones.
The Java Joggers come in 5 lengths (pants, capris, and 10", 6" and 3" shorts), and two waistband options (knit with elastic or yoga-style).
And there's a kids' version too!
Photo Credit: IvL - Hecho con Amor
The Drop Crotch pants from IvL - Hecho con Amor are very quick and easy to make. The dropped crotch gives you lots of mobility and a wide waistband makes it so comfortable. The pattern is made for knit and woven fabrics. Depending on your fabric choice, your pants can be smart and elegant, or comfy and cosy harem pants.
Photo Credit: Striped Swallow Design
Rhapsody Joggers PDF sewing pattern by Striped Swallow Design have slouchy hip pockets, an elastic waist with drape detailing and ankle cuffs. They have a relaxed fit through the hips and are fitted at the calves. you'll never want to take off these super comfy joggers!
What is the best fabric for joggers?
Choosing your fabric depends on whether you want to wear them as leisurewear and lounge pants or a more structured look with a slim fitting waistband.
For cozy lounge pants, the best fabrics are:
french terry
brushed fleece
sweater knit
velour
cotton lycra/spandex
stretch velvet
For a more stylish look, choose a knit fabric with some structure, such as:
ponte de roma
heavier weight cotton lycra/spandex
liverpool/bullet/double knit
Whatever you use, make sure the waistband fabric has good recovery (especially if there's no elastic or drawstring). No one wants to be continually pulling their joggers up!
Women's joggers are great to have in your wardrobe because they can be worn at any time – from work trousers to sweatpants to pyjamas! We hope you enjoyed our round-up of the best women's joggers sewing patterns.
More sewing inspiration: