Summery Sundress sewing patterns
Summer days are for relaxing with a cool drink in your hand in a floaty and feminine sundress. Whether you prefer a maxi dress or want to flaunt your legs in a mini, the perfect sundress is the one you've sewn yourself from just the right fabric.
Frock up and feel feminine and pretty in the hot weather with these sundress sewing patterns.
Disclosure: This post contains affiliate links. If you purchase after clicking these links, Threadistry may receive a small commission, at no cost to you.
What is the best fabric for a sundress?
The best sundress fabrics are lightweight and breathable. Synthetic fabrics trap the heat and make you feel sweaty – nothing feminine about that! Fabrics such as lightweight cotton, dupioni, crepe, rayon, and shirting are excellent for a light and breezy dress. Linen and quilting cotton are options for a more structured, less drapey dress.
For knit fabrics, looks for something that is lightweight, with drape and that is breathable or cool to the touch. For natural fibres, rayon spandex/lycra, cotton jersey and bamboo jersey are great options. While ITY and DTY are made from polyester, they feel cool against the skin so are lovely to wear in summer.
Sundress Sewing Patterns for Beginners
Even if you're a beginner, don't be afraid to sew a dress. These beginner sewing patterns are mostly straight seams with no zippers or buttonholes in sight!
Sundress sewing patterns with frills and flounces
Maxi Dress Sewing Patterns
For the days when you can't be bothered shaving (or if you want to hide the glare from super white legs like mine!), keep your legs covered with these long dress patterns.
More Summer Sundress Pattern Fun
Pick your favourite patterns and get sewing!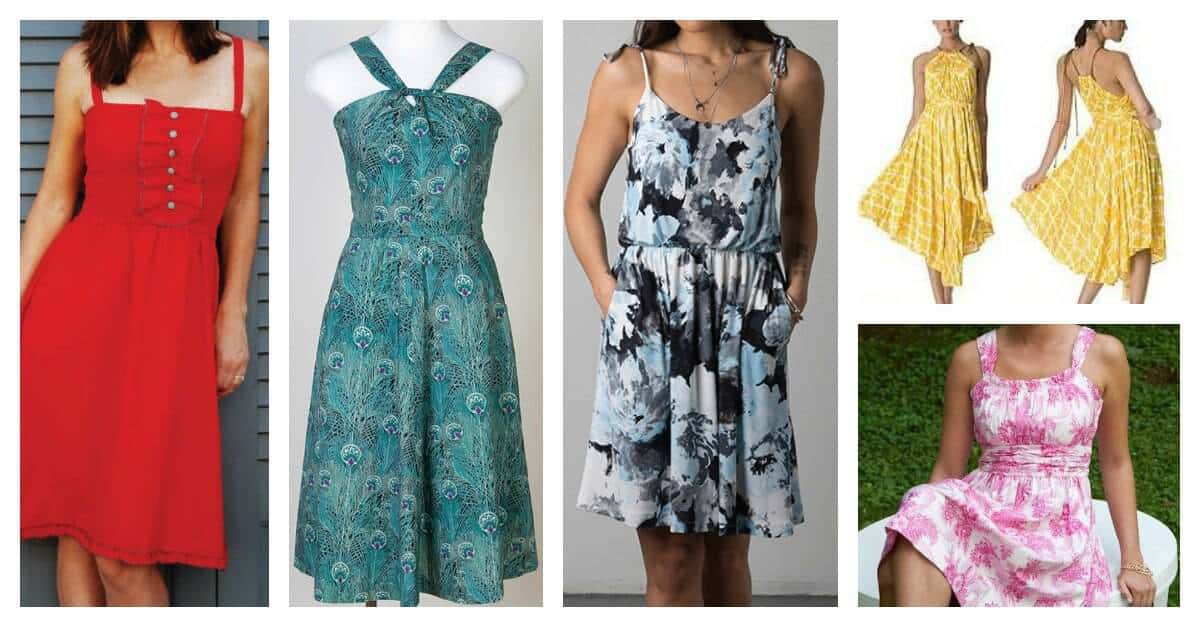 Time to sew up these perfect summer sundress sewing patterns and enjoy some sunshine and a cool drink!
More sewing inspiration: