Mini Christmas stocking gift card holder sewing tutorial
I'm a big fan of giving gift cards as gifts. It's a bit more personal than cash, but still makes sure the person gets something they want. But it's no fun to just hand over a gift card or put it in a card.
Why not hang it on your Christmas tree with this cute DIY Christmas stocking gift card holder? Maybe even hide it amongst the decorations as a Christmas day treasure hunt!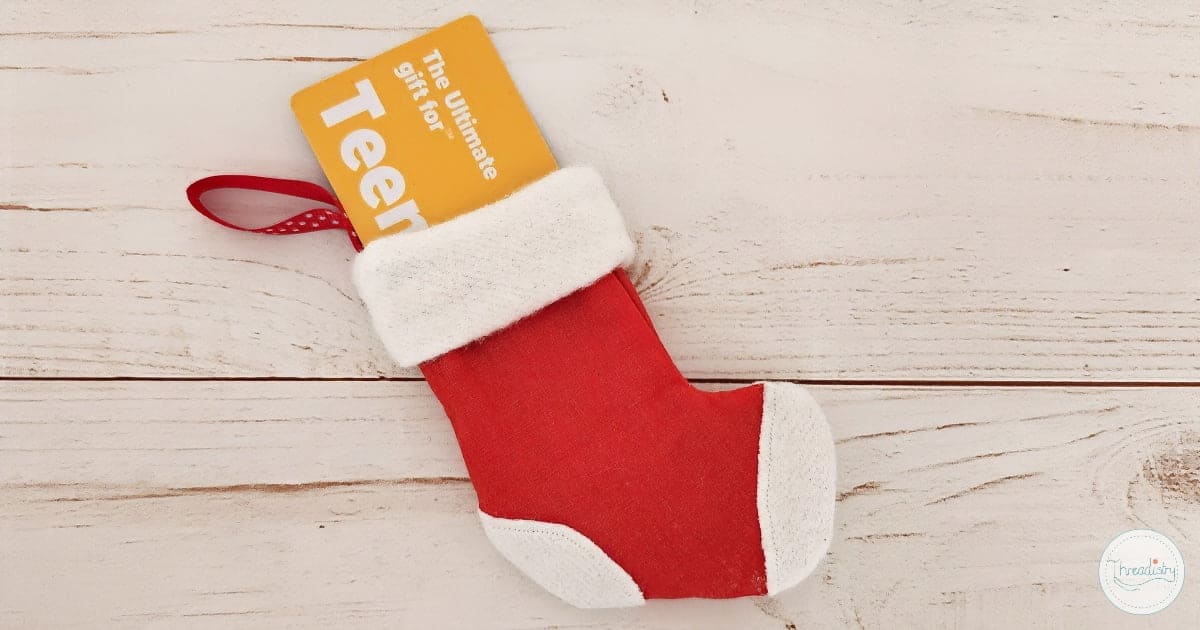 Have fun sewing them up in different fabrics to suit the receiver of the gift card, or to use that cute Christmas print. The heel and toe pieces are appliqued, so leave them out if you'd prefer to feature a fun fabric.
They are also fully-lined and reversible for even more options! (The hanging loop placement is a little awkward for the reverse side, but still works!)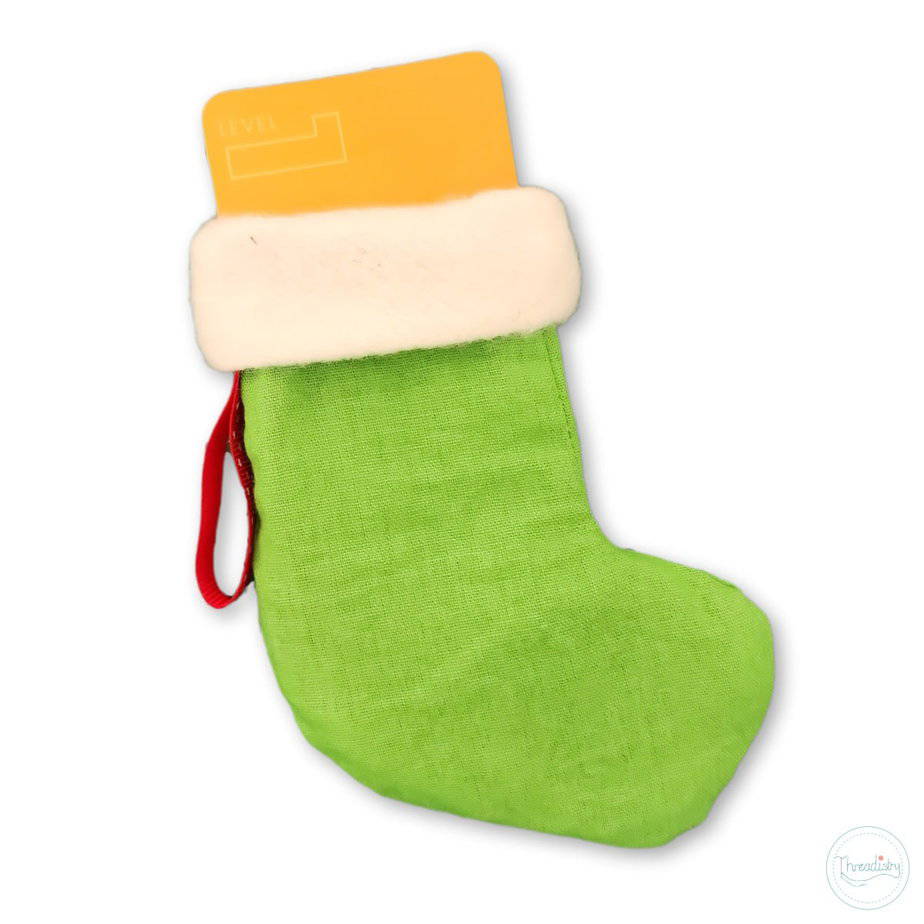 And if giving gift cards isn't your thing, you could sew some up as mini Christmas stocking ornaments. Or fill them sweets or other treats. Or make a whole collection and create your own handmade advent calendar.
Let's see how to sew this quick and easy scrap-busting Christmas sewing project:
Disclosure: This post contains affiliate links. If you purchase after clicking these links, Threadistry may receive a small commission, at no cost to you.
Supplies
The first thing you'll need is your free Christmas Stocking gift card holder pattern template. You can get your free copy here:
Want an ad-free printable PDF version of the Mini Christmas Stocking sewing pattern, including step-by-step photos? Head to the Threadistry Etsy shop to purchase a copy at a low price.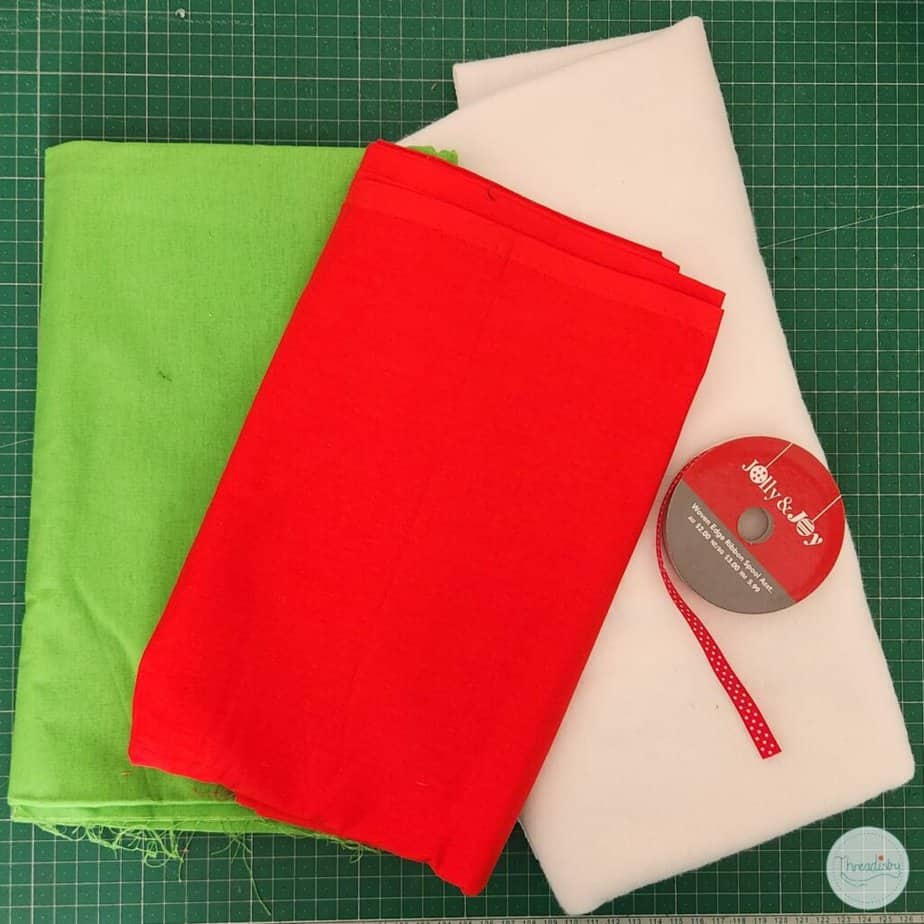 Note: These are the fabrics I've used for this tutorial. Let your creativity run wild with your choice of type and color of fabric. The heel and toe appliques are optional.
Instructions
Step 0: Download and print the pattern template pieces (see above).
Step 1: Cut out the following fabric pieces:
2 stocking pieces in outer fabric
2 stocking pieces in lining fabric
2 cuff pieces in fleece
2 heel pieces in fleece
2 heel pieces in fusible web
2 toe pieces in fleece
2 toe pieces in fusible web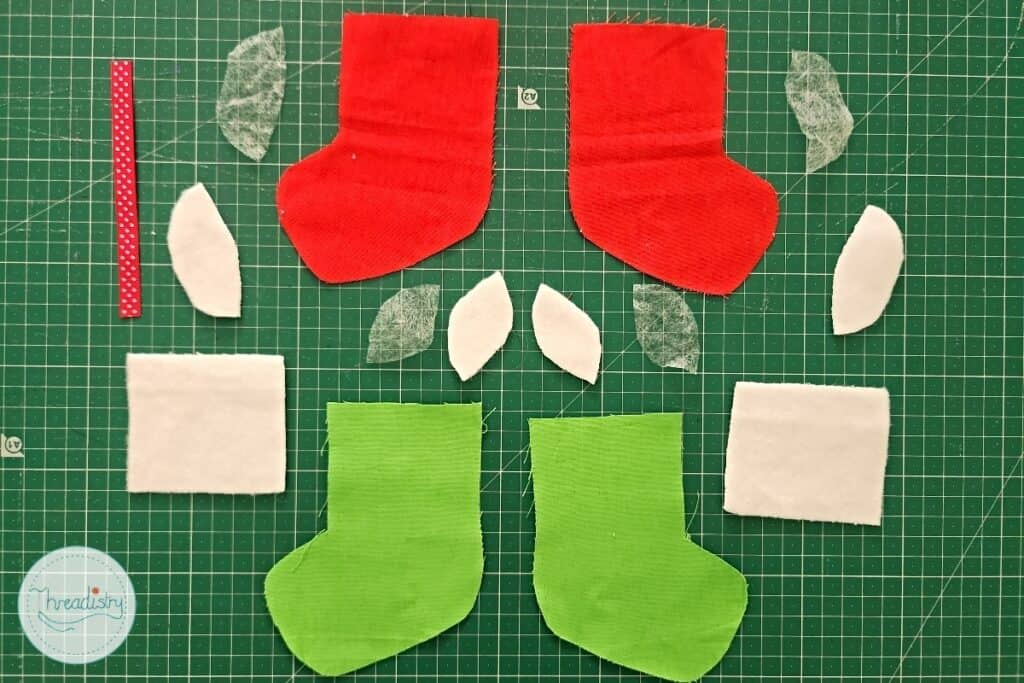 Step 2: To attach the toe and heel, place the fusible web on the right side of the main stocking fabric as shown on the pattern piece: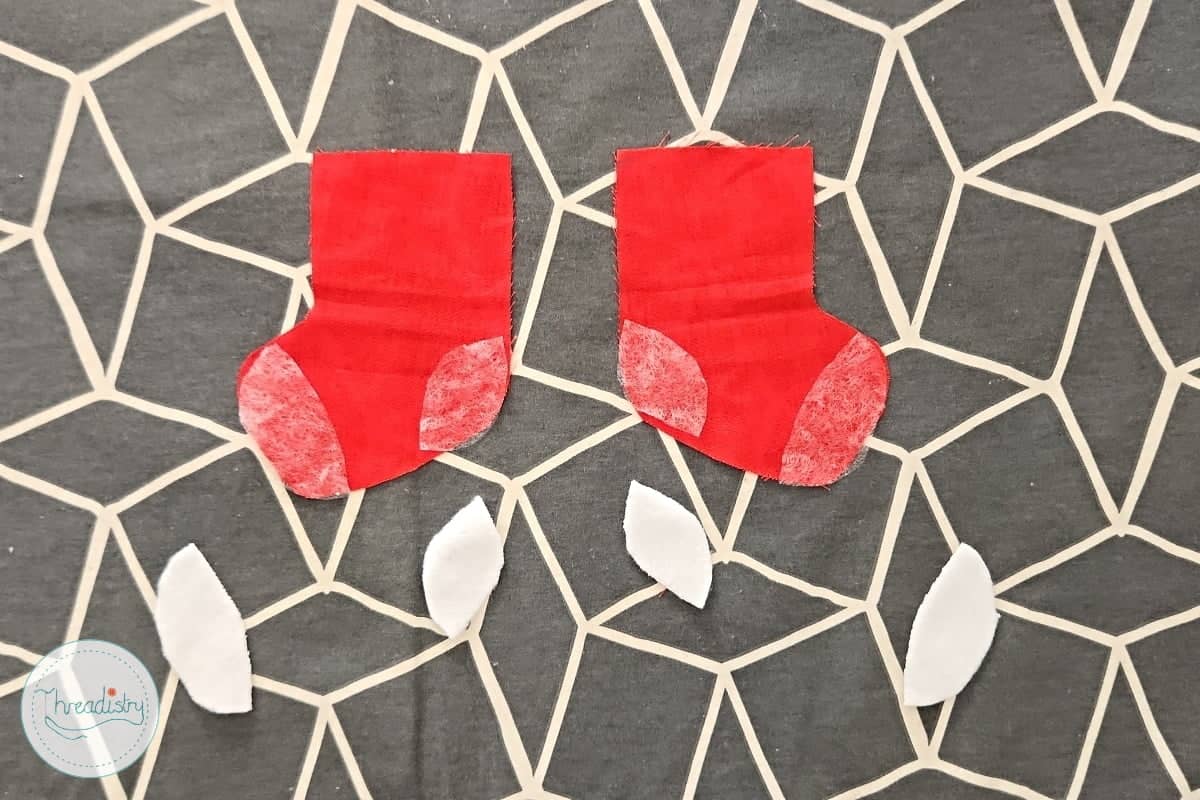 Place the heel and toe fabric on top of the fusible web and fuse in place (follow the instructions for your specific fusible web):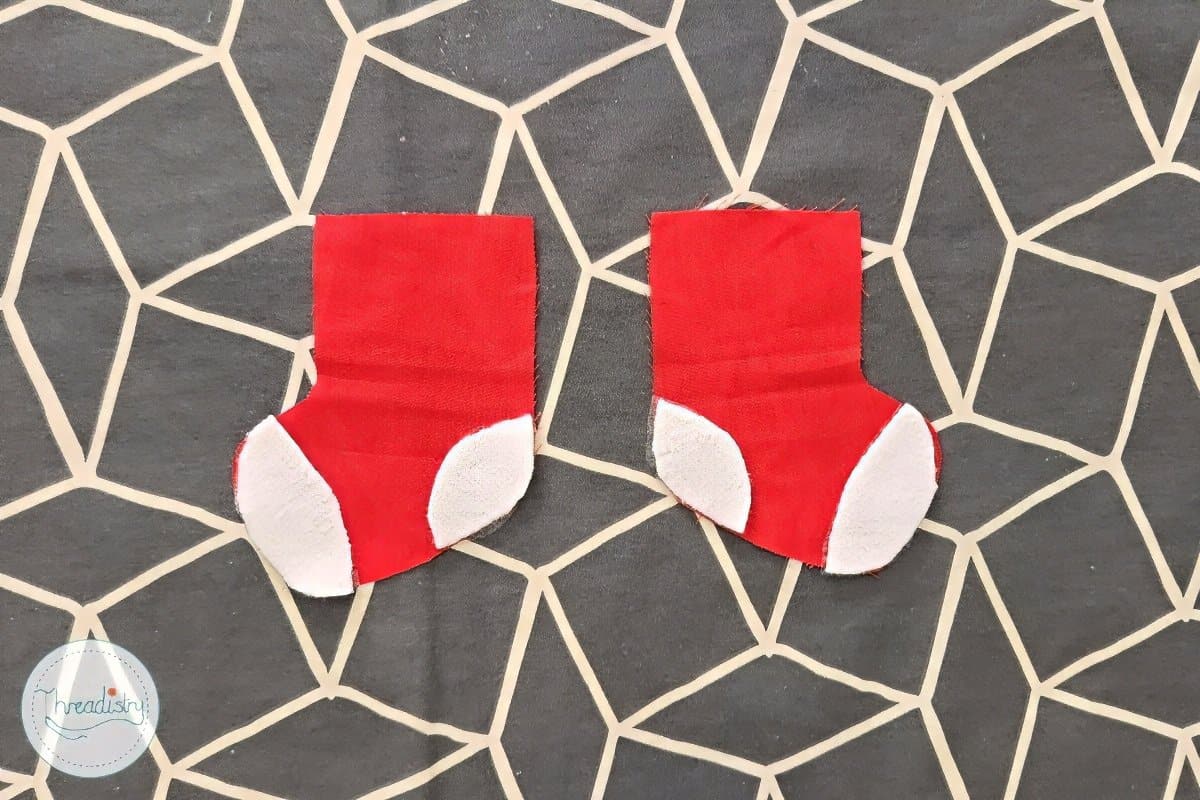 Place a pressing cloth over your fabric before ironing it in place. This will prevent any overhanging web from sticking to your iron.
Step 3: Stitch the heel and toe in place using a blanket, satin, zigzag or straight stitch (depending on your preferred look) along the edges not in the seam allowance.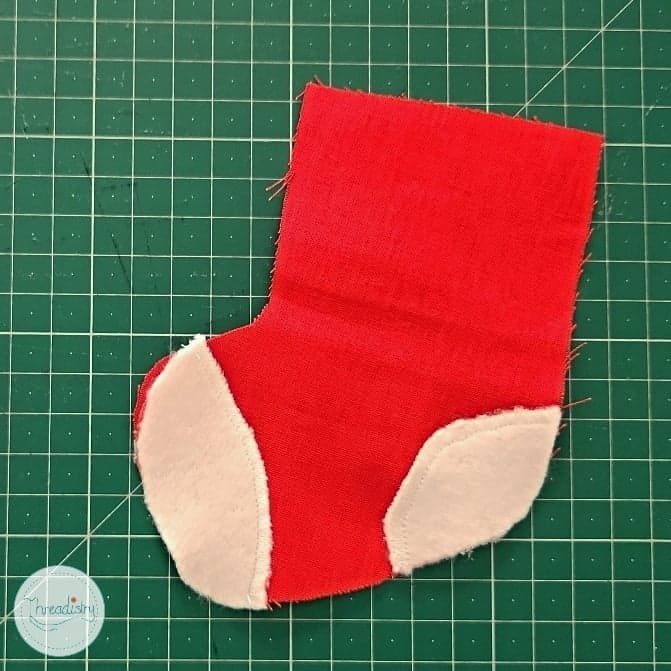 Step 4: With right sides together, stitch a cuff piece to the top of each main stocking piece.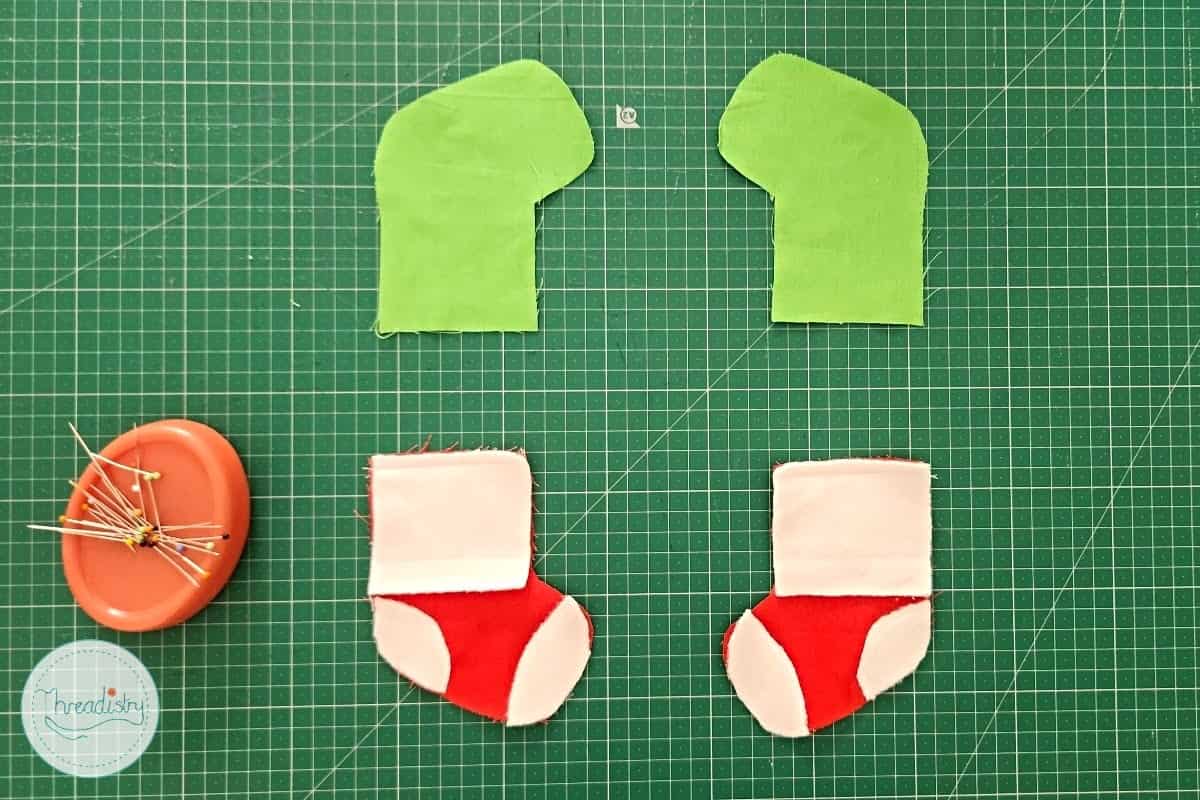 Step 5: Fold the ribbon in half and pin in place on the right side of the cuff as shown: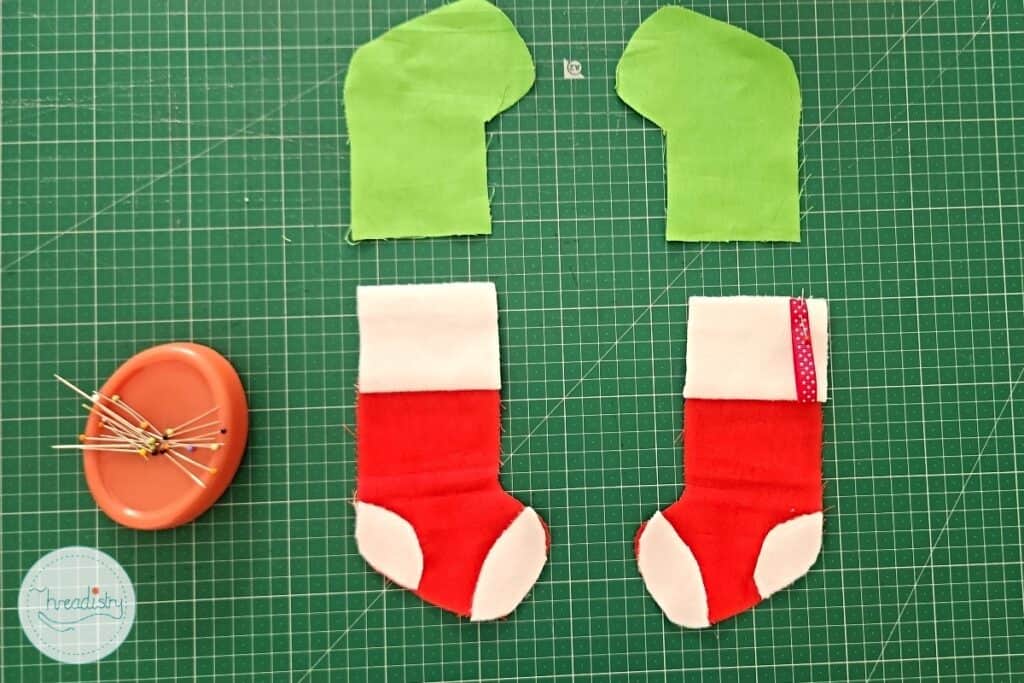 Optional: Baste stitch in place.
Step 6: With right sides together, stitch the lining fabric to the top of each cuff: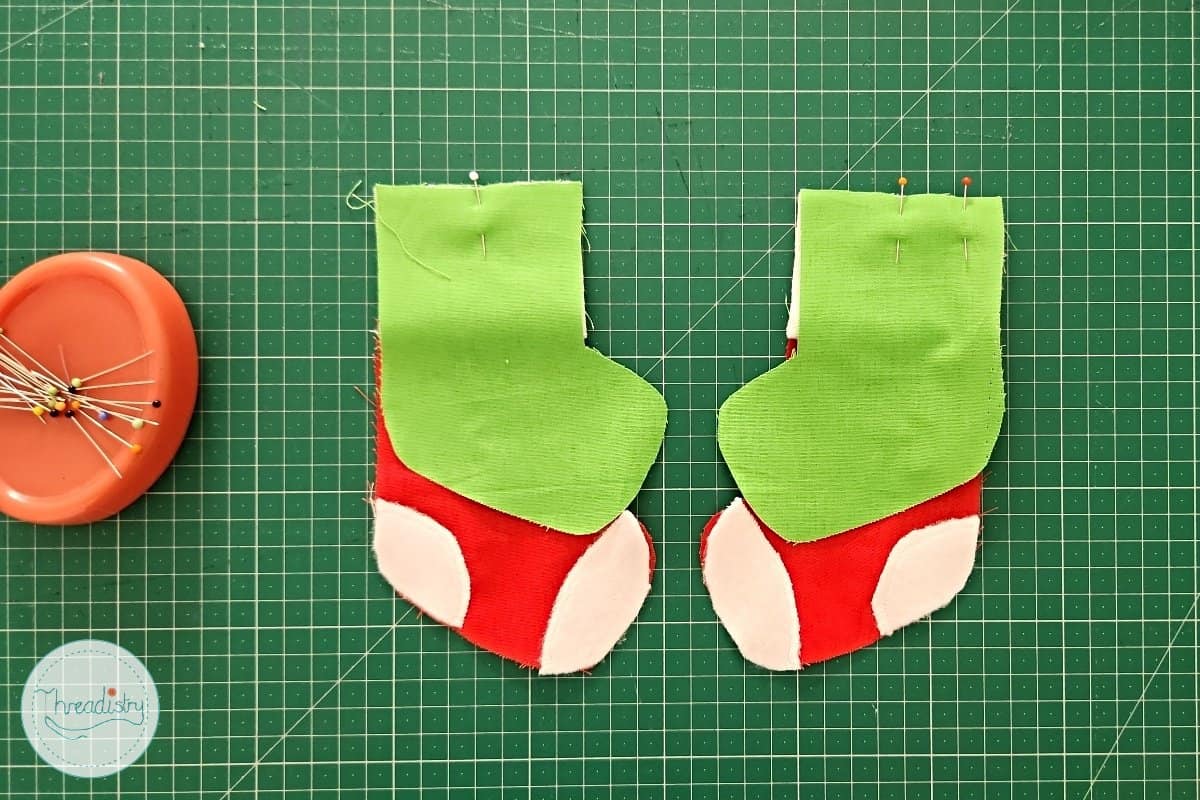 Step 7: With right sides together, place one stocking and lining piece on top of the other and stitch around the outside. Leave a gap of approximately 1 inch (2.5cm) on the lining.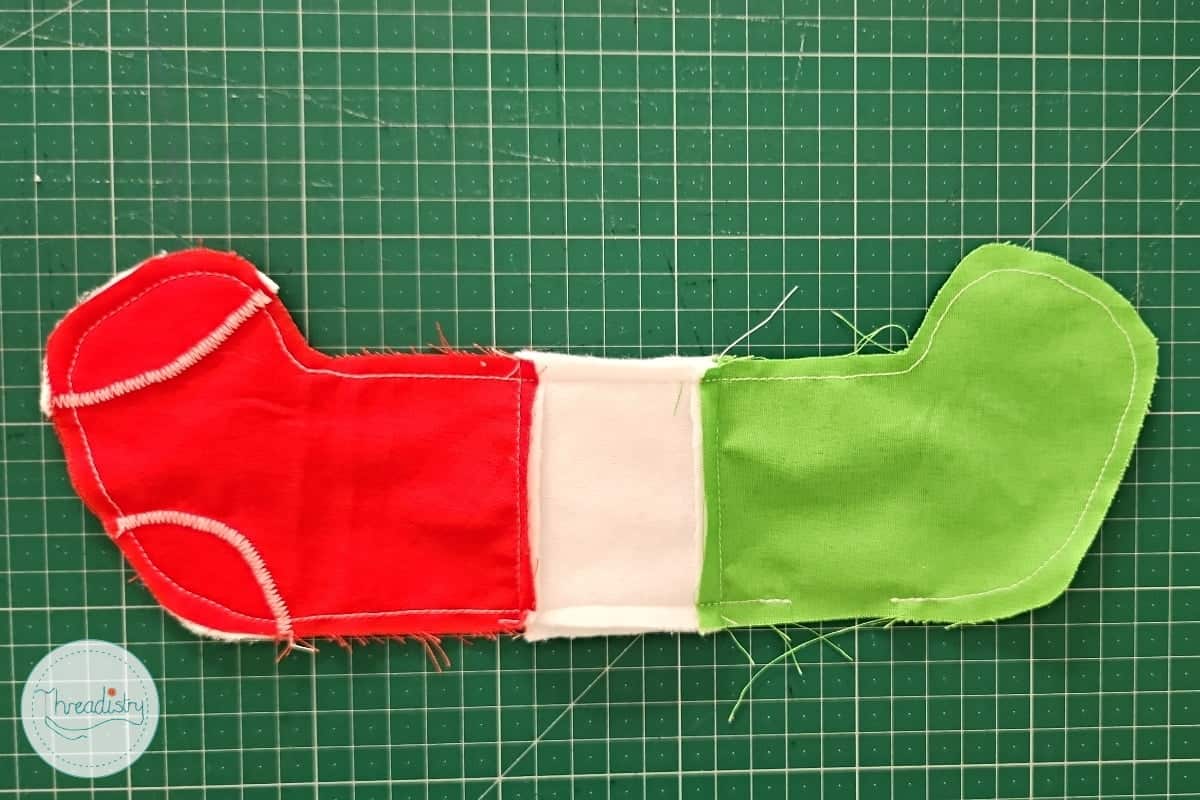 Step 8: Clip the outer curves and notch the inner curves in the seam allowance: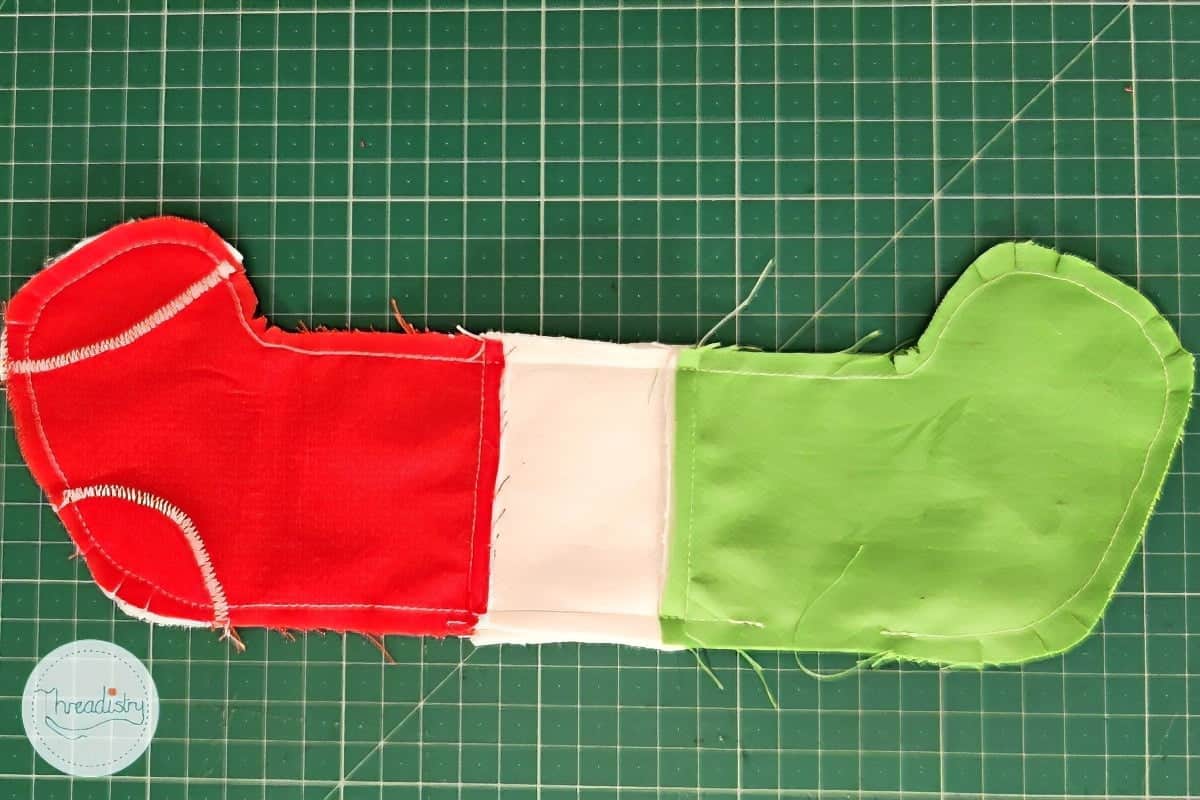 Step 9: Turn the stocking right side out through the gap and press with an iron.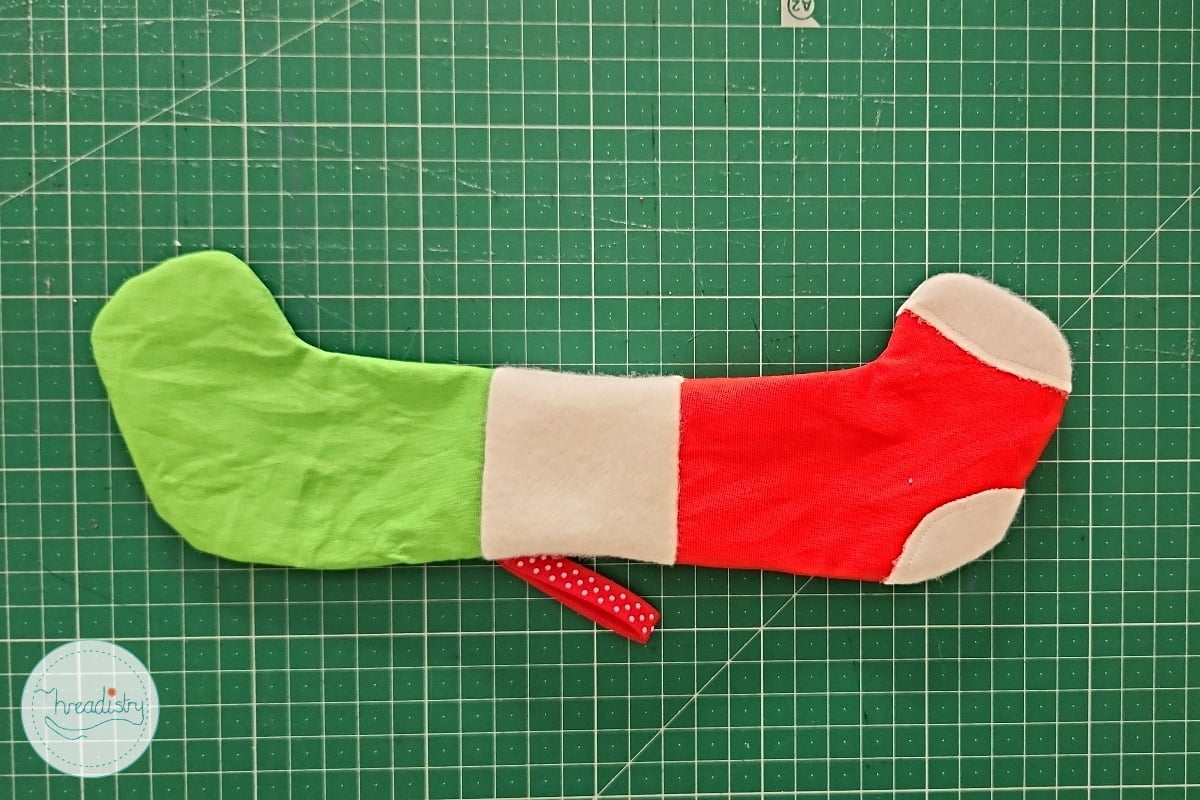 Step 10: Hand-stitch the opening closed with a ladder stitch.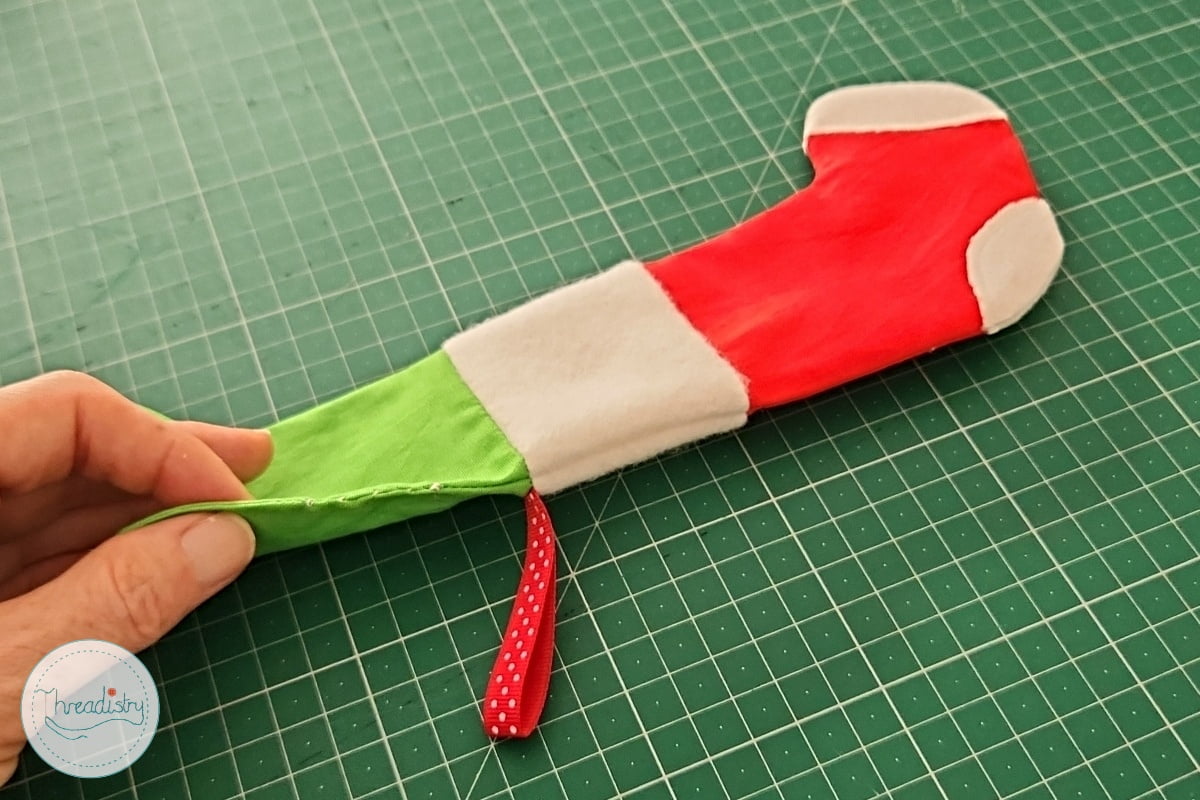 Step 11: Push the lining into the outer stocking, use a chopstick, knitting needle etc to push it into position.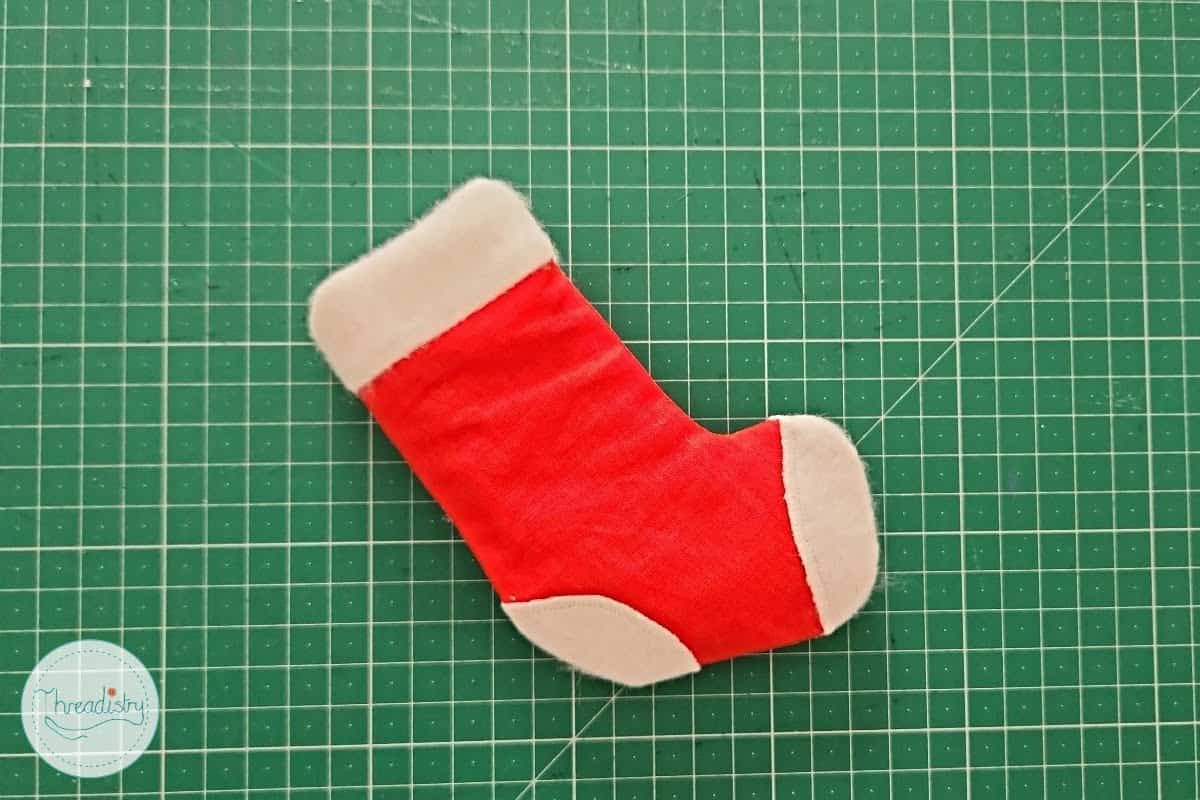 Step 12: Fold the cuff over: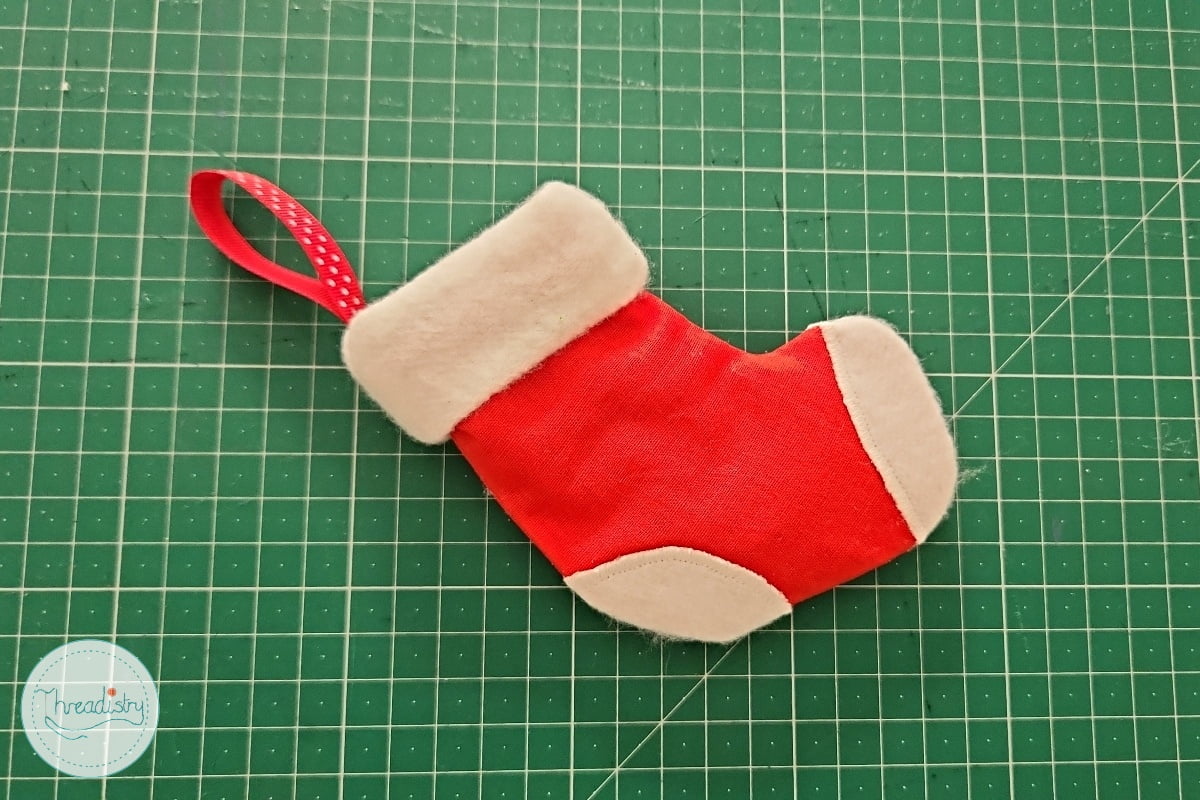 Insert a gift card and hang your stocking on your Christmas tree!
So pull out your fabric scraps and sew up a DIY mini Christmas stocking. Spread the holiday cheer by hanging your gifts cards (or other festive treats) on the the Christmas tree this year!