Christmas Stocking Kits to sew
Christmas is coming and that means it's time to start thinking about Christmas stockings! If you're looking for a fun project, why not sew your own stocking?
To make it even easier, get one of these Christmas stocking kits to sew. Everything you need to make a special Christmas stocking in one package. No hunting around the fabric store or buying way more than you need.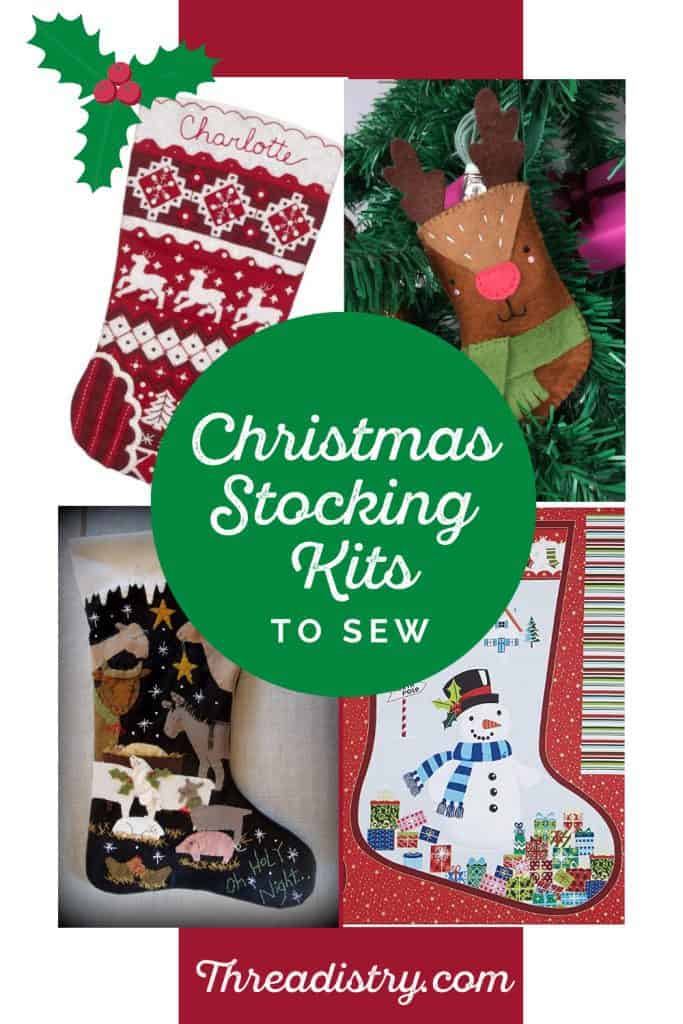 There are lots of great Christmas stocking sewing kits available, whether you want a traditional stocking with lots of handsewn details, a quick and easy modern stocking or even stocking kits for your kids to sew. So get started on your Christmas sewing project today!
Disclosure: This post contains affiliate links. If you make a purchase after clicking these links, Threadistry may receive a small commission, at no cost to you.
Felt Christmas Stocking Kits
Photo Credit: Dimensions
Dimensions has a great selection of felt stocking kits. The details are amazing and the kits include printed felt, thread, sequins and beads. This Santa kit includes an embroidery alphabet so you can personalise it with a name or other Christmas message.
Photo Credit: Bucilla
Bucilla is another brand that has amazing details in its felt stocking kits. I love the traditional vibe of the Nordic Christmas Stocking Kit. The kit includes stamped felt, embroidery floss, sequins and beads.
Photo Credit: Designworks
Design Works also has gorgeous felt stocking kits with lots of details. The animal-lover will love the "Forest Friends" stocking kit.
Photo Credit: Bucilla
The Sugar Plum Fairy Christmas stocking kit from Bucilla is one of my favourites for something a little different, but still very Christmas-y. It's just perfect for filling with sweet treats from Santa!
Photo Credit: Janlynn
Janlynn have this stunning felt applique Christmas stocking kit. The finished size is 16-1/2-Inch by 10-1/4-Inch. It comes with screen-printed acrylic felt, backing, beads and sequins. The instructions come in English, French, Spanish and German.
Photo Credit: Rachel's of Greenfield
If you're looking for something simpler, this kit by Rachel's of Greenfield has all the supplies you need to make 6 Christmas stocking ornaments from wool felt. The applique and embroidery details are so cute!
Photo Credit: KVR Classics
This cute felt stocking kit from KVR Classics contains a pre-sewn felt stocking that you can embellish with felt sheers, plush appliques and sequins. Whilst they suggest attaching with glue (not provided), you could also hand-sew your embellishments. The stockings are 17 inches tall.
Cross-stitch Christmas Stocking Kits
Photo Credit: Dimensions
If cross-stitch is your craft of choice, Santa's Sidecar from Dimensions is a fun craft kit. The finished stocking is 16 inches tall, and the kit includes light blue Aida, thread, plus other bits and bobs to create the stocking.
Photo Credit: Historical Sampler
This gorgeous Snowman Stocking cross-stitch kit has lots of traditional Christmas details. The kit can be purchased with either 16 count aida cloth or 32 count linen, and an optional giftbox.
Christmas Stocking Kits for Kids
Photo Credit: Sumind Store
Have lots of fun with the kids with this Felt Christmas Stocking sewing kit. It includes 12 stockings plus cute appliques and embellishments. Practice fine motor skills whilst sewing the pre-punched stockings. The finished size is 7.7 inches tall.
Photo Credit: Beakind By Bea
Rufus the Reindeer is a super-cute felt stocking kit from Beakind by Bea. Whilst it has some embroidery details, it is perfect for the older child (or adult). The kit includes soft wool mix felt and DMC embroidery thread. The finished stocking is 7cm x 12cm (3 inches by 5 inches).
Christmas Stocking Fabric Panels
If you want a handmade Christmas stocking, but are short on time or just want something quick and easy, then check out these fabric panels. Fabric panels have the pattern pieces printed on them and are simple cut and sew projects. Here are my favourite Christmas stocking fabric panels:
Photo Credit: Andover Fabrics
The Santa Express stocking panel has Father Christmas on one side and a Snowman on the other. It also includes stripey trim and gift tags. You could even make two stockings if you used a different fabric for the back. Available at Amazon and Fabric.com
Photo Credit: Makower
This fun and fest Christmas stocking panel from Makower has 4 stockings and 4 ornaments. Get coordinating fabric for the back or make 2 stockings and 2 ornaments just with the panel. I love the vintage vibe!
Photo Credit: Robert Kaufman
Last but not least, Robert Kaufman have some fun How the Grinch Stole Christmas stocking panels, with front and back for 4 different stocking designs included in the one panel.
What a great collection of Christmas stocking kits to sew! Which one are you going to sew?
More sewing inspiration