Sewing with Double Brushed Poly (DBP)
It feels like I hear about a new fabric type every week. Double brushed poly (also known as DBP) is growing in popularity and is mentioned regularly in sewing Facebook groups and as a fabric option for lots of sewing patterns.
So what is double brushed poly and what can you sew with it? Here's everything you need to know about Double Brushed Poly: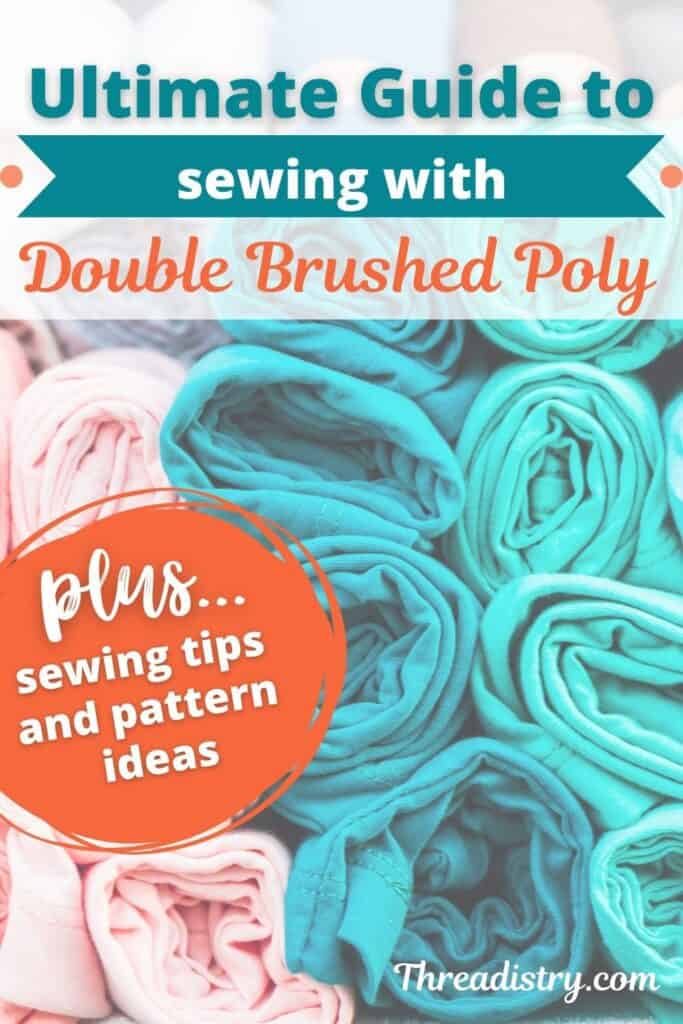 Disclosure: This post contains affiliate links. If you purchase after clicking these links, Threadistry may receive a small commission, at no cost to you.
What is Double Brushed Poly Fabric?
Double brushed poly is a jersey knit fabric that has been brushed on both sides to create a fuzzy texture. (Single brushed poly is only brushed on one side). It is a polyester-spandex blend (or polyester-lycra or polyester elastane) and typically has a 4-8% spandex.
DBP is the fabric that the original LuLaRoe leggings are made with. It is buttery soft to touch – the kind of fabric you just want to rub up against your cheek (or is that just me?). It also drapes really nicely, making it perfect for dresses and loose, flowy tops.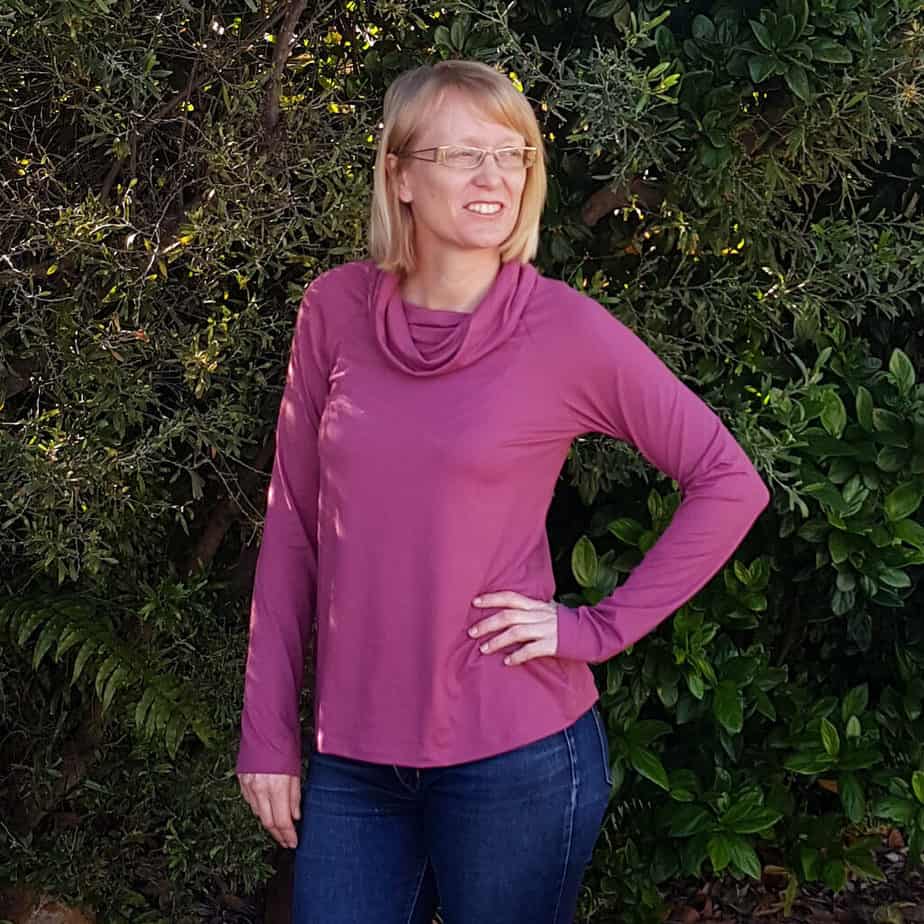 It has great 4-way stretch (25 to 100%+ depending on the exact fabric) and good recovery due to the spandex content. It won't grow or stretch out of shape during the day.
Most DBP fabrics are light to medium-weight, but the weight can vary. I have some thick (and warm) double brushed poly, but most I've come across are lightweight (around 170-180 gsm).
Double brushed poly is now available in solid colours and a wide variety of prints.
What can I sew with Double Brushed Poly?
Double brushed poly is a versatile fabric and can be used for a large range of knit sewing projects, including:
leggings (just check your individual fabric doesn't look too sheer when stretched!)
t-shirts and tops,
dresses,
skirts,
headbands,
loungewear
cardigans, and
lightweight sweaters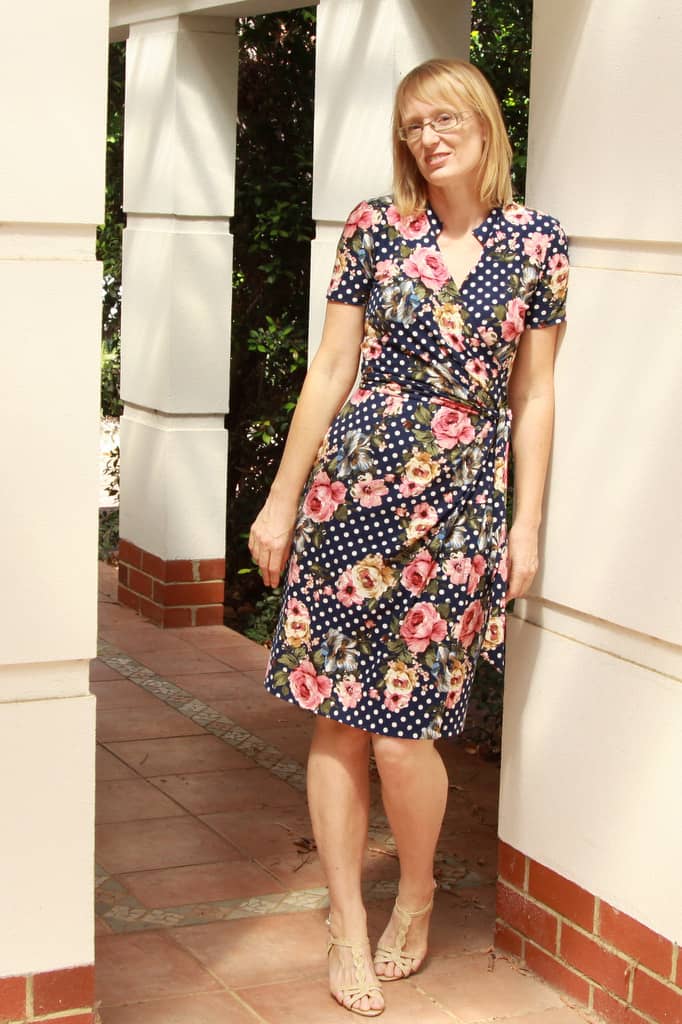 Always check the stretch of your fabric and compare with the sewing pattern requirements.
Sewing with Double Brushed Poly Knits
The recommended settings for sewing double brushed poly are as follows:
Needle Type
Stretch or ballpoint
Needle size
Depends on fabric weight, typically 70/10 or 75/11
Thread type
All-purpose polyester thread
Stitch type
Stretch stitch, such as lightning stitch, narrow zigzag,
triple stretch stitch, twin needle, serger, coverstitch
Tips for Sewing DBP
As it's a jersey fabric, DBP can curl (usually to the right side of the fabric). I find it curls a lot less than cotton lycra fabric. If your fabric is curling a lot, use sewing clips or pins to flatten it out or consider starching the cut edges of the fabric.
The brushed texture of DBP makes the fabric grip to itself, and it can be tricky to position your fabric. Lifting up and placing the fabric works better than trying to slide the fabric layers together. At least the pieces stay in place when you get them in the right spot!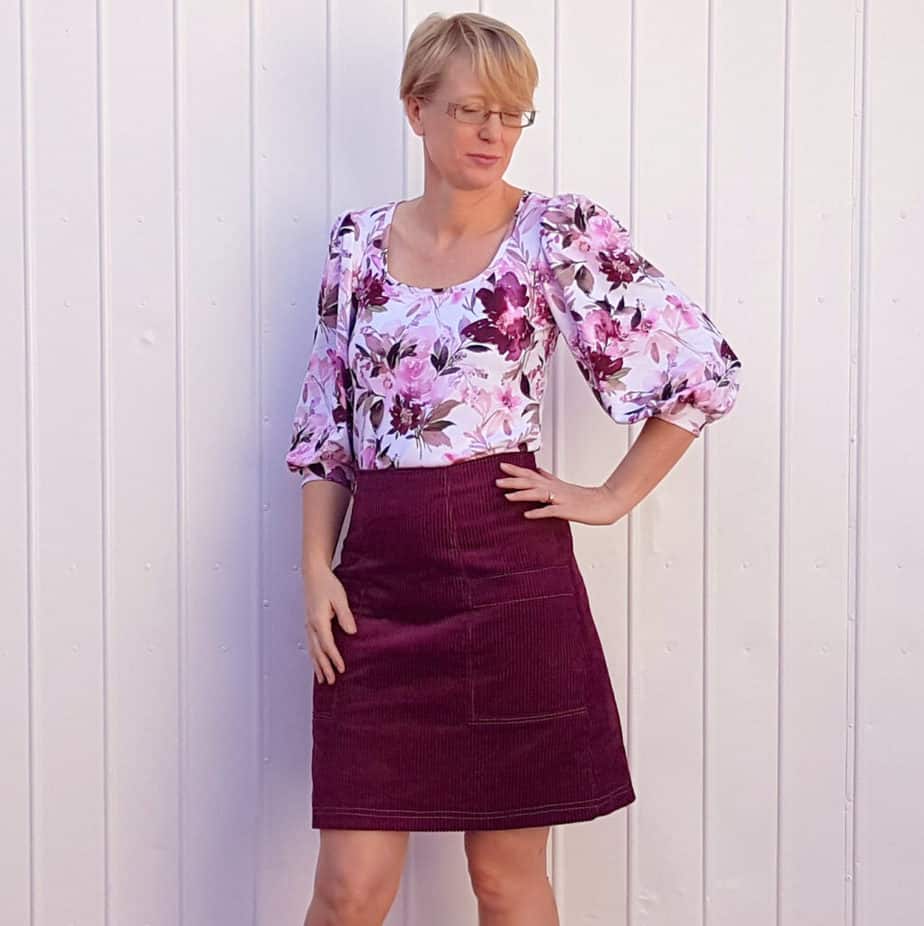 Light-weight double brushed poly can get sucked into the needle plate when you start sewing. Placing a piece of tissue paper under the fabric and presser foot can prevent this.
A walking foot or reducing the presser foot pressure can help if you find your seams are stretching as you sew.
Fusible hem tape can also be used to get a neat finish and to stabilise your hems.
How to care for DBP fabric
Double brushed poly is an easy-care fabric. It is recommended to:
wash in cool to warm water
tumble dry on low or air dry
iron on a cool setting
DBP doesn't tend to wrinkle, so doesn't need to be ironed.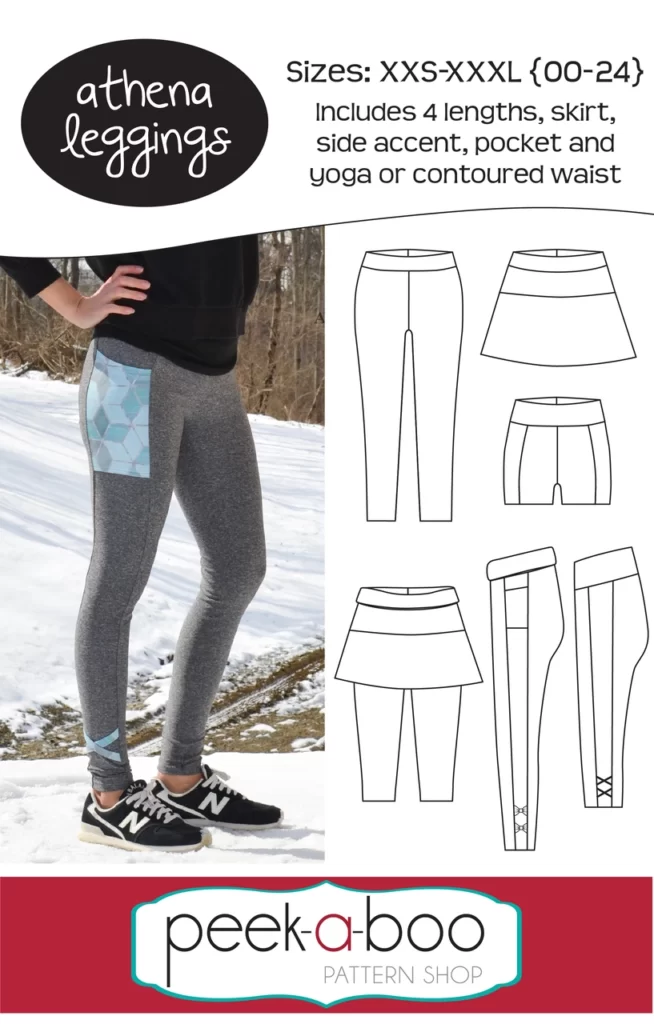 Where to buy double brushed poly
Double brushed poly can be found at more and more retailers of knit fabric. Some online options are:
Lots of apparel fabric stores (both big and small) and custom fabric sellers now stock double brushed poly.
Double Brushed Poly FAQ
Is double brushed poly breathable?
Double-brushed poly is a synthetic fabric and doesn't tend to be breathable. Together with the brushed texture, it can trap heat against your skin. While it doesn't seem to bother some people, you may want to consider other fabric options if you leave somewhere hot or humid!
Does double brushed poly pill?
Generally, double-brushed poly doesn't pill. I have noticed a small amount of pilling after I have worn and washed my garments many times (several years of wear and tear!).
Is double brushed poly stretchy?
Yes, double brushed poly is a stretchy fabric, due to both the spandex or lycra content of the fibre and because it is a jersey knit fabric. It typically has 4-way stretch, with a stretch factor of 25-100+%. This can vary, so check the stretch of your individual fabric before sewing.
Can you use double brushed poly for baby clothes?
As double brushed poly is synthetic and not very breathable, it is not recommended for baby clothes. Babies cannot regulate their body temperature and can overheat in double brushed poly. It is recommended to use natural fibres, such as cotton for baby clothes.
Does double brushed poly shrink?
No, double brushed poly will not shrink significantly.
Do you need to prewash double brushed poly?
It is recommended to prewash all fabrics before sewing to remove any chemicals or excess dye from manufacturing and to pre-shrink it. While double-brushed poly doesn't tend to shrink (and I've been known not to prewash it when I'm impatient!), it is still a good idea to prewash DBP in the same way you'll wash the finished garment.
What is the right side of double brushed poly?
It can be difficult to tell which side is the right side of DBP in solid colours. One way to check is to gently stretch a cut edge of the fabric. It will curl to the right side. The selvedge will typically curl to the wrong side. Looking closely at the fabric, there is a slightly ribbed texture on the right side and a smoother texture on the wrong side.

Make sure you use the same "right side" for all your pattern pieces, as the colour can look slightly different on each side. I recommend marking the right side of each piece after you cut it out, with a fabric marker or by sticking on a piece of washi tape or painter's tape.