Fabulous felt doll sewing patterns for everyone
Store-bought dolls these days are so blegh! Over-the-top make-up, unrealistic body shapes, and ridiculous clothing – not what I want my little girl to aspire to.
I'd much rather sew felt dolls for my kids (yes, my son has felt dolls too!). They have such simplicity and character, and are perfect for little kids to play with. I just about squealed in delight when I discovered this store on Etsy: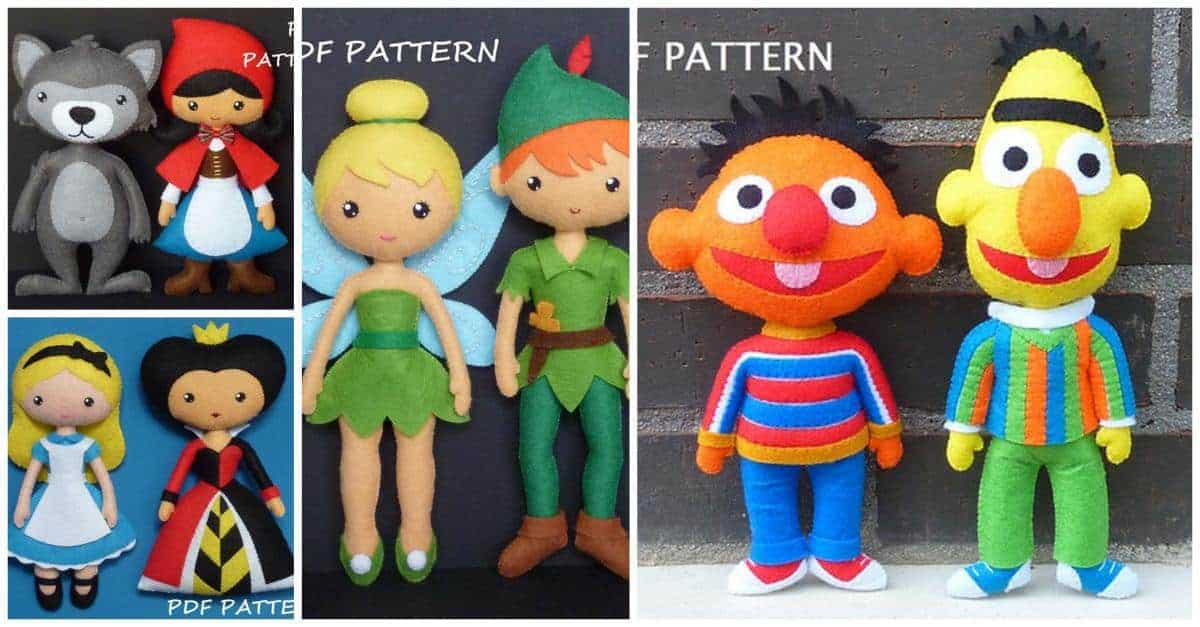 This post contains affiliate links.
Kosucas has the most gorgeous collection of felt doll sewing patterns. From classic story-book characters, like Little Red Riding Hood and the Big Bad Wolf, Alice in Wonderland and the Queen of Hearts and Peter Pan and Tinkerbell. What toddler wouldn't love felt Bert and Ernie dolls? All of these sewing patterns bring back such happy memories of my childhood (aaah, the good old days!), but kids love these characters as much today as ever.
Princess Felt Doll Sewing Patterns
As much as I try to steer my daughter away from the whole Disney princess thing, secretly I love the movies and all the different characters. I'd love to play with a full set of these princess felt dolls!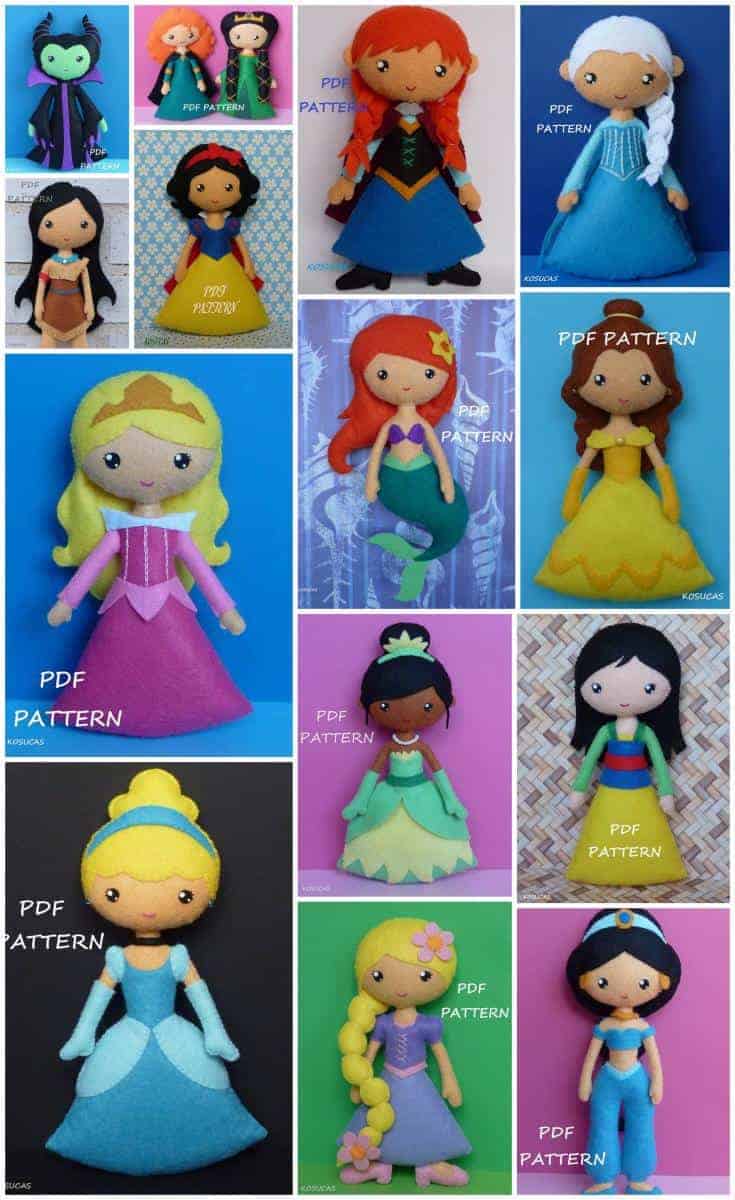 No one is missing from Kosucas' store: Cinderella, Belle, Maleficent and Sleeping Beauty, Ariel, Anna and Elsa, Rapunzel, Pocahontas, Snow White, Merida (and her mother Elinor), Princess Jasmine (with Aladdin too!), Mulan and Tiana. Sew up a felt doll for all your favourite princess movies!
Superhero Felt Doll Sewing Patterns
Boys (and action-loving girls) shouldn't miss out on felt dolls either. If they're not into fairy tales or princesses, sew up a superhero felt doll with these gorgeous (I mean, manly) patterns: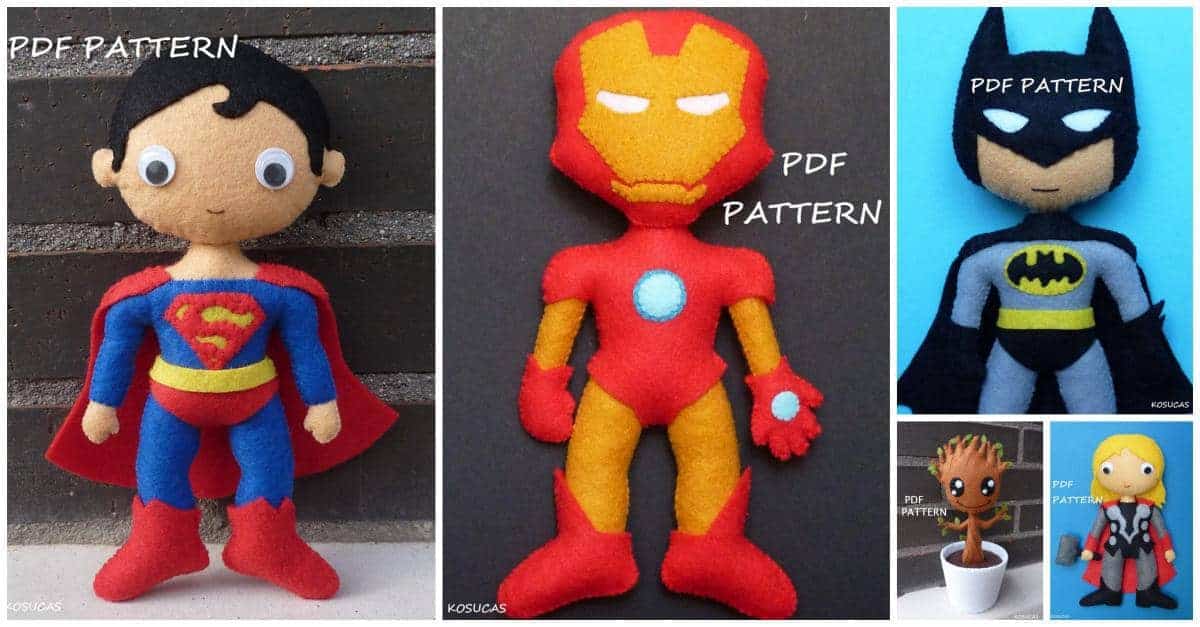 Superman, Iron Man, Batman or Thor – pick your superhero doll sewing pattern. There's even Groot!
Felt Doll Sewing Patterns for Geeks
But these are my favourite dolls – something a bit geeky, more for the adults, or older kids: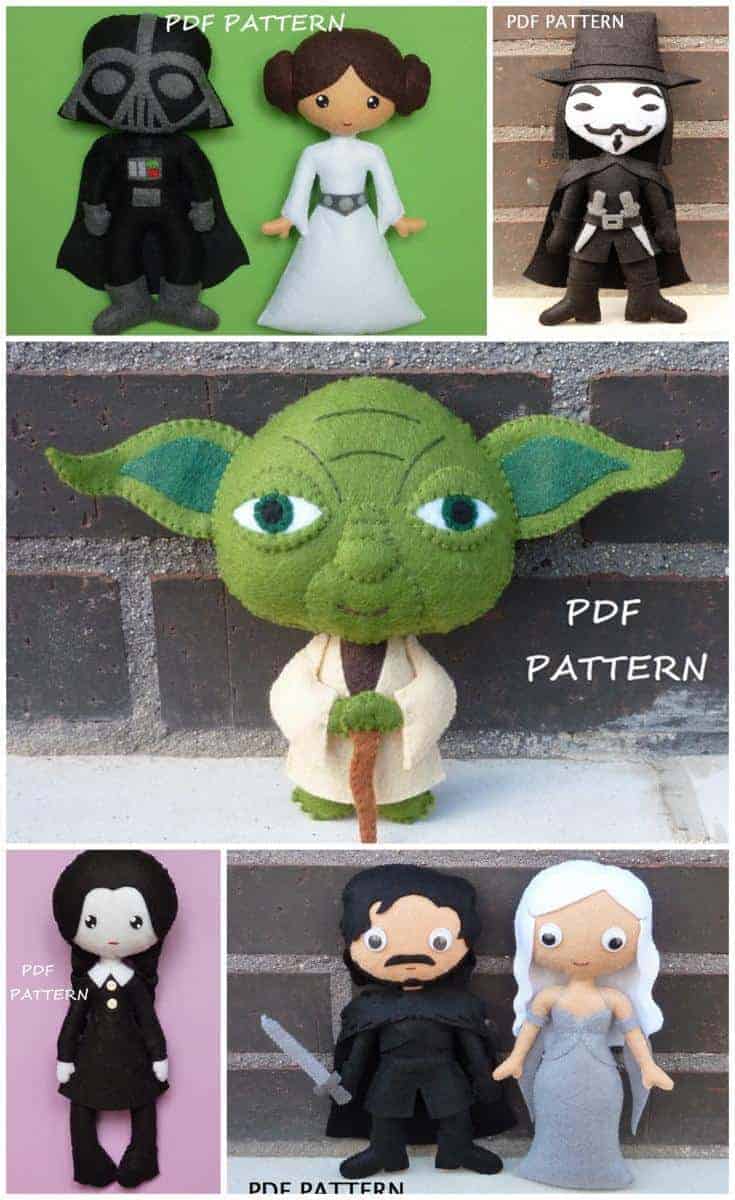 Make a few Star Wars felt dolls with sewing patterns for Yoda (look at the details for the wrinkles!), Darth Vader and Princess Leia. Maybe you want to make your own Wednesday from the Addams Family, or V from V for Vendetta. Lastly, what about Jon Snow and Danerys Targaryen from Game of Thrones. I never thought I'd see Game of Thrones doll sewing patterns, but these are just adorable!
With all that, you'll never have to buy your kids under-dressed dolls with too much make up again!
Which is your favourite felt doll sewing pattern?
Buy your felt supplies at Fabric.com.
Looking for more sewing inspiration? Try these:
12 Adorable Boy Doll Sewing Patterns
25 best absolute beginner sewing projects (you'll WANT to sew)