Sew Swimwear Like a Pro: Guide to the Best Swimsuit Fabrics
Sewing a bathing suit can be intimidating. Swimwear fabrics feel like a completely different world if you've never sewn with them before.
Swimwear fabric is not just about fashion. It needs to survive the rough conditions of the beach or pool, including exposure to water, chlorine and other pool chemicals (or saltwater), and the sun.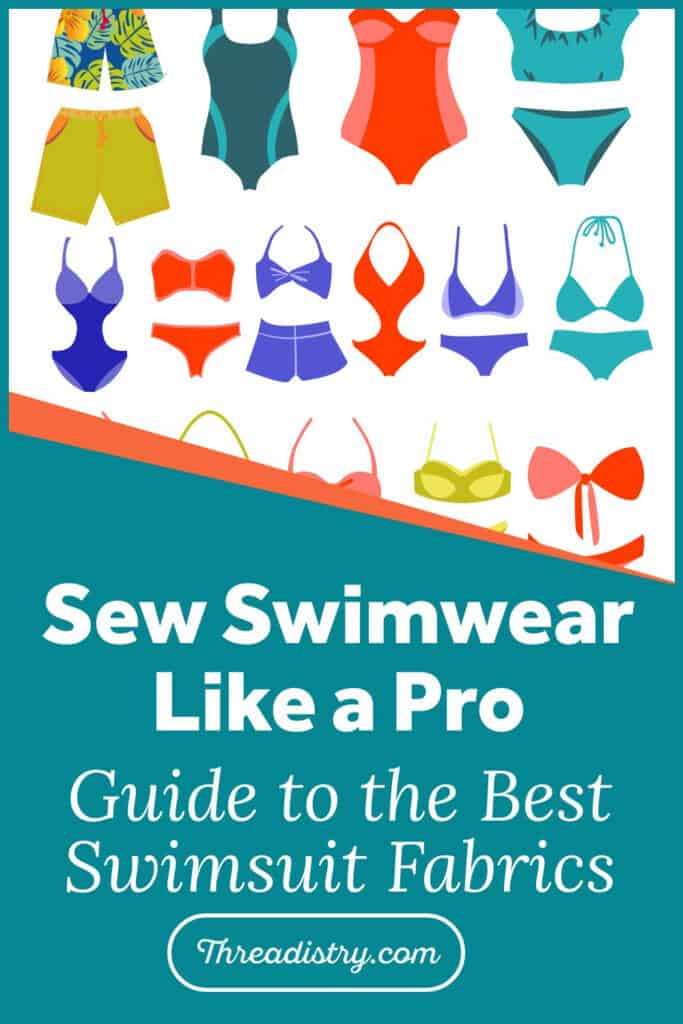 Swimsuits also need to be comfortable and provide good coverage and range of movement (no one wants a wedgie or wardrobe malfunction!). There are so many factors to consider when choosing the right fabric.
So what are the best fabrics for swimwear? Whether you're sewing a skimpy bikini, a more modest one-piece, or fun pair of boardshorts, here is your guide to the best swimsuit fabrics:
Disclosure: This post contains affiliate links. If you purchase after clicking these links, Threadistry may receive a small commission, at no cost to you.
What to consider when choosing swimsuit fabrics
The first thing you need to consider when choosing swimsuit material is what type of swimwear are you planning to make.
You'll need stretch swimwear fabric if you're looking to make a standard one-piece or bikini for women, men's briefs or Euro-style swimmers.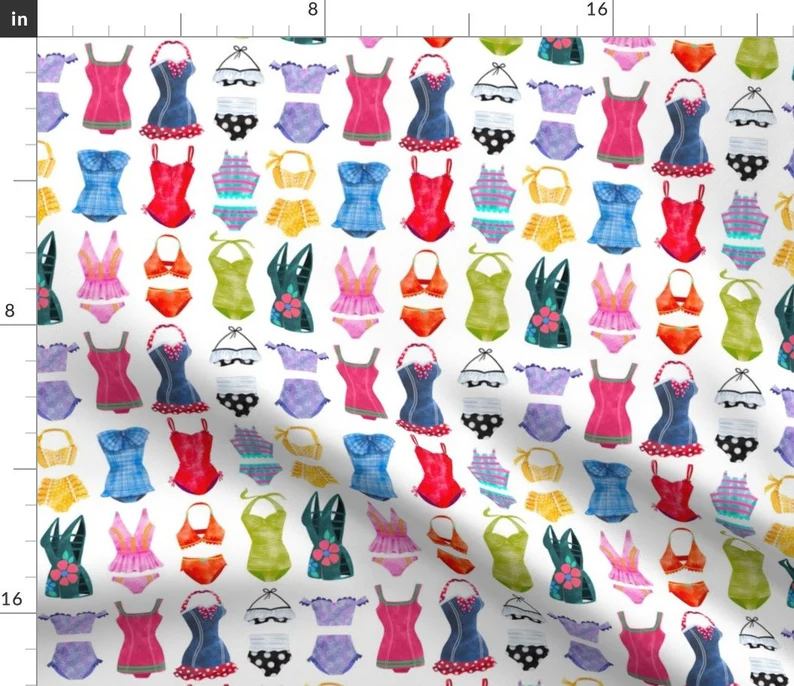 Boardshorts, on the other hand, are typically made from woven/non-stretch fabric (although some boardshorts are made from knit fabrics).
Whether you're sewing a stretch swimsuit or boardshorts, qualities to consider in a swimsuit fabric are:
Resistant to chlorine, salt and other pool chemicals
Resistant to sun damage
Sun UV protection factor (UPF)
How much water it absorbs and how quickly it dries – no one wants to wear heavy wet clothes for the afternoon after a quick dip in the pool.
What to look for in stretch swimwear fabrics
The most important factor in selecting swimwear material is the amount of fabric stretch (hmmm, seems obvious!).
Swimwear is made with negative ease. That means the finished garment is smaller than your body measurements and will stretch to fit the body. This is what makes swimwear snug and form-fitting. You need to make sure your fabric has enough stretch so it will fit, but also so that you can get it on and off and move when you're wearing it!
Swimsuits typically need at least 30-50% or more 4-way stretch – that means it stretches both vertically and horizontally. Check the fabric requirements in your sewing pattern to make sure your fabric has enough stretch.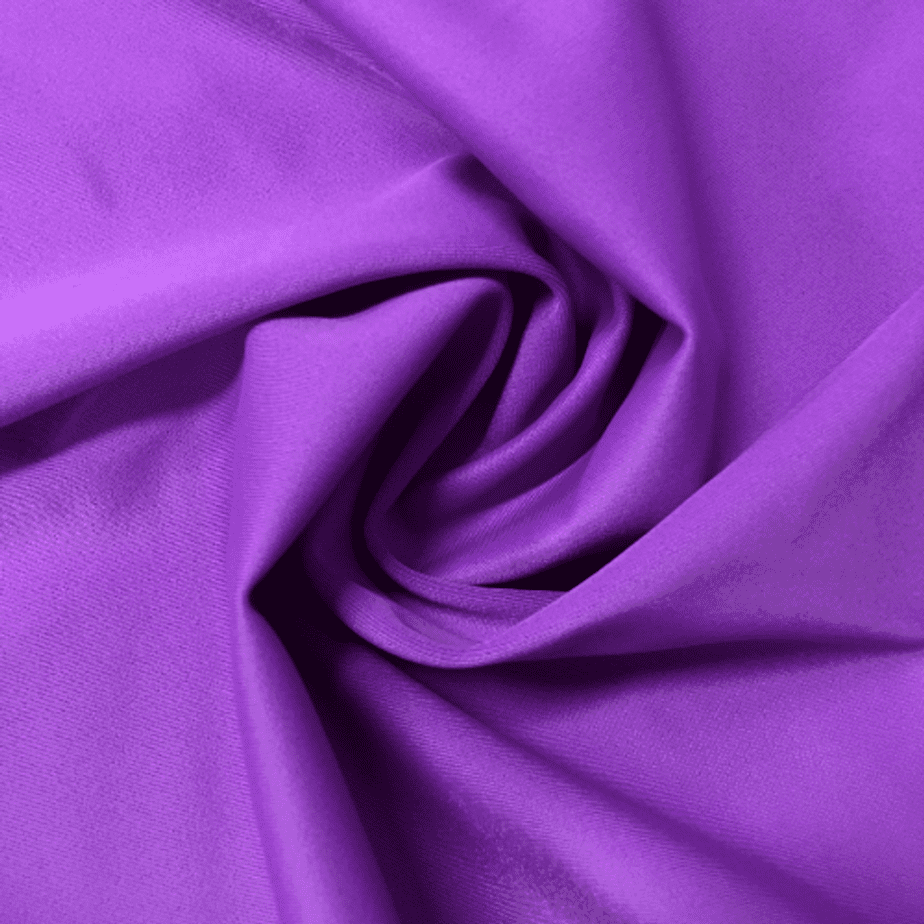 Along with stretch, swimwear fabrics also need good recovery. That means they bounce back to their original size and don't tend to "grow" as their worn. No one wants a swimsuit that becomes saggy and baggy after it's worn. Synthetic fabric blends with high Spandex (or Lycra or elastane) content generally have good recovery.
The two most popular fabric types for modern swimwear are:
Nylon Spandex (or Lycra or elastane) – this is traditionally the most common swimsuit fabric due to its durability, soft feel and variety of fabric sheens. However, it is less UV-resistant, pills more easily and is not as colourfast as polyester.
Polyester Spandex (or Lycra or elastane) – this is becoming more popular as it resists pilling, holds colour and is very durable. However, it does not feel as soft as nylon spandex
Other fabrics that also work well for swimwear are:
Neoprene/Scuba – this fabric is traditionally used for wetsuits. It can also be sewn as swimwear for a thicker style of swimwear.
Repreve – this is a fabric made from recycled polyester and spandex
Most swimwear fabric has a weight of 180-200gsm (7-8 oz/square yard). Anything lighter will feel more like lingerie/underwear fabric and may become see-through when wet.
If you're struggling to find swim fabric at your favourite knit fabric store, also look out for "activewear" fabrics, checking if the type of fabric is Nylon Spandex or Polyester Spandex.
Find the perfect swimsuit pattern:
What is boardshorts fabric?
Whilst some boardshorts can be made from the stretch swim fabrics mentioned above, boardshorts are typically made from woven polyester microfibre.
It can be brushed on one or both sides to give a slightly furry texture. Brushed polyester microfibre is also known as peachskin.

Woven nylon fabric can also be used for boardshorts, although it's harder to find in fabric stores.
The liner/inner shorts is typically power mesh or swim lining fabric.
All about Swim Lining Fabric
Another fabric you need to consider when sewing swimwear is the lining. Swimsuit liner fabric is the inner layer of some swimsuits. It can stop swimwear prevent it from becoming see-through when wet, and help keep the swimsuit in place, preventing it from riding up or shifting on the body. It can also be used as the inner briefs/liner in boardshorts.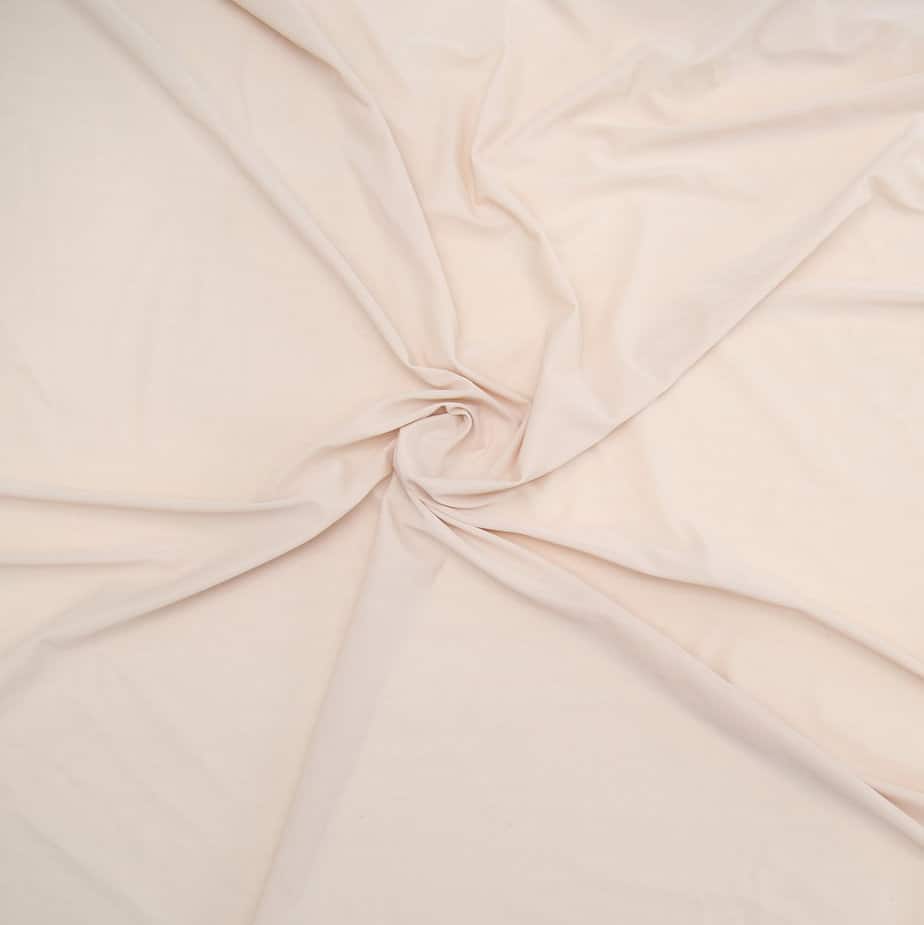 Whilst you can use any stretch swim fabric, swim lining fabric is typically made from a lightweight and breathable mesh fabric, like nylon- or polyester-spandex. It's softer and more comfortable against the skin than swim fabric. Power mesh can also be used as swim lining.
Swimsuit lining is available with both 2-way and 4-way stretch. Make sure you buy the correct type for your project. I made this mistake of using 2-way stretch lining in swim bottoms for my daughter, and they were difficult to get on and very uncomfortable to wear!
Fabrics to avoid when sewing swimsuits
So we've talked about the best fabrics for sewing swimwear, but what fabrics should we avoid when sewing swimwear?
Cotton and wool are natural fibres that soak up water like a sponge, making them heavy to wear and difficult to swim in.
These fabrics also sag or cling to you when you get out of the water – probably not the poolside look you're going for! Cotton and wool also take forever to dry – no one likes sitting around in wet, heavy clothes!
Chlorine and other pool chemicals can damage and break down these fabrics, so won't last as long as nylon or polyester swimwear.
Where to buy swimwear fabric
The following online stores have a great range of fabrics for your swimwear: