Magical unicorn sewing kits for kids of all ages (and adults too!)
Do you know a girl who is crazy about unicorns? My daughter is obsessed, but she can't be the only one. Everywhere I look, there is something with a unicorn on it.
With my daughter's birthday and Christmas around the corner, I'm looking for the perfect unicorn gift. But just buying unicorn wall art or toy only brings joy for a short while, and then my daughter gets bored.
Why not have her make her own present? She learns a new skill and has fun creating. Then she has the satisfaction of knowing it's her handiwork whenever she looks at that unicorn pillow. Isn't that so much better?
I know I could head to the sewing store and buy a pattern and all the supplies, but in this busy season, it's so much easier to get a unicorn craft set – a little box of joy containing everything a girl needs to make her own unicorn.
Here are the most gorgeous unicorn sewing kits, going from simplest to more complex, suitable from younger girls right through to tweens and teens (and maybe even a unicorn-loving adult too!):
Disclosure: This post contains affiliate links. If you purchase after clicking these links, Threadistry may receive a small commission, at no cost to you.
Felt Unicorn Sewing Kits
The felt unicorn applique kit from Dimensions Learn-a-Craft includes pre-cut felt with pre-punched holes and pretty rainbow background fabric. It also includes an embroidery hoop, which makes it easier for younger kids to hold the project. It's listed as for ages 8+, although with supervision, it could be done by a slightly younger child. I love the gold glitter fabric to give it a bit of sparkle.
This Unicorn sewing kits from Sew Simply includes felt sheets, embroidery floss, buttons, ric rac and lots of other sewing supplies, in a cute little suitcase. Gotta love when I gift comes with quality storage! The projects include two types of unicorn, a rainbow rain cloud and different stars. This is suited to an older kid who can cut out their own felt and sew without pre-punched holes. This allows for greater creativity and kids aren't limited to the directions in the box. It is recommended for ages 7+.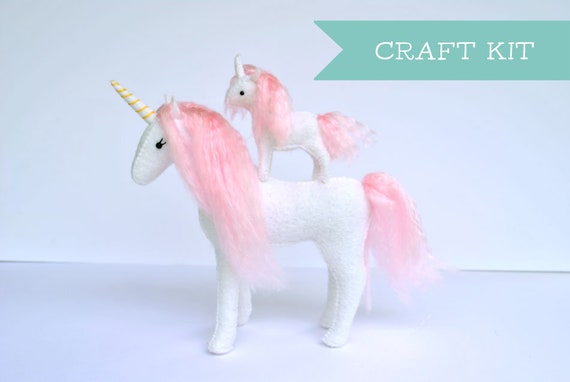 Delilah Iris has a range of "make your own unicorn" kits, with different colour options, plus Mommy and Me unicorns that are just adorable. They are suitable for the older or more experienced child sewist.
The Wildflower Toys Unicorn craft set has supplies to make 2 felt unicorns (or alicorns, since wings are included too!), and is perfect for ages 7+. The colourful wool manes and laser-cut wings make a gorgeous unicorn toy.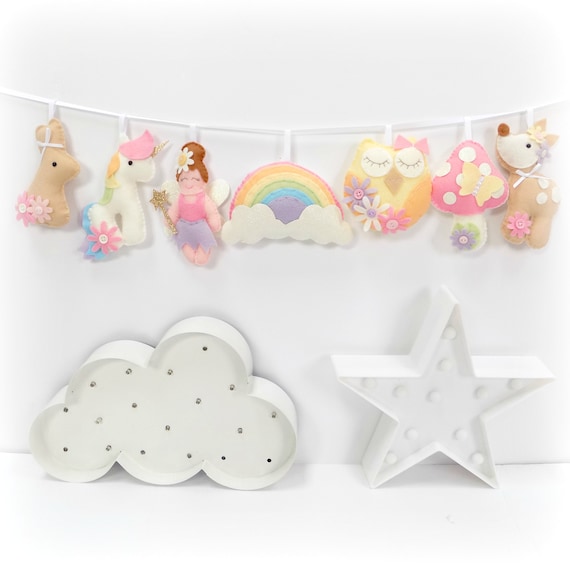 For something more complicated, get the Enchanted Forest garland sewing kit that includes supplies for a fairy, toadstool, deer, rainbow, owl and rabbit as well as a unicorn. It's a perfect wall-hanging for a girl's room.
Fabric Unicorn Sewing Kits
For the tween or teen unicorn lover, there's the Knot-A-Unicorn Hat Kit from Alex DIY. Parts of the hat are sewn and the mane section is knotted together. While the box states it's for age 6+, it is more suited for ages 10+. Just beware – there is glitter fabric included in the kit, and you will end up with glitter everywhere!
Tip: spray the pieces with hairspray to stop the glitter from shedding!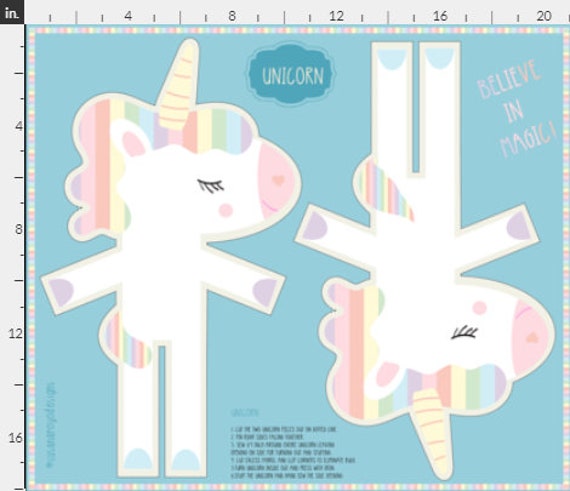 This isn't quite a kit as you'll need to get stuffing and thread, but this unicorn doll fabric panel is a simple and easy way to sew your own unicorn.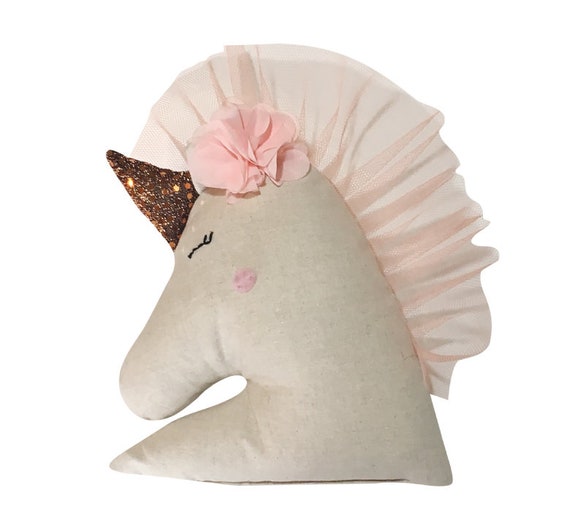 If your child is ready to use a sewing machine, this unicorn pillow sewing kit from Sew Craft Cook is a sweet sewing project. This pillow is 13 x 9 inches ( 33 x 22cm), and there is also a mini-kit available, which can be sewn by machine or hand.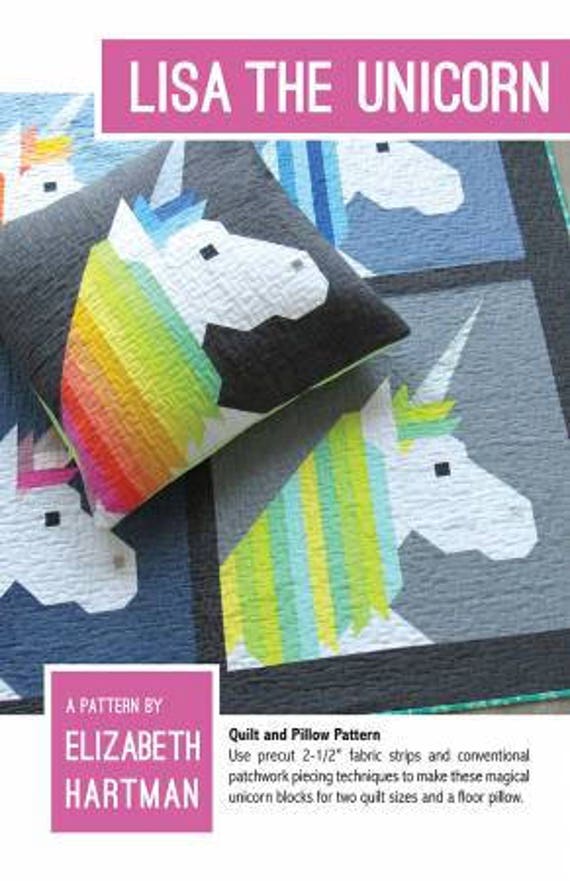 If you're looking for for a Unicorn quilt kit, Sew Elegantly has a small quilt kit with the Lisa the Unicorn quilt pattern from Elizabeth Hartman with enough fabric for four blocks. (Get just the quilt block pattern here). You could also use this as a unicorn cushion sewing kit.
Unicorn Cross-Stitch Kits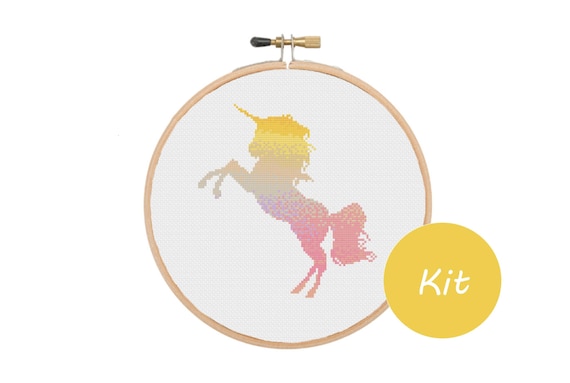 The Watercolour Unicorn Cross Stitch Kit from Meloca Designs is an elegant design, suitable for all ages, but would appeal to the unicorn-loving teen. Note: this kit doesn't come with an embroidery hoop, but you can purchase them separately from the same store.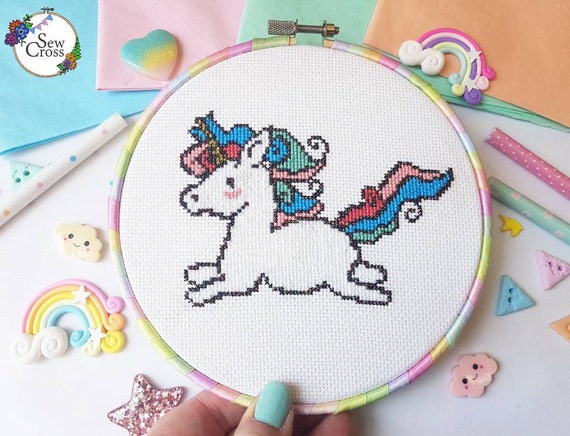 We all know the best unicorns have a rainbow mane. I love the rainbow unicorn cross-stitch kit from Sew Cross Handmade with its beautiful colours.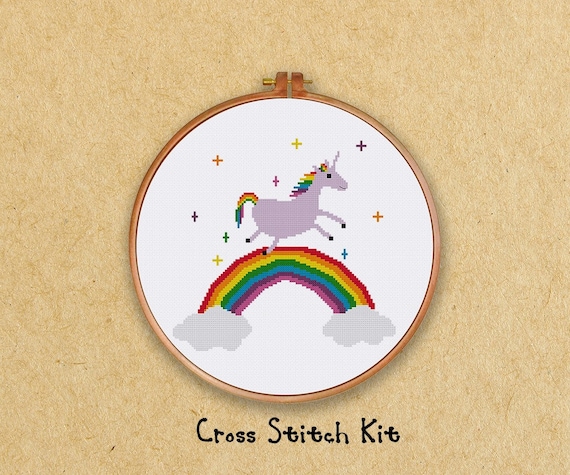 Following on from the rainbow theme, this cross-stitch kit from Ritacuna has a unicorn with a rainbow moon jumping over a rainbow. Rainbows and unicorns just go perfectly together!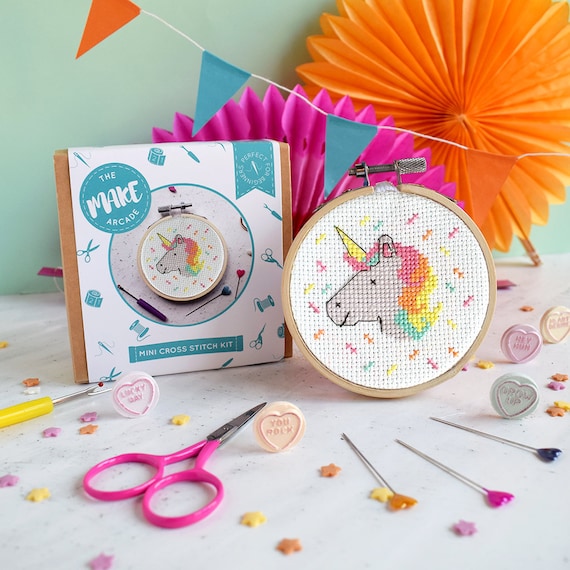 The colourful Unicorn mini cross-stitch kit from the Make Arcade is only 3 inches in diameter so it's a small quick project, but has lots of colour!
Unicorn Embroidery Kits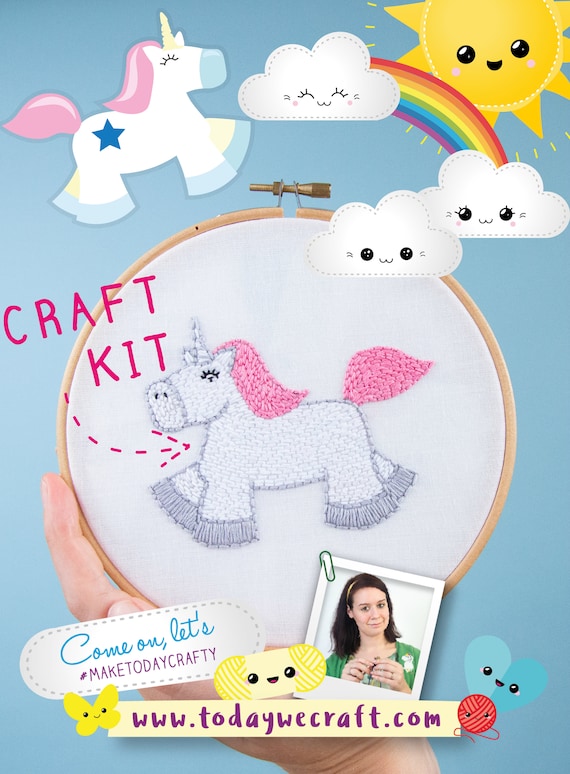 The unicorn embroidery craft kit from Today We Craft is super easy, with only one stitch type required to sew up a cute unicorn wall hanging (or turn it into a pillow!). There are step-by-step instructions plus a video tutorial. It's so cute!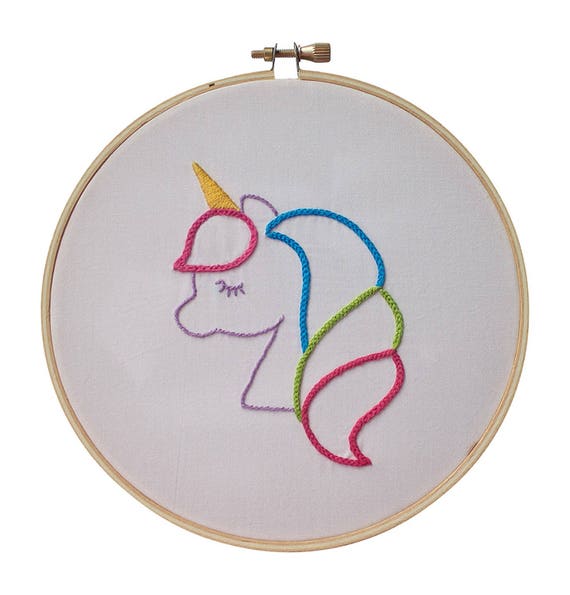 This unicorn embroidery kit from Queen Bee Stitches is perfect for someone with basic embroidery skills and is ready to try a specialty stitch (braided chain). It's a simple design that can be completed in a short time for a very pretty result!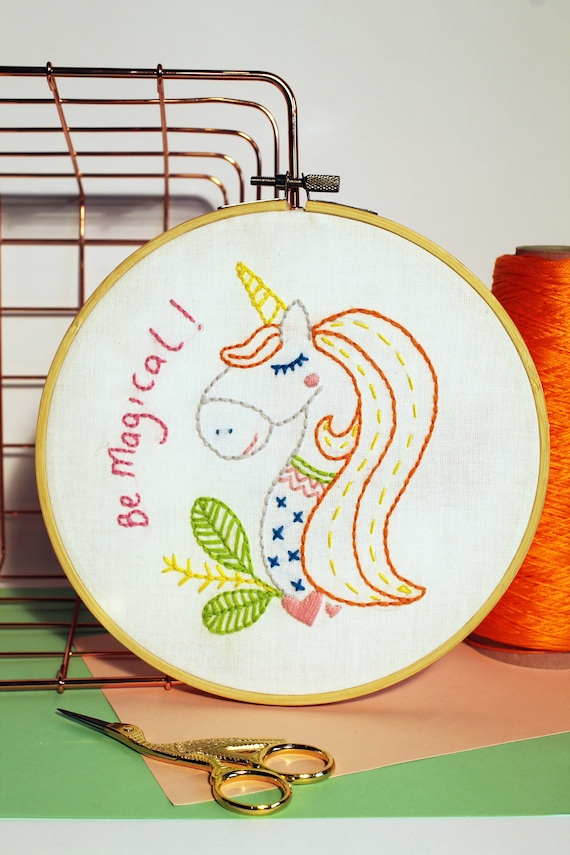 Oz and Belle have this "Be Magical" unicorn embroidery kit, which uses 4 different stitches (but still easy enough for a beginner). It's the perfect gift for a unicorn-lover.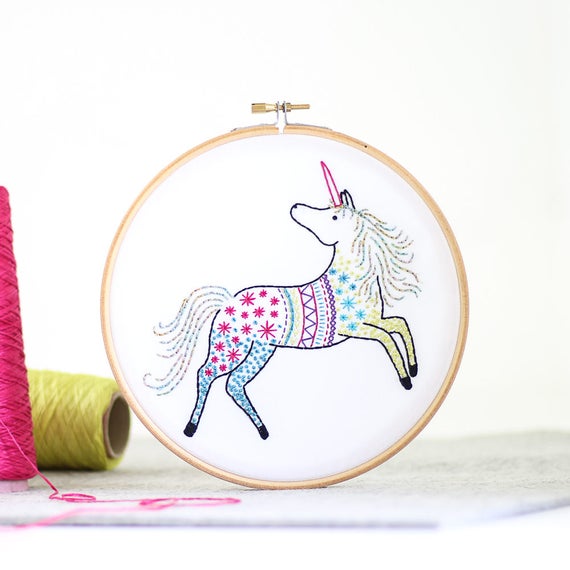 This magical unicorn embroidery kit from Hawthorn Handmade is great for learning a range of embroidery stitches to create a pretty wall hanging. The kit includes pre-printed cotton fabric.
I Love Unicorns Kit
If you don't want just a sewing kit, check out the I love unicorns craft kit from Craft-tastic. This kit includes 6 unicorn craft projects, including a unicorn softie to sew, a rainbow charm and unicorn headband. It's perfect for the crafty girl.
These unicorn sewing kits make the perfect gift for the girl who loves to craft!