Ultimate Gift Guide: 100+ Gifts for Sewers
Are you looking for gifts for people who sew? Or are you the one who sews and are looking for ideas for what to add to your Christmas or birthday list? I've rounded up the best gifts for sewers (that's sew-ers, not the pipes that carry, ahem, drainage water and waste matter!).
You'll never be short of ideas for gifts for the sewing enthusiast with this collection of more than 100 sewing-themed gifts.
Disclosure: This post contains affiliate links. If you purchase after clicking these links, Threadistry may receive a small commission, at no cost to you.
Sewing Jewellery
Sewing-themed jewellery can be such a fun way to show your love of sewing. Whether you want something small and subtle, or something big and bold, there's the perfect sewing ornament for every personality!
Sewing-Themed Enamel Pins
It's the 80s girl in me who just loves enamel pins! I want to cover my denim jacket lapels with these sewing beauties!
Find more sewing-themed enamel pins here.
Fun sewing notions gift ideas
Notions sound like boring sewing gift ideas, but there are so many cute options out there. Smile as you pull out your gorgeous seam ripper, measuring tape or scissors!
Decorative Sewing Pins
Pins are such an important part of sewing, and you can never have too many. So why not have a few pretty ones in your collection (and they're much easier to see so you're less likely to accidentally sew over one!).
Pincushions
While it's easy enough to make your own pin cushion (for your pretty pins!), here are a few options if you want one ready-made:
Sewing-Themed Wall Decor gift ideas
Decorate your sewing space (or the rest of your house) with these fun wall decor items: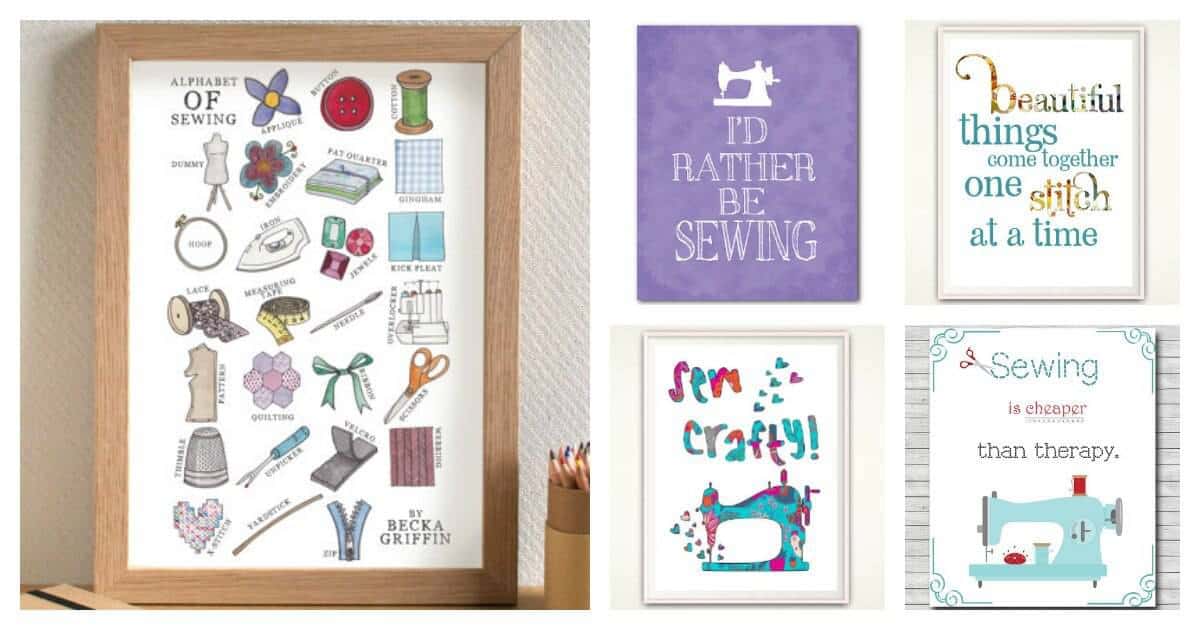 Find more sewing room wall art ideas here.
Sewing Machine Cases and Trolleys
If you're looking for a gift for someone who takes their machine to sewing groups or on holiday, look after their machine with these sewing machine cases and trolleys:
Sewing Journal
Help your favourite sewist keep track of their sewing projects with a sewing journal or planner:
Find more sewing journals and planners here.
Sewing-Themed T-shirts
Is it possible to have too many T-shirts? There are some fun and gorgeous sewing-themed T-shirts out there:
Sewing Books
I love flicking through sewing books for new techniques and project inspiration. Here are some sewing books that have caught my eye:
Sewing Organisers
These sewing organizers are a great gift idea for the messy seamstress (ahem, me!):
Sewing Gadgets
I can't resist a sewing gadget and they could just become the gift a sewist never knew they needed!
Sewing Kits gift ideas
Sewing kits are a great way to gift a craft project – maybe you can buy a kit for something you want to be sewn for yourself!
Find more sewing craft kits for adults here
Sewing Machine Gift Ideas
Is your sewing friend using a basic sewing machine? Maybe it's time to upgrade to a sewing machine with more features.
​
If they're happy with their current sewing machine if they sew clothes, would they like a serger or overlocker?
​
If they already have a serger, would they like a cover-stitch machine to add to their collection?
​
Or maybe they'd like to try machine embroidery with an embroidery machine.
Online Sewing Class Gift Certificates
I love taking online sewing classes and any of these would make a great gift for a sewist:
Gift a CreativeBug subscription and give someone unlimited access to sewing classes for 3, 6 or 12 months.
Unusual Sewing Gifts
Here's some ideas if you're looking for something a little different for someone who sews!
Sewing Magazine Gift Subscriptions
Sewing Magazine subscriptions are another great idea. Here are a few to consider:
​
And lastly, why not get a gift voucher to their favourite local fabric store?
Wow! This list was much longer than I expected! There are so many sewing gift ideas for mom, grandma or anyone else who sews! Which gifts for sewing lovers are on your list, and what have I missed?
More sewing inspiration: