12 Stunning Christmas tree skirt sewing patterns
A Christmas tree skirt is a decorative fabric placed under the Christmas tree. It hides the Christmas tree stand and looks pretty under the tree before all the presents get placed! It's also a great way to collect up the pine needles if you have a real tree.
Whether you're trying to hide the stand or create a decorative backdrop for your Christmas presents, here are the best Christmas tree skirt sewing patterns: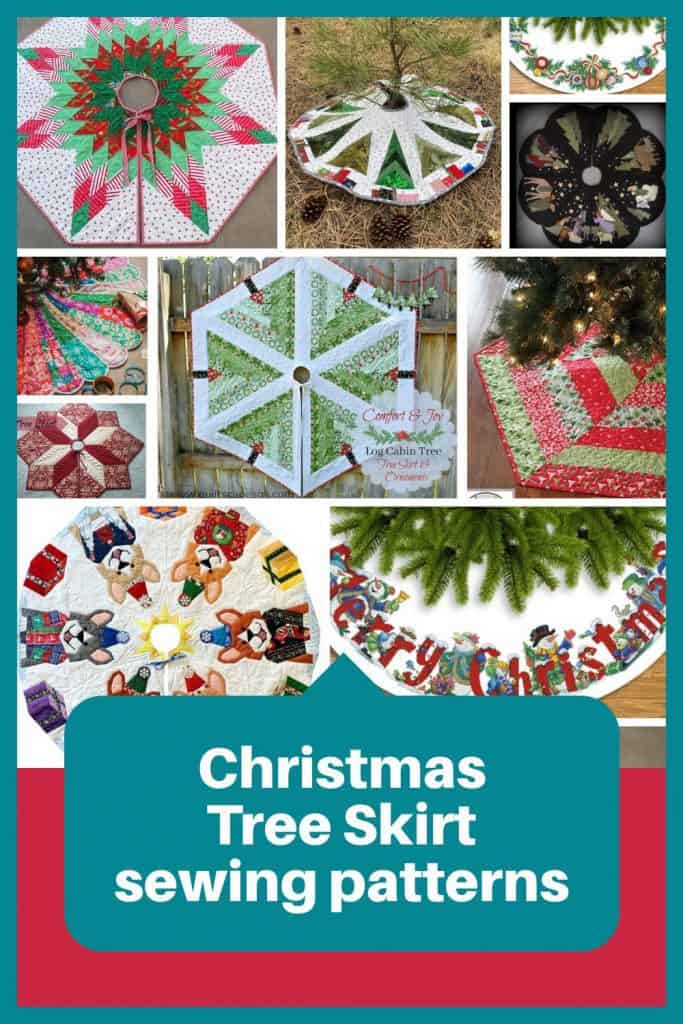 Disclosure: This post contains affiliate links. If you purchase after clicking these links, Threadistry may receive a small commission, at no cost to you.
Easy Christmas Tree Skirt Sewing Patterns
Photo Credit: A Bright Corner
The Holly Jolly Tree Skirt pattern from A Bright Corner is a simple Christmas Tree skirt design, perfect for beginners. Make it your own with your favourite Christmas fabrics.
Photo Credit: Quiltscapes
This stunning 58" x 58" quilted Tree Skirt will brighten your holiday season! It uses a simple "log-cabin" style of piecing with strips, making it a good project for beginners and seasoned quilters alike. It also includes a bonus Christmas tree ornament too!
Photo Credit: Quiltscapes
The Star Medalion tree skirt from Quiltscapes is a simple yet striking design. This quilt pattern features easy-to-make large half-square triangle units with no "Y" seams.
Photo Credit: Carrie Actually
The Giant Dresden Christmas Tree Skirt by Carrie Actually has a cute scalloped edge and is perfect for featuring your favourite Christmas fabrics.
Pieced Christmas Tree Skirt Patterns
Photo Credit: Hopeful Homemaker
Lone Star Christmas Tree Skirt sewing pattern by Hopeful Homemaker has a striking large star design (but so many points!). It would be a great project for someone with a bit of quilting experience.
Photo Credit: www.etsy.com
The "A Very Corgi Christmas" tree skirt pattern from Prefurred Quilt Shop (what a great name!) is so adorable. It is a foundation paper-pieced design.
Photo Credit: Pinecone Hill Quilting
Another Christmas tree skirt with Christmas trees! This is the Boxes and Bows pattern from Pinecone Hill Quilting, made with foundation paper piecing and  ¼" piecing. It's a great scrapbuster project!
Photo Credit: Made By Marney
The paper-pieced Christmas Tree Skirt sampler from Made By Marney has some bright and cute Christmas-themed quilt blocks. As a bonus, you could use the quilt block designs for other Christmas sewing projects!
Photo Credit: The Window Way
This Cathedral Window Tree Skirt is just amazing (especially with the fabrics chosen here). This design could definitely become e a family heirloom!
Appliqued Christmas Tree Skirt Patterns
Photo Credit: Cheswick Company
The Prince of Peace pattern from Cheswick Company is a gorgeous felt applique Nativity scene design. It's designed with pie-shaped pieces that get sewn to a backing to make it easier to sew.
Find more Nativity Scene sewing patterns here.
Cross-Stitch Christmas Tree Skirt Patterns
Photo Credit: CrossStitchKitsAlla
How detailed and gorgeous is Celebrating Snowmen tree skirt from Cross Stitch Kits Alla? It's a counted cross-stitch pattern stitched on 14 Count Aida with a design area of 390 x 178 stitches. There are lots of cross-stitch Christmas tree skirt patterns in her store. Check them all out here.
Photo Credit: CrossStitchTR
This detailed Christmas bauble tree skirt from CrossStitchTR is another beautiful counted cross-stitch pattern.
Which is your favourite Christmas tree skirt sewing pattern (or do you prefer the plain look)?
More Christmas sewing inspiration