Cutest Christmas Elf sewing patterns
Christmas is right around the corner. Whether you're looking to sew your own Elf on a Shelf, a fun Christmas decoration or a cute toy for the kids, start your Christmas sewing projects with this collection of the best Christmas elf sewing patterns:
Disclosure: This post contains affiliate links. If you purchase after clicking these links, Threadistry may receive a small commission, at no cost to you.
Christmas Elf Doll sewing patterns
Jingle Elf from My Country Nest is the perfect pattern to make your own elf on the shelf!
This Christmas Elf from Indygo Junction is made using yo-yos – what a cute idea!
Funky Friends Factory have these boy and girl Elf Twins sewing pattern.
Blue Whimsey also has a cute boy and girl Elf sewing patterns (purchase together or individually).
If you're looking for a quick and easy project, get this Christmas elf fabric panel. It includes 2 elves and 4 little toys. My kids would love to play with this!
Heidi and Finn have these cute Christmas Elf Dolls as part of the Mini Pals Holiday collection.
Felt Christmas Elf sewing patterns
The elf girl pattern from Noialand is a bit more quirky but makes me smile. How cute are those hats! (Also check out their Candy and Candy Cane Elves pattern – oh the cuteness!)
The Christmas elf pattern from Kosucas reminds me of Peter Pan.
Heid Boyd has a cute sewing pattern for boy and girl elves. The details like the nose, ears and hair are adorable!
Nuvolina Handmade has the cutest felt elf doll sewing pattern. The details are gorgeous!
Just when you think the Christmas Elf sewing patterns can't get any cuter, then I find this one from Bauldemalinka. It's so sweet!
Christmas Elf ornament sewing patterns
If you just want to make an elf ornament, try this sweet pattern from Precious Patterns.
Nuvolina Handmade has another cute elf ornament pattern, with sweet embroidery detail.+
Christmas Elf Quilt Patterns
The Jingle Jangle Elves quilt pattern from Cleo and Me is perfect for a Christmas table runner.
Wrapped and Ready is a cute Christmas elf mug rug mini-quilt pattern.
For something more details, check out the Christmas Elves Wall Hanging Quilt Pattern.
This Christmas Elf Quilt Pattern from Ashby's Attic Patterns makes a great table runner or wall hanging.
And lastly, don't forget Santa. Here's a cute Santa doll pattern from Melly & Me.
What are your favourite Christmas elf sewing patterns?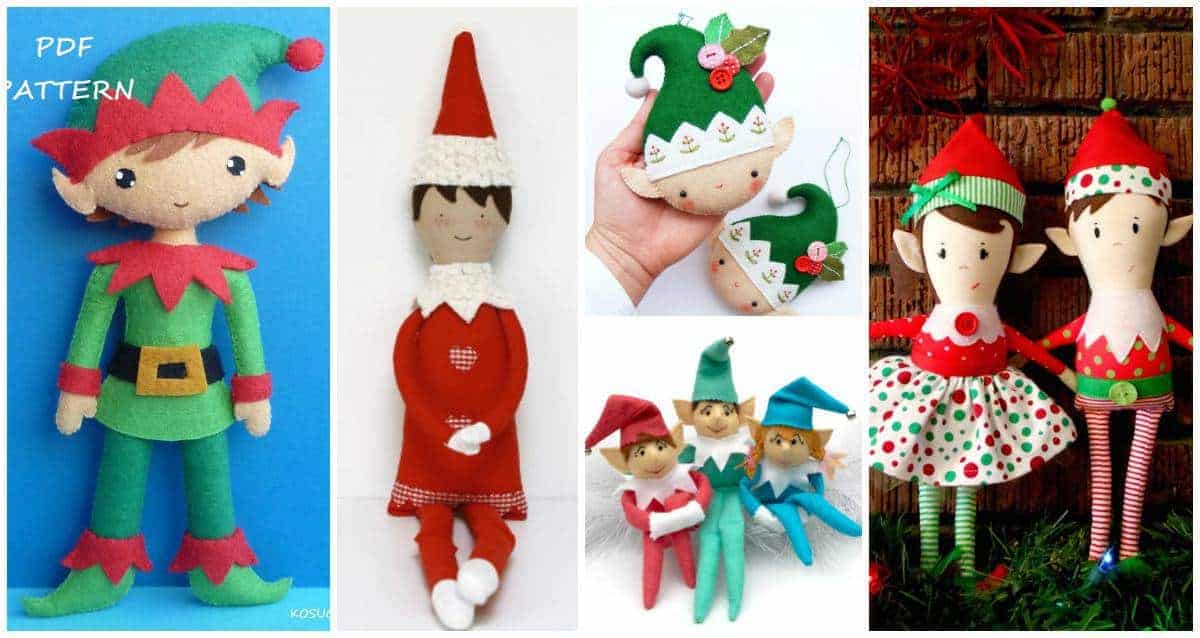 Want more Christmas sewing inspiration: