Sew your own Christmas Nativity
Celebrate the true meaning of Christmas with these Christmas Nativity sewing patterns. From finger puppets to quilt nativity scene patterns, start your Christmas sewing now.
Christmas is right around the corner, and I'm getting ready to pull out my decorations. It's easy to get caught up in the tinsel and baubles, and lose sight of the meaning of Christmas. That's why I like to include a nativity scene in my decorating. The kids like to play with the characters, and retell the story of Christmas (or create their own wonderful stories). It gives a greater connection to what Christmas is all about.
I love handmade Christmas decorations, and here are my favourite Christmas nativity scene sewing patterns:
Disclosure: This post contains affiliate links. If you purchase after clicking these links, Threadistry may receive a small commission, at no cost to you.
Felt Nativity Scene Sewing Pattern
For a nativity scene that the kids can play with, make the felt nativity set from Do Small Things with Love.
An advent calendar is great way to discuss with your family the details of the nativity scene, talking about a part of it each day in the lead up to Christmas. The Felt nativity advent calendar sewing pattern by the Lullaby Loft has lots of lovely details.
Add the spirit of the Nativity to your Christmas tree with the Three Wise Men felt ornament sewing pattern from Trellis and Thyme.
Nativity scene quilt patterns
Oh Holy Night is a beautiful stained glass nativity quilt pattern by Bear Paw Productions.
I love this nativity wall hanging quilt pattern from Paper Panache. It has so many beautiful details. (They also have a simpler pattern with just Mary, Joseph and Baby Jesus).
The Three Wise men quilt is one of the scenes from the book Applique Nativity Projects by Rachel W. N. Brown, available in hard copy and ebook form.
Nativity in the trees is a free nativity quilt pattern and tutorial from Pieces by Polly.
Another quilt with lots of details is the Nativity applique Mini Quilt by Critterpat, with hand-beading for an extra special touch.
Nativity Finger Puppets and Dolls
In the hoop Nativity Finger Puppet set sewing pattern by Jaynie Jaye Designs.
A hand-sewn finger puppet option is this Nativity finger puppet set sewing pattern from Floral Blossom.
If you'd prefer hand puppets rather than finger puppets, check out the Nativity puppets from The Applique Place. Your kids can put on their own Nativity puppet show!
How adorable are these Nativity felt dolls by Noialand. My daughter would love to play with them all day!
Nativity Embroidery and Cross-Stitch Patterns
Cross-stitch a set of nativity ornaments with this pdf pattern from Annie's.
The Christmas Nativity Cross-stitch pattern by Black Phoebe Designs has a nice, simple Christmas feel to it.
For a modern feel, Do Small Things with Love have this adorable Pixel People Nativity Cross-stitch pattern.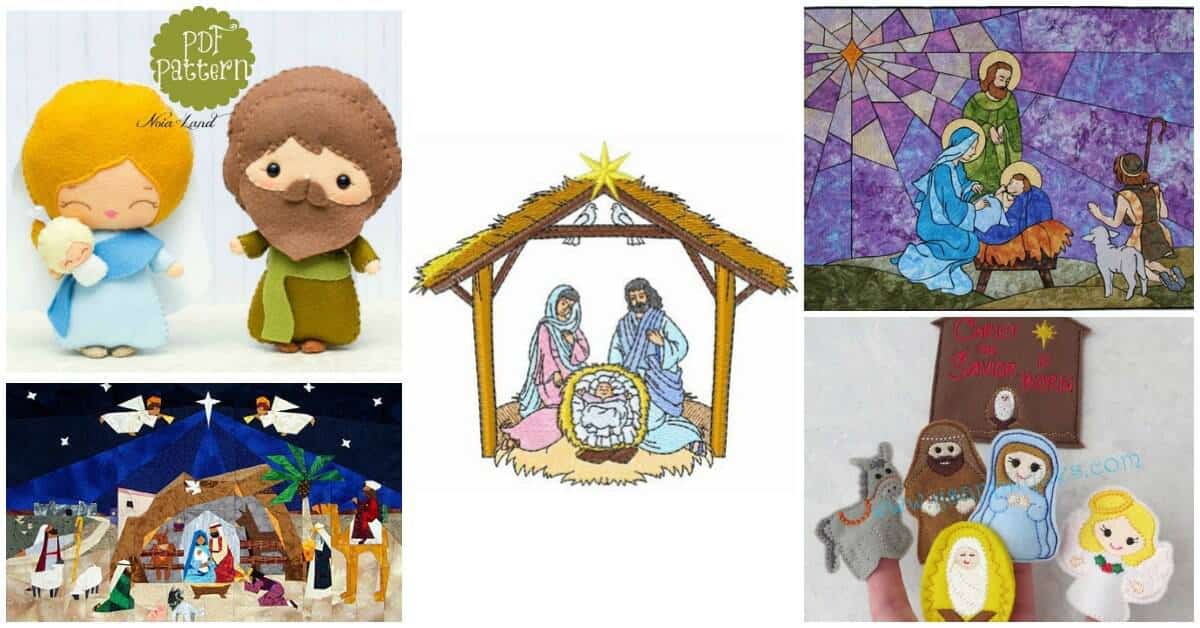 Which is your favorite Nativity scene sewing pattern?
Even more sewing inspiration: