Sewing oilcloth: how-to, tips and tricks
What is Oilcloth?
Oilcloth is a durable, washable, cloth-like material made from woven cotton. It derives its name from the use of linseed and soya oils in its preparation (linoleum).
Oilcloth was originally made by treating canvas fabric with multiple coats of linseed oil. The cloth was first introduced in France by Emile Jungen in 1855 and later patented in England in 1860 by Samuel Blake.
Oilcloth available today is vinyl bonded to a cotton mesh base. The design is printed on the top of the vinyl and the back is like canvas. It typically comes with a width of 47″ (120cm) but can be up to 54″ wide (137cm).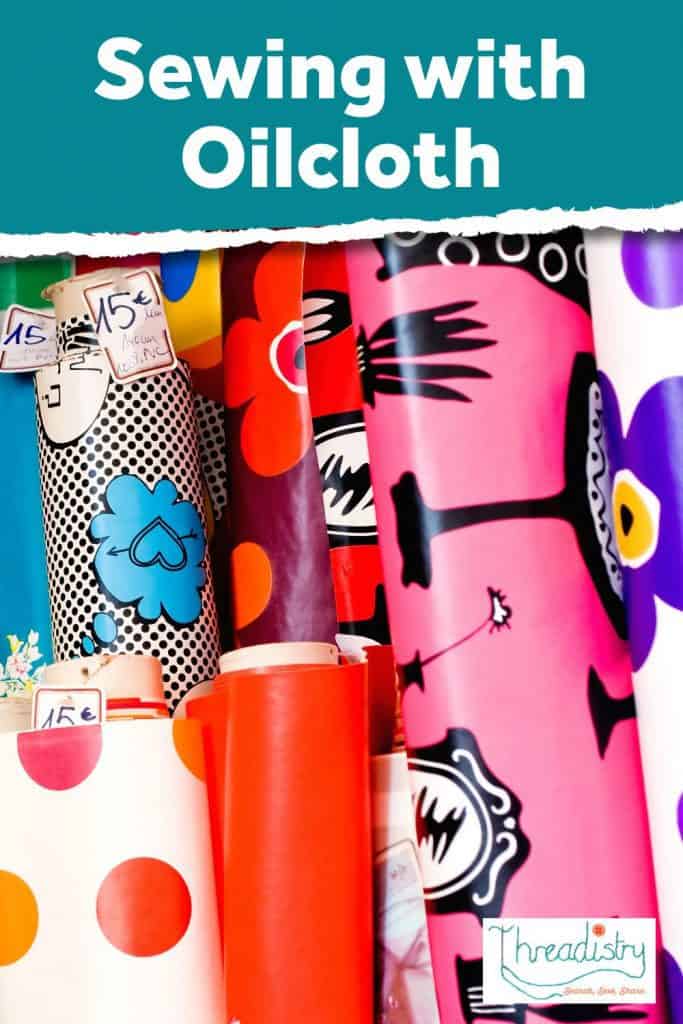 Disclosure: This post contains affiliate links. If you purchase after clicking these links, Threadistry may receive a small commission, at no cost to you.
Laminated Cotton is regular cotton fabric that has been coated with clear vinyl. As the base is actual cotton fabric, it is more supple than oilcloth, and a little easier to sew. The back is just like the back of printed cotton. The tips for sewing oilcloth also apply to laminated cotton.
Chalk Cloth is similar to oilcloth with a matte finish. It often comes in black or green. Like a blackboard, you can write on it with chalk and wipe it clean!
What can I make with Oilcloth?
Oilcloth is great for any surface you want to wipe clean. Here are some ideas for what to make with oilcloth:
Placemats
Table cloth
Coasters
Table runner (with matching placemats)
Baby bib
Baby changing pad
Diaper bag
Lunch bag (outside only)
Tote bag
Cushion covers
Small pouch or pencil case
Playmat
Note: Generally, the vinyl coating on oilcloth is not food safe (unless specified by the supplier). Do not use oilcloth where it will be in contact with food for an extended period or where a baby/child may chew on it.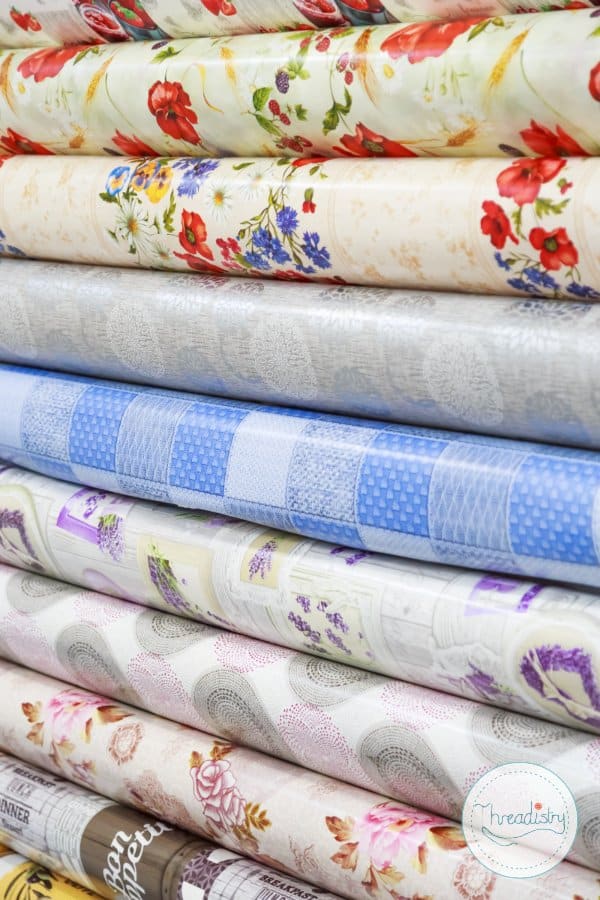 Everything you need to know about sewing oilcloth
Here are some tips and tricks to make sewing oilcloth a breeze:
1. Help the fabric feed smoothly
Sewing with oilcloth is very similar to sewing any other fabric, but the "stickiness" of the fabric can make it difficult to feed through your sewing machine. A walking foot, Teflon presser foot or roller presser foot can help. If you don't have one of these, some other options are:
Place tissue paper between the presser foot and oilcloth.
Put masking tape on the bottom of your presser foot.
Put masking tape on the oilcloth itself (although this can be a challenge to remove!)
2. Use the right needle
As oilcloth is a heavier-weight fabric, it is best to use a Size 16/100 sewing needle. You could also use a denim needle.
3. Choose the right stitch length
Use a longer stitch length. This reduces the number of holes you make in the oilcloth (which can potentially make it less waterproof) and prevent the oilcloth from tearing.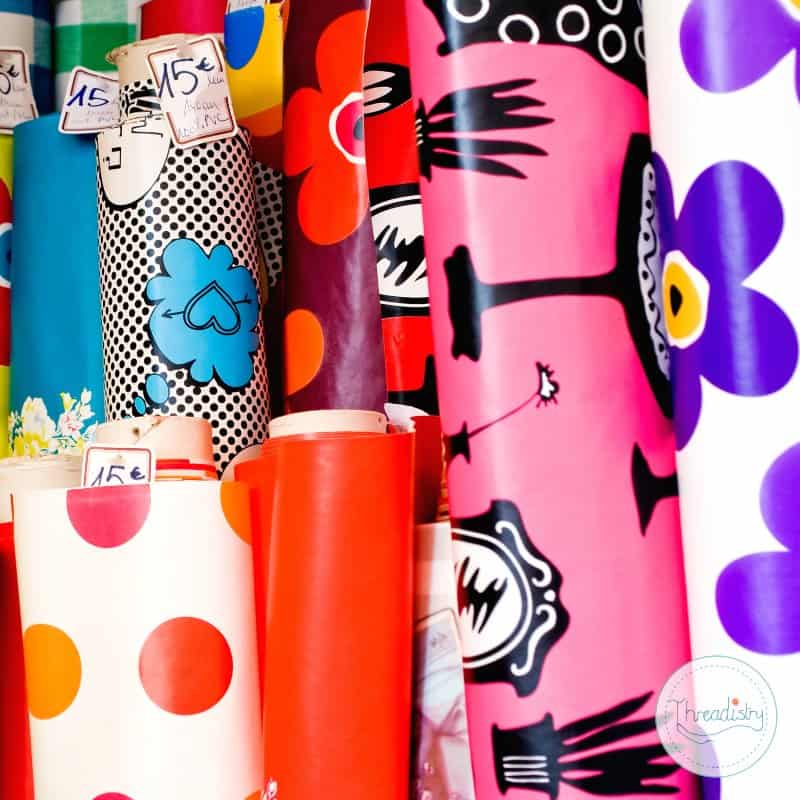 4. Finish the edges (or don't)
Oilcloth doesn't fray, so you don't need to finish your edges or hem your fabric. If you don't like the look of the raw edges, you can:
Finish the edge with bias tape
Serge the edges
Trim with pinking shears
Hem like normal
5. Don't use pins!
Pins will leave holes in the oilcloth. Use sewing clips instead.
6. Topstitch
If you are piecing oilcloth, top-stitching can help the seams lie flat.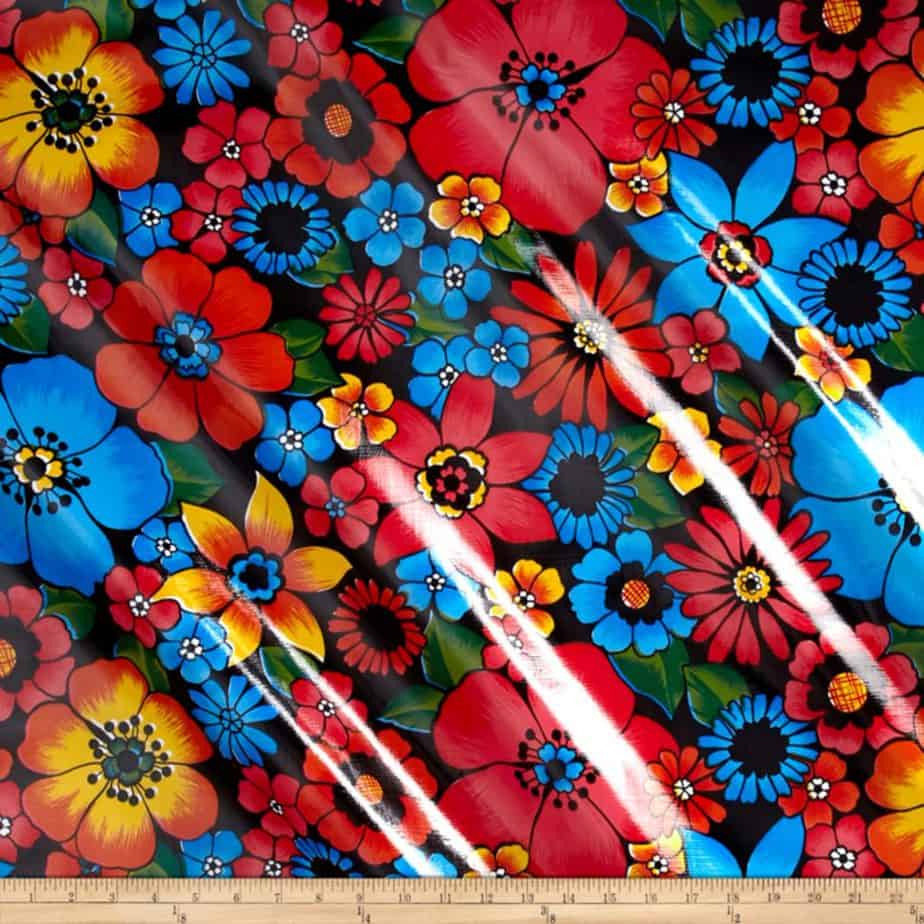 Can you iron Oilcloth?
Oilcloth can be pressed with the coolest setting on your iron on the wrong (non-coated) side of the fabric. Never let the iron touch the coated side of the fabric (unless you want it to melt onto your iron!).
Alternatively, you can use a hairdryer or leave the oilcloth out in the sun to gently warm the fabric and smooth out the wrinkles. Or rub the oilcloth with your finger to warm it and press it into position.
Where to buy Oilcloth?
You can get oilcloth fabric from many online retailers or at your local sewing store. A few places to check out:
What are your tips and tricks for sewing oilcloth? Let me know in the comments!
More sewing resources: